This will be the ECB's new president's chance to frame her economic outlook and monetary policy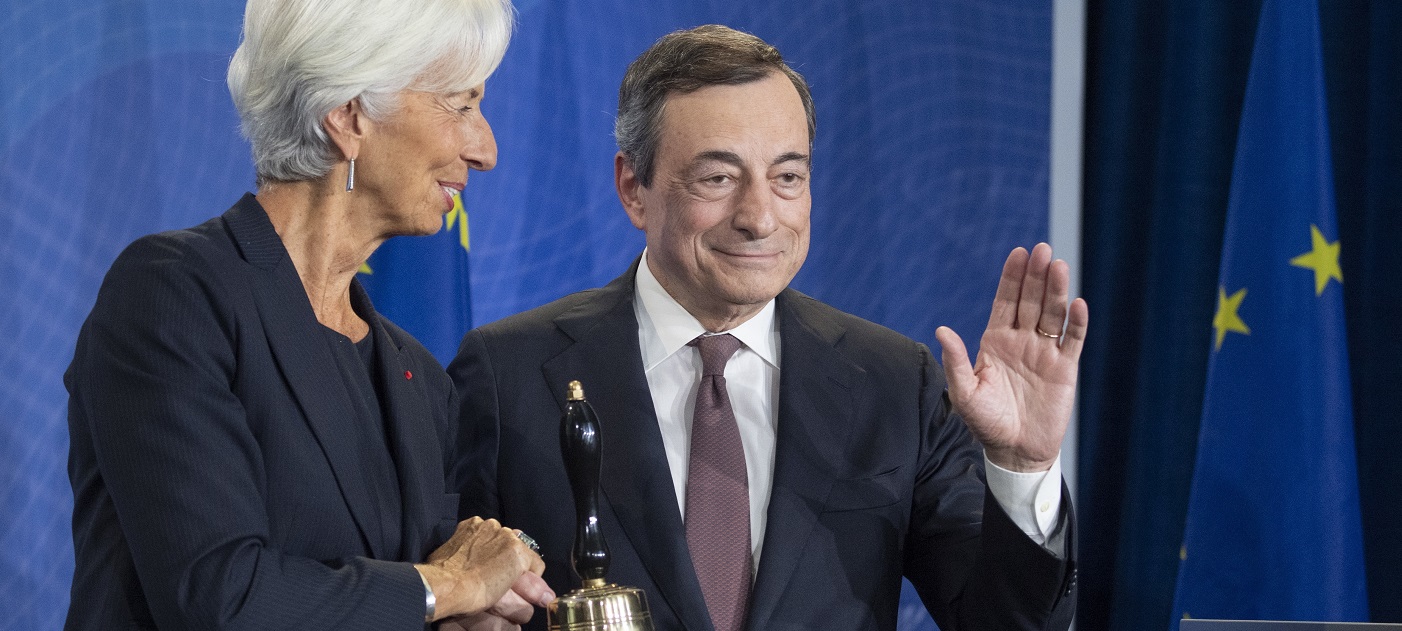 Photo credit: AFP Photo
Market news selected by the DBS Chief Investment Office



EUROPE
The Christine Lagarde-era at the European Central Bank (ECB) is underway and the new president gets her first chance to frame her outlook for the economy and monetary policy publicly on Monday (4 November).
Lagarde, who took the reins on 1 November from Mario Draghi, will speak in Berlin at a time when policymakers at the ECB are split over dwindling stimulus tools and the economy is flirting with recession. She may use the opportunity to tell governments, including Germany's, to do more to boost demand.
Here is what happened last week (ended 1 November) and below is our weekly wrap of what is going on in the world economy in the coming days:
Europe: On Wednesday and Thursday, Lagarde will get an insight into how Germany is doing, with the release of first factory orders and then industrial production for Europe's largest economy. The European Commission will offer its own verdict on the outlook on Thursday, when it publishes forecasts for the region.
In the UK, the Bank of England's (BOE) Monetary Policy Report (just renamed from the Inflation Report) is also out on Thursday. No change in interest rates is expected, so the focus will be on new economic predictions and Governor Mark Carney's press conference. Brexit uncertainty is still the big factor for the outlook, and now there is a general election to throw into the mix.
Four eastern European central banks deciding on rates this week (ending 8 November) can sit out the global push for looser monetary policy as their economies are still growing healthily and inflation is hovering above or near their targets. Romania, Poland, the Czech Republic, and Serbia are all expected to leave benchmark borrowing costs unchanged.
The US and Canada: Federal Reserve officials seem to be planning a pause after cutting interest rates three times. But a lot will spend the week discussing the outlook. It is a light week for data with orders for durable goods and factories expected to show declines on Monday. The trade balance on Thursday will be monitored for effects from the US-China trade war. Canada releases jobs data for October on Friday.
Asia: Australia, Malaysia, and Thailand will decide on interest rates. The Reserve Bank of Australia is expected to pause on Tuesday after three interest rate cuts this year brought the benchmark to a record-low 0.75% and spurred speculation among economists that unconventional policies will soon be needed to get inflation back into the central bank's target range. Most economists expect Malaysia to hold too on Tuesday, according to Bloomberg's survey. There is pressure on Thailand to ease to take some steam out of the baht, which is one of the world's strongest currencies this year. – Bloomberg News.
The Stoxx Europe 600 Index advanced 0.68% on Friday (1 November) to 399.43.



US
It is old, but it is not slowing down.
A bull market that traces its lineage to the depths of the financial crisis is revving up again, notching its fourth straight weekly gain and pushing its advance in 2019 past 22%. After wavering at mid-year amid a US-China trade war and recession anxieties, American stocks are back in melt-up mode, ending three of the past five sessions at records.
The S&P 500 Index powered to a fresh high Friday (1 November) after an unexpectedly strong hiring report offered hope that the labour market can propel consumer spending and extend the record-long expansion despite weak business investment and trade tensions. Stocks got a brief boost and the dollar pared losses after China's Ministry of Commerce said trade negotiators had achieved a "consensus in principle" with the US.
The latest economic data come after the Fed lowered rates Wednesday (30 October) and signalled it is unlikely to make further changes, up or down, any time soon. That sent stocks to a record, before a batch of weak economic data and renewed worries over trade weighed on the measure Thursday. The S&P 500 was up 1.5% for the week (ended 1 November). Fed Vice Chairman Richard Clarida reiterated in a Bloomberg interview that monetary policy is "in a good place" and the consumer is strong.
Friday's good news on the trade front follows a tough Thursday session that saw markets rattled as Chinese officials cast doubts about reaching a comprehensive long-term trade deal with the US. – Bloomberg News.
The S&P 500 Index rebounded 0.97% to 3,066.91 on Friday, the Dow Jones Industrial Average upped 1.11% to 27,347.36, and the Nasdaq Composite traded 1.13% higher to 8,386.40.



JAPAN
The world's biggest pension fund posted a gain for a third consecutive quarter, with Japanese stocks providing the best return among assets amid a global shift to value shares in September.
Japan's Government Pension Investment Fund (GPIF) returned 1.1%, or JPY1.8t (USD17b), in the quarter ended 30 September, with assets totalling JPY161.8t, it said Friday (1 November) in Tokyo. Domestic stocks were the fund's best performing investment, gaining 3.3%, while foreign equities added 0.1%. The return was 1.2% for overseas bonds and 0.3% for Japanese debt.
The GPIF's results were the first since the fund announced last month that it would give itself leeway to buy more bonds from outside its home market by considering currency-hedged foreign bonds as part of its domestic debt portfolio. The move gives the fund more options as domestic yields remain low, GPIF President Norihiro Takahashi said in an interview in Tokyo on 9 October.
The GPIF's Takahashi said in a statement Friday that the fund decided to not disclose the allocation breakdown, amounts, and investment income for each asset class this fiscal year as it is reviewing the composition of its basic portfolio. It was the first time the details were not released for quarterly results, the fund confirmed.
During the July-September quarter, the MSCI All-Country World Index of global stocks fell 0.5% and the S&P 500 Index gained 1.2%, while the Topix Index advanced 2.4%. Yields on 10-year US Treasuries fell 34 bps in the period, while benchmark Japanese government bonds yields dropped 5 bps. Japan's currency weakened 0.2% against the dollar and gained 4.1% against the euro.
Equities rebounded in September from an earlier slump in the third calendar quarter, as optimism over progress in US-China trade negotiations and an interest rate cut by the Federal Reserve helped restore investor confidence. Japan's Topix index outperformed the S&P 500 for the first quarter in almost two years amid a global shift to shares with low valuations. – Bloomberg News.
The Nikkei 225 Index is closed on Monday (4 November) for a public holiday. The benchmark fell 0.33% to 22,850.77 on Friday.
Note: All views expressed are current as at the stated date of publication

GENERAL DISCLOSURE/DISCLAIMER
This information herein is published by DBS Bank Ltd. ("DBS Bank") and is for information only. This publication is intended for DBS Bank and its subsidiaries or affiliates (collectively "DBS") and clients to whom it has been delivered and may not be reproduced, transmitted or communicated to any other person without the prior written permission of DBS Bank.
This publication is not and does not constitute or form part of any offer, recommendation, invitation or solicitation to you to subscribe to or to enter into any transaction as described, nor is it calculated to invite or permit the making of offers to the public to subscribe to or enter into any transaction for cash or other consideration and should not be viewed as such.
The information herein may be incomplete or condensed and it may not include a number of terms and provisions nor does it identify or define all or any of the risks associated to any actual transaction. Any terms, conditions and opinions contained herein may have been obtained from various sources and neither DBS nor any of their respective directors or employees (collectively the "DBS Group") make any warranty, expressed or implied, as to its accuracy or completeness and thus assume no responsibility of it. The information herein may be subject to further revision, verification and updating and DBS Group undertakes no responsibility thereof.
All figures and amounts stated are for illustration purposes only and shall not bind DBS Group. This publication does not have regard to the specific investment objectives, financial situation or particular needs of any specific person. Before entering into any transaction to purchase any product mentioned in this publication, you should take steps to ensure that you understand the transaction and has made an independent assessment of the appropriateness of the transaction in light of your own objectives and circumstances. In particular, you should read all the relevant documentation pertaining to the product and may wish to seek advice from a financial or other professional adviser or make such independent investigations as you consider necessary or appropriate for such purposes. If you choose not to do so, you should consider carefully whether any product mentioned in this publication is suitable for you. DBS Group does not act as an adviser and assumes no fiduciary responsibility or liability for any consequences, financial or otherwise, arising from any arrangement or entrance into any transaction in reliance on the information contained herein. In order to build your own independent analysis of any transaction and its consequences, you should consult your own independent financial, accounting, tax, legal or other competent professional advisors as you deem appropriate to ensure that any assessment you make is suitable for you in light of your own financial, accounting, tax, and legal constraints and objectives without relying in any way on DBS Group or any position which DBS Group might have expressed in this document or orally to you in the discussion.
If this publication has been distributed by electronic transmission, such as e-mail, then such transmission cannot be guaranteed to be secure or error-free as information could be intercepted, corrupted, lost, destroyed, arrive late or incomplete, or contain viruses. The sender therefore does not accept liability for any errors or omissions in the contents of the Information, which may arise as a result of electronic transmission. If verification is required, please request for a hard-copy version.
This publication is not directed to, or intended for distribution to or use by, any person or entity who is a citizen or resident of or located in any locality, state, country or other jurisdiction where such distribution, publication, availability or use would be contrary to law or regulation.

Singapore: This publication is distributed by DBS Bank Ltd (Company Regn. No. 196800306E) ("DBS") which is an Exempt Financial Adviser as defined in the Financial Advisers Act and regulated by the Monetary Authority of Singapore (the "MAS").