This comes as Trump is expected to sign Hong Kong bill despite China threats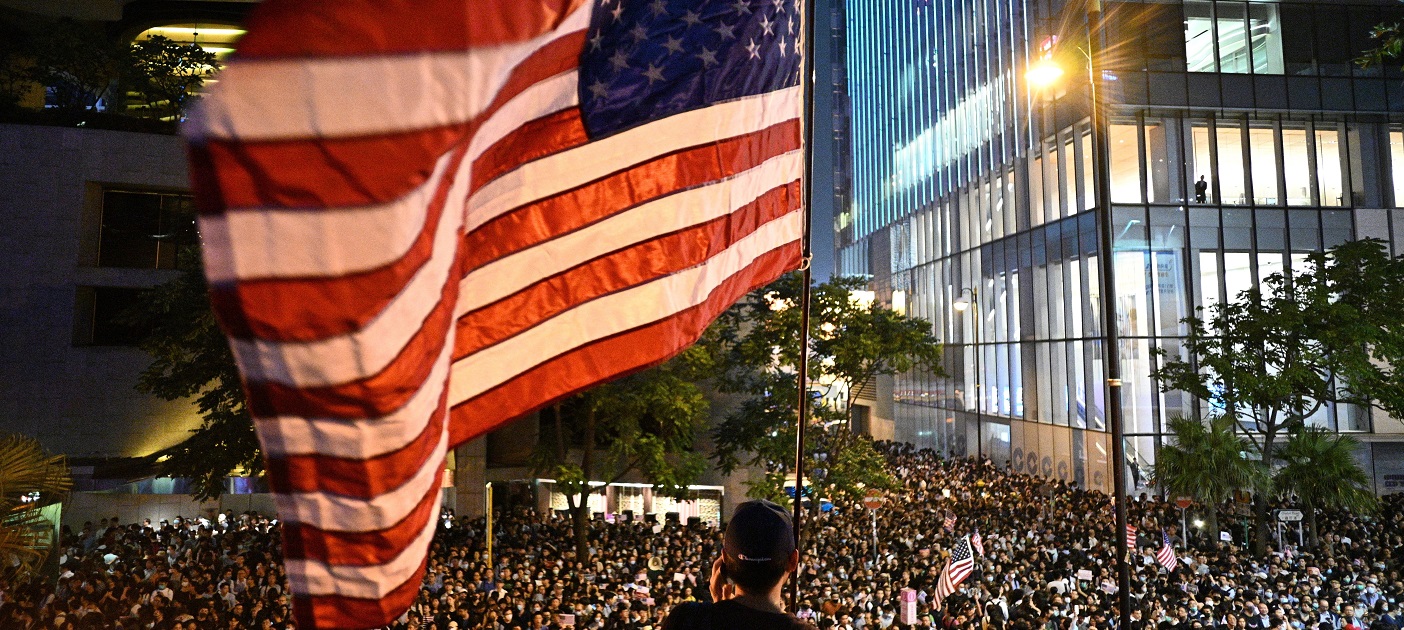 Photo credit: AFP Photo
Market news selected by the DBS Chief Investment Office



US
The S&P 500 Index posted its biggest loss in a month after a report that Washington and Beijing are unlikely to reach a trade deal this year. The benchmark tumbled 0.38% to 3,108.46 on Wednesday (20 November).
Telecommunications companies and automakers led losses on the gauge after Reuters said that a pact may be delayed, though the index pared losses following a report that progress is being made. The developments came after China threatened to retaliate for the Senate's passage of a bill that sought to support Hong Kong's autonomy from Beijing.
US President Donald Trump is expected to sign legislation passed by Congress supporting Hong Kong protesters, setting up a confrontation with China that could imperil a long-awaited trade deal between the world's two largest economies. The bill, approved unanimously by the Senate on Tuesday, passed the House 417-1 on Wednesday and could go to Trump as soon as Thursday. A person familiar with the matter said Trump plans to sign the bill.
"The Congress is sending an unmistakable message to the world that the United States stands in solidarity with freedom-loving people of Hong Kong and that we fully support their fight for freedom," Speaker Nancy Pelosi said on the House floor. "This has been a very unifying issue for us."
The remarkable bipartisan support for a tough US stance with China creates one of the toughest economic and foreign policy challenges of Trump's presidency. He would like to sign what he calls "phase one" of a China trade deal in order to resolve economic uncertainly stemming from his trade war with Beijing as he ramps up his campaign for re-election.
After reaching fresh highs Monday, US stocks have retreated on concern about the outlook for trade. While investors are sensitive to any reports on the economy, the potential of a detente between China and the US had driven gains this year that left stocks poised for their best performance since 2013. – Bloomberg News.
The Dow Jones Industrial Average lost 0.40% to 27,821.09 and the Nasdaq Composite Index declined 0.51% to 8,526.73.
EUROPE
The European Central Bank (ECB) warned of potential side effects from its loose monetary policy, highlighting how years of unprecedented stimulus designed to bolster the economy is contributing to an erosion of financial stability.
Low interest rates have encouraged excessive risk-taking by investment funds and insurers as well as in some real estate markets, the ECB said in its semi-annual Financial Stability Review released Wednesday (20 November). Signs of asset mispricing suggest potential for future corrections.
"While the low interest rate environment supports the overall economy, we also note an increase in risk-taking which could, in the medium term, create financial stability challenges," Vice President Luis de Guindos said in a statement.
The report goes to the heart of the challenge faced by the ECB, which has only just decided to double down on stimulus amid a weakening Euro Area economy. The Governing Council cut rates deeper below zero in September and announced fresh asset purchases in one of its most controversial decisions yet.
The ECB cautioned that its new round of quantitative easing, set to continue until inflation returns to the target of just below 2%, will further limit the amount of high quality government bonds available to private investors and could in turn lead to collateral shortages in the Euro Area repo market, hampering short-term lending between banks.
Since the previous exercise six months ago, the region's outlook has deteriorated, with growth momentum expected to remain low for longer. The probability of an economic contraction by mid-2020 has risen to about 20%, in line with growing near-term recession risks suggested by market-based indicators, according to the report.
While the resilience of Euro Area banks has improved in recent years, profitability remains a prominent concern, and prospects have weakened in the face of a more challenging environment, according to the ECB.
With rates negative and yield curves flat, banks' net interest margins are likely to remain under pressure. Banks may also find it difficult to pass sub-zero rates onto retail clients – households' Current Account deposits make for around 40% of total customer holdings – which could add to the squeeze.
The impact of ECB stimulus is having an impact beyond the banking sector. Over 70% of bonds held by insurers and pension funds now yield less than 1%, and non-bank investments in debt with negative yield have more than doubled since December.
As an antidote, the ECB is encouraging authorities in Euro Area member states to make more active use of macro-prudential tools, such as encouraging banks to build up capital buffers to mitigate some of the risks. – Bloomberg News.
The Stoxx Europe 600 Index closed 0.41% at 403.82 on Wednesday.
JAPAN
Japan's exports suffered their largest drop in three years in October, as the US-China trade war continued to hit global demand and extreme weather disrupted output at home.
Exports fell 9.2% from a year ago, dropping for an 11th month and extending the longest streak of monthly declines since 2016, Ministry of Finance data showed Wednesday (20 November). Economists had forecast a 7.5% slide. Exports to China and the US, Japan's two biggest markets, logged double-digit falls. Drops in automobile and steel shipments were major factors, along with damage from last month's super typhoon.
Despite rumblings that Washington and Beijing are nearer to a truce that could roll back tariffs, global manufacturers remain in a funk over the global economy and uncertainty surrounding the trade outlook.
Speaking after the data was released, a finance ministry official said that manufacturing disruption caused by Typhoon Hagibis may have contributed to October's drop in auto trade. The export slump has made the economy more dependent on consumer demand at a particularly vulnerable time. A sales tax hike introduced last month is expected to weigh heavily on spending this quarter.
South Korean boycotts of Japanese products likely contributed to the drop in Japan's exports of autos and food to its neighbour, according to an economist. Since summer, the two countries have been embroiled in their own trade spat stemming from a dispute over Japan's colonial past. Exports to Korea fell 23% in October. – Bloomberg News.
The Nikkei 225 Index fell 0.19% to 23,104.91 on Thursday (21 November) morning. The benchmark declined 0.62% to 23,148.57 the previous session.
Note: All views expressed are current as at the stated date of publication

GENERAL DISCLOSURE/DISCLAIMER
This information herein is published by DBS Bank Ltd. ("DBS Bank") and is for information only. This publication is intended for DBS Bank and its subsidiaries or affiliates (collectively "DBS") and clients to whom it has been delivered and may not be reproduced, transmitted or communicated to any other person without the prior written permission of DBS Bank.
This publication is not and does not constitute or form part of any offer, recommendation, invitation or solicitation to you to subscribe to or to enter into any transaction as described, nor is it calculated to invite or permit the making of offers to the public to subscribe to or enter into any transaction for cash or other consideration and should not be viewed as such.
The information herein may be incomplete or condensed and it may not include a number of terms and provisions nor does it identify or define all or any of the risks associated to any actual transaction. Any terms, conditions and opinions contained herein may have been obtained from various sources and neither DBS nor any of their respective directors or employees (collectively the "DBS Group") make any warranty, expressed or implied, as to its accuracy or completeness and thus assume no responsibility of it. The information herein may be subject to further revision, verification and updating and DBS Group undertakes no responsibility thereof.
All figures and amounts stated are for illustration purposes only and shall not bind DBS Group. This publication does not have regard to the specific investment objectives, financial situation or particular needs of any specific person. Before entering into any transaction to purchase any product mentioned in this publication, you should take steps to ensure that you understand the transaction and has made an independent assessment of the appropriateness of the transaction in light of your own objectives and circumstances. In particular, you should read all the relevant documentation pertaining to the product and may wish to seek advice from a financial or other professional adviser or make such independent investigations as you consider necessary or appropriate for such purposes. If you choose not to do so, you should consider carefully whether any product mentioned in this publication is suitable for you. DBS Group does not act as an adviser and assumes no fiduciary responsibility or liability for any consequences, financial or otherwise, arising from any arrangement or entrance into any transaction in reliance on the information contained herein. In order to build your own independent analysis of any transaction and its consequences, you should consult your own independent financial, accounting, tax, legal or other competent professional advisors as you deem appropriate to ensure that any assessment you make is suitable for you in light of your own financial, accounting, tax, and legal constraints and objectives without relying in any way on DBS Group or any position which DBS Group might have expressed in this document or orally to you in the discussion.
If this publication has been distributed by electronic transmission, such as e-mail, then such transmission cannot be guaranteed to be secure or error-free as information could be intercepted, corrupted, lost, destroyed, arrive late or incomplete, or contain viruses. The sender therefore does not accept liability for any errors or omissions in the contents of the Information, which may arise as a result of electronic transmission. If verification is required, please request for a hard-copy version.
This publication is not directed to, or intended for distribution to or use by, any person or entity who is a citizen or resident of or located in any locality, state, country or other jurisdiction where such distribution, publication, availability or use would be contrary to law or regulation.

Singapore: This publication is distributed by DBS Bank Ltd (Company Regn. No. 196800306E) ("DBS") which is an Exempt Financial Adviser as defined in the Financial Advisers Act and regulated by the Monetary Authority of Singapore (the "MAS").