Asian exports have begun to follow the earlier PMI declines. Further weakness is in the pipeline, in our view. But swings in exports are common, with the last soft patch coming as recently as 2016.
A cyclical slowdown was on the cards in any case given the maturing electronics cycle

Trade wars and China's domestic demand slowdown have complicated the picture

Expect broadly supportive fiscal and largely neutral monetary policy in the region this year

Except for China, where both policies are likely to ease further

Photo credit: AFP Photo
Spreading exports slump

A couple of months ago, we noted the sharply deteriorating PMIs in the region, and predicted that exports are likely follow the downtrend. Looking at the full set of November and a large part of the already-released December data, we see corroboration of that thesis, unfortunately.

Through November, our key measure of Asian aggregate exports, derived as the three-month-moving average of the year-on-year growth rate of total exports, eased to 10.4%, a 200bps correction from October. With December data from key exporters like China, Singapore, South Korea, and Taiwan already available, it is safe to say the December figure will be much weaker. We reckon once the full set of December data is available, exports growth of Asia-10 will fall to 5%. By January/February, it could fall below 0%.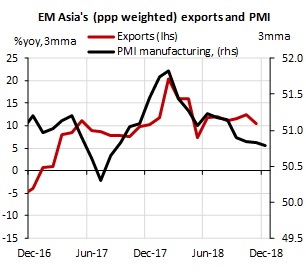 Source: CEIC, DBS Group Research.
Note: Asia-10 economies are: China, Hong Kong, India, Indonesia, Malaysia, Philippines, Singapore, South Korea, Taiwan, and Thailand

Of course, exports swing considerably through the cycle, and Asian exports growth was in negative territory as recently as in 2016. There is also not a single reason for the ongoing slowdown; some correction was on the cards in any case owing to the maturing electronics cycle, a phenomenon in the making through the course of last year. This is not something to fear. In fact, as the 5G network is rolled out worldwide, there could well be a resurgence spending on IT hardware later this year, boosting Asian exports. The ongoing boom in Asian infrastructure spending also bodes well for demand for capital goods going forward.

We have to nonetheless concede that China's ongoing domestic demand slowdown and trade wars have complicated the picture. In the case of China, the following chart, breaking down China's imports and exports from/to the world and the US is instructive. China's imports have slowed considerably in recent months, which in our view goes well beyond the electronics narrative. In fact, China's exports data look healthier (so far) than imports.

The irony of this development is that trade wars are going the opposite direction of demands from the White House, at least so far. Whatever the cause may be (including slowdown in domestic demand and substituting away from US goods), Chinese imports from the US have plunged lately, while exports have held up quite well (perhaps reflecting strong demand in the US, lack of substitutability of Chinese goods, and front-loading of some exports before tariffs were imposed).

Consequently, in 2018, China's trade surplus vis-à-vis the US was USD324bn, higher than the USD278bn in 2017 or USD254bn in 2016. Meanwhile China's trade surplus relative to the world continues to decline (USD352bn in 2018, USD420bn in 2017, and USD537bn in 2016).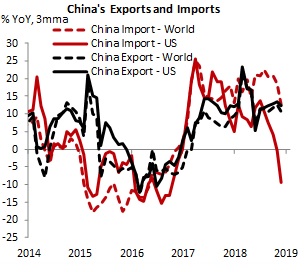 Source: CEIC, DBS Group Research

We have December trade data available for several Asian bellwether economies, including China, Singapore, South Korea, and Taiwan (see charts below). Except for Taiwan, the weak exports figures should be seen in context, given that other three economies in this analysis experienced negative exports growth just two years ago.

In the case of China, it was just a matter of time before exports joined the steadily declining manufacturing PMI trend (declining since June). More worrisome is the fact that a rather adversarial base effect will kick in from 1Q onward, which means on a year-on-year basis, we will likely see China's exports growth figures worsen considerably in the coming months.

Policy implications are clear. Between softening domestic demand, maturing electronics cycle, and the fog of trade wars, the authorities need to slow the deleveraging process somewhat and ease fiscal and monetary policies. We expect supportive tax cut and infrastructure spending measures in the coming months. Additionally, monetary policy, already on an easing path, will be characterised by further liquidity injection and cuts in reserves ratios.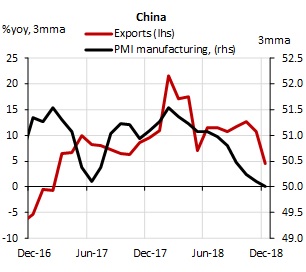 Source: CEIC, DBS Group Research

Beyond China, however, the demand dynamic is not quite worrisome in Asia, so we expect no vigour in policy response elsewhere. On the monetary policy side, we think Asian central banks are done following the Fed for the time being, and hence expect policy interest rates on a prolonged pause. Similarly, on the fiscal side, we don't see much by way of new measures, although a number of countries will likely see positive fiscal impulse related to elections (India, Indonesia, Thailand) and infrastructure spending during the course of this year.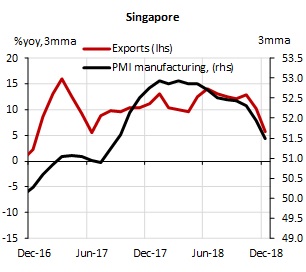 Source: CEIC, DBS Group Research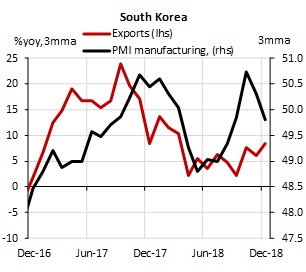 Source: CEIC, DBS Group Research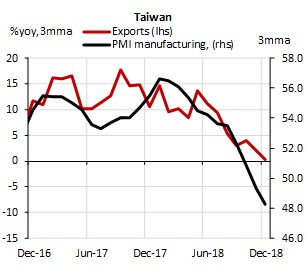 Source: CEIC, DBS Group Research

Highlights of the week:
• Top-10 investment strategies for 2019: #4
• Top-10 investment strategies for 2019: #5
• Top-10 investment strategies for 2019: #6
• Top-10 investment strategies for 2019: #7
• Top-10 investment strategies for 2019: #8
To read the full report, click here to
Download the PDF
.
Disclaimers and Important Notices
The information herein is published by DBS Bank Ltd and PT Bank DBS Indonesia (collectively, the "DBS Group"). It is based on information obtained from sources believed to be reliable, but the Group does not make any representation or warranty, express or implied, as to its accuracy, completeness, timeliness or correctness for any particular purpose. Opinions expressed are subject to change without notice. Any recommendation contained herein does not have regard to the specific investment objectives, financial situation & the particular needs of any specific addressee. The information herein is published for the information of addressees only & is not to be taken in substitution for the exercise of judgement by addressees, who should obtain separate legal or financial advice. The Group, or any of its related companies or any individuals connected with the group accepts no liability for any direct, special, indirect, consequential, incidental damages or any other loss or damages of any kind arising from any use of the information herein (including any error, omission or misstatement herein, negligent or otherwise) or further communication thereof, even if the Group or any other person has been advised of the possibility thereof. The information herein is not to be construed as an offer or a solicitation of an offer to buy or sell any securities, futures, options or other financial instruments or to provide any investment advice or services. The Group & its associates, their directors, officers and/or employees may have positions or other interests in, & may effect transactions in securities mentioned herein & may also perform or seek to perform broking, investment banking & other banking or finan­cial services for these companies. The information herein is not intended for distribution to, or use by, any person or entity in any jurisdiction or country where such distribution or use would be contrary to law or regulation. Sources for all charts & tables are CEIC & Bloomberg unless otherwise specified.
DBS Bank Ltd., 12 Marina Blvd, Marina Bay Financial Center Tower 3, Singapore 018982. Tel: 65-6878-8888. Company Registration No. 196800306E.
PT Bank DBS Indonesia, DBS Bank Tower, 33rd floor, Ciputra World 1, Jalan Prof. Dr. Satrio Kav 3-5, Jakarta, 12940, Indonesia. Tel: 62-21-2988-4000. Company Registration No. 09.03.1.64.96422.