IndoGBs possess superior carry qualities and would be an attractive carry play over the next 3-6 months.
Within the Asian bond space, high-quality carry opportunities could outperform in 2020

IndoGBs score well across various carry criteria, notably its high yields and low FX volatility

Bond valuations are not extended; 10Y IndoGB yields can stay below 7%

Rich IDR valuations represent the main risk to our view

Implications for investors – IndoGBs are an attractive carry play over the next 3-6 months

Photo credit: AFP Photo
In 2020, we expect the external environment to be supportive of EM assets amid an improving global outlook. Short-term US interest rates are expected to be rangebound and while the USD should be less supported. Within the Asian bond space, scope for large duration returns are probably limited after 2019's outsized gains. Accordingly, we think high-quality carry opportunities will likely outperform in 2020.

In our view, the Indonesia Government Bond (IndoGB) scores well across various carry criteria. Absolute yields are high with the 10Y just below 7%. IDR volatility is low, largely a result of Bank Indonesia's focus on FX stability. Monetary policy easing, in terms of extent and pace of rate cuts, has been measured. Fiscal policy has been prudent with small but manageable slippages. Domestic inflation is subdued and unlikely to be a source of pressure on yields. From a flows perspective, Indonesia's high weights in key EM bond indices (e.g. GBI-EM) ensure healthy foreign demand, as long as global risk sentiments stay positive. In our base case scenario of US rates drifting slightly higher in 2020 on a more constructive global outlook, IndoGB's steep curve would offer more buffer/protection relative to Asia low-yielders.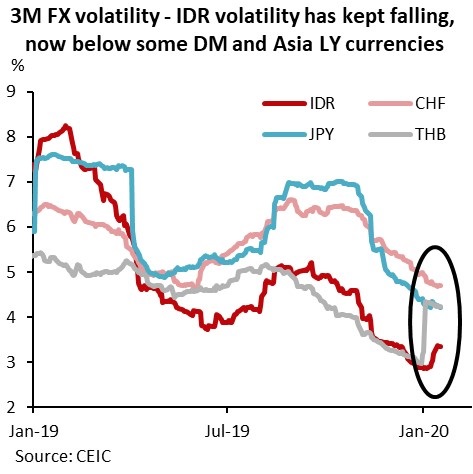 When we compare IndoGBs to peer EM high-yielders, IndoGBs clearly rank well. In short, we think IndoGBs possess superior carry qualities and would be an attractive carry play over the next 3-6 months.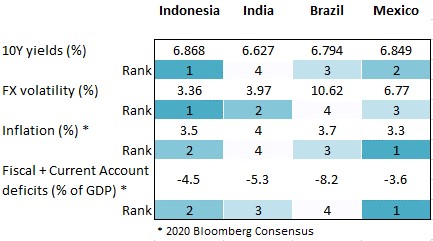 Can 10Y yields stay below 7%?

10Y IndoGB yields recently broke below 7%, a level which has historically proven to be a floor. Understandably, there have been concerns within markets that bond valuations could be getting too extended. In our view, 7% is just an absolute level. In a world of low global rates and ample liquidity, looking at IndoGB yields on a relative basis would make more sense.

From the perspective of foreigners - largest owner group at 39% - spreads to US Treasuries are far from tight.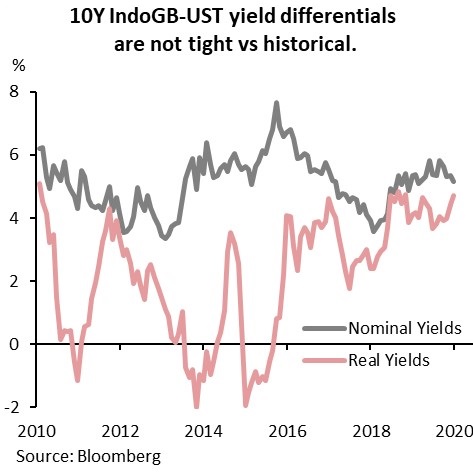 From the perspective of local banks - 2nd largest owner group at 24%, IndoGBs are attractive relative to funding cost (we use Jibor as a proxy). Notably, spreads are at wide levels (~1.5%) which typically precedes IndoGB rallies.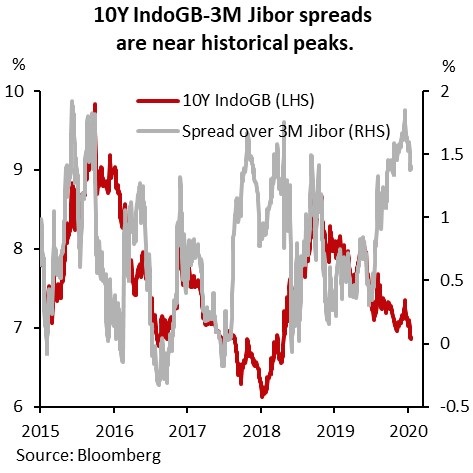 Stress-testing our view - 3 key risks

When we consider the key risks to our constructive view of IndoGB as a carry play, they appear to be presently low in aggregate.

1. Much higher US rates (10Y UST > 2.75%) – Low risk

The carry attractiveness of IndoGB relies on offering a competitive yield differential over US Treasury. In the near term, US rates could drift slightly higher via modest reduction in Fed cut pricing and some lightening of term premium. However, with the Fed on a prolonged hold and major central banks like ECB and BOJ committing to "present or lower levels" of interest rates, the prospects of US rates breaking into much higher ranges are slim.

2. Current account deficit and external funding risks – Low risk

The high dependence on foreign inflows to finance the current account deficit is always a perennial concern amongst investors, due to its implications for IDR volatility and IndoGB yields. In our view, Indonesia's external funding and FX reserves positions have seen consistent improvements over recent quarters and thus, we are not overly concerned. Though there could be some pressures on the current account from increased infrastructure spending in President Jokowi's second term, we expect some offsets from recent policies aimed at tightening the deficit, such as the launch of B30 biodiesel policy and the banning of nickel ore exports.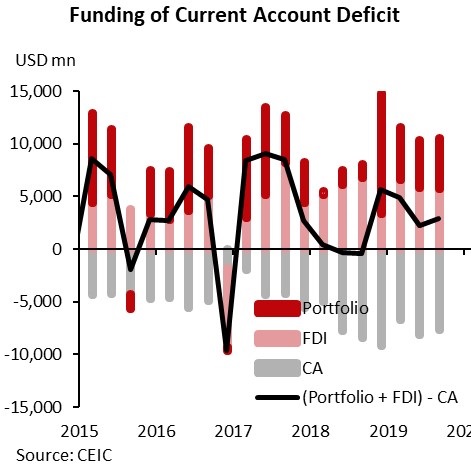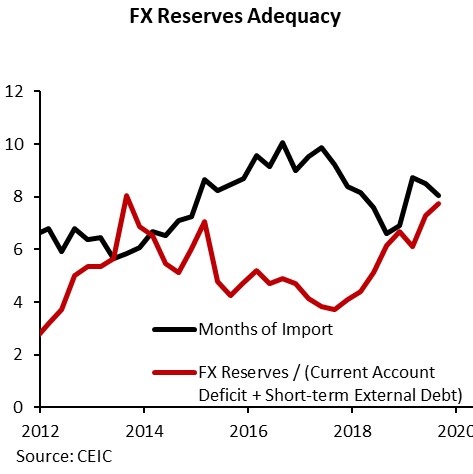 3. IDR valuations quite rich – Medium risk

The sharp 2.2% rally vs USD over the last one month has likely push IDR valuations further into rich territory. Based on REER and our DEER models (link), IDR appears to be ~4-7% above fair value. We are not discounting the possibility that IDR could give back some of its recent gains but feel that with the current external environment supportive of EM high-yielders and 1Q being a seasonally strong quarter for the IDR, any depreciation in the short term is likely to be modest rather than large/sharp.


To read the full report, click here to Download the PDF.


Disclaimers and Important Notices
The information herein is published by DBS Bank Ltd and PT Bank DBS Indonesia (collectively, the "DBS Group"). It is based on information obtained from sources believed to be reliable, but the Group does not make any representation or warranty, express or implied, as to its accuracy, completeness, timeliness or correctness for any particular purpose. Opinions expressed are subject to change without notice. Any recommendation contained herein does not have regard to the specific investment objectives, financial situation & the particular needs of any specific addressee. The information herein is published for the information of addressees only & is not to be taken in substitution for the exercise of judgement by addressees, who should obtain separate legal or financial advice. The Group, or any of its related companies or any individuals connected with the group accepts no liability for any direct, special, indirect, consequential, incidental damages or any other loss or damages of any kind arising from any use of the information herein (including any error, omission or misstatement herein, negligent or otherwise) or further communication thereof, even if the Group or any other person has been advised of the possibility thereof. The information herein is not to be construed as an offer or a solicitation of an offer to buy or sell any securities, futures, options or other financial instruments or to provide any investment advice or services. The Group & its associates, their directors, officers and/or employees may have positions or other interests in, & may effect transactions in securities mentioned herein & may also perform or seek to perform broking, investment banking & other banking or finan­cial services for these companies. The information herein is not intended for distribution to, or use by, any person or entity in any jurisdiction or country where such distribution or use would be contrary to law or regulation. Sources for all charts & tables are CEIC & Bloomberg unless otherwise specified.
DBS Bank Ltd., 12 Marina Blvd, Marina Bay Financial Center Tower 3, Singapore 018982. Tel: 65-6878-8888. Company Registration No. 196800306E. DBS Bank Ltd., Hong Kong Branch, a company incorporated in Singapore with limited liability. 18th Floor, The Center, 99 Queen's Road Central, Central, Hong Kong.
PT Bank DBS Indonesia, DBS Bank Tower, 33rd floor, Ciputra World 1, Jalan Prof. Dr. Satrio Kav 3-5, Jakarta, 12940, Indonesia. Tel: 62-21-2988-4000. Company Registration No. 09.03.1.64.96422