Besides maintaining a prudent approach to reallocating resources to the various segments of the economy, Budget 2018 has also struck the right note in balancing Singapore's present and future ne...
Budget 2018 focuses on economic transformation, innovation incentives, the social safety net…

…and fiscal sustainability; additional resources needed to deal with aging and infrastructure

The government is taking a prudent approach to managing prevailing macroeconomic dynamics

The fiscal stance has turned marginally expansionary, with a budgeted deficit of S$0.6bn for FY18…

…although we believe the outcome would surprise on the upside, given the sanguine economic climate

Photo credit: AFP Photo
This is an excerpt of a more detailed deep-dive into Singapore which we issued today. For the PDF of the report, please scroll to the bottom of the page or click on the tab on the right.
Amid an improved growth outlook, the emphasis of this year's well-telegraphed budget was on medium-term economic transformation, building a liveable and sustainable city, fostering a caring society, and fiscal rebalancing. This is a "give and take" budget, with some goodies for most, coupled with a few near-and longer-term costs.
Among short-term measures, the Wage Credit Scheme (WCS) has been extended, which should help lower business costs and sustain income growth for some vulnerable segments of the economy. Extension and enhancement to the Corporate Income Tax (CIT) rebates will provide some short-term relief for companies, although the restriction in tax exemption (Start-up Tax Exemption and the Partial Tax Exemption) will affect smaller companies and startups more than bigger corporates. However, other forms of tax deductibles and innovation-related grants should help offset the negative impact.
Policymakers have also continued to embark on the medium-term transformation of the economy. While 21 of the 23 Industry Transformation Maps (ITMs) have been announced, these are merely plans on the table at this juncture. Implementation will be crucial.
There is a visible shift away from broad-based programmes (e.g., Productivity and Innovation Credit scheme) towards more specific and innovation-focused measures. This is in line with our long-held belief that a more targeted approach to restructuring would yield better outcomes in the longer term. Concomitantly, more public communication on this aspect and targeted consultancy for local companies will surely help enhance the take-up rate of these schemes.
The announcement of the ASEAN Innovation Network and the setting up of the Infrastructure Office is exactly in line with our belief that Singapore can benefit from ASEAN growth by participating actively in the economic development of the region. With Singapore assuming the ASEAN chairmanship this year, we need to step up our regionalisation efforts. Not only will this create more opportunities for local companies, Singapore could also share best practices and new technologies with her neighbours and contribute to their economic advancement.
The need for long-term fiscal planning is the key focus of the budget announcement. Budget 2018 is not about the present but rather, about planning for the future. Although Singapore has enjoyed years of overall fiscal surplus, mainly attributed to the robust Net Investment Return Contributions (NIRC), her primary balance has been in deficit for the past few years and projected to deepen further in FY2018.
Besides, an aging population will entail higher healthcare spending in the years ahead. Spending on education, security, and infrastructure is also expected to rise. Hence, it should come as no surprise to see announcement on tax hikes, particularly the GST.
Singapore's GST rate is low compared with some regional peers'. Unlike the CIT, there is no competitive pressure. Notwithstanding the regressive nature of the GST, it is perhaps the most direct and effective tool in raising tax revenue. It has a relatively broader tax base and is also the second-largest source of revenue, just behind the CIT. Hence a 2%-pt hike in GST rate goes some way in ensuring longer-term fiscal sustainability.
The Finance Minister also alluded to the possibility of financing infrastructure via borrowing to spread the cost of investment over more years, as well as setting up separate development funds to finance big-ticket infrastructure projects (Changi Airport and the rail system). This makes sense as the financial strain can then be smoothened out over a longer period rather than incurred in any particular fiscal term.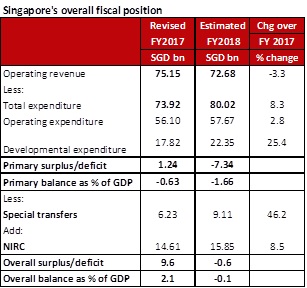 The economy registered an overall surplus of S$9.61bn (2.1% of GDP), significantly higher than the budgeted amount of SGD1.9bn. This comes largely on the back of a one-off spike in Statutory Board contributions of S$4.6bn, and increased stamp-duty collections of S$2.0bn due to the pick-up in the property market.
For FY18, fiscal policy has turned expansionary, with a budgeted deficit of S$0.6bn (-0.1% of nominal GDP). This stems largely partly from a projected 3.3% decline in tax revenue, an 8.3% spike in spending, as well as a whopping 46.2% surge in special transfers. The increase in special transfers reflects largely the top-ups to endowment and trust funds in addition to the announcement of the SG Bonus.
More importantly, it should be noted that the primary and basic deficits have deepened. The primary deficit is expected to dip to S$7.3bn while the basic deficit will register S$9.2bn. These would be the deepest shortfall since 2005. While we reckon that the outcome would surprise on the upside, persistent deficit in the longer term is certainly not sustainable. This explains the need to bite the fiscal bullet and to rebalance the fiscal position in the longer term.
While Singapore's overall fiscal position remains strong, given the robust NIRC, policymakers will continue to adopt a prudent and forward-looking approach to planning for the future. While tax adjustments are unpopular, they are essential to safeguarding the sustainability of Singapore's longer-term fiscal health. Indeed, Budget 2018 is another crucial building block in the longer-term development of Singapore. Besides maintaining a prudent approach to reallocating resources amongst the various segments of the economy, Budget 2018 has also struck the right note in balancing the present and future needs of the society. This is a budget with an eye on the future.
To read the full report, click here to
Download the PDF
.
Disclaimers and Important Notices
The information published by DBS Bank Ltd. (company registration no.: 196800306E) ("DBS") is for information only. It is based on information or opinions obtained from sources believed to be reliable (but which have not been independently verified by DBS, its related companies and affiliates ("DBS Group")) and to the maximum extent permitted by law, DBS Group does not make any representation or warranty (express or implied) as to its accuracy, completeness, timeliness or correctness for any particular purpose. Opinions and estimates are subject to change without notice. The publication and distribution of the information does not constitute nor does it imply any form of endorsement by DBS Group of any person, entity, services or products described or appearing in the information. Any past performance, projection, forecast or simulation of results is not necessarily indicative of the future or likely performance of any investment or securities. Foreign exchange transactions involve risks. You should note that fluctuations in foreign exchange rates may result in losses. You may wish to seek your own independent financial, tax, or legal advice or make such independent investigations as you consider necessary or appropriate.
The information published is not and does not constitute or form part of any offer, recommendation, invitation or solicitation to subscribe to or to enter into any transaction; nor is it calculated to invite, nor does it permit the making of offers to the public to subscribe to or enter into any transaction in any jurisdiction or country in which such offer, recommendation, invitation or solicitation is not authorised or to any person to whom it is unlawful to make such offer, recommendation, invitation or solicitation or where such offer, recommendation, invitation or solicitation would be contrary to law or regulation or which would subject DBS Group to any registration requirement within such jurisdiction or country, and should not be viewed as such. Without prejudice to the generality of the foregoing, the information, services or products described or appearing in the information are not specifically intended for or specifically targeted at the public in any specific jurisdiction.
The information is the property of DBS and is protected by applicable intellectual property laws. No reproduction, transmission, sale, distribution, publication, broadcast, circulation, modification, dissemination, or commercial exploitation such information in any manner (including electronic, print or other media now known or hereafter developed) is permitted.
DBS Group and its respective directors, officers and/or employees may have positions or other interests in, and may effect transactions in securities mentioned and may also perform or seek to perform broking, investment banking and other banking or financial services to any persons or entities mentioned.
To the maximum extent permitted by law, DBS Group accepts no liability for any losses or damages (including direct, special, indirect, consequential, incidental or loss of profits) of any kind arising from or in connection with any reliance and/or use of the information (including any error, omission or misstatement, negligent or otherwise) or further communication, even if DBS Group has been advised of the possibility thereof.
The information is not intended for distribution to, or use by, any person or entity in any jurisdiction or country where such distribution or use would be contrary to law or regulation. The information is distributed (a) in Singapore, by DBS Bank Ltd.; (b) in China, by DBS Bank (China) Ltd; (c) in Hong Kong, by DBS Bank (Hong Kong) Limited; (d) in Taiwan, by DBS Bank (Taiwan) Ltd; (e) in Indonesia, by PT DBS Indonesia; and (f) in India, by DBS Bank Ltd, Mumbai Branch.