Regardless of the outcome of the ongoing political strife, Hong Kong dollar's peg to the USD is under scrutiny.
Currency crises happen if confidence in the sovereign ebbs and there is overwhelming capital outflow

Confidence in HKD is not yet dented, and HKMA has strong buffers

The key is the confidence of Hong Kong's residents

Resolution of the ongoing unrest will help the HKD, but the macro misalignment concerns will persist

Photo credit: AFP Photo
The peg can hold, but the cost would be substantial
This week's protests have renewed investors' attention to Hong Kong. Market volatility has risen along with demonstrations against a proposed extradition legislation. On-shore liquidity has tightened, with the HIBOR spiking to a level not seen since 2008.
Overnight rates can rise for a variety of reasons, including seasonal liquidity demand for transactional purposes. Moreover, since Hong Kong's rates follow US short-term rates given the peg to the US dollar, much for the rise in HIBOR in 2018 was directly attributable to Fed rate hikes. But the latest spike goes well beyond innocuous seasonality or cues from US monetary policy.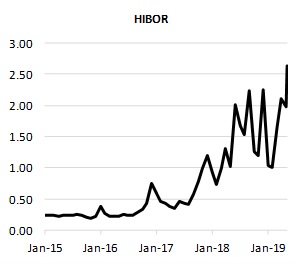 Source: Bloomberg, DBS

The latest spike clearly reflects capital outflows and worsening of sentiments. Although the immediate reason behind that is the ongoing political unrest, there are deeper reasons why investors are questioning the state of HKD's long-standing peg to the USD.
Hong Kong's economy, despite being a world class financial centre that thrives on openness and Western-style rule of law, is far more tied to the Chinese economy today than any other place. Hong Kong's banks' claims to China make up 28% of total external claims, up from 7% during 2000-09. Bulk of Hong Kong's FDIs go to and come from China; same holds with respect to its trade.
Most critically, the economy has experienced a sharp rise in leverage build-up in the past decade, largely due to a property market bubble of enormous proportions. Hong Kong today boasts the highest per square meter price for residential properties in the world, helped by enormous buying interest from mainland China. The rising prices have caused a leverage-fuelled frenzy.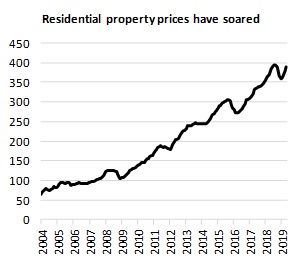 Source: CEIC, DBS

The sharp rise in leverage has affected Hong Kong's monetary aggregates. M3 has quadrupled over the past decade and half, extraordinary for an economy of which the nominal GDP expanded by just two times during the same period. While the currency peg against the USD looks fine when the reserves-to-base money ratio is considered, the fact is if there is a sharp correction in the property market or a panic selling of the HKD, the peg would be challenged. Recent movements in HIBOR already show that the cost of defending the currency will have to be borne by higher interest rates, as selling of USD by HKMA is unlikely to be a sufficient tool.
The complicating factor is that higher rates could affect the property market and further erode confidence and erode confidence. If the political situation does not improve soon, speculative pressure against the peg would rise. HKMA has difficult days ahead.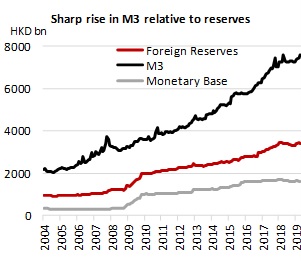 Source: HKMA, DBS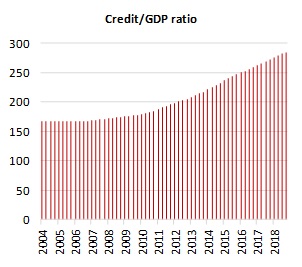 Source: CEIC, DBS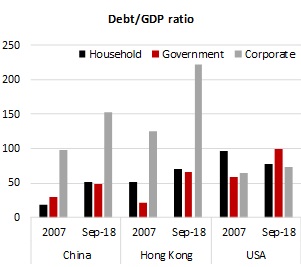 Source: World Bank, BIS, DBS
To read the full report, click here to
Download the PDF
.
Disclaimers and Important Notices
The information herein is published by DBS Bank Ltd and PT Bank DBS Indonesia (collectively, the "DBS Group"). It is based on information obtained from sources believed to be reliable, but the Group does not make any representation or warranty, express or implied, as to its accuracy, completeness, timeliness or correctness for any particular purpose. Opinions expressed are subject to change without notice. Any recommendation contained herein does not have regard to the specific investment objectives, financial situation & the particular needs of any specific addressee. The information herein is published for the information of addressees only & is not to be taken in substitution for the exercise of judgement by addressees, who should obtain separate legal or financial advice. The Group, or any of its related companies or any individuals connected with the group accepts no liability for any direct, special, indirect, consequential, incidental damages or any other loss or damages of any kind arising from any use of the information herein (including any error, omission or misstatement herein, negligent or otherwise) or further communication thereof, even if the Group or any other person has been advised of the possibility thereof. The information herein is not to be construed as an offer or a solicitation of an offer to buy or sell any securities, futures, options or other financial instruments or to provide any investment advice or services. The Group & its associates, their directors, officers and/or employees may have positions or other interests in, & may effect transactions in securities mentioned herein & may also perform or seek to perform broking, investment banking & other banking or finan­cial services for these companies. The information herein is not intended for distribution to, or use by, any person or entity in any jurisdiction or country where such distribution or use would be contrary to law or regulation. Sources for all charts & tables are CEIC & Bloomberg unless otherwise specified.
DBS Bank Ltd., 12 Marina Blvd, Marina Bay Financial Center Tower 3, Singapore 018982. Tel: 65-6878-8888. Company Registration No. 196800306E.
PT Bank DBS Indonesia, DBS Bank Tower, 33rd floor, Ciputra World 1, Jalan Prof. Dr. Satrio Kav 3-5, Jakarta, 12940, Indonesia. Tel: 62-21-2988-4000. Company Registration No. 09.03.1.64.96422.