Major economies of the world appear to be pursuing a weak currency policy, but does competitive depreciation really offset deflation risks? We have our doubts.
Zero rates and quantitative easing have not managed to create sustained inflation in G3 so far

Declining potential growth and gains from technology have driven structural disinflation

Monetary policy's role, in this context, is small

The notion that growth can be boosted through competitive devaluation is outdated, in our view
Photo credit: AFP Photo
Will a dovish Fed generate a weaker dollar?
Without actually cutting interest rates, the US Federal Reserve has generated major easing of financial conditions this year. While this week's FOMC statement and accompanying forecasts suggest continued shift toward easing monetary policy in the coming months, we remain unsure if so much dovishness Is justified. The dovish shift may be sufficient to please the markets, but it should be clear that the shift in stance was not seismic. The US central bank officials have demonstrated eagerness to ease financial market conditions from the beginning of this year. Judging by the National Financial Conditions Index calculated by the Chicago Fed, they have achieved that already (although it is also clear that conditions were not particularly tight even during the stock market selloff in December).
The objective of the White House however is clear; it wants the Fed to cut rates to support growth through a weaker dollar. While criticising other economies for currency manipulation, by calling for Fed policy easing repeatedly, President Trump has put the US at the centre of currency wars.
The motivation for this may come from the fact that US real effective exchange rate has appreciated steadily in recent years. Whether measured by using the consumer price (CPI) index or unit labour costs (ULC), the dollar has appreciated, in real terms, by 15-25% over the last five years, as per IMF data.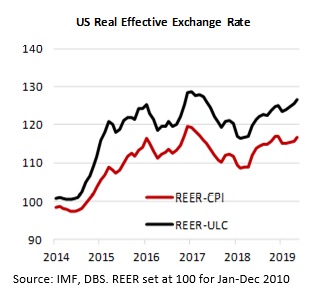 But shouldn't the exchange rate have appreciated against major partners given the US economy's strong growth outturn in recent years? Indeed, looking at growth, investment, and financial conditions index, it doesn't appear the gradual appreciation of the dollar has had a negative impact on the US.
Furthermore, with trillions of dollars of European and Japanese debt yielding negative interest rates, growing amount of USD-denominated debt issued by both developed and developing economies, demand for USD is unlikely to wane anytime soon, regardless of the Fed's stance, in our view.
Additionally, there could be a notion that a weaker USD should reduce deflation risk, but this is valid only in theory. Dollar's fluctuation has had little impact on inflation or inflation expectations in recent years, with disinflation being driven far more by the lack of market power among producers and technology-led cost savings.
Moreover, the highly defensive rhetoric on inflation being well below the Fed's target needs to be seen in context. Analysis done by the Dallas Federal Reserve shows that core inflation has been on an uptrend since 2013, interspersed with temporary downshifts. In fact, a comparison of trimmed mean and core Personal Consumer Expenditure (which excludes food and energy) inflation shows that core PCE tends to deviate far more than the underlying rate of inflation. We are sure that Fed officials will keep this in mind as they consider forthcoming data. This means that although the next cut is likely to be defended as an insurance against below-target inflation, that evidence is nowhere close to being compelling to support such a move.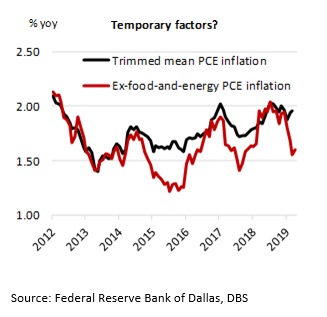 If inflation is not particularly low and exchange rate depreciation is not a major source of competitive gains or adequate insurance against disinflation, the desire to see a weaker dollar seems old fashioned and unlikely to provide much dividend, in our view. But implicit in monetary easing by the BoJ and ECB in recent decades has also been a desire to guide respective currencies weaker. Now with the US joining the fray, the markets will be pulled between major central banks of the world, all pursuing dovish policies. The net impact may well be status quo, unless there is major relative change in real interest rates in the US vis-à-vis Europe or Japan. Since this would require an unlikely mix of easing by the US with no commensurate easing by its partners, we don't see a major dollar easing cycle ahead.
Finally, In the absence of supply-demand imbalance, and in the presence of declining potential growth and gains from technological advancement in advanced economies, a bout of currency weakness is unlikely to turn inflation around. The notion that growth can be boosted through competitive devaluation is therefore outdated, in our view.
Taimur Baig
To read the full report, click here to
Download the PDF
.
Disclaimers and Important Notices
The information herein is published by DBS Bank Ltd and PT Bank DBS Indonesia (collectively, the "DBS Group"). It is based on information obtained from sources believed to be reliable, but the Group does not make any representation or warranty, express or implied, as to its accuracy, completeness, timeliness or correctness for any particular purpose. Opinions expressed are subject to change without notice. Any recommendation contained herein does not have regard to the specific investment objectives, financial situation & the particular needs of any specific addressee. The information herein is published for the information of addressees only & is not to be taken in substitution for the exercise of judgement by addressees, who should obtain separate legal or financial advice. The Group, or any of its related companies or any individuals connected with the group accepts no liability for any direct, special, indirect, consequential, incidental damages or any other loss or damages of any kind arising from any use of the information herein (including any error, omission or misstatement herein, negligent or otherwise) or further communication thereof, even if the Group or any other person has been advised of the possibility thereof. The information herein is not to be construed as an offer or a solicitation of an offer to buy or sell any securities, futures, options or other financial instruments or to provide any investment advice or services. The Group & its associates, their directors, officers and/or employees may have positions or other interests in, & may effect transactions in securities mentioned herein & may also perform or seek to perform broking, investment banking & other banking or finan­cial services for these companies. The information herein is not intended for distribution to, or use by, any person or entity in any jurisdiction or country where such distribution or use would be contrary to law or regulation. Sources for all charts & tables are CEIC & Bloomberg unless otherwise specified.
DBS Bank Ltd., 12 Marina Blvd, Marina Bay Financial Center Tower 3, Singapore 018982. Tel: 65-6878-8888. Company Registration No. 196800306E.
PT Bank DBS Indonesia, DBS Bank Tower, 33rd floor, Ciputra World 1, Jalan Prof. Dr. Satrio Kav 3-5, Jakarta, 12940, Indonesia. Tel: 62-21-2988-4000. Company Registration No. 09.03.1.64.96422.