A major changing of the guard is underway at the European Central Bank; nominated to be President is IMF MD Christine Lagarde; Chief Economist Philip Lane took over last month.
The Lagarde-Lane team will not deviate from the strong and dovish path pursued by ECB under Draghi

In the near term, further action will warrant a demand shock, which is not in the central scenario

But an exacerbation in the global outlook will very likely cause ECB to ease

In the medium term, we expect Ms. Lagarde to renew calls for stronger European institutions
Photo credit: AFP Photo
Weekly: ECB's dovish leadership transition
A changing of the guard is underway at the European Central Bank (ECB).
Chief Economist Philip Lane took over from Peter Praet last month, and earlier this week the European Council nominated the Managing Director of the International Monetary Fund, Christine Lagarde, to succeed Mario Draghi as President of ECB (on the 1st of November). Both appointments are praise-worthy, with these two veterans of central banking (Lane) and political economy (Lagarde) likely to provide strong leadership to Europe's central bank.
Their work won't be simple, despite sizeable achievements of ECB under Mario Draghi. The Draghi-led ECB provided considerable support to European banks during the 2011/12 debt crisis, strengthened confidence in the Euro with the famous "whatever it takes" comment in mid-2012, and embarked on a major asset purchase programme in 2015 that added 20% GDP to its balance sheet in 4 years. Consequently, the eurozone has experienced a gradual recovery, deflation threats have been largely eliminated, borrowing has picked up thanks to record low lending rates.
But lately, the momentum of growth and credit growth has slowed, inflation has been well-below target, and long-term rates have fallen below zero, suggesting fears of protracted stagnation. The Lagarde-Lane team will have to deal with these considerations.
Note that despite these concerns, financial conditions are not tight, banks are not under stress, liquidity is ample, and recession risks are not considered imminent. The need to take urgent and outsized measures has yet to arise, in our view.
This is why the mid-June speech by Mr. Draghi raised many eyebrows, as in the process of trying to assure the markets that the central bank has the tools to prevent deterioration of inflation expectations, he sounded ultra-dovish. He lowered the bar for further policy action, either through more negative interest rates or additional asset purchase, to the absence of improvement in economic conditions (as opposed to further deterioration). This was seen as his attempt to tie the hands of his successor from any possible scaling back of supportive measures before 2021.
With the Lagarde-Lane team, Mr. Draghi need not worry. As the Governor of the Central Bank of Ireland, Mr. Lane has demonstrated a level-headed and pragmatic approach to policy making, balancing growth imperative with financial stability. As former Finance Minister of France, and IMF MD, Ms. Lagarde is comfortable dealing with political mine fields; she is adept at building consensus, but not shy from telling hard truths.
Will the ECB veer toward more and more unconventional policy in the coming years? We won't bet on it, as the new leadership may well underscore the importance and primacy of coordinated fiscal and structural policy to move the economy forward. We don't think the new leadership will have to do anything major to establish their credentials, their credibility is not under question in any case. Of course, if stagnation foments and the Eurozone faces renewed threats to stability, the ECB will act, but we don't think the bar needs to be as low as what Mr. Draghi has set.
We would expect some of Mr. Draghi's past exhortations to be amplified by Ms. Lagarde. The need for additional and stronger pan-European institutions to solidify policy coordination and form a genuine monetary union, as well as more flexibility in structural (labour market, in particular) and economic policy making will be called for by Ms. Lagarde, in our view.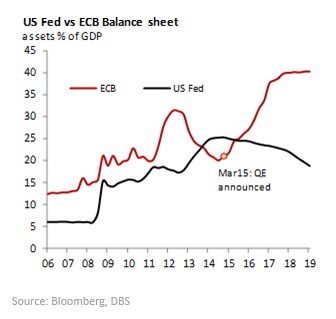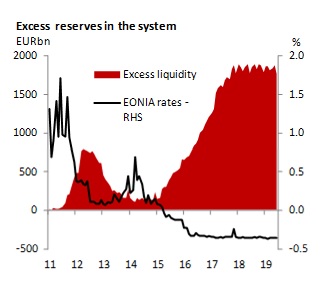 What should the markets take away? Short of additional demand shocks, the rates curves may well prove to be too rich, in our view. If China-US strife intensifies and global growth weakens considerably next year, the ECB will have to act, but we doubt if that is the central scenario of Lagarde-Lane. Given the spate of downward revision to growth and inflation forecasts already, the risk to the outlook is balanced in our view. As seen in the recent statement of the G20 leaders, the central scenario is in fact one of growth bottoming out in the second half of 2019. As for the euro, it is hard to build a bullish case, unless there is a major improvement to the outlook. Despite US President Trump's frustration with a weak Euro, we don't expect ECB to undertake any policy that would remove the market's dovish view on the currency.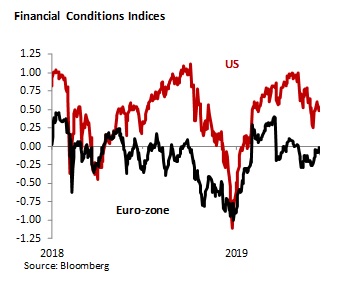 Note: A positive value indicates accommodative financial conditions, while a negative value indicates tighter financial conditions relative to pre-crisis norms.
Taimur Baig
To read the full report, click here to
Download the PDF
.
Disclaimers and Important Notices
The information herein is published by DBS Bank Ltd and PT Bank DBS Indonesia (collectively, the "DBS Group"). It is based on information obtained from sources believed to be reliable, but the Group does not make any representation or warranty, express or implied, as to its accuracy, completeness, timeliness or correctness for any particular purpose. Opinions expressed are subject to change without notice. Any recommendation contained herein does not have regard to the specific investment objectives, financial situation & the particular needs of any specific addressee. The information herein is published for the information of addressees only & is not to be taken in substitution for the exercise of judgement by addressees, who should obtain separate legal or financial advice. The Group, or any of its related companies or any individuals connected with the group accepts no liability for any direct, special, indirect, consequential, incidental damages or any other loss or damages of any kind arising from any use of the information herein (including any error, omission or misstatement herein, negligent or otherwise) or further communication thereof, even if the Group or any other person has been advised of the possibility thereof. The information herein is not to be construed as an offer or a solicitation of an offer to buy or sell any securities, futures, options or other financial instruments or to provide any investment advice or services. The Group & its associates, their directors, officers and/or employees may have positions or other interests in, & may effect transactions in securities mentioned herein & may also perform or seek to perform broking, investment banking & other banking or finan­cial services for these companies. The information herein is not intended for distribution to, or use by, any person or entity in any jurisdiction or country where such distribution or use would be contrary to law or regulation. Sources for all charts & tables are CEIC & Bloomberg unless otherwise specified.
DBS Bank Ltd., 12 Marina Blvd, Marina Bay Financial Center Tower 3, Singapore 018982. Tel: 65-6878-8888. Company Registration No. 196800306E.
PT Bank DBS Indonesia, DBS Bank Tower, 33rd floor, Ciputra World 1, Jalan Prof. Dr. Satrio Kav 3-5, Jakarta, 12940, Indonesia. Tel: 62-21-2988-4000. Company Registration No. 09.03.1.64.96422.