Negative consequences of the ongoing trade war, amid a stretched global economic cycle, is apparent. Trade and manufacturing are weakening sharply. Pockets of stress in EMs are appearing.
Asset markets are following suit, and risk aversion is spiking.

The ongoing selloff is reinforcing already poor investor sentiment.

US real economic data will likely be the next shoe to drop.

A trade war cool-off is the only way out to prolong this cycle, but it may well be too late.
Photo credit: AFP Photo
When will the US shoe drop?

Data out of a wide range of economies, from China to Germany to Singapore, suggest that global trade and manufacturing are undergoing a torrid phase. Both electronics and auto demand are weak and overall investment sentiments are poor, thanks to escalating trade wars. Recent stress out of Argentina suggests that a low rates environment is not necessarily a panacea for emerging markets, with a period of heightened risk aversion creating a flight to safety toward safe assets that could pose difficulty for economies characterised by persistent current account deficits.

Amid this doom and gloom, the US, in contrast, is holding up rather well. This week's dataflow suggests that economic momentum is comfortably above 2% (annualised GDP growth). Retail sales were up a healthy 0.7% in July and earnings reports have been largely favourable. Pushing back against deflation fears, core inflation, on an annualised basis, is tracking at above 2%.

But can this bifurcation of a tranquil US versus a slowing rest of the world last? We are doubtful. Already, three key stress points are emerging:

• First, as the Chinese economy slows and risks around its production being subject to sanctions remain high, global multinationals are seeing their sales and profits to the world's populous nation weaken.

• Second, the investment outlook has turned cloudy as little has been resolved with respect to various ongoing trade and currency conflicts (US-China, US-Europe, US-Japan, Japan-S Korea, etc). This is causing much angst among investors and causing sentiment to worsen considerably.

• Third, the slowdown in global manufacturing and trade is beginning to weigh in on US business confidence. The agriculture sector, especially soybean producers, is feeling the brunt of the trade war, but electronics manufacturers are also looking at a potential loss of demand from China and likely headwind to sales from higher tariffs. US industrial production has joined the global trend, declining by 0.2% in July, prompting Atlanta Fed to cut the forecast for third-quarter real gross private domestic investment growth from 0.5% percent to -0.5%.

We have long expected an investment-slowdown led US economic correction in 2020, and short of a dramatic improvement in trade prospects, conditions are aligning for that. In our forecast chart below (extended through 2021), we see investment slumping next year, no fiscal stimulus in train, and slightly softer consumption, sufficient to take growth to a below-trend 1.5%.

USD GDP growth and contribution from its component


Source: CEIC, DBS

If we are looking at weaker growth, why aren't we forecasting more than 1 rate cut? We recognise that several rate cuts look likely, but we are not convinced by the market's narrative that inflation has disappeared from the horizon. Indeed, the same factors that make us worried about the investment horizon are also sources of upside risk to prices. As supply chains fragment, efficiency of production declines, as does the ability of the supply chain to absorb shocks. Nonetheless, we will take another look at our policy forecasts in the near term, as market pricing for rate cuts becomes increasingly aggressive.

Meanwhile, yield curves continued to sound alarm bells. The US treasury curve (and to a large extent, the Singapore rates curve) is pricing in a very weak growth and inflation outlook. Moreover, ongoing global developments have engineered a surge in flight to safety to US bonds. As per EPFR data, US fixed income mutual funds and ETFs are receiving over USD10bn a week lately. A trade war cool-off is the only way out to prolong this cycle, but it may well be too late.

US Treasury Curve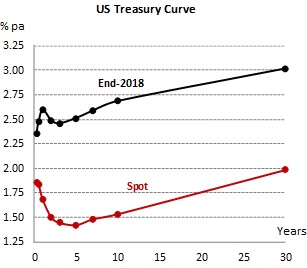 Source: Bloomberg, DBS

To read the full report, click here to Download the PDF.


Disclaimers and Important Notices
The information herein is published by DBS Bank Ltd and PT Bank DBS Indonesia (collectively, the "DBS Group"). It is based on information obtained from sources believed to be reliable, but the Group does not make any representation or warranty, express or implied, as to its accuracy, completeness, timeliness or correctness for any particular purpose. Opinions expressed are subject to change without notice. Any recommendation contained herein does not have regard to the specific investment objectives, financial situation & the particular needs of any specific addressee. The information herein is published for the information of addressees only & is not to be taken in substitution for the exercise of judgement by addressees, who should obtain separate legal or financial advice. The Group, or any of its related companies or any individuals connected with the group accepts no liability for any direct, special, indirect, consequential, incidental damages or any other loss or damages of any kind arising from any use of the information herein (including any error, omission or misstatement herein, negligent or otherwise) or further communication thereof, even if the Group or any other person has been advised of the possibility thereof. The information herein is not to be construed as an offer or a solicitation of an offer to buy or sell any securities, futures, options or other financial instruments or to provide any investment advice or services. The Group & its associates, their directors, officers and/or employees may have positions or other interests in, & may effect transactions in securities mentioned herein & may also perform or seek to perform broking, investment banking & other banking or finan­cial services for these companies. The information herein is not intended for distribution to, or use by, any person or entity in any jurisdiction or country where such distribution or use would be contrary to law or regulation. Sources for all charts & tables are CEIC & Bloomberg unless otherwise specified.
DBS Bank Ltd., 12 Marina Blvd, Marina Bay Financial Center Tower 3, Singapore 018982. Tel: 65-6878-8888. Company Registration No. 196800306E. DBS Bank Ltd., Hong Kong Branch, a company incorporated in Singapore with limited liability. 18th Floor, The Center, 99 Queen's Road Central, Central, Hong Kong.
PT Bank DBS Indonesia, DBS Bank Tower, 33rd floor, Ciputra World 1, Jalan Prof. Dr. Satrio Kav 3-5, Jakarta, 12940, Indonesia. Tel: 62-21-2988-4000. Company Registration No. 09.03.1.64.96422