We are raising our forecast for gold prices but price growth to decelerate.
US Federal Reserve's easing bias has pushed gold price upward since June

There is strong demand from central banks and ETFs

Photo credit: AFP Photo
Strong 3Q for gold
3Q19's gold prices, strongest performance and highest prices since 2Q13.
Gold prices have surged 14% and 25% m o m in July and Aug 2019 respectively. This surge would lead 3Q19 to be the strongest performing quarter by registering 11% q o q growth based on average price. In addition, it would post the highest quarter average price of US$1,470/oz since 2Q13. This was mainly fuelled by Fed's rate cut in July and anticipation for further cut amid sideways movement of US dollar.
Substantial buying from Central banks and ETF inflow.
In line with our expectation that demand from central banks would grow by a strong 10% in 2019, central banks bought 224.4 ton of gold in 2Q19 and 374 ton in 1H19, recording the largest net buying in the past 19 years. While the fund inflow to gold-backed ETF grew 67.2 ton to a six-year high of 2,548 ton, ETF continued to increase by 25 ton to 2,599 ton in July. These two buying powers had offset negative growth in bar & coins (-12% y o y) and driven hefty gold price. The soft demand in coin and bar was mainly due to 29% decline from Chinese demand. Meanwhile, the jewellery demand has edged up 2% y o y, dampened by 4% drop in China despite 12% growth in India.
Increased influence from interest rate on gold price.
The drivers of gold prices are: i) economic expansion, ii) risk and uncertainty, iii) opportunity cost (interest rate, US dollar) and iv) momentum (capital inflow). We expect the gold price to remain strong backed by all of the abovementioned drivers except economic expansion. Especially, the gold price is likely to have more impact from monetary policy going forward. Historical analysis shows that gold price had a strong performance when the Fed switched over from tightening policy to easing, according to Gold Council. Accordingly, we expect the Fed's rate would be a key determinant of gold price in near term which will also affect the price of currencies.
Raise our forecasts, price growth to decelerate
Factoring recent strong price hikes and persisting favourable environments surrounding, we raise our price forecasts to average USD1,500 per ounce in 4Q19, 3.1% higher than our 3Q19 estimate of USD1,470 per ounce. The gold prices are likely to remain strong in 4Q19 and 2020 as the overall landscape of macroenvironment will not improve drastically. However, the growth of gold price may decelerate as the opinions on the Fed rate in the market are divergent and most countries have already reduced their interest rates.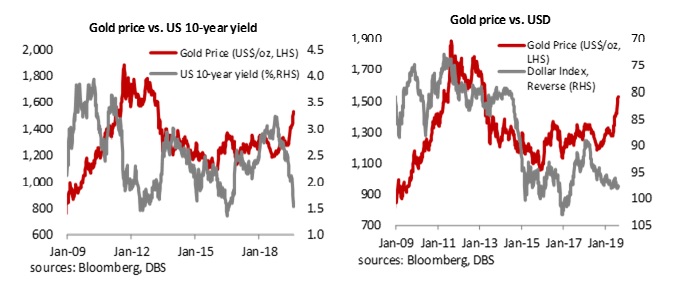 To read the full report, click here to
Download the PDF
.
Disclaimers and Important Notices
The information herein is published by DBS Bank Ltd and PT Bank DBS Indonesia (collectively, the "DBS Group"). It is based on information obtained from sources believed to be reliable, but the Group does not make any representation or warranty, express or implied, as to its accuracy, completeness, timeliness or correctness for any particular purpose. Opinions expressed are subject to change without notice. Any recommendation contained herein does not have regard to the specific investment objectives, financial situation & the particular needs of any specific addressee. The information herein is published for the information of addressees only & is not to be taken in substitution for the exercise of judgement by addressees, who should obtain separate legal or financial advice. The Group, or any of its related companies or any individuals connected with the group accepts no liability for any direct, special, indirect, consequential, incidental damages or any other loss or damages of any kind arising from any use of the information herein (including any error, omission or misstatement herein, negligent or otherwise) or further communication thereof, even if the Group or any other person has been advised of the possibility thereof. The information herein is not to be construed as an offer or a solicitation of an offer to buy or sell any securities, futures, options or other financial instruments or to provide any investment advice or services. The Group & its associates, their directors, officers and/or employees may have positions or other interests in, & may effect transactions in securities mentioned herein & may also perform or seek to perform broking, investment banking & other banking or finan­cial services for these companies. The information herein is not intended for distribution to, or use by, any person or entity in any jurisdiction or country where such distribution or use would be contrary to law or regulation. Sources for all charts & tables are CEIC & Bloomberg unless otherwise specified.
DBS Bank Ltd., 12 Marina Blvd, Marina Bay Financial Center Tower 3, Singapore 018982. Tel: 65-6878-8888. Company Registration No. 196800306E. DBS Bank Ltd., Hong Kong Branch, a company incorporated in Singapore with limited liability. 18th Floor, The Center, 99 Queen's Road Central, Central, Hong Kong.
PT Bank DBS Indonesia, DBS Bank Tower, 33rd floor, Ciputra World 1, Jalan Prof. Dr. Satrio Kav 3-5, Jakarta, 12940, Indonesia. Tel: 62-21-2988-4000. Company Registration No. 09.03.1.64.96422