After 75bps cumulative cut this year, we expect another 25bps cut in 4Q. We think that risks are tilted towards more easing if economic activity does not pick up early next year.
Slower growth and stable Rupiah gave room for BI to deliver another 25bps cut last week

..and loosened Loan-to-Value ratio for both property and automotive loan to support lending growth

BI expanded the definition of banks' source of fund to give banks wider room for credit expansion

We now expect policy rate to be 5.0% at end-19 with another 25bps cut likely in 4Q19
Photo credit: AFP Photo
Policy rate cut and macro prudential easing

Bank Indonesia cut rates for a third consecutive time last week to 5.25% (Deposit Facility to 4.5% and Lending Facility to 6.0%), resulting in a total of 75bps cut this year. BI also announced macro prudential easing by expanding the scope of banks' source of fund in the Macroprudential Intermediation Ratio (MIR) and loosened the loan-to-value (LTV) and financing-to-value (FTV) for property and automotive loans (effective on December 2nd).

The deceleration in economic growth momentum and weak monetary easing passthrough to the private sector is worrying. While we pencil in another cut in 4Q by 25bps, we think that risks are tilted towards even more easing if economic activity does not pick up early next year.

Bank Indonesia expanded the definition of banks' source of fund in the Macroprudential Intermediation Ratio (MIR) and Shariah MIR to include loan/financing component received by banks which will give banks wider room to extend credits. Currently, BI requires banks to keep the MIR on 84%-94% range, while penalizing banks outside of this range with higher reserve, to support lending growth.

The new definition of bank's source of fund will include loan/financing with at least one-year maturity, excluding interbank loan. According to BI, this new definition would add an additional IDR128tn liquidity available for loans.

The new formula (including loan received in the denominator:

In addition to change in MIR, BI also announced relaxation on loan-to-value (LTV) for property financing by 5% and motor vehicle financing-to-value (FTV) ratio by 5%-10%. Additional incentive of 5% is also given for both property and green automotive financing. See Table 1-3 for details on the changes on LTV and Table 4-6 for FTV.

LTV relaxation would be more effective for smaller houses or first home buyers and less for second home buyer or larger-sized house (>70m2). Yet, the extent to which this LTV relaxation would increase lending growth would also be constrained by weaker domestic demand environment.

We think FTV relaxation is timely to support automobile sales which has decelerated since end of last year. Motor vehicle, in particular has recorded negative sales growth since Nov18 while motor cycle since May19.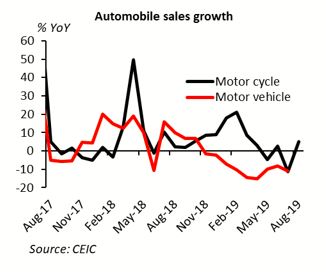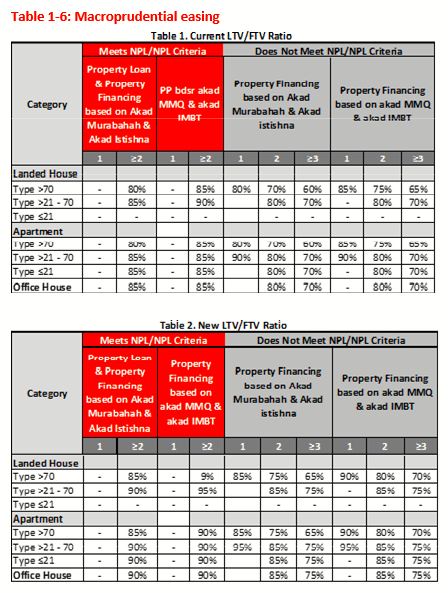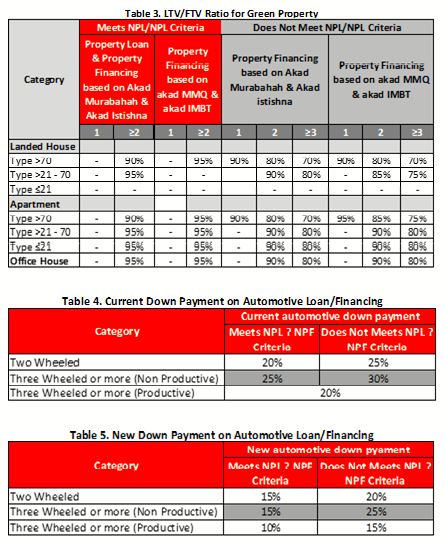 Impact of previous LTV easing

To gauge the impact of the current LTV relaxation on lending growth, we look at the past round of LTV easing in Aug18. During this period, first home buyer's (for larger-sized house >70m2) LTV was relaxed from 15% down payment to zero. For apartment, from 15% for larger (>70m2) and 10% and mid-size apartment (22-70m2) to zero. In addition, new regulation allows consumer to take up to five mortgages to encourage investment in the property sectors.

As we can see from the chart below, housing mortgage and real estate loan stayed relatively flat after the LTV relaxation during this period. Construction growth, mainly linked to infrastructure development, was not impacted by LTV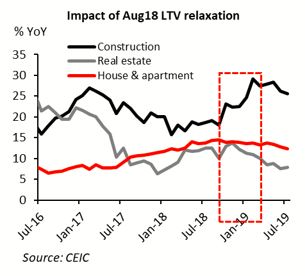 Softer growth momentum in 2H19

GDP growth is likely to soften in 2H19 compared to 1H19 (DBSf growth 5.0% in 2019). Several real sector indicators (cement sales, PMI, credit growth, negative growth capital and raw material imports) pointing to higher chance of growth deceleration in 2H19. The impact of monetary easing, including previous 50bps policy rate cut earlier this year, has not been completely reflected in the money supply or credit growth.

We see further risk to growth is tilted to the downside, which could result in more monetary and macroprudential easing further to 2020.


Related reports
Indonesia: Surfacing economic weakness
Indonesia: Another pre-emptive rate cut
Indonesia: Rate cuts in the horizon
Indonesia: Easing some pressure


To read the full report, click here to Download the PDF.


Disclaimers and Important Notices
The information herein is published by DBS Bank Ltd and PT Bank DBS Indonesia (collectively, the "DBS Group"). It is based on information obtained from sources believed to be reliable, but the Group does not make any representation or warranty, express or implied, as to its accuracy, completeness, timeliness or correctness for any particular purpose. Opinions expressed are subject to change without notice. Any recommendation contained herein does not have regard to the specific investment objectives, financial situation & the particular needs of any specific addressee. The information herein is published for the information of addressees only & is not to be taken in substitution for the exercise of judgement by addressees, who should obtain separate legal or financial advice. The Group, or any of its related companies or any individuals connected with the group accepts no liability for any direct, special, indirect, consequential, incidental damages or any other loss or damages of any kind arising from any use of the information herein (including any error, omission or misstatement herein, negligent or otherwise) or further communication thereof, even if the Group or any other person has been advised of the possibility thereof. The information herein is not to be construed as an offer or a solicitation of an offer to buy or sell any securities, futures, options or other financial instruments or to provide any investment advice or services. The Group & its associates, their directors, officers and/or employees may have positions or other interests in, & may effect transactions in securities mentioned herein & may also perform or seek to perform broking, investment banking & other banking or finan­cial services for these companies. The information herein is not intended for distribution to, or use by, any person or entity in any jurisdiction or country where such distribution or use would be contrary to law or regulation. Sources for all charts & tables are CEIC & Bloomberg unless otherwise specified.
DBS Bank Ltd., 12 Marina Blvd, Marina Bay Financial Center Tower 3, Singapore 018982. Tel: 65-6878-8888. Company Registration No. 196800306E. DBS Bank Ltd., Hong Kong Branch, a company incorporated in Singapore with limited liability. 18th Floor, The Center, 99 Queen's Road Central, Central, Hong Kong.
PT Bank DBS Indonesia, DBS Bank Tower, 33rd floor, Ciputra World 1, Jalan Prof. Dr. Satrio Kav 3-5, Jakarta, 12940, Indonesia. Tel: 62-21-2988-4000. Company Registration No. 09.03.1.64.96422