Glimmer of hope around trade war and Brexit has buoyed financial markets in recent days. But such developments may only offer ephemeral relief.
Global policy makers and businesses will continue to play defence

We expect some more monetary easing in Asia to follow the Fed

But the real action is likely to be in the fiscal arena next year

Photo credit: AFP Photo
Monetary easing has been on for a while; 2020 to see fiscal at play

Asset markets have gyrated the past couple of months around the backdrop of a global economic slowdown and a multitude of geopolitical risks, with the last few days reflecting a risk-on mood with some glimmer of hope over a China-US trade deal and an orderly Brexit. The DXY has weakened a tad, equity markets have rallied, and VIX has eased markedly through the course of this week.
But this is unlikely to mark the beginning of a major turnaround, in our view. A trade deal can only offer interim relief on China-US matters as the antagonism between the two superpowers is in fact widening. The decision by the US this week to blacklist some Chinese companies and restrict the visas of some Chinese diplomats on human rights grounds show clearly that many areas of confrontation have opened up beyond agriculture purchases and market access. China and the US will continue to find it difficult to reach common ground on Hong Kong, Taiwan, North Korea, Uighurs, Belt-and-Road, cyber security, and tech dominance, in our view, regardless of what happens on the trade front in the near term.
Similarly, on Brexit, a sharp rally of GBP underscores relief among market participants weighed down by chronic uncertainty. But there should be no illusion that the UK remains a divided nation, the Irish solution (with Northern Ireland becoming a special economic zone) may well turn out to be unimplementable, and the overall economic outlook remains bleak.
From the perspective of Asia's policy makers and businesses, the euphoria of the market is by no means reason for complacency. We have pointed out through the course of this year that a large part of the global economic slowdown has little to do with trade wars. A secular decline in auto and electronics demand, crises in some emerging markets (Argentina and Turkey), and most critically, a structural slowdown in China, will continue to cast shadow on the outlook.
Playing defence at this juncture, therefore makes sense. Depressed agriculture commodity and energy prices have pushed down inflation in the region in recent years, allowing central banks to ease monetary policy. Indeed, our analysis of policy rate differential between Asian economies and the US shows clearly that monetary policy easing, on a relative basis, began way back in 2015. Only with the Fed's recent rate cuts, signs of the cycle's bottom have emerged.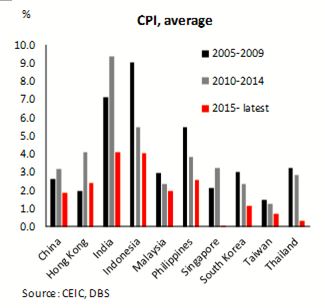 If global demand remains in the doldrums, we will expect Asian central banks to match the Fed in the coming quarters. No Asian central banks will allow their rate differential to spike against the USD, in our view.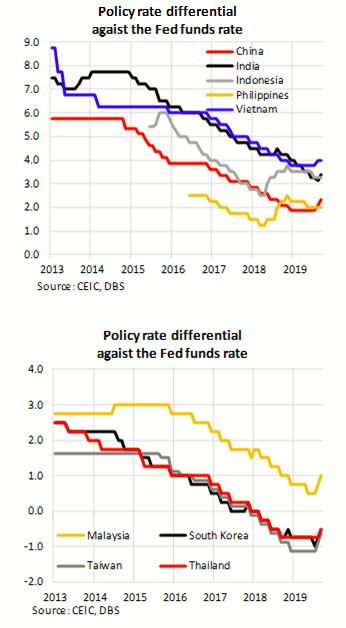 Fiscal worries are not paramount in Asia, especially with such low rates. Pro-growth budget initiatives are in the pipeline in India, Indonesia, South Korea, and Thailand. It's the right time to play defence, in our view.
To read the full report, click here to
Download the PDF
.
Disclaimers and Important Notices
The information herein is published by DBS Bank Ltd and PT Bank DBS Indonesia (collectively, the "DBS Group"). It is based on information obtained from sources believed to be reliable, but the Group does not make any representation or warranty, express or implied, as to its accuracy, completeness, timeliness or correctness for any particular purpose. Opinions expressed are subject to change without notice. Any recommendation contained herein does not have regard to the specific investment objectives, financial situation & the particular needs of any specific addressee. The information herein is published for the information of addressees only & is not to be taken in substitution for the exercise of judgement by addressees, who should obtain separate legal or financial advice. The Group, or any of its related companies or any individuals connected with the group accepts no liability for any direct, special, indirect, consequential, incidental damages or any other loss or damages of any kind arising from any use of the information herein (including any error, omission or misstatement herein, negligent or otherwise) or further communication thereof, even if the Group or any other person has been advised of the possibility thereof. The information herein is not to be construed as an offer or a solicitation of an offer to buy or sell any securities, futures, options or other financial instruments or to provide any investment advice or services. The Group & its associates, their directors, officers and/or employees may have positions or other interests in, & may effect transactions in securities mentioned herein & may also perform or seek to perform broking, investment banking & other banking or finan­cial services for these companies. The information herein is not intended for distribution to, or use by, any person or entity in any jurisdiction or country where such distribution or use would be contrary to law or regulation. Sources for all charts & tables are CEIC & Bloomberg unless otherwise specified.
DBS Bank Ltd., 12 Marina Blvd, Marina Bay Financial Center Tower 3, Singapore 018982. Tel: 65-6878-8888. Company Registration No. 196800306E. DBS Bank Ltd., Hong Kong Branch, a company incorporated in Singapore with limited liability. 18th Floor, The Center, 99 Queen's Road Central, Central, Hong Kong.
PT Bank DBS Indonesia, DBS Bank Tower, 33rd floor, Ciputra World 1, Jalan Prof. Dr. Satrio Kav 3-5, Jakarta, 12940, Indonesia. Tel: 62-21-2988-4000. Company Registration No. 09.03.1.64.96422