Amid flattening yield curves, recession worries, negative policy rates, and geopolitical tensions, the trough in global inflation dynamic has been largely ignored. Is such complacency justified?
Amid numerous worries, the trough in global inflation has been ignored. Is this justified?

Globally, food and metals have clearly bottomed. Energy prices are about to join the fray

Inflation is unlikely to spike in 2020, but won't be a support for further decline in rates

Resultant curve steepening may cause wider spreads, but helps in diffusing deflation fears
Photo credit: AFP Photo
Inflation is benign, but not declining any longer

There are many things on investors' minds these days, but inflation is not one of them. At a time when global growth is slowing, geopolitical tensions are causing risk aversion to rise, supply side pressure is not apparent. Inflation expectations are low, neither central banks nor financial market participants are showing any worries about the inflation outlook, as seen by the monetary policy stance and behaviour of interest rates worldwide.
But is such complacency warranted, when one looks at the inflation data from both developed and developing markets? First, tracking US and Eurozone inflation outturn of recent years, headline inflation is seen to have rebounded decisively from 2015 onward, and has only dipped marginally this year. More strikingly, core inflation appears low but on a clear uptrend in both economies.
Second, in Asia, looking at China, India, Indonesia, and Singapore, four bellwether economies, signs are clear that inflation is low but bottoming. Helped by constructive monetary policy stance, no major fiscal slippage, muted demand, and benign food and energy prices, these economies have experienced a prolonged bout of mild inflation since 2015. But looking ahead, we are doubtful that further disinflation is likely. If anything, base effect dynamic suggest that inflation has bottomed out in the region.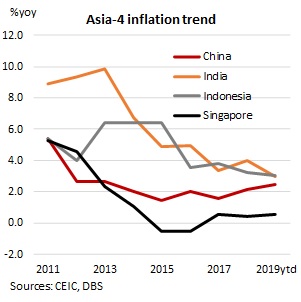 Ignoring domestic idiosyncratic factors like pork price in China and onion price in India, we consider the global commodity price dynamic along a range of important items. Across rice, soybean, as well as base and precious metals, there are no major technical or fundamental reasons for further disinflation. Energy price inflation is also on course to bottom out in the coming months. Unless demand from China undergoes a major downturn, we think that the weakest phase of inflation is behind us. This could also cause rates to bottom, curves to steepen, and spreads to widen. Watch out.
To read the full report, click here to
Download the PDF
.
Disclaimers and Important Notices
The information herein is published by DBS Bank Ltd and PT Bank DBS Indonesia (collectively, the "DBS Group"). It is based on information obtained from sources believed to be reliable, but the Group does not make any representation or warranty, express or implied, as to its accuracy, completeness, timeliness or correctness for any particular purpose. Opinions expressed are subject to change without notice. Any recommendation contained herein does not have regard to the specific investment objectives, financial situation & the particular needs of any specific addressee. The information herein is published for the information of addressees only & is not to be taken in substitution for the exercise of judgement by addressees, who should obtain separate legal or financial advice. The Group, or any of its related companies or any individuals connected with the group accepts no liability for any direct, special, indirect, consequential, incidental damages or any other loss or damages of any kind arising from any use of the information herein (including any error, omission or misstatement herein, negligent or otherwise) or further communication thereof, even if the Group or any other person has been advised of the possibility thereof. The information herein is not to be construed as an offer or a solicitation of an offer to buy or sell any securities, futures, options or other financial instruments or to provide any investment advice or services. The Group & its associates, their directors, officers and/or employees may have positions or other interests in, & may effect transactions in securities mentioned herein & may also perform or seek to perform broking, investment banking & other banking or finan­cial services for these companies. The information herein is not intended for distribution to, or use by, any person or entity in any jurisdiction or country where such distribution or use would be contrary to law or regulation. Sources for all charts & tables are CEIC & Bloomberg unless otherwise specified.
DBS Bank Ltd., 12 Marina Blvd, Marina Bay Financial Center Tower 3, Singapore 018982. Tel: 65-6878-8888. Company Registration No. 196800306E. DBS Bank Ltd., Hong Kong Branch, a company incorporated in Singapore with limited liability. 18th Floor, The Center, 99 Queen's Road Central, Central, Hong Kong.
PT Bank DBS Indonesia, DBS Bank Tower, 33rd floor, Ciputra World 1, Jalan Prof. Dr. Satrio Kav 3-5, Jakarta, 12940, Indonesia. Tel: 62-21-2988-4000. Company Registration No. 09.03.1.64.96422