Easing DXY and USD funding, stable energy prices, signs of a trade war détente, fading of a hard Brexit scenario, and hints of a bottom in the global electronics cycle have improved EM outlook.
FX: Markets may be lulled into a false sense of security

Rates: Asia govvies have done well amid a hint of optimism

Credit: A positive narrative is helping spreads to narrow

Equities: Singapore's banks will see share prices range-bound for the time being

Photo credit: AFP Photo
What would it take for emerging markets to turn around in 2020?
Investors are looking somewhat at ease going into the final stretch of 2019. In the recently concluded IMF annual meetings in Washington DC, the sentiment was subdued and yet unalarmed. Having experienced an extended period of downshift in inflation, interest rates, trade, and growth this year, markets and economies are resigned to a low normal, with noise from trade war, Brexit, and stress in emerging markets adding noise time to time. Asset markets were not seen as frothy, although corporate debt levels were deemed too high. There was low expectation of vigorous monetary or fiscal action from major economies next year, and much of the ongoing slowdown was seen as the result of a combination of unavoidable late cycle dynamics and various structural factors.
At the same time, easing DXY and USD funding conditions, stable energy prices, signs of a trade war détente, fading of a hard Brexit scenario, and hints of a bottom in the global electronics cycle have the making of an improved outlook for emerging markets going into 2020. While geopolitical risks remain high and asset market valuations are frothy, sentiments are turning more favourable toward economies reliant on external funding to finance current account deficits. We examine the conditions necessary to keep the trend going.
Trade
The conventional wisdom is that with US Presidential elections just a year away, and with US economic growth likely to fall below 2%, President Trump's interest in a trade war détente has risen considerably. The "first round" of trade deal may well mark the short-term bottom of trade friction.
We are seeing signs of a trade trough in the bellwether economies of Asia. As per data available through September, exports growth of China, South Korea, and Taiwan are now in turnaround territory.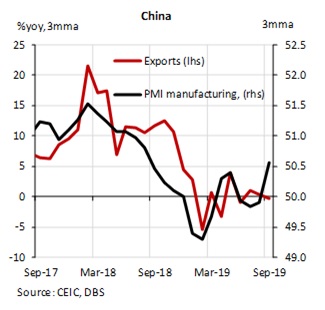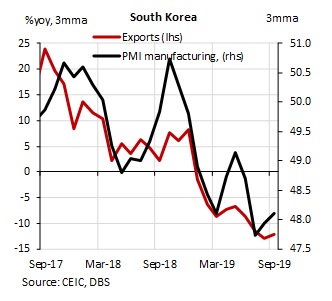 Liquidity, DXY, commodities, and rates
Also, financial conditions have become comfortable lately, thanks to central bank policy easing and reinforced liquidity measures. At the same time, the dollar strength has ebbed a tad, while commodities (both price level and volatility) have been tame. Risk aversion has weakened, while rates and spreads have turned favourable. Under these circumstances, emerging markets economies have caught a welcome breather, enjoying inflows and financial market stability.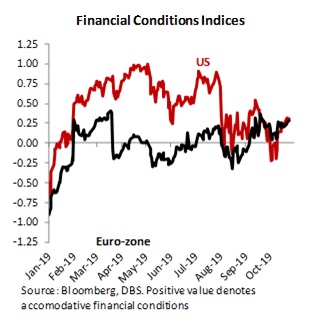 Going into 2020, most of these trends would need to persist for emerging markets to perform healthily. China's gradual slowdown and geopolitical uncertainties are two large drags to global demand; funding conditions, rates, USD, and long-term rates need to counter that challenge.
Taimur Baig
To read the full report, click here to
Download the PDF
.
Disclaimers and Important Notices
The information herein is published by DBS Bank Ltd and PT Bank DBS Indonesia (collectively, the "DBS Group"). It is based on information obtained from sources believed to be reliable, but the Group does not make any representation or warranty, express or implied, as to its accuracy, completeness, timeliness or correctness for any particular purpose. Opinions expressed are subject to change without notice. Any recommendation contained herein does not have regard to the specific investment objectives, financial situation & the particular needs of any specific addressee. The information herein is published for the information of addressees only & is not to be taken in substitution for the exercise of judgement by addressees, who should obtain separate legal or financial advice. The Group, or any of its related companies or any individuals connected with the group accepts no liability for any direct, special, indirect, consequential, incidental damages or any other loss or damages of any kind arising from any use of the information herein (including any error, omission or misstatement herein, negligent or otherwise) or further communication thereof, even if the Group or any other person has been advised of the possibility thereof. The information herein is not to be construed as an offer or a solicitation of an offer to buy or sell any securities, futures, options or other financial instruments or to provide any investment advice or services. The Group & its associates, their directors, officers and/or employees may have positions or other interests in, & may effect transactions in securities mentioned herein & may also perform or seek to perform broking, investment banking & other banking or finan­cial services for these companies. The information herein is not intended for distribution to, or use by, any person or entity in any jurisdiction or country where such distribution or use would be contrary to law or regulation. Sources for all charts & tables are CEIC & Bloomberg unless otherwise specified.
DBS Bank Ltd., 12 Marina Blvd, Marina Bay Financial Center Tower 3, Singapore 018982. Tel: 65-6878-8888. Company Registration No. 196800306E. DBS Bank Ltd., Hong Kong Branch, a company incorporated in Singapore with limited liability. 18th Floor, The Center, 99 Queen's Road Central, Central, Hong Kong.
PT Bank DBS Indonesia, DBS Bank Tower, 33rd floor, Ciputra World 1, Jalan Prof. Dr. Satrio Kav 3-5, Jakarta, 12940, Indonesia. Tel: 62-21-2988-4000. Company Registration No. 09.03.1.64.96422