India is in midst of a growth slowdown, with recovery likely to set in the coming quarters.
Lead growth indicators remain soft

This has brought forth questions on the nature of the slowdown

Cyclical concerns are underscored by the still-tight financial conditions and wide term premiums

Key pillars face balance sheet worries, which poses a structural drag

Encouragingly, counter response via monetary and financial sector support is underway

Photo credit: AFP Photo
This is an abridged version of our Thematic Report "India: Growth to slow before turning the corner" (please download the pdf for the full report)
India is in midst of a growth slowdown, with recovery likely to set in the coming quarters
. Even as global growth has lost momentum, idiosyncratic domestic factors have contributed to a sharper deceleration in India. Lead growth indicators for 3Q19 remain soft, with the DBS GDP Nowcast model pointing to further slowdown vs April-June 2019 quarter's 5% YoY.
In our recent conversations with corporates and business practitioners, the question over the nature of slowdown - structural or cyclical, supply or demand driven - rose multiple times.
We outline the likely causes behind the deceleration in activity, followed by counter measures to support growth
.
Cyclical troubles

We view this slowdown as part cyclical and part structural.
Cyclical concerns are underscored by the tight financial conditions and wide term premiums
. Monetary aggregates highlight underlying concerns on growth. On annual basis, broad money i.e. M3 growth has trailed nominal GDP growth, pointing to tightness in monetary conditions.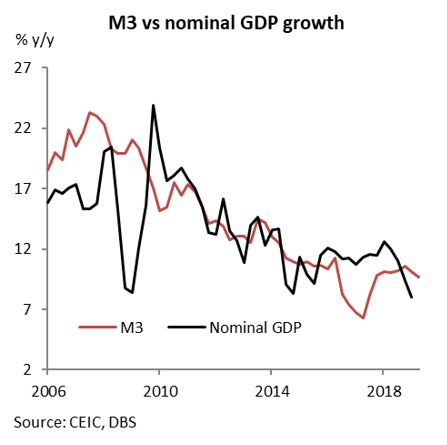 Key pillars face balance sheet worries, which poses a structural drag

Balance sheet worries facing the four key four pillars of growth, is a structural drag. The extent of pressure varies, while efforts to deleverage is underway on most fronts.
Financial institutions
: Following a sharp increase in the banks' non-performing loans since 2015's asset quality review, the ratio has moderated in recent quarters.
A sharper reduction in the ratio is, however, deterred
by a) slow progress of resolution cases under the new mechanism of Insolvency and Bankruptcy process (see chart); b) increase in banks' exposure to the non-banking sector, which face funding risks; c) remnant pressure from sectoral slowdown, e.g. metals, infrastructure, power, mining etc. Provisioning and capital buffer demands remain high, with few institutions also hurt by governance issues.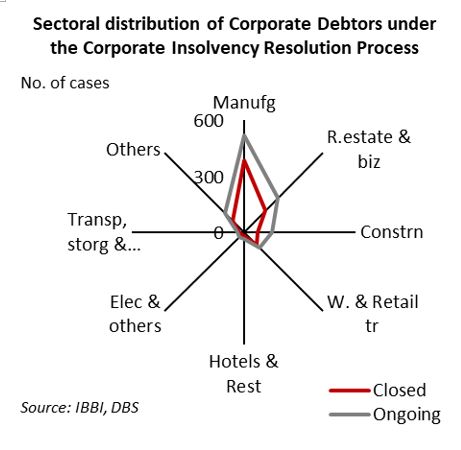 An industry wide asset quality review is not on the cards for NBFCs, but efforts are underway to ring fence the weaker names,
to ensure any liquidity crisis does not turn into an insolvency issue or pose systemic risks.
Corporates
: At an aggregate level, debt levels of non-financial corporations' debt as a % of GDP has moderated in the past two years. Granular data suggests firms are not completely out of the woods. Disconnect between the benchmark equity index and corporate sales performance has continued. Interest coverage ratio is off lows as borrowing costs have begun to recede but is still below pre 2010 levels.
Government
: The fiscal math is under scrutiny, particularly as the revenue slowdown poses a risk not only the centre's coffers but also its contribution to the states' receipts. Gross tax revenues have risen by 1.5% YoY in first six months of FY20 i.e. April to September, way below target, while expenditure remains on course. This will further increase the reliance on borrowings, which already runs at a high of ~8% of GDP, comprising of centre, state and public sector borrowings. This equals households' net financial savings, in effect reigniting the 'crowding out' for the private sector.
Households
: While corporate and bank balance sheets were under stress since 2013-2014, consumption spending emerged as a key support for growth. Consumption held up despite weak income growth, suggesting two likely support factors. Household debt as a % of GDP has been gradually rising. Levels are clearly
amongst the lowest compared to the advanced countries and many Asian counterparts.
Support measures are underway, and more is likely

As a reflection that reforms are headed in the right direction, India was amongst the top ten countries which have improved the most in the World Bank's Ease of Doing Business ranking, for three consecutive years.
India climbed from 77 last year to 63 amongst 190 countries considered in the 2020 edition of the report. Initial support through demand channels will provide short-term boost, which when followed by long-term focused reforms will help return growth to potential. The following near-term and medium-term measures will help to lift growth from the soft patch this year.
Further moderation, before turnaround

Real GDP decelerated from 8% in 1Q18 to 5% in 2Q19 (first quarter FY20). Our proprietary DBS Nowcast model and momentum indicators point to further slowdown in 3Q19 (i.e. 2QFY20) vs 2Q's 5% led by lower consumption demand and investments, even as government spending resumes after elections.
After the mid fiscal year slump, we expect a gradual improvement in the momentum towards late in the fiscal year and into 2021, helped also by base effects and lagged impact of measures undertaken. A broad pullback in near-term growth trend, however, prods us to revise down our GDP forecasts for this year and next. We expect the output gap to stay negative, with GDP growth below 6% this year and closer to 6% in FY21.
To read the full report, click here to
Download the PDF
.
Disclaimers and Important Notices
The information herein is published by DBS Bank Ltd and PT Bank DBS Indonesia (collectively, the "DBS Group"). It is based on information obtained from sources believed to be reliable, but the Group does not make any representation or warranty, express or implied, as to its accuracy, completeness, timeliness or correctness for any particular purpose. Opinions expressed are subject to change without notice. Any recommendation contained herein does not have regard to the specific investment objectives, financial situation & the particular needs of any specific addressee. The information herein is published for the information of addressees only & is not to be taken in substitution for the exercise of judgement by addressees, who should obtain separate legal or financial advice. The Group, or any of its related companies or any individuals connected with the group accepts no liability for any direct, special, indirect, consequential, incidental damages or any other loss or damages of any kind arising from any use of the information herein (including any error, omission or misstatement herein, negligent or otherwise) or further communication thereof, even if the Group or any other person has been advised of the possibility thereof. The information herein is not to be construed as an offer or a solicitation of an offer to buy or sell any securities, futures, options or other financial instruments or to provide any investment advice or services. The Group & its associates, their directors, officers and/or employees may have positions or other interests in, & may effect transactions in securities mentioned herein & may also perform or seek to perform broking, investment banking & other banking or finan­cial services for these companies. The information herein is not intended for distribution to, or use by, any person or entity in any jurisdiction or country where such distribution or use would be contrary to law or regulation. Sources for all charts & tables are CEIC & Bloomberg unless otherwise specified.
DBS Bank Ltd., 12 Marina Blvd, Marina Bay Financial Center Tower 3, Singapore 018982. Tel: 65-6878-8888. Company Registration No. 196800306E. DBS Bank Ltd., Hong Kong Branch, a company incorporated in Singapore with limited liability. 18th Floor, The Center, 99 Queen's Road Central, Central, Hong Kong.
PT Bank DBS Indonesia, DBS Bank Tower, 33rd floor, Ciputra World 1, Jalan Prof. Dr. Satrio Kav 3-5, Jakarta, 12940, Indonesia. Tel: 62-21-2988-4000. Company Registration No. 09.03.1.64.96422