A trough in the growth cycle is in the making, with outlook expected to improve gradually. GDP growth is expected to register 1.4% in 2020 while inflation should remain manageable at 1.1% next year.
The economy is emerging from economic doldrums with growth expected to register 1.4% in 2020

Monetary policy will remain accommodative and an expansionary fiscal budget is on the cards

FX: SGD remains too strong relative to its weakened fundamentals and a resilient USD Index (DXY)

Rates: The SGD curve is likely to steepen in line with the USD curve

Equities: Defensive qualities support upside

Photo credit: AFP Photo
The Singapore economy struggled in 2019 amid the trade war and a down-cycle in electronics. The economy would have dipped into a technical recession in 2Q/3Q if not for the marginal lift from the services sector, and some respite in the manufacturing contraction.
Advance GDP estimates for 3Q19 reported a weak growth of 0.1% YoY but the silver lining is that the economy registered a benign expansion of 0.6% QoQ saar, thereby narrowly averting a technical recession. We expect such improvement to persist in the next quarter. GDP growth in 4Q19 is likely to recover to slightly above 1.0%. With that,
full year GDP growth for 2019 is expected to register 0.6%.
A trough in the growth cycle is in the making, with emerging signs of bottoming in the external environment.
Barring any unforeseen external shocks, growth momentum is expected to pick up gradually in the coming quarters.
Bottoming out in manufacturing

On the surface, the manufacturing sector appears to remain in the doldrums. But there are signs of bottoming out in the manufacturing sector. At a growth pace of 0.4% QoQ saar, this is a marked improvement from -4.2% previously. This also corroborates with the trend seen in non-oil domestic exports (NODX). While NODX growth remains in the red, the decline has moderated from about 16% YoY in May to 9.8% on average between Aug-Oct19. Though base effect is at work, other high frequency data is also reflecting similar trend.
Electronics indicators such as the growth in semiconductor equipment billings is improving, while semiconductor shipments are rising steadily, from about USD 32bn per month in April, to USD 34bn in August. These suggest a turnaround in this key industry and reaffirm our view of a bottoming out in the overall manufacturing sector.
In short,
the manufacturing sector could be turning around, but the outlook will remain challenging in the coming months
, pending a more pronounced improvement in global economic conditions.
Services to remain resilient

The services sector has managed to pick up the slack despite the declines in the other key sectors in 3Q19. In fact, the services sector is the main reason for the economy averting the fate of a technical recession. This sector accounts for about two-thirds of the economy and a turnaround in this cluster is instrumental in lifting the overall economic performance.
High frequency data is showing similar signs of bottoming out in the services sector. Re-exports growth has turned positive after three consecutive months of decline, pointing to a turnaround in global trade flows and potentially better prospects for trade related services. Container throughput growth is also improving, suggesting the improved trade activity. Loan growth apparently has also bottomed, and now creeping higher on the back of stronger business loan growth.
Tepid outlook ahead

Yet, an improvement in global outlook will be conditioned on a positive resolution in the trade talk, which is far from conclusive. Brexit and weakness in the fundamentals in Eurozone should be closely watched. Slowdown in China is a concern, and more policy support is certainly required. Across Asia, central banks have begun to ease monetary policies. What would be required to turn the receding global economic tide would be a robust and synchronized fiscal boost across the region. Policymakers are beginning to roll out expansionary fiscal policies, but some countries could be constrained by high debt ratio.
It could be a slow grind ahead.
Though signs of bottoming out are emerging, the recovery could be weak. While small and agile economies such as Singapore could bounce back faster, its openness and trade dependent nature also imply vulnerability to any unexpected negative shock. Beyond the uncertainties around the trade talk, geopolitical risks in various parts of the world could test the resilience of the global economy just when growth momentum in the three major economic blocs, US, Eurozone and China, are slowing down.
Indeed, such a scenario would call for added policy support (see later section). Though the economy has averted the fate of a technical recession, a robust policy response would still be required to lift the boat amid the choppy outlook. Considering the above,
GDP growth in 2020 is expected to register 1.4%, which is below Singapore's potential growth rate, but up from a projected 0.6% this year
.
Labour market to remain soft

However, employment prospects have been mixed and biased slightly on the soft side. Latest advance manpower report for 3Q19 saw employment growth likely registered 22,400, higher than the job growth 6,200 in the previous quarter. Yet, this is overshadowed by a marginal pick up in retrenchment to 2,900, up from 2,320 previously. Unemployment rate for residents also rose to 3.2%, up 0.1%-pt from the previous quarter.
Employment prospects would remain challenging
. Apart from the weak recovery ahead, the labour market cycle typically lags the growth cycle. Moreover, some sectors within the economy will likely continue to struggle with industry specific down-cycles (e.g., retail and offshore marine). Besides cyclical factors, structural transitions within the economy (e.g., automation in manufacturing) also imply that some jobs could become irrelevant, resulting in permanent job losses.
Continued emphasis on re-training and upskilling will be crucial
to ensure the employability of workers.
Inflation to remain benign

While inflationary pressure has remained benign in 2019, it probably has bottomed. Base effect from the OEM will fade in the coming months. As growth momentum starts to pick up, the output gap could potentially turn positive by 2H20. Barring any significant inflation shock in the external environment, or new policy changes that could impact price level, we expect inflation to rise gradually heading in 2020.
Overall headline inflation is projected to average 1.1% next year, up from 0.6% in 2019. Core inflation will likely register 1.1% in 2019
and 1.2% in 2020.
Monetary policy will be data dependent
The decisions at the SGD policy review in October were broadly in line with expectations. The Monetary Authority of Singapore has slightly flattened the slope of the SGD nominal effective exchange rate (NEER) policy band and kept its width and mid-point unchanged. While the policy statement has kept the door open for further easing, recent rhetoric by the central bank appears to concur with our view of a gradual stabilization within the economy.
Decision on the next policy meeting will be data dependent
. Should the recent improvement in growth seen in 3Q19 persist over the next two quarters, the likelihood of further monetary easing will reduce. Yet, the point to note is that the central bank is ready and has the necessary capacity to adopt an even more accommodative policy stance should the situation require.
An expansionary fiscal budget ahead

We expect additional fiscal impetus in the upcoming budget. Policymakers are watching growth prospects and have signaled the readiness to act should the conditions warrant a counter-cyclical stimulus package. However, instead of short-term stimulus package, the government will more likely roll out a robust fiscal budget early next year.
An outsized accumulated surplus of about SGD 15.6bn implies ample room for aggressive fiscal support for the economy
. In fact, the figure for FY19 is a conservative estimate as Singapore's final fiscal balance tends to surprise on the upside. An upcoming election would also provide added impetus for a robust fiscal response to the economic challenges. As such, we expect a highly expansionary fiscal budget early next year.
FX: SGD has yet to break the deadlock
We expect the price-taking Singapore dollar to keep to the 1.35-1.40 range established against the USD since mid-2018.
Against the fragile global outlook, we consider the
SGD NEER misplaced in the strongest quartile of its milder appreciating policy band
. Historically, the SGD NEER has been known to keep to the weaker half of its policy band after a policy easing (MAS slightly flattened the band's slope on October 14) to reflect the weakened growth and inflation in Singapore and the rest of the world. In fact, the central bank is ready to ease the SGD policy again should the negative impact from the trade war spill-over from trade and manufacturing into domestic demand and services.
Under this worst-case scenario, the risk for USDSGD to break above 1.40 cannot be fully discounted.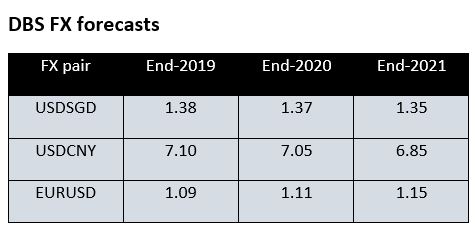 Rates: Conducive for SGD outperformance
Conditions will become more conducive for SGD rates outperformance (versus USD counterparts) in 2020
. 2019 was characterized by a further slowdown in the global economy amid a manufacturing slump. Trade war noise, USD strength and diminished risk appetite drove investors to seek safety in US Treasuries (and USD rates) to the detriment of SGSs (and SGD rates). Moreover, as SGD liquidity stays somewhat tight and investors worry about USD strength, the passthrough from Fed cuts unto short-term SGD rates (Sibor, SOR and MAS bill) was muted for much of the year.

2020 is likely to prove different in several aspects
. Firstly, we think that the Fed is largely done with the easing cycle (three cuts in 2019). After frontloading, we think that the hurdle to move (in either direction) is set higher and we expect the Fed to stay on hold through 2020. Against this backdrop, we think that short-term SGD rates will drift sideways. Secondly, a modest rebound in the export cycle could be in the offing. Thirdly, a larger fiscal stimulus (which we are penciling in for 2020) could improve SGD liquidity.
We think that the SGS curve could modestly steepen over the next several quarters
. This is contingent on the global economy reaching a trough. We think that longer-term USD rates are low, and the market is ignoring inflation risks as well as issuance risks (especially the ultra-long tenors). Moreover, SGD rates' correlation with DM rates render them vulnerable to a fiscal loosening in the Eurozone.
E
quities — Defensive characteristics

Given that equities markets are often forward looking and ahead of the economy,
we believe the STI should perform better next year as the economy is expected to recover from its economic doldrums
. There should also be strong support from cheaper valuations, high dividend yields, bottoming expectations and global monetary easing stance.
Earnings growth remains resilient
. Despite major headwinds this year, earnings growth for the Singapore market remains resilient at around 5%. This, when compared to other cyclical markets such as Taiwan, Korea, Malaysia and Thailand which all recorded negative earnings growth this year, is relatively strong and the index traded in a tight range this year as a result.
We expect earnings growth of around 5% for the next two years, to be delivered by steady stream of income from the REITS sector. Downside risks for the Banks as a result of NIM compression could be offset by cyclical earnings recovery from the Industrials sector.
Valuations are attractive
. Singapore market valuations remain attractive from P/E and dividends point of view, and when compared to Singapore bonds. In a hunt for yields environment, we believe the equities market will be supported. The Singapore market is one of the highest yielding market in Asia. Coupled with its well managed currency policies, we believe substantial flows can be expected to the Singapore market and drive P/E valuation re-rating.
To read the full report, click here to
Download the PDF
.
Disclaimers and Important Notices
The information herein is published by DBS Bank Ltd and PT Bank DBS Indonesia (collectively, the "DBS Group"). It is based on information obtained from sources believed to be reliable, but the Group does not make any representation or warranty, express or implied, as to its accuracy, completeness, timeliness or correctness for any particular purpose. Opinions expressed are subject to change without notice. Any recommendation contained herein does not have regard to the specific investment objectives, financial situation & the particular needs of any specific addressee. The information herein is published for the information of addressees only & is not to be taken in substitution for the exercise of judgement by addressees, who should obtain separate legal or financial advice. The Group, or any of its related companies or any individuals connected with the group accepts no liability for any direct, special, indirect, consequential, incidental damages or any other loss or damages of any kind arising from any use of the information herein (including any error, omission or misstatement herein, negligent or otherwise) or further communication thereof, even if the Group or any other person has been advised of the possibility thereof. The information herein is not to be construed as an offer or a solicitation of an offer to buy or sell any securities, futures, options or other financial instruments or to provide any investment advice or services. The Group & its associates, their directors, officers and/or employees may have positions or other interests in, & may effect transactions in securities mentioned herein & may also perform or seek to perform broking, investment banking & other banking or finan­cial services for these companies. The information herein is not intended for distribution to, or use by, any person or entity in any jurisdiction or country where such distribution or use would be contrary to law or regulation. Sources for all charts & tables are CEIC & Bloomberg unless otherwise specified.
DBS Bank Ltd., 12 Marina Blvd, Marina Bay Financial Center Tower 3, Singapore 018982. Tel: 65-6878-8888. Company Registration No. 196800306E. DBS Bank Ltd., Hong Kong Branch, a company incorporated in Singapore with limited liability. 18th Floor, The Center, 99 Queen's Road Central, Central, Hong Kong.
PT Bank DBS Indonesia, DBS Bank Tower, 33rd floor, Ciputra World 1, Jalan Prof. Dr. Satrio Kav 3-5, Jakarta, 12940, Indonesia. Tel: 62-21-2988-4000. Company Registration No. 09.03.1.64.96422