The latest iteration of our GDP Nowcast models for China, India, and Singapore provides room for some cautious optimism.
China is tracking 5.9% growth in Q4 and 5.8% in Q1 2020

India's GDP growth likely dipped to 4.3% in July-Sept, and would recover to 4.9% in Oct-Dec

Our model is tracking Singapore's real GDP at 1.3% growth in Q4 and 2% in Q1 2020

Signs of a bottom in the electronics cycle and improved monetary conditions are the silver linings

Photo credit: AFP Photo
Nowcast for China, India, Singapore
China, India, and Singapore are ending 2019 on a considerably weaker growth trajectory than they did in 2018. India and Singapore's last published real GDP growth outturns are about 200bps lower than they were four quarters earlier. China's is close to 50bps weaker, although given the size of its economy, that slowdown percolates through the global economy the most.
As 2019 draws to an end, do we see any evidence that the pace of slowdown may be arrested in the new year? Judging by the ongoing rally in asset markets, expectations appear to be coalescing around an upbeat 2020, helped by easy monetary policy and a likely trade deal. The hard data however provide less room for such exuberance.
China

Starting with China, our in-house Nowcasting model, which analyses an array of high frequency (monthly) indicators to make a call on the ongoing and coming quarters on a real time basis, finds growth continuing to weaken, but the pace of slowdown to be moderating. The latest iteration of the model estimates 5.9% growth in Q4 and 5.8% in Q1 2020.
What's driving these estimates? Hints of a trough in the growth rates of retail sales, industrial production, fixed asset investment, and non-oil imports. The credit impulse remains particularly weak and the exports outturn is mixed, but by and large, domestic demand may be stabilising.
A sub-6% growth outturn from the second-largest economy in the world still makes up for the largest contribution (nearly a third of the total) to global growth. As long as China manages to maintain its structural slowdown in an orderly manner, carries out economic recalibration (from heavy to smart investment, sustainable consumption, and focus on innovation), keeps the financial system stable, and protects social cohesion, global reliance on Chinese demand will continue to be fulfilled.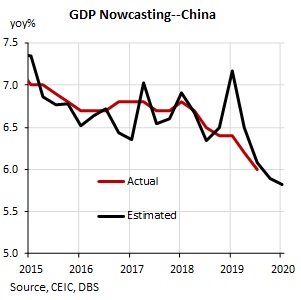 India

India's financial markets have been particularly cheerful lately, buoyed by corporate tax cuts, monetary policy easing, announcement of large-scale public asset sales, plans to court foreign investment in manufacturing, and efforts to expedite asset restructuring of beleaguered banks and non-bank financial companies. There won't be anything to cheer on the data-front for a while, however.
As per our Nowcast, real GDP growth dipped to 4.3% in the July-September quarter, and would only recover to 4.9% in October-December. Domestic demand is displaying chronic weakness, with an apparent credit crunch afflicting wide swaths of the economy. Production and sales are under pressure, and public spending is running out of room due to poor tax collection. Foreign investors however remain particularly optimistic about India's prospects, underscoring the divergence between markets and the economy.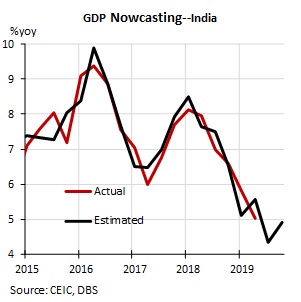 Singapore

We have been waiting for the electronics cycle to bottom for a while, and Singapore is our bellwether in this regard. Having observed semiconductor billing bottoming a couple of months ago, we are on the lookout for better shipment figures to emerge soon. Looking at regional PMIs, we are beginning to get optimistic that the year-and-a-half long soft patch in the global electronics cycle may be ending. This would of course brighten Singapore's prospects going into 2020.
Our Nowcast model is tracking Singapore's real GDP at 1.3% growth in Q4 and 2% in Q1 2020. We are seeing signs of a pick-up in the credit cycle, perhaps helped by the decline in interest rates this year. Additionally, tourism, residential transactions, production, and trade are on the road to recovery, in our view.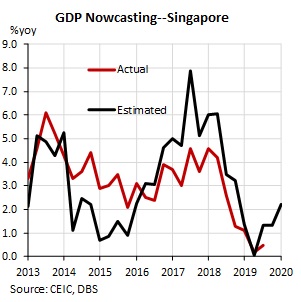 We therefore have reasons for cautious optimism. Global or regional growth is by no means reverting back to strength any time soon, and but there is some evidence to suggest that it won't continue to register disappointing outturns like 2019. Singapore may already be on the path to recovery; China's deceleration looks unlikely to exacerbate, although the jury is still out on India.
To read the full report, click here to
Download the PDF
.
Disclaimers and Important Notices
The information herein is published by DBS Bank Ltd and PT Bank DBS Indonesia (collectively, the "DBS Group"). It is based on information obtained from sources believed to be reliable, but the Group does not make any representation or warranty, express or implied, as to its accuracy, completeness, timeliness or correctness for any particular purpose. Opinions expressed are subject to change without notice. Any recommendation contained herein does not have regard to the specific investment objectives, financial situation & the particular needs of any specific addressee. The information herein is published for the information of addressees only & is not to be taken in substitution for the exercise of judgement by addressees, who should obtain separate legal or financial advice. The Group, or any of its related companies or any individuals connected with the group accepts no liability for any direct, special, indirect, consequential, incidental damages or any other loss or damages of any kind arising from any use of the information herein (including any error, omission or misstatement herein, negligent or otherwise) or further communication thereof, even if the Group or any other person has been advised of the possibility thereof. The information herein is not to be construed as an offer or a solicitation of an offer to buy or sell any securities, futures, options or other financial instruments or to provide any investment advice or services. The Group & its associates, their directors, officers and/or employees may have positions or other interests in, & may effect transactions in securities mentioned herein & may also perform or seek to perform broking, investment banking & other banking or finan­cial services for these companies. The information herein is not intended for distribution to, or use by, any person or entity in any jurisdiction or country where such distribution or use would be contrary to law or regulation. Sources for all charts & tables are CEIC & Bloomberg unless otherwise specified.
DBS Bank Ltd., 12 Marina Blvd, Marina Bay Financial Center Tower 3, Singapore 018982. Tel: 65-6878-8888. Company Registration No. 196800306E. DBS Bank Ltd., Hong Kong Branch, a company incorporated in Singapore with limited liability. 18th Floor, The Center, 99 Queen's Road Central, Central, Hong Kong.
PT Bank DBS Indonesia, DBS Bank Tower, 33rd floor, Ciputra World 1, Jalan Prof. Dr. Satrio Kav 3-5, Jakarta, 12940, Indonesia. Tel: 62-21-2988-4000. Company Registration No. 09.03.1.64.96422