.

Photo credit: AFP Photo
Rates: Downside risks in focus as US yields tumble
10Y UST yields broke technical support at 2.36%, setting the stage for further downside in the immediate term. With China-US trade tensions simmering and US equities threatening a more serious wobble, the path of least resistance for US yields is to the downside. US Treasuries are also supported by the relentless push lower in developed market yields. Since the start of the year, DM yields (average of G10 excluding the US) have fallen by 31bps with 10Y German yields drifting below -0.1%. Aside from trade tensions, weak Eurozone economic numbers and Brexit risks have also supported DM govvies.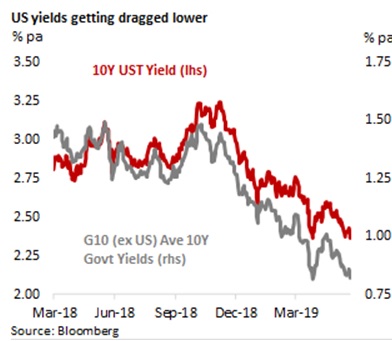 In the short term, without any respite from the negative trade war narrative, US yields are likely to be held down. This premium in Treasuries could linger for an extended period even if the Fed does not cut rates. The technical setup for 10Y yields point to another 20bps of downside. However, we are wary chasing yields lower. Notably, yields at these levels already look stretched to the downside given US economic fundamentals and the significant Fed easing (3 cuts over the next two years) that the rates space is already pricing in.
FX: Euro and pound beset by political uncertainties
The euro could head below 1.10 if Euroskeptics secure more than a third (250) of the 751 MEP seats being contested at the European Parliament elections on May 23-26. Populist and far-right parties are seeking to increase representation in the European Parliament to exert more influence in reshaping the bloc. Pay attention to the three EU countries contesting the most MEP seats – Germany (96 seats), France (74) and Italy (73). In Italy, a strong showing for Matteo Salvini could widen the rift between his far-right Lega party and its left-leaning coalition partner, the Five Star Movement. The vote in France is considered a referendum on President Emmanuel Macron and a vehicle for far-right leader Marine Le Pen's comeback. In Germany, the election will measure CDU Leader Angela Kramp-Karrenbauer's credentials as Angela Merkel's successor.
The British pound is also beset by political uncertainties. British Prime Minister Theresa May's spokesman was not aware of any plans to announce her resignation today. Foreign Secretary Jeremy Hunt affirmed that Mrs May will be prime minister during US President Trump's visit to Britain on June 3-5. Hunt was also the first cabinet minister to tell Mrs May to abandon her doomed withdrawal agreement. Instead of publishing her Brexit bill today, Mrs May could announce her exit from No. 10, possibly on June 10. Money managers do not view, Boris Johnson, the top contender to succeed Mrs May, as favourable for the pound. Neither do they favour Labour Party leader Jeremy Corbyn as prime minister. Increasingly, a no-deal Brexit is becoming the legal default outcome on October 31.
Equities: Singapore downside limited to 10%
Given the ongoing hostility between China and US over trade and tech issues, the Singapore market is unlikely to be spared from volatility and portends downside risks in the coming weeks. We however think the downside is less than 10% as there are many factors supporting the market. Following the recent correction, Singapore is now the cheapest market within Asia, trading at less than -1SD away from average, and has the highest dividend yield. Our calculations show that there will be 10% and 4% downside respectively if the markets were to test both the low valuations of 2016 and 2018. The 2016 market selloff was due to the Brexit referendum while the trade war grabbed headlines in 2018. These two niggling worries are still simmering at this point but we think the market has priced in most of the negatives, unless they get worse.
Disclaimers and Important Notices
The information herein is published by DBS Bank Ltd and PT Bank DBS Indonesia (collectively, the "DBS Group"). It is based on information obtained from sources believed to be reliable, but the Group does not make any representation or warranty, express or implied, as to its accuracy, completeness, timeliness or correctness for any particular purpose. Opinions expressed are subject to change without notice. Any recommendation contained herein does not have regard to the specific investment objectives, financial situation & the particular needs of any specific addressee. The information herein is published for the information of addressees only & is not to be taken in substitution for the exercise of judgement by addressees, who should obtain separate legal or financial advice. The Group, or any of its related companies or any individuals connected with the group accepts no liability for any direct, special, indirect, consequential, incidental damages or any other loss or damages of any kind arising from any use of the information herein (including any error, omission or misstatement herein, negligent or otherwise) or further communication thereof, even if the Group or any other person has been advised of the possibility thereof. The information herein is not to be construed as an offer or a solicitation of an offer to buy or sell any securities, futures, options or other financial instruments or to provide any investment advice or services. The Group & its associates, their directors, officers and/or employees may have positions or other interests in, & may effect transactions in securities mentioned herein & may also perform or seek to perform broking, investment banking & other banking or finan­cial services for these companies. The information herein is not intended for distribution to, or use by, any person or entity in any jurisdiction or country where such distribution or use would be contrary to law or regulation. Sources for all charts & tables are CEIC & Bloomberg unless otherwise specified.
DBS Bank Ltd., 12 Marina Blvd, Marina Bay Financial Center Tower 3, Singapore 018982. Tel: 65-6878-8888. Company Registration No. 196800306E.
PT Bank DBS Indonesia, DBS Bank Tower, 33rd floor, Ciputra World 1, Jalan Prof. Dr. Satrio Kav 3-5, Jakarta, 12940, Indonesia. Tel: 62-21-2988-4000. Company Registration No. 09.03.1.64.96422.