In Singapore, interest in Singapore Savings Bonds (SSBs) has waned, partly hurt by rising competition from banks (offering higher fixed deposit rates). We maintain our recommendation to remain vested ...

Photo credit: AFP Photo
Rates: Why is demand for SSBs lower?
Interest in Singapore Savings Bonds (SSBs) have waned. The total applied for the prior two months has been hovering around SGD 275mn, down from more than SGD 400mn previously. On first glance, this development seems odd. Interest rates in the US (and consequently Singapore) has been falling as the market starts to price in Fed cut expectations. The option to lock in higher returns (especially compared to savings deposits) should entice retail investors. Saturation in investor appetite is a plausible reason but we think this unlikely. The amount of outstanding SSBs stands at SGD 5.5bn, still small compared to the total deposit base.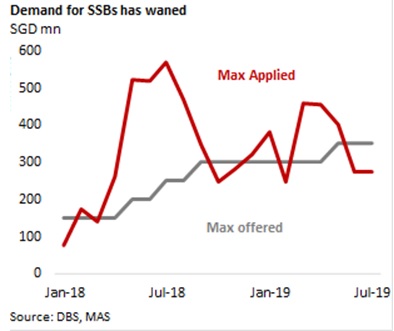 Instead, we think that competition from banks (offering higher fixed deposit rates) may have contributed to waning demand for SSBs. Notably, the amount of fixed deposits (other residents in Singapore) went up by SGD 13bn since the start of the year as banks seek funding. Tightness in the banking system is also reflected in widening spread between the 6M SOR and the 6M Sibor. Since end-May, the 6M SOR has already fallen by 28bps, in part reflecting Fed cut expectations in the immediate few months. Comparatively, the 6M Sibor has been practically unchanged. Demand for SSBs could ease somewhat in the coming months if short-term yields fall further from 2% (which appears to be a key hurdle rate for investors).
Equities: S-REITs still look good
Over the past six months, we had recommended investors to remain vested in S-REITs and we continue to uphold this view, albeit at tighter yields following the +20% strong price performance this year. We see an improving DPU (distributions per unit) growth profile going forward as S-REITS are expected to benefit from tailwinds of an upturn in the Singapore property sector. Office, retail, industrial and hotel sectors have been able to maintain a healthy demand outlook and enjoy a continuous upturn of rent hikes.
We believe the sector's major re-rating catalyst will be in its acquisition potential. Value-accretive acquisitions have been fuelled by strong investor support for recent equity fund-raising and the current low cost of capital. The Monetary Authority of Singapore (MAS) has also just released a consultation paper which reviews the 45% gearing limit for S-REITs. This could also open up opportunities for more acquisitions. Additionally, the sector benefits from a dovish Fed. For 2H19, we expect two rate cuts by the Fed. While a significant proportion of lower interest rate expectations has already been priced in, we believe there is still room for potential target price upgrades.
India: INR yields ease gingerly as unfavourable domestics meet supportive global catalysts
India 10Y (generic) bond yields eased from last week's elevated levels, as a favourable external environment met domestic concerns. From a sharp rise to 6.92% at the start of the last week, yields closed at 6.83% yesterday. 2Y yields pulled back by 8-9bp to 6.2%.
Domestically, markets are fixated on Friday's Budget presentation, set against the backdrop of a global and domestic slowdown (see
here
). We expect the interim deficit target of -3.4% of GDP to be maintained but acknowledge that a slippage of 20-30bp is gaining traction. These worries resurfaced after the FY19 breakdown saw a 1% of GDP shortfall in tax collections was accommodated by a cut in total expenditure, particularly revenue outlays.
This sets the budgeted estimate (BE) FY20, laid out in the interim budget, to an ambitious start. This might trigger few changes in the underlying math for FY20, including a reduction in tax revenue estimates (income tax and GST), while the burden of revenue generation shifts to non-tax revenues (higher contribution from divestment receipts and larger share of RBI dividend contribution to the exchequer), anticipating a favourable outcome from the economic capital framework panel. The fallout of lower tax revenues will necessitate some moderation in revenue spending. Firmer nominal GDP assumption and increase in reliance on off-budget funding will also be in the mix. With revenues and savings schemes expected to bear the burden of an increase in spending, the borrowing program should remain unchanged.
Globally, softer start to the week for oil prices and continued easing in the USY yields have been favourable for Asian bond markets, particularly high yielders like India.
For the week, we expect a narrow range of 6.75-6.9% to prevail as global factors cap a rally in yields whilst budget-related concerns underpin. Investors are factoring in the risks of a small overshoot of 10-20bp, with markets to be less forgiving of a bigger miss as an increase in borrowings is likely to follow (budgeted or off-budget). Beyond the event risk, we continue to expect yields to drift south over this quarter and the next on easier monetary conditions, before heading up again in late FY20.
Expectations of liquidity support were, meanwhile, dashed after the RBI plans to hold a reverse repo auction today of INR250bn of 63-day duration, a tool to drain cash (INR1trn surplus), in what is deemed as transient liquidity. This has eroded the likelihood of further swap and open market operations this month.
Disclaimers and Important Notices
The information herein is published by DBS Bank Ltd and PT Bank DBS Indonesia (collectively, the "DBS Group"). It is based on information obtained from sources believed to be reliable, but the Group does not make any representation or warranty, express or implied, as to its accuracy, completeness, timeliness or correctness for any particular purpose. Opinions expressed are subject to change without notice. Any recommendation contained herein does not have regard to the specific investment objectives, financial situation & the particular needs of any specific addressee. The information herein is published for the information of addressees only & is not to be taken in substitution for the exercise of judgement by addressees, who should obtain separate legal or financial advice. The Group, or any of its related companies or any individuals connected with the group accepts no liability for any direct, special, indirect, consequential, incidental damages or any other loss or damages of any kind arising from any use of the information herein (including any error, omission or misstatement herein, negligent or otherwise) or further communication thereof, even if the Group or any other person has been advised of the possibility thereof. The information herein is not to be construed as an offer or a solicitation of an offer to buy or sell any securities, futures, options or other financial instruments or to provide any investment advice or services. The Group & its associates, their directors, officers and/or employees may have positions or other interests in, & may effect transactions in securities mentioned herein & may also perform or seek to perform broking, investment banking & other banking or finan­cial services for these companies. The information herein is not intended for distribution to, or use by, any person or entity in any jurisdiction or country where such distribution or use would be contrary to law or regulation. Sources for all charts & tables are CEIC & Bloomberg unless otherwise specified.
DBS Bank Ltd., 12 Marina Blvd, Marina Bay Financial Center Tower 3, Singapore 018982. Tel: 65-6878-8888. Company Registration No. 196800306E.
PT Bank DBS Indonesia, DBS Bank Tower, 33rd floor, Ciputra World 1, Jalan Prof. Dr. Satrio Kav 3-5, Jakarta, 12940, Indonesia. Tel: 62-21-2988-4000. Company Registration No. 09.03.1.64.96422.