The Chinese yuan is looking to depreciate to 7.20 against the USD by end-2019.Brace for more volatility in the British pound which is at risk of breaking below 1.20.

Photo credit: AFP Photo
FX: More volatility ahead for CNY and GBPThe Chinese yuan is looking to depreciate to 7.20 against the USD by end-2019. Before a breakthrough in the China-US trade war is possible, both sides need to first ensure that talks do not break down
. US President Donald Trump's plan to hit USD300bn of Chinese goods with a 15% tariff has gone into effect, starting with USD112bn of goods from September 1, and the rest from December 15. In retaliation, China has started to impose a 5-10% levy on USD75bn of US goods. China's position going forward has become less clear after the US announced, on August 23, another 5% tariff on USD550bn of Chinese goods from October 1. Chinese Vice Premier Liu He responded on August 26 that China wants to resolve the trade war through calm dialogue and resolutely opposes the escalation of conflict. Although China has not retaliated with more tariffs, it may want the US to withdraw the latest tariffs as a precondition for talks.
Brace for more volatility in the British pound which is at risk of breaking below 1.20, in our view
. Returning from their summer recess on September 3, UK parliamentarians will be looking to block Prime Minister Boris Johnson's push for the UK to exit the EU with or without a deal on October 31. PM Johnson's strategy to prorogue parliament for 23 working days into the Queen's speech on October 14 has
increased odds for a default no-deal Brexit
. If a no-confidence is tabled against him, Mr Johnson does not intend to resign and appoint another government, and would instead call for an election (on November 1-5) after Brexit Day. Cabinet Minister in charge of no-deal preparations Michael Gove has been elusive if the government would abide any no-deal legislation sought by Commons opponents. Mr Johnson has threatened to sack Conservative MPs who support such a bill. Mr Johnson believes that a grave no-deal Brexit threat is the only way to push Brussels to renegotiate the withdrawal agreement. Brussels will be closely watching events in the coming week.
Rates: G3 volatility stays elevated
Global interest rates ended August markedly lower compared to July. Most notably, 10Y UST's 52bps decline in yields was a 2 standard deviation monthly change, based on a lookback period of 10 years. Clearly, the primary driver was significant escalations in trade and currency wars between US and China. The last time 10Y UST yields fell more than 50bps in a month was in January 2015 when the Swiss National Bank abandoned the CHF's cap against the EUR and anti-austerity Syriza won the Greek elections.
September should see volatility in financial markets stay elevated around ECB, Fed and BOJ meetings. Markets have already priced in so much in terms of further monetary easing that there is a real risk of disappointment, if G3 central banks underdeliver. On the Fed, we are fully priced for a 25bps cut. With the BOJ, they have allowed 10Y JGB yields to break past and stay below the -0.20% floor, spurring much speculation that the target range would be widened or lowered.
The weight of easing expectations is probably heaviest on the ECB. Forward EONIA rates are pricing for a 10 or 20bps cut to deposit rate. Markets have, for some time, been incrementally pricing for Quantitative Easing (QE), judging by how spreads (lower-rated sovereigns vs German Bund, EUR credit) have tightened in the face of poor European economic data. Just look at Italian BTP-German Bund spreads where it looks like QE support (expected) is overwhelming heightened political and fiscal risks. BTP-Bund spreads have been compressing despite the recent collapse of Five Star Movement-Lega governing coalition and still in the background, potential frictions with Brussels over 2020 budget.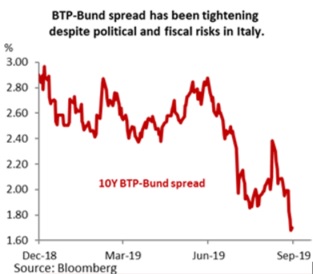 Disclaimers and Important Notices
The information herein is published by DBS Bank Ltd and PT Bank DBS Indonesia (collectively, the "DBS Group"). It is based on information obtained from sources believed to be reliable, but the Group does not make any representation or warranty, express or implied, as to its accuracy, completeness, timeliness or correctness for any particular purpose. Opinions expressed are subject to change without notice. Any recommendation contained herein does not have regard to the specific investment objectives, financial situation & the particular needs of any specific addressee. The information herein is published for the information of addressees only & is not to be taken in substitution for the exercise of judgement by addressees, who should obtain separate legal or financial advice. The Group, or any of its related companies or any individuals connected with the group accepts no liability for any direct, special, indirect, consequential, incidental damages or any other loss or damages of any kind arising from any use of the information herein (including any error, omission or misstatement herein, negligent or otherwise) or further communication thereof, even if the Group or any other person has been advised of the possibility thereof. The information herein is not to be construed as an offer or a solicitation of an offer to buy or sell any securities, futures, options or other financial instruments or to provide any investment advice or services. The Group & its associates, their directors, officers and/or employees may have positions or other interests in, & may effect transactions in securities mentioned herein & may also perform or seek to perform broking, investment banking & other banking or finan­cial services for these companies. The information herein is not intended for distribution to, or use by, any person or entity in any jurisdiction or country where such distribution or use would be contrary to law or regulation. Sources for all charts & tables are CEIC & Bloomberg unless otherwise specified.
DBS Bank Ltd., 12 Marina Blvd, Marina Bay Financial Center Tower 3, Singapore 018982. Tel: 65-6878-8888. Company Registration No. 196800306E.
PT Bank DBS Indonesia, DBS Bank Tower, 33rd floor, Ciputra World 1, Jalan Prof. Dr. Satrio Kav 3-5, Jakarta, 12940, Indonesia. Tel: 62-21-2988-4000. Company Registration No. 09.03.1.64.96422.