Progressively switch excess liquidity into cash alternatives, rather than trying to catch the peak in interest rates
Recent bank failures have made depositors nervous

Commercial banks are seeing the largest y/y deposit drawdown since the Volcker era

Such drawdowns have actually accelerated months before the recent episode of banking stress

Given that cash alternatives in money market funds & short duration IG are giving higher yield

Investors should start progressively switching excess liquidity into cash alternatives
Photo credit: iStock
Cash can only be king when its palace is secure. Nothing agitates the markets quite as much as the news of failing banks, given how conditionally the financial system relies on confidence and confidence alone. From the likes of the Silicon Valley, Signature, and First Republic banks in the US, to Credit Suisse across the Atlantic, investors who have been in the market long enough would feel an eerie chill reminiscent of the years leading up to the GFC in 2008. Yet it isn't just risk-adept investors feeling the nervousness; even risk-averse depositors are taking strides to ensure that their savings are not under threat from a banking crisis. Notably, 2023 saw the largest year-on-year drawdown in US commercial bank deposits (less the stickier large time deposits) in decades, dwarfing even that of the 1981 Volcker-era decline.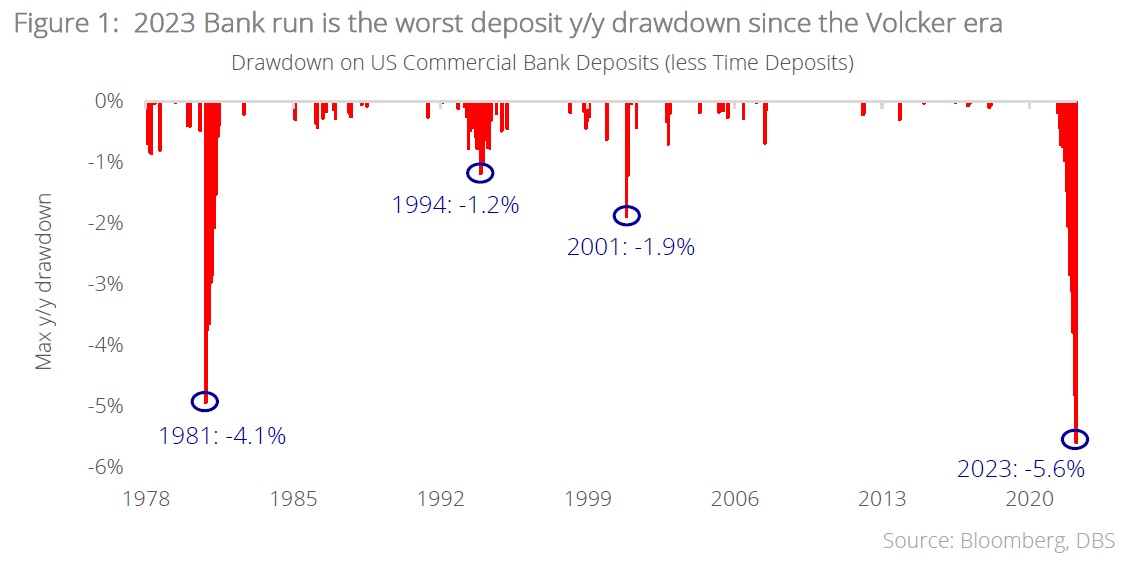 From bank run to bank sprint. While it is easy to blame the banking crisis for the dearth of confidence, the data shows that the acceleration in deposit outflows had already begun months before the bank failures over the past weeks. In the age of proliferation of banking and investment mobile apps, along with broader virality through social media, bank runs become more like bank sprints. Case in point – Washington Mutual failed when depositors attempted to withdraw c.USD17b in deposits over nine days in 2008. That same amount was gone from Silicon Valley Bank within just half a day.
Where has all the money gone? Yet money can't just disappear. Flow of funds data showed that the markets have flocked towards cash-proxies – either with Money Market funds or high-quality, short duration credit funds. If that sounds familiar, it is because that is precisely the premise of our Liquid+ Strategy – that investors are better off being well-diversified in safe and liquid assets as the world navigates a tricky environment of stubborn inflation, slowing growth, and rising uncertainty. We see the flow of funds data as affirmation that we are not alone in this line of thinking.
Go with the flow. This flow of funds from deposits to fixed income could still have legs. As we stand, such safe alternatives are yielding between 4-5%, a far cry from the average rates on jumbo deposits of 0.5-1%, according to the US Federal Deposit Insurance Corporation. The moment the market realises that we are nearing the end of the rate hike cycle, the demand for longer duration fixed income assets would surely accelerate the flows that we are already seeing in the markets over the last several months. It might be true that deposit rates would rise in tandem to compete for demand for funds, but as we are already seeing signs of banking stress, such higher deposit costs of funding would hurt bank profitability, which does not instill the confidence from depositors that they should remain concentrated in their exposure to the financial sector, given the stresses that banks are already facing today.
Stay with the Liquid+ Strategy. The track record for markets trying to perfectly time peaks and troughs is abysmal. As such, rather than trying to catch the peak in interest rates to fully switch into fixed income, we believe investors should start to progressively switch excess liquidity into these cash alternatives in order to (a) obtain a higher yield while they are available, and to (b) diversify away from concentration risk in bank deposits while the financial sector faces strain. As they say, better late than never.


Download the PDF to read the full report.
Note: All views expressed are current as at the stated date of publication
DISCLAIMERS AND IMPORTANT NOTES
This information herein is published by DBS Bank Ltd. ("DBS Bank") and is for information only. This publication is intended for DBS Bank and its subsidiaries or affiliates (collectively "DBS") and clients to whom it has been delivered and may not be reproduced, transmitted or communicated to any other person without the prior written permission of DBS Bank.
This publication is not and does not constitute or form part of any offer, recommendation, invitation or solicitation to you to subscribe to or to enter into any transaction as described, nor is it calculated to invite or permit the making of offers to the public to subscribe to or enter into any transaction for cash or other consideration and should not be viewed as such.
The information herein may be incomplete or condensed and it may not include a number of terms and provisions nor does it identify or define all or any of the risks associated to any actual transaction. Any terms, conditions and opinions contained herein may have been obtained from various sources and neither DBS nor any of their respective directors or employees (collectively the "DBS Group") make any warranty, expressed or implied, as to its accuracy or completeness and thus assume no responsibility of it. The information herein may be subject to further revision, verification and updating and DBS Group undertakes no responsibility thereof.
All figures and amounts stated are for illustration purposes only and shall not bind DBS Group. This publication does not have regard to the specific investment objectives, financial situation or particular needs of any specific person. Before entering into any transaction to purchase any product mentioned in this publication, you should take steps to ensure that you understand the transaction and has made an independent assessment of the appropriateness of the transaction in light of your own objectives and circumstances. In particular, you should read all the relevant documentation pertaining to the product and may wish to seek advice from a financial or other professional adviser or make such independent investigations as you consider necessary or appropriate for such purposes. If you choose not to do so, you should consider carefully whether any product mentioned in this publication is suitable for you. DBS Group does not act as an adviser and assumes no fiduciary responsibility or liability for any consequences, financial or otherwise, arising from any arrangement or entrance into any transaction in reliance on the information contained herein. In order to build your own independent analysis of any transaction and its consequences, you should consult your own independent financial, accounting, tax, legal or other competent professional advisors as you deem appropriate to ensure that any assessment you make is suitable for you in light of your own financial, accounting, tax, and legal constraints and objectives without relying in any way on DBS Group or any position which DBS Group might have expressed in this document or orally to you in the discussion.
Any information relating to past performance, or any future forecast based on past performance or other assumptions, is not necessarily a reliable indicator of future results.
If this publication has been distributed by electronic transmission, such as e-mail, then such transmission cannot be guaranteed to be secure or error-free as information could be intercepted, corrupted, lost, destroyed, arrive late or incomplete, or contain viruses. The sender therefore does not accept liability for any errors or omissions in the contents of the Information, which may arise as a result of electronic transmission. If verification is required, please request for a hard-copy version.
This publication is not directed to, or intended for distribution to or use by, any person or entity who is a citizen or resident of or located in any locality, state, country or other jurisdiction where such distribution, publication, availability or use would be contrary to law or regulation.
If you have received this communication by email, please do not distribute or copy this email. If you believe that you have received this e-mail in error, please inform the sender or contact us immediately. DBS Group reserves the right to monitor and record electronic and telephone communications made by or to its personnel for regulatory or operational purposes. The security, accuracy and timeliness of electronic communications cannot be assured.
Singapore: This publication is distributed by DBS Bank Ltd (Company Regn. No. 196800306E) ("DBS") which is an Exempt Financial Adviser as defined in the Financial Advisers Act and regulated by the Monetary Authority of Singapore (the "MAS").
Indonesia: This publication is distributed by PT Bank DBS Indonesia (DBSI). DBSI is licensed and supervised by the Indonesia Financial Services Authority (OJK) and a member of the Indonesia Deposit Insurance Corporation (LPS). This publication is not and does not constitute or form part of any offer, recommendation, invitation, or solicitation to you to subscribe to or to enter into any transaction as described, nor is it calculated to invite or permit the making of offers to the public to subscribe to or enter into any transaction for cash or other consideration and should not be viewed as such.
India: This publication is distributed by DBS Bank India Ltd. ("DBIL") and is on "as is" basis and for information only. This publication is not intended to be source of advice in respect of the material presented or information published, and shall not be construed to be legal, tax, financial or investment advisory. This document is not, and should not be construed as, an offer, invitation, recommendation, or solicitation to enter into any transaction in relation to any of the products and services mentioned herein. DBIL does not make any warranty of any kind, express or implied, including but not limited to warranties of completeness, accuracy of information, merchantability, or fitness for a particular purpose.