Keep abreast of market moving events with CIO's weekly bulletin
Equities: Strong corporate earnings underline the resilience of US equities

Credit: Risk free is not riskless in fixed income

FX: DXY depreciated on reflation hopes; Export-led Asian currencies held back by US disappointments

Rates: USD rates in consolidation mode ahead of payroll numbers

Thematics: Singapore REITs – Will tighter COVID-19 measures bite?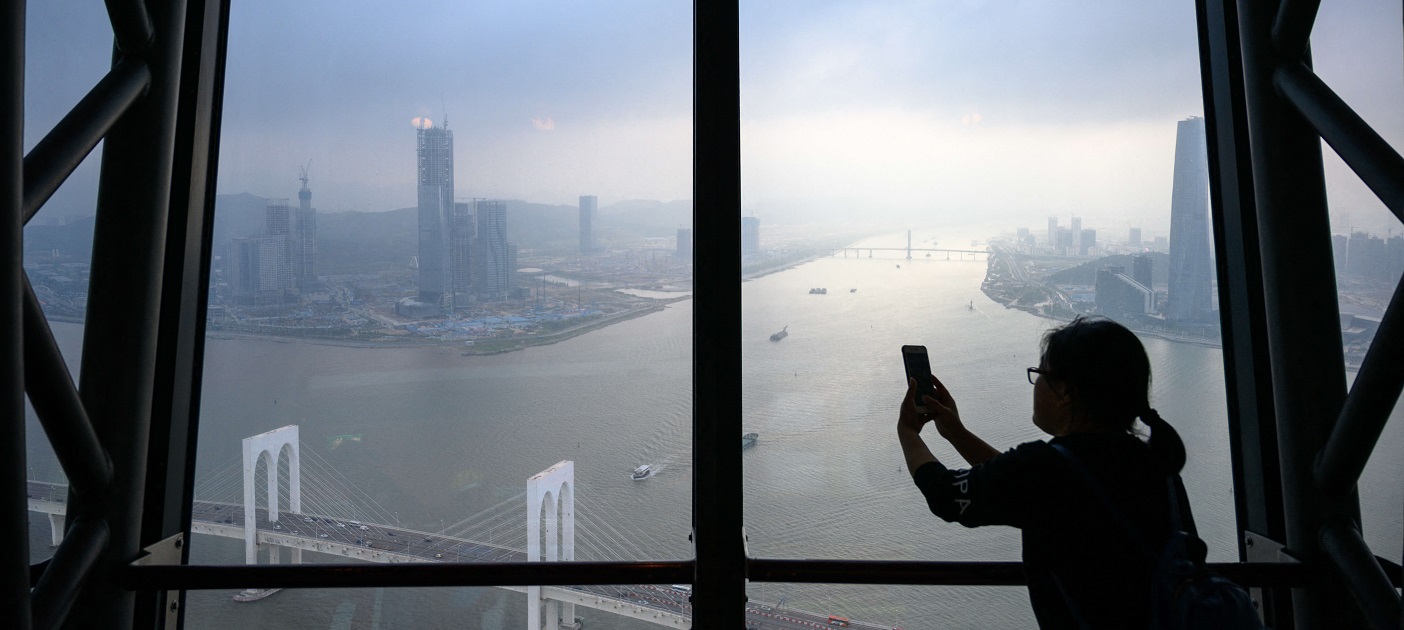 Photo credit: AFP Photo
Strong corporate earnings underline the resilience of US equities. Riding on the tailwinds of robust macroeconomic data and strong corporate earnings, the rally in the S&P 500 Index remains unabated. On a year-to-date 4M21 basis, the index has rallied 11.8% with broad-based gains seen across the Energy, Financials, Real Estate, and Communications Services sectors. The strong showing displayed by US corporates in the 1Q21 reporting season suggests that the positive momentum will persist and listed below are some of the key highlights:
87% reported positive earnings surprise and the momentum was particularly strong in sectors like Technology (97%), Consumer Discretionary (93%), and Financials (93%).
Actual earnings exceeded consensus forecast by 23% in aggregate. The strongest earnings beat is seen in the following sectors: Consumer Discretionary (62%), Financials (37%), and Communications Services (35%).
Earnings upgrades to drive further upside for S&P 500. In 2020, the rally in the S&P 500 was a valuation multiple expansion story as investors priced in the likelihood of a recovery this year, given massive policy stimulus and rising optimism of a vaccine. But with the S&P 500 currently trading at 23x forward price-to-earnings (P/E), there is limited room for further multiple expansion. Instead, further upside for US equities has to be driven by earnings growth and the strong 1Q21 numbers augur well for the outlook.
Given the strong set of earnings in 1Q21, we believe that there is a compelling case for upward earnings revisions in coming months. Market consensus is expecting US earnings to grow 48.1% in 2021, underpinned by a combination of moderate top-line growth and substantial margin expansion. As the US economic recovery gathers momentum, top-line revenue will likely come in stronger than expected in the coming months.
Eyes on nonfarm payrolls. On the economic front, the US jobs market has seen strong recovery and this week's nonfarm payroll data will be closely watched. Market consensus is expecting jobs gains of 995,000 in April, while the unemployment rate is expected to decline to 5.8%. An improving jobs market augurs well for the outlook of domestic consumption and US housing demand.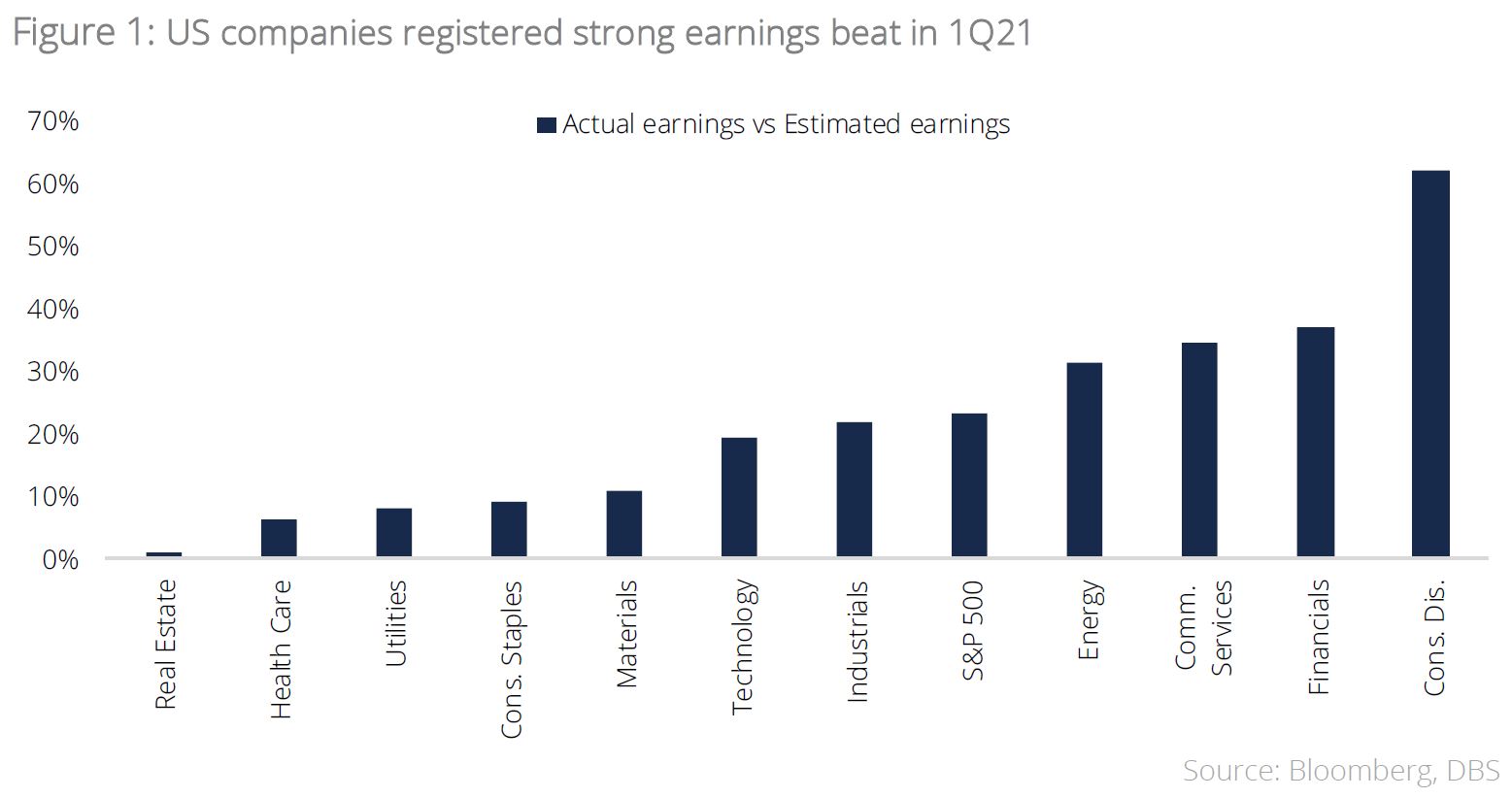 CIO Weekly also contains analysis on credit, FX, rates, and thematics. Download the PDF to read the full analysis.
Note: All views expressed are current as at the stated date of publication

GENERAL DISCLOSURE/DISCLAIMER
This information herein is published by DBS Bank Ltd. ("DBS Bank") and is for information only. This publication is intended for DBS Bank and its subsidiaries or affiliates (collectively "DBS") and clients to whom it has been delivered and may not be reproduced, transmitted or communicated to any other person without the prior written permission of DBS Bank.
This publication is not and does not constitute or form part of any offer, recommendation, invitation or solicitation to you to subscribe to or to enter into any transaction as described, nor is it calculated to invite or permit the making of offers to the public to subscribe to or enter into any transaction for cash or other consideration and should not be viewed as such.
The information herein may be incomplete or condensed and it may not include a number of terms and provisions nor does it identify or define all or any of the risks associated to any actual transaction. Any terms, conditions and opinions contained herein may have been obtained from various sources and neither DBS nor any of their respective directors or employees (collectively the "DBS Group") make any warranty, expressed or implied, as to its accuracy or completeness and thus assume no responsibility of it. The information herein may be subject to further revision, verification and updating and DBS Group undertakes no responsibility thereof.
All figures and amounts stated are for illustration purposes only and shall not bind DBS Group. This publication does not have regard to the specific investment objectives, financial situation or particular needs of any specific person. Before entering into any transaction to purchase any product mentioned in this publication, you should take steps to ensure that you understand the transaction and has made an independent assessment of the appropriateness of the transaction in light of your own objectives and circumstances. In particular, you should read all the relevant documentation pertaining to the product and may wish to seek advice from a financial or other professional adviser or make such independent investigations as you consider necessary or appropriate for such purposes. If you choose not to do so, you should consider carefully whether any product mentioned in this publication is suitable for you. DBS Group does not act as an adviser and assumes no fiduciary responsibility or liability for any consequences, financial or otherwise, arising from any arrangement or entrance into any transaction in reliance on the information contained herein. In order to build your own independent analysis of any transaction and its consequences, you should consult your own independent financial, accounting, tax, legal or other competent professional advisors as you deem appropriate to ensure that any assessment you make is suitable for you in light of your own financial, accounting, tax, and legal constraints and objectives without relying in any way on DBS Group or any position which DBS Group might have expressed in this document or orally to you in the discussion.
If this publication has been distributed by electronic transmission, such as e-mail, then such transmission cannot be guaranteed to be secure or error-free as information could be intercepted, corrupted, lost, destroyed, arrive late or incomplete, or contain viruses. The sender therefore does not accept liability for any errors or omissions in the contents of the Information, which may arise as a result of electronic transmission. If verification is required, please request for a hard-copy version.
This publication is not directed to, or intended for distribution to or use by, any person or entity who is a citizen or resident of or located in any locality, state, country or other jurisdiction where such distribution, publication, availability or use would be contrary to law or regulation.

Singapore: This publication is distributed by DBS Bank Ltd (Company Regn. No. 196800306E) ("DBS") which is an Exempt Financial Adviser as defined in the Financial Advisers Act and regulated by the Monetary Authority of Singapore (the "MAS").