Investors bet that the Fed will maintain its ultra accommodative policies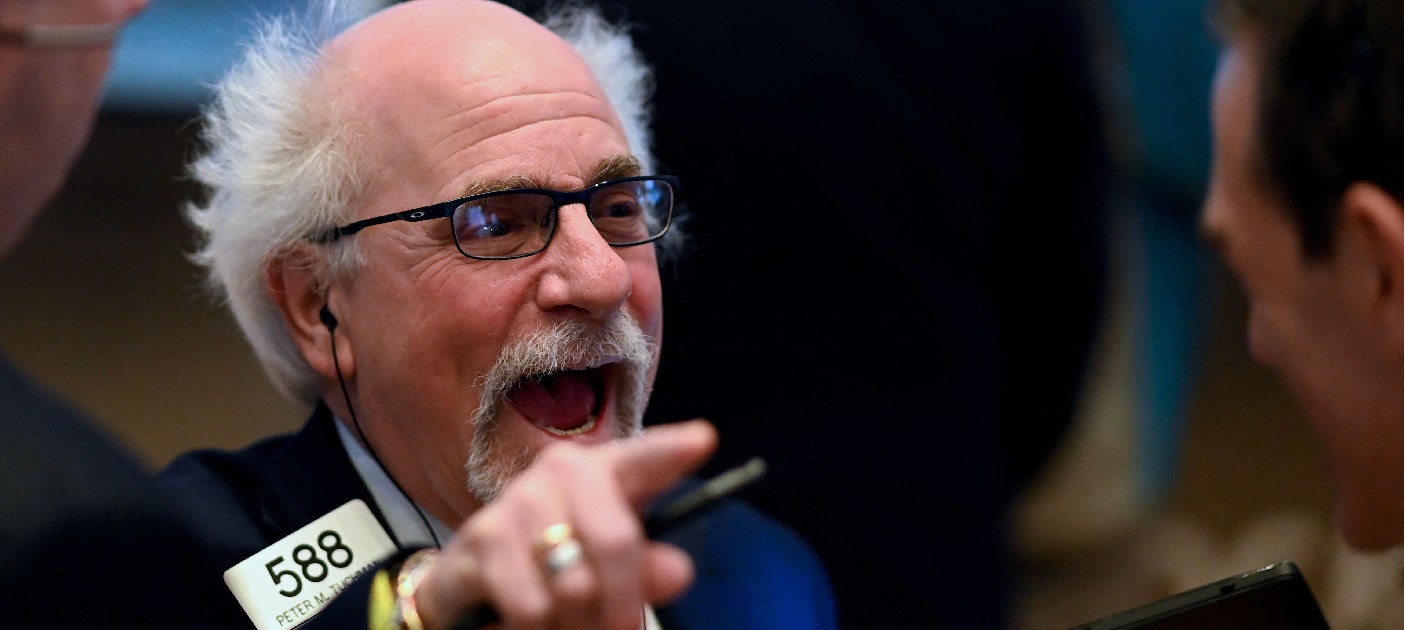 Photo credit: AFP Photo
US
US equities climbed to a record and benchmark Treasury yields extended declines to the lowest since March as investors bet that the Federal Reserve will maintain its ultra accommodative policies even after data showed consumer prices rose more than forecast last month.
The S&P 500 Index led the major American equity indices higher, rising 0.47% to 4,239.18 on Thursday (10 June) – an all-time high. The tech-heavy Nasdaq 100 Index rose to its highest level since late April as megacap technology stocks rallied. The 10Y Treasury yield fell to as low as 1.44% after initially surge in the wake of the inflation report.
The consumer price index data released Thursday showed that the increase in May was driven largely by categories associated with a broader reopening of the economy as vaccinations bring the pandemic under control. The report comes amid a debate about whether the Fed can stick to the dovish stance that has helped lift markets in the face of a strengthening economy that brings the risk of destabilising inflation. Rangebound trading in equities and falling yields had characterised the start of June as investors awaited some impetus from progress reports on the recovery. A frenzy in meme stocks and gyrations in cryptocurrencies have been among the few sources of pronounced market volatility.
Seven of the main 11 S&P 500 industry groups climbed, with health care stocks leading the advance. Financial stocks were the outliers, with large banks including JPMorgan Chase & Co Ltd, Bank of America Corporation, and Wells Fargo & Co Ltd among the biggest laggards in the broader index. Amazon.com Inc, Microsoft Corporation, and Tesla Inc contributed the most to the Nasdaq 100's gain. The Dow Jones Industrial Average ended the session little changed at 34,466.24, with financial stocks including Goldman Sachs Group Inc and American Express Co Ltd among those weighing it down. – Bloomberg News.
The Nasdaq Composite Index upped 0.78% to 14,020.33.
EUROPE
Europe's biggest airlines are seeking to deflect moves to tighten carbon curbs by favouring an increasingly discredited offsetting programme, according to climate watchdog InfluenceMap.
Carriers are pushing to retain the Carbon Offsetting and Reduction Scheme for International Aviation over the European Union's (EU) more rigorous Emissions Trading System, the think tank said Thursday (10 June). While Corsia was developed by the United Nation-mandated International Civil Aviation Organization, a recent EU report said offsets are priced too cheaply to act as a brake on emissions.
Planemaker Airbus SE meanwhile told EU officials in February that hydrogen-powered aircraft with more than 150 seats probably would not feature globally until 2050, according to a presentation obtained by InfluenceMap via a freedom of information request.
Carriers are also urging the EU to delay moves to sustainable aviation fuel (SAF), it said, with Air France-KLM backing compulsory use only as technology matures, Deutsche Lufthansa AG claiming competitiveness issues, and British Airways owner IAG SA saying SAF should be required only for intra-Europe flights.
The International Air Transport Association said the report was a distortion of "genuine and long-standing sustainability efforts", while A4E, which represents Europe's leading airlines, said it failed to reflect the actions and investments of a sector that contributes 2.4% of total global emissions.
The dissection of the aviation industry's stance on carbon curbs highlights how pressure to accelerate efforts to meet increasingly tougher climate goals has ratcheted up. While automakers and some industrial sectors have made strides toward slashing emissions, airlines face a tougher challenge in going green given the energy expenditure required to get passenger jets airborne.
Airlines are also utilising the coronavirus crisis, which has roiled air travel, in an effort to delay taxes designed to push them into reducing emissions, according to InfluenceMap, which said it researched Europe's 10 largest operators, together with Airbus, The Boeing Company, and leading trade groups. Only EasyJet Plc has shown "more positive engagement" with the issue, it said. – Bloomberg News.
The Stoxx Europe 600 closed little changed at 454.56 on Thursday.
JAPAN
Japan's biggest bank is planning to plow about USD9b into a new investment team that will look to buy credit, equities, and alternative assets in a bid to lift investment returns.
Mitsubishi UFJ Financial Group (MUFG) Inc expects to begin buying the assets in the second half of this year that will likely focus on US securities, said the group's head, Yoshiaki Nemoto. His team will manage a new investment account, separate from the bank's conventional securities portfolio, and will aim to grow assets to about JPY1t (USD9.1b) within three years, he said.
"We need to consider ways to boost returns," Nemoto said in an interview, as low global interest rates endure at the same time as a hefty surplus of bank deposits.
Other banks in Japan have signalled efforts to seek higher yielding assets as lenders face a sharp build-up in excess cash amid the pandemic. MUFG's move is among the largest and may bring with it scrutiny from investors.
Nemoto said his team emphasises diversification, and will consider buying assets such as real estate investment trusts in addition to equity and corporate bond funds. He said while the portfolio will be geographically varied, the US is likely to make up a large portion given its relatively bigger market size.
Nemoto said risk control is critical for the team and that is why the build-up in assets will be a slow process at the beginning.
"It's not easy," he said. "There are attractive assets, but we will make investments after doing due diligence and building a solid risk management system." – Bloomberg News.
The Nikkei 225 Index opened 0.28% higher at 29,039.00 on Friday (11 June), adding to Thursday's 0.34% gain to 28,958.56.
Note: All views expressed are current as at the stated date of publication

GENERAL DISCLOSURE/DISCLAIMER
This information herein is published by DBS Bank Ltd. ("DBS Bank") and is for information only. This publication is intended for DBS Bank and its subsidiaries or affiliates (collectively "DBS") and clients to whom it has been delivered and may not be reproduced, transmitted or communicated to any other person without the prior written permission of DBS Bank.
This publication is not and does not constitute or form part of any offer, recommendation, invitation or solicitation to you to subscribe to or to enter into any transaction as described, nor is it calculated to invite or permit the making of offers to the public to subscribe to or enter into any transaction for cash or other consideration and should not be viewed as such.
The information herein may be incomplete or condensed and it may not include a number of terms and provisions nor does it identify or define all or any of the risks associated to any actual transaction. Any terms, conditions and opinions contained herein may have been obtained from various sources and neither DBS nor any of their respective directors or employees (collectively the "DBS Group") make any warranty, expressed or implied, as to its accuracy or completeness and thus assume no responsibility of it. The information herein may be subject to further revision, verification and updating and DBS Group undertakes no responsibility thereof.
All figures and amounts stated are for illustration purposes only and shall not bind DBS Group. This publication does not have regard to the specific investment objectives, financial situation or particular needs of any specific person. Before entering into any transaction to purchase any product mentioned in this publication, you should take steps to ensure that you understand the transaction and has made an independent assessment of the appropriateness of the transaction in light of your own objectives and circumstances. In particular, you should read all the relevant documentation pertaining to the product and may wish to seek advice from a financial or other professional adviser or make such independent investigations as you consider necessary or appropriate for such purposes. If you choose not to do so, you should consider carefully whether any product mentioned in this publication is suitable for you. DBS Group does not act as an adviser and assumes no fiduciary responsibility or liability for any consequences, financial or otherwise, arising from any arrangement or entrance into any transaction in reliance on the information contained herein. In order to build your own independent analysis of any transaction and its consequences, you should consult your own independent financial, accounting, tax, legal or other competent professional advisors as you deem appropriate to ensure that any assessment you make is suitable for you in light of your own financial, accounting, tax, and legal constraints and objectives without relying in any way on DBS Group or any position which DBS Group might have expressed in this document or orally to you in the discussion.
If this publication has been distributed by electronic transmission, such as e-mail, then such transmission cannot be guaranteed to be secure or error-free as information could be intercepted, corrupted, lost, destroyed, arrive late or incomplete, or contain viruses. The sender therefore does not accept liability for any errors or omissions in the contents of the Information, which may arise as a result of electronic transmission. If verification is required, please request for a hard-copy version.
This publication is not directed to, or intended for distribution to or use by, any person or entity who is a citizen or resident of or located in any locality, state, country or other jurisdiction where such distribution, publication, availability or use would be contrary to law or regulation.

Singapore: This publication is distributed by DBS Bank Ltd (Company Regn. No. 196800306E) ("DBS") which is an Exempt Financial Adviser as defined in the Financial Advisers Act and regulated by the Monetary Authority of Singapore (the "MAS").