The RCEP is set to promote greater regional trade, supply chain integration, and investment. We expect Vietnam to be a key beneficiary within ASEAN.
Within ASEAN, Vietnam is likely a key beneficiary of RCEP

Modest gains from tariffs reduction, while single rules of origin to propel regional integration

Vietnam remains an attractive FDI destination; RCEP partners are already key FDI investors

Goods trade integration between Vietnam and RCEP peers is already high, and set to grow further

China-Vietnam trade ties are flourishing, with key dependencies within the supply chain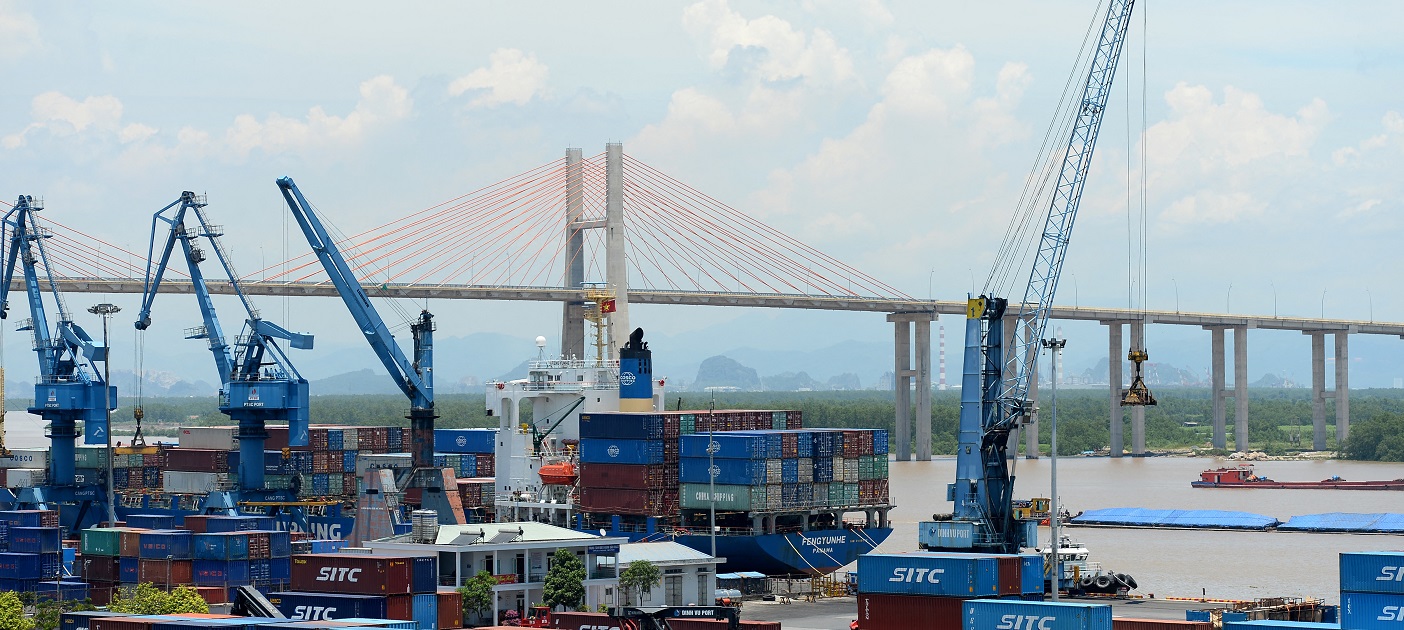 Photo credit: AFP Photo
Below is a summary; for the detailed and full report, please download the PDF
The massive Regional Economic Comprehensive Partnership (RCEP) that has now entered into force for 11 out of 15 member economies is an overall positive, in an environment of continued pandemic uncertainty and lingering US-China tensions. RCEP is set to promote greater regional trade, supply chain integration, and investment, boosting incomes in Asia Pacific over the coming years. We expect Vietnam to be a key beneficiary within ASEAN, beyond the biggest winners in North Asia (China, Japan, and South Korea).
Modest goods tariff reductions for ASEAN
Goods tariff reduction is a key benefit under RCEP, which will see ~90% of the goods traded eventually achieve zero tariffs over a 20-year implementation period. Studies quantifying the impact through a terms of trade gain see a positive impact on RCEP members' annual incomes by 2030 (ADB: USD245bn; PIIE: USD174bn). Gains are likely to be modest for many ASEAN member economies, given existing bilateral free trade agreements and already very low tariffs for intra-RCEP trade.
Vietnam's average effectively applied tariffs on intra-RCEP trade are middle of the pack at 1.2%, according to UNCTAD calculations. These compared to much higher levels for South Korea at 4.8% or China at 2.8%. Nevertheless, Vietnam is among the ASEAN economies likely to benefit somewhat from tariff reduction, given its high trade openness. Vietnam's gains would be lesser than that experienced by North Asian peers, with Japan not having bilateral agreements with China and South Korea prior to the RCEP.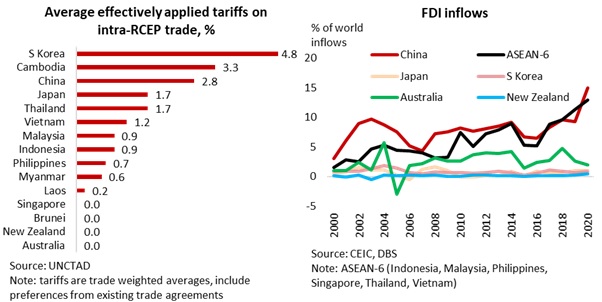 Single rules of origin to boost supply chains
Under RCEP, the streamlined and single rule of origins for all goods trade across member economies, coupled with simplified customs procedures, will likely advance the efficiency and regionalisation of supply chains, and help boost market access in an already well integrated region. RCEP streamlines differing rules of origins in the different FTAs that ASEAN have with other RCEP partner countries. Products can be traded among RCEP countries with a single certificate of origin and enjoy preferential advantages as long as 40% of value-added are produced in those countries.
This should propel the existing trend of increasing foreign direct investment (FDI) into the region, as investors look to tap on the benefits and use ASEAN as a manufacturing production base. Six ASEAN economies have received increasing FDI inflows over the past couple of years, rivalling that of China. Even though Singapore continues to receive the lion share of FDI inflows, inflows into Vietnam have been trending higher, and have ranked among the top three recipients within ASEAN-6. We think that Vietnam continues to boast multiple advantages to attract foreign investors.
Vietnam-RCEP members trade dynamics
Trade integration between Vietnam and the RCEP members is already high, and should grow tighter as companies tap RCEP benefits. Vietnam consistently imported a significant amount of goods from RCEP partners. In contrast, Vietnam's export share to RCEP partners while still high at ~40% has been declining over the years. US, which is Vietnam's single largest trading partner currently, has taken RCEP's market share, rising to almost 30% of Vietnam's total exports.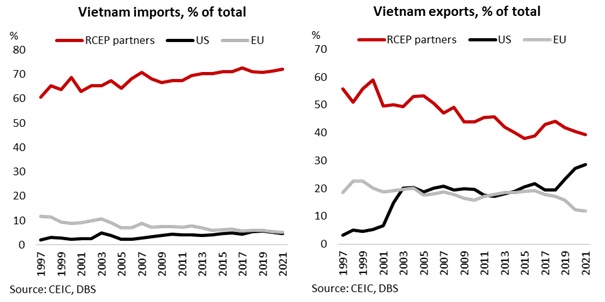 Untangling China's importance
China has been growing in importance for the region, which is also the case for Vietnam, when we look into its goods trade breakdown with RCEP members. Vietnam has been shipping a rising share of Chinese imports over the years, rising to a high of 33% of the total in 2021, while that of South Korea, the rest of ASEAN, and Japan have fallen. Vietnam imports several key products from China, such as 'textile, garment, and footwear', electronics, and 'machinery and transport equipment'. China is somewhat dependent on Vietnam in two key product areas: 'textile, garment, and footwear' and electronics.
With the RCEP agreement, Vietnamese products made from Chinese inputs can potentially increase trade. For instance, Vietnamese 'textile, garment, and footwear' made from Chinese materials can enjoy favourable tariffs when shipped to Japan. Electronics is another area, where China and emerging players like Vietnam are set to benefit from RCEP's trade facilitation, given an increasingly integrated regional electronics supply chain, seen from their trade dynamics.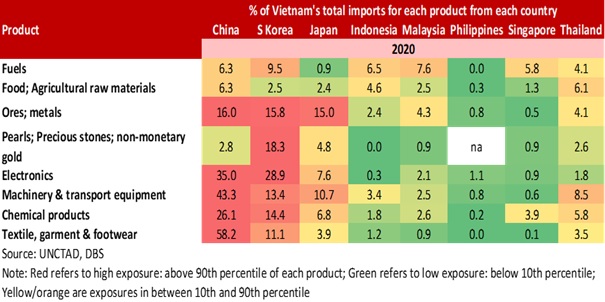 Opportunities and challenges for local firms
Vietnamese domestic firms' participation in RCEP can offer opportunities to raise their exports and be more active in regional value chains, if they can gain access to cheaper inputs and adapt to increased competition.
To read the full report, click here to
Download the PDF
.
Subscribe
here
to receive our economics & macro strategy materials.
To unsubscribe, please click
here
.
GENERAL DISCLOSURE/ DISCLAIMER (For Macroeconomics, Currencies, Interest Rates)
The information herein is published by DBS Bank Ltd and/or DBS Bank (Hong Kong) Limited (each and/or collectively, the "Company"). This report is intended for "Accredited Investors" and "Institutional Investors" (defined under the Financial Advisers Act and Securities and Futures Act of Singapore, and their subsidiary legislation), as well as "Professional Investors" (defined under the Securities and Futures Ordinance of Hong Kong) only. It is based on information obtained from sources believed to be reliable, but the Company does not make any representation or warranty, express or implied, as to its accuracy, completeness, timeliness or correctness for any particular purpose. Opinions expressed are subject to change without notice. This research is prepared for general circulation. Any recommendation contained herein does not have regard to the specific investment objectives, financial situation and the particular needs of any specific addressee. The information herein is published for the information of addressees only and is not to be taken in substitution for the exercise of judgement by addressees, who should obtain separate legal or financial advice. The Company, or any of its related companies or any individuals connected with the group accepts no liability for any direct, special, indirect, consequential, incidental damages or any other loss or damages of any kind arising from any use of the information herein (including any error, omission or misstatement herein, negligent or otherwise) or further communication thereof, even if the Company or any other person has been advised of the possibility thereof. The information herein is not to be construed as an offer or a solicitation of an offer to buy or sell any securities, futures, options or other financial instruments or to provide any investment advice or services. The Company and its associates, their directors, officers and/or employees may have positions or other interests in, and may effect transactions in securities mentioned herein and may also perform or seek to perform broking, investment banking and other banking or financial services for these companies. The information herein is not directed to, or intended for distribution to or use by, any person or entity that is a citizen or resident of or located in any locality, state, country, or other jurisdiction (including but not limited to citizens or residents of the United States of America) where such distribution, publication, availability or use would be contrary to law or regulation. The information is not an offer to sell or the solicitation of an offer to buy any security in any jurisdiction (including but not limited to the United States of America) where such an offer or solicitation would be contrary to law or regulation.

This report is distributed in Singapore by DBS Bank Ltd (Company Regn. No. 196800306E) which is Exempt Financial Advisers as defined in the Financial Advisers Act and regulated by the Monetary Authority of Singapore. DBS Bank Ltd may distribute reports produced by its respective foreign entities, affiliates or other foreign research houses pursuant to an arrangement under Regulation 32C of the Financial Advisers Regulations. Singapore recipients should contact DBS Bank Ltd at 65-6878-8888 for matters arising from, or in connection with the report.

DBS Bank Ltd., 12 Marina Boulevard, Marina Bay Financial Centre Tower 3, Singapore 018982. Tel: 65-6878-8888. Company Registration No. 196800306E.

DBS Bank Ltd., Hong Kong Branch, a company incorporated in Singapore with limited liability. 18th Floor, The Center, 99 Queen's Road Central, Central, Hong Kong SAR.

DBS Bank (Hong Kong) Limited, a company incorporated in Hong Kong with limited liability. 13th Floor One Island East, 18 Westlands Road, Quarry Bay, Hong Kong SAR

Virtual currencies are highly speculative digital "virtual commodities", and are not currencies. It is not a financial product approved by the Taiwan Financial Supervisory Commission, and the safeguards of the existing investor protection regime does not apply. The prices of virtual currencies may fluctuate greatly, and the investment risk is high. Before engaging in such transactions, the investor should carefully assess the risks, and seek its own independent advice.