We lay out five reasons why the Fed should taper.
Inflation worries are appearing

Taper conditions are likely to be met in 3Q

Photo credit: AFP Photo
Longer-term USD rates have been heading sideways since the selloff in 1Q21, but there has been significant volatility as market participants parse conflicting data. April's nonfarm payrolls notched 266k, one of the biggest misses on record (consensus: 1000k). This was followed up with April's CPI hitting 0.8 MoM sa (compared to consensus of 0.2%), one of the largest overshoots on record.
10Y UST yields swung from a low of 1.46% to a recent high of 1.70%. While data is going to be noisy, we think that that conditions will soon be ripe (likely to be sometime in the next few months) for the Fed to hint that asset purchases is poised to slow.
Below, we list 5 reasons why taper is coming, sticking to our view that 10Y US yields can touch 2% this year and head into the 2-2.5% range thereafter.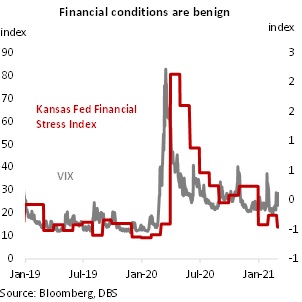 First, financial conditions are benign. Stresses in the various markets are contained, with implied volatilities in equities and swaps on the low side. Credit and liquidity risks are extremely low in the money markets. Using the Kansas Fed's Financial Stress index as a gauge, the market was largely normal by December. This index has since dipped to -0.76, from as high as 2.13 at the height of Pandemic-induced market stress in March last year. Current levels of calm are comparable to 2017 when there was an ongoing global cyclical recovery.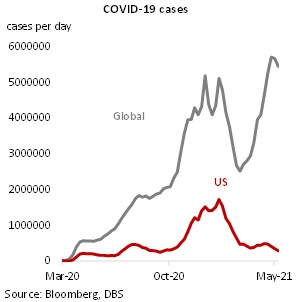 Second, vaccinations are going well in the Developed Market space. The US is one of the frontrunners and has already administered some 270 mn vaccine doses (roughly 80 shots per 100 people). At the current pace of vaccination (about 10mn shots per week), the US would be on track to achieve herd immunity (close to 70% of population vaccinated) by July. This would allow segments of the economy that previously been unable to normalize (services-related including tourism) to finally stage a meaningful recovery. Note that COVID-19 cases in the US have plummeted as vaccinations accelerate. In April, Federal Reserve Bank of St. Louis President James Bullard noted that getting 75% Americans vaccinated would be a signal could prompt a Fed pivot on its bond-buying program.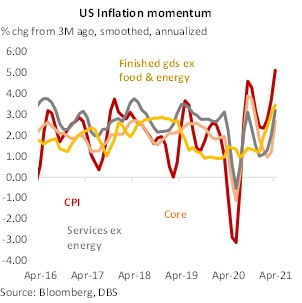 Third, inflation is uncomfortably high. The Fed's Average Inflation Targeting (AIT) framework does allow more room for an inflation overshoot and Fed officials have consistently stated that these pressures are likely to prove transitory. However, sequential inflation of 0.8% MoM sa and a YoY figure of 4.2% can be difficult to ignore. We would note that core inflation is also much higher than what consensus expected. While April is just one data point, there are concerns that a broadening out of price pressures could take place in the coming months. We are monitoring sequential inflation momentum (smoothed 3M changes of price levels) and unfortunately, the breakdown of core vs headline and goods vs services, show a broad-based and accelerating trend. By our measures, inflation is currently running at around 3% annualized, probably above what the Fed is willing to tolerate for the medium term.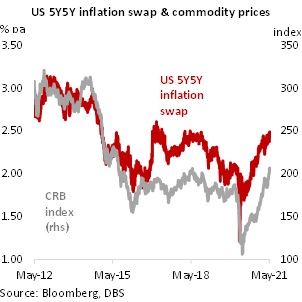 Inflation expectations are lifting off. The US 5Y5Y inflation swap (which captures medium term inflation expectations) is hovering above 2.5%. The last time this gauge held in the 2.5-3.0% in a sustained fashion was 2012-2013. While realized inflation is important, we do think that the Fed has to pay attention to more timely indicators. Supply shortages and artificial labour market tightness could drive these gauges higher, un-anchoring inflation expectations in the process.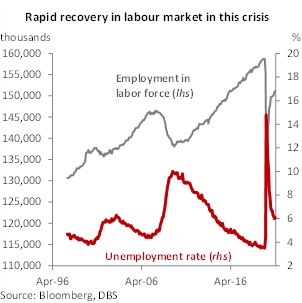 Fourth, the labour market is strong, notwithstanding the payrolls stumble in April. There are a few angles to consider on the labour market. Overall, indicators suggest that there is a lot of demand for labour (both anecdotal as well as the JOLT job openings data). However, a combination of supply side factors, seasonal adjustments and enhanced unemployment benefits could have deterred job hunting.
Moreover, if wages are a guide, the labour market is now artificially tight due to these supply constraints. To be sure, we are probably not at the Fed's hurdle where taper is imminent. The economy has recovered about two-thirds of the jobs lost during the Pandemic and the U3 unemployment rate of 6% probably flatters the labour market situation. We reckon that actual unemployment is probably a tad above 8% but this adjusted figure can quickly fall if we get another 2-3 months of strong payrolls. This could set the stage for a Fed pivot in late 3Q. We would also note that a Pandemic crisis is different from a traditional economic or financial crisis. The private sector is well positioned to rebound once COVID-19 restrictions ease.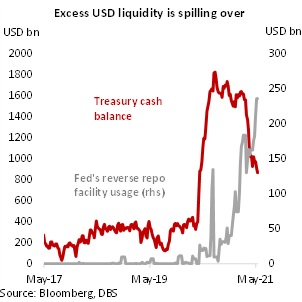 Fifth, there are signs of excess liquidity and that is probably contributing to froth in selected assets as short-term USD rates get anchored. Short-term USD rates including repos, SOFR, LIBOR, CD and CP rates are generally close to their respective record lows. Note that the Fed recently tweaked rules to allow counterparties to deposit more funds into its reverse repo facility. Usage of this facility typically hovers around zero but climb across quarter end. However, since March, funds deposited has risen to USD 235bn.
Further tweaks on other facilities, short-term rates may be needed to prevent short-term USD rates from collapsing. It is probably easier to taper asset purchases to manage the unwanted influx of liquidity. In any case, UST issuances may have peaked with Pandemic-related spending likely to ease towards the end of the year. There may not be as strong a need for the Fed to absorb incoming bond supply towards late 2021.
We see compelling reasons for taper and expect the Fed to pivot (signal) later this year. Amongst the major central banks, The Bank of Canada and Bank of England have already tapered. The European Central Bank will likely debate this issue in June. It will soon be time for the more patient Fed to follow suit. We reiterate our above consensus 2% 10Y US yield forecast for 2021.
Risks to outlook
The biggest risk to our outlook lies with uncertainties on the global battle with COVID-19. Mutations could render current vaccines significantly less effective. This could cause the re-openings in the US and Europe to reverse. In the EM space, vaccinations are generally slower. Stresses in EM assets could tighten financial conditions, leading to a more cautious Fed. Lastly, if price pressures prove fleeting, there could be less urgency to taper asset purchases.
To read the full report, click here to Download the PDF.
GENERAL DISCLOSURE/ DISCLAIMER (For Macroeconomics, Currencies, Interest Rates)
The information herein is published by DBS Bank Ltd and/or DBS Bank (Hong Kong) Limited (each and/or collectively, the "Company"). This report is intended for "Accredited Investors" and "Institutional Investors" (defined under the Financial Advisers Act and Securities and Futures Act of Singapore, and their subsidiary legislation), as well as "Professional Investors" (defined under the Securities and Futures Ordinance of Hong Kong) only. It is based on information obtained from sources believed to be reliable, but the Company does not make any representation or warranty, express or implied, as to its accuracy, completeness, timeliness or correctness for any particular purpose. Opinions expressed are subject to change without notice. This research is prepared for general circulation. Any recommendation contained herein does not have regard to the specific investment objectives, financial situation and the particular needs of any specific addressee. The information herein is published for the information of addressees only and is not to be taken in substitution for the exercise of judgement by addressees, who should obtain separate legal or financial advice. The Company, or any of its related companies or any individuals connected with the group accepts no liability for any direct, special, indirect, consequential, incidental damages or any other loss or damages of any kind arising from any use of the information herein (including any error, omission or misstatement herein, negligent or otherwise) or further communication thereof, even if the Company or any other person has been advised of the possibility thereof. The information herein is not to be construed as an offer or a solicitation of an offer to buy or sell any securities, futures, options or other financial instruments or to provide any investment advice or services. The Company and its associates, their directors, officers and/or employees may have positions or other interests in, and may effect transactions in securities mentioned herein and may also perform or seek to perform broking, investment banking and other banking or financial services for these companies. The information herein is not directed to, or intended for distribution to or use by, any person or entity that is a citizen or resident of or located in any locality, state, country, or other jurisdiction (including but not limited to citizens or residents of the United States of America) where such distribution, publication, availability or use would be contrary to law or regulation. The information is not an offer to sell or the solicitation of an offer to buy any security in any jurisdiction (including but not limited to the United States of America) where such an offer or solicitation would be contrary to law or regulation.

This report is distributed in Singapore by DBS Bank Ltd (Company Regn. No. 196800306E) which is Exempt Financial Advisers as defined in the Financial Advisers Act and regulated by the Monetary Authority of Singapore. DBS Bank Ltd may distribute reports produced by its respective foreign entities, affiliates or other foreign research houses pursuant to an arrangement under Regulation 32C of the Financial Advisers Regulations. Singapore recipients should contact DBS Bank Ltd at 65-6878-8888 for matters arising from, or in connection with the report.

DBS Bank Ltd., 12 Marina Boulevard, Marina Bay Financial Centre Tower 3, Singapore 018982. Tel: 65-6878-8888. Company Registration No. 196800306E.

DBS Bank Ltd., Hong Kong Branch, a company incorporated in Singapore with limited liability. 18th Floor, The Center, 99 Queen's Road Central, Central, Hong Kong SAR.

DBS Bank (Hong Kong) Limited, a company incorporated in Hong Kong with limited liability. 13th Floor One Island East, 18 Westlands Road, Quarry Bay, Hong Kong SAR

Virtual currencies are highly speculative digital "virtual commodities", and are not currencies. It is not a financial product approved by the Taiwan Financial Supervisory Commission, and the safeguards of the existing investor protection regime does not apply. The prices of virtual currencies may fluctuate greatly, and the investment risk is high. Before engaging in such transactions, the investor should carefully assess the risks, and seek its own independent advice.