The resurging Covid pandemic has dominated India's macro and political narrative for the past two months.
We assess India's GDP growth risks through four key questions

Implications to forecasts: We temper our FY22 growth assumptions, whilst lifting FY23

Implications for investors: The markets and economy continue to face different narratives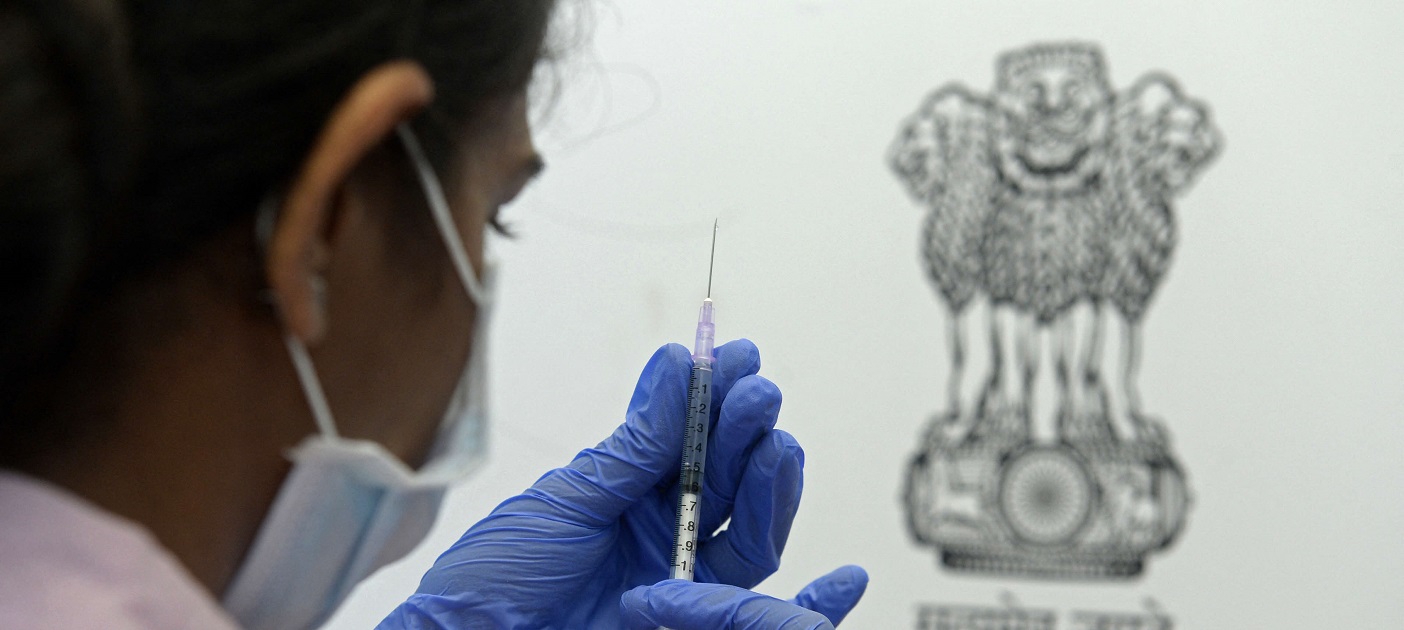 Photo credit: AFP Photo
The resurging Covid pandemic has dominated India's macro and political narrative for the past two months. We reassess our growth expectations by tackling four key questions.
Has the second Covid wave ebbed?
India's case count has been steadily falling for the last two weeks, which has led local health experts to suggest that the second wave has peaked. From a daily global record of 400k+ cases in May, the latest count has averaged ~260-290k. Signs of a peak in the infection curve have also been accompanied by easing
aggregate positivity rate
– sub-20% after three weeks – and R0 (reproduction rate) which has fallen below 1.0.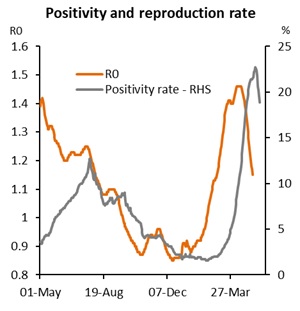 At a granular level, states which had been severely affected last month are also witnessing a slowdown in the daily count, whilst those in the South and North East are still near highs. Chart above highlights the states' % gap/distance from their respective peaks during the second wave.
Fatalities
are still rising on absolute basis even if the case fatality rate is low. The number of deaths per million basis in India is above UK, US into late-April and May.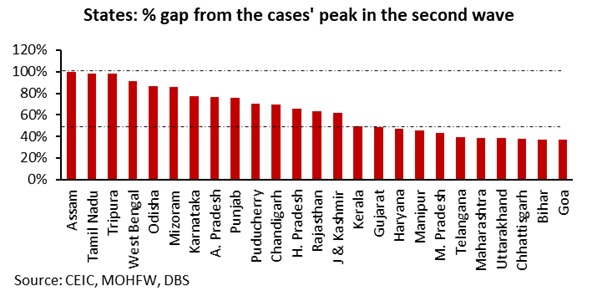 Notwithstanding a peak in the curve, guard is unlikely to be lowered in a hurry.
Firstly, the reduction in cases is encourgaing, but its also tracks higher stringency in localised lockdowns in a bid to break the transmission, thus helping to contain numbers. Testing numbers have also moderated in recent weeks. Secondly, rural areas now account for ~40% of the total caseload, suggesting the pandemic has made deeper in-roads into the hinterlands where medical supplies and infrastructure is sub-par vs urban areas. Two-thirds of the population stays in the rural/ semi-urban areas. Thirdly, the aggregate positivity rate and R0 (reproduction rate) are off highs but still in excess of WHO's indicative thresholds.
Lastly, as the experience of other countries, US, UK, South Korea, parts of Europe etc, reveal, even as the initial waves subside, the subsequent waves have established fresh highs as soon as restrictions begin to ease.
Lastly, the World Health Organisation elevated the B.1617 mutation variant, first found in India, to a 'variant of concern' this month, as it fulfils at least one of the stated criteria, which includes easy transmission, more severe illness, reduced neutralisation by antibodies or reduced effectiveness of treatment and vaccines. For all these reasons and the significant humanitarian cost of the second wave will keep authorities on alert despite signs of a cool-off in the second wave.
Will vaccination be a quick fix to India's pandemic concern?
A key difference between last year's defences vs 2021 is the availability and access to vaccines. As of 18-May, India has administered nearly 190mn doses, covering a fifth of the adult pool and 14% of the entire population. In terms of age-group, 45y+ make up for two-third of the total inoculations to date as this age group.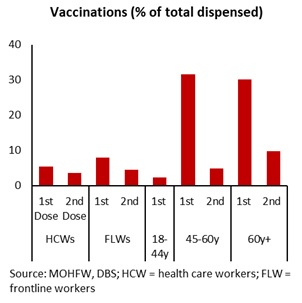 Since May, the coverage was widened to 18-44y, effectively expanding the vaccine program to the entire adult population (18Y+) of roughly 900mn, which implies a requirement of 1.8bn, considering two doses. While the demand pool has been widened, vaccine supply is yet to catch-up, leading to a slowdown in the pace of daily inoculations. Average daily doses dispensed in May is down by a third vs April.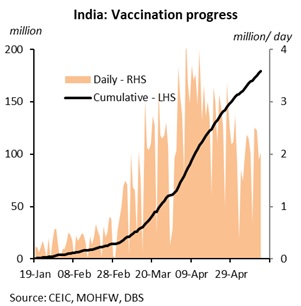 Authorities are optimistic on plans to strengthen the pipeline in 3Q21 from higher production in existing facilities (Serum Institute of India (SII) and Bharat Biotech) from the current monthly tally of ~60-70mn to 100-110mn as well as approvals for more imported alternatives for the 18-44y age group (Sputnik V distribution has just begun). By end-year, local production of Sputnik-V is also expected to start, just as Biological-E J&J might receive a nod. The Health Ministry estimates that ~500mn doses will be available by July and a cumulative ~2bn between Aug-Dec 2021.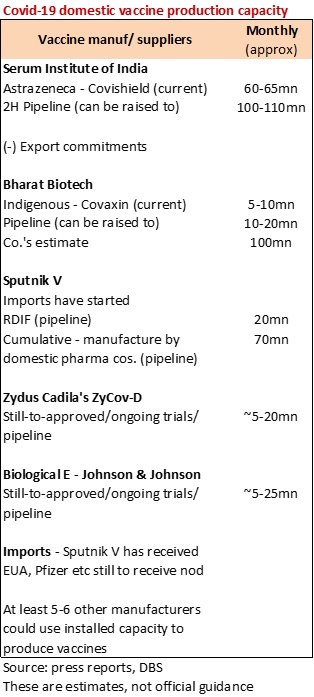 Taking a conservative view, a likely doubling in daily inoculations to ~4mn administered per day in 2H21 will allow for >60% of the adult population to be vaccinated by at least one dose by end-2021. Until the vaccine rollout achieves scale, some form of restrictions is likely to remain in place, keeping activity sub-normal until the end of the fiscal year, in contrast to the sharp improvement from the unlocking in the first wave.
In all, pursuing vaccination efforts is likely to be the first priority for the authorities, however, this will entail some lead time,
with a likelihood of achieving scale by late FY22.
Concurrently, the decision to halt vaccine exports has also hurt the global Covax initiative, which was dependent on India's SII to supply about 1.1bn of the total 2bn supply but has only fulfilled ~2% of those orders and further shipments only expected to resume by early-4Q according to press reports.
Does a peak in the daily caseload suggest a peak in economic costs?
Economic impact is likely to be most adverse in Apr-Jul21, but effects will linger for longer. As discussed in
India's Covid resurgence begins to take an economic bite
, response to the second Covid wave has been decentralised and heterogenous. State governments have gradually tightened restrictions over the past month – transitioning from night curfews to announcing quasi-lockdowns, allowing for essential services to stay open, whilst other sectors are subject to operate but with lower occupancy/ hours/ capacity utilisation e.g. wholesale, retail trade, export-oriented/ continuous manufacturing, mining, construction, farm activity etc. to function with lower capacity, amongst others.
Notably 23 states accounting for nearly 75% of overall output have relatively stricter lockdowns, whilst the remaining have moderate restrictions. Severity is nonetheless being tightened, particularly in states where the infection curves are yet to peak or worries over a third wave have surfaced.
Taking stock of incoming data
• Ultra-high frequency data:
- The starkest impact of the second wave is on
mobility indicators.
Our consolidated mobility gauge has dropped to lows since August 2020 (~40% below normal), with the state-wise gauge also down sharply. The University of Oxford Stringency index has also risen to 81.9 into May, leading back to May20 levels during the lockdown.
We are mindful, however, that the mobility gauge is magnifying the purported impact as while these reflect movement restrictions, these don't necessarily reflect a curtailment in economic activities to the same extent.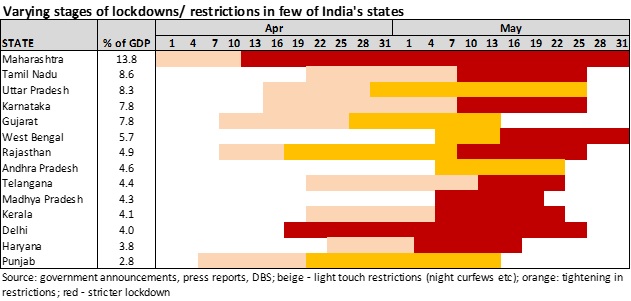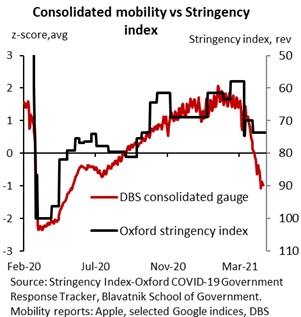 -
Traffic congestion
had eased off sharply in Mumbai and Delhi in response to the sharp rise in cases until late-April. Extension of localised restrictions and cautious mobility has seen congestion stabilise at weak levels, even as the daily count is off highs.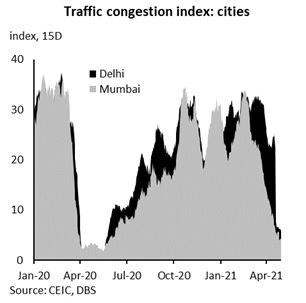 - The weekly
CMIE unemployment
tracker has seen the rate tick up to 8% in late April, signaling 7.3mn job losses (led by the farm sector being a seasonally lean month), and labour participation rate slipped for a third consecutive month to lowest since May 2020.
- After holding up in April,
power demand
fell 13% into mid-May compared to the month before, signaling slower industrial and household demand, whilst agriculture usage also tapered, pre-monsoon.
-
E-way bill generation
has corrected sharply, according to the GST Network, with the daily bill generation falling to ~1mn in May vs 1.9mn in April, pointing to downside risks to the GST collection for the month (likely to reflect in June).
- The
national rural employment scheme
points to a small downtick in the households demanding work in Apr21 vs Mar21, but notes a significant rise from Apr20 levels, which was in midst of the nationwide lockdown. Notwithstanding a strong monsoon and improved terms of trade from strong agri-commodity prices, the wider spread of Covid cases in rural areas in the second wave is expected to dampen demand.
• Monthly data indicators (y/y) are likely to look firm between March to June 2021 on a low base distortion, as a nationwide lockdown had hurt activity adversely and pushed up inflation on supply-side disruptions in the comparable period last year. A case in point was the
March industrial production
which surged 22.4% y/y, lifted by a 25.8% from manufacturing output, reflecting the impact of a favourable base and positive year-end seasonality. In the chart below we normalise the seasonally adjusted series to Jan20 (pre pandemic). External trade numbers are the other example, with exports up 195% y/y in April along with an equally sharp lift in imports, compared to the low base of Apr20. Sectors like auto sales have, however, noted a fall in retail demand due to supply chain issues and gradual closure in few of the plants.
Growth assumptions:
A peak in the Covid cases and rapid deceleration in the daily count are encouraging signs. States, meanwhile, have erred on the side of caution and will extend lockdown-like restrictions at least until late-May, with a likelihood of extending these into June.
A guarded and staggered unlocking is likely thereafter, though underlying caution will sustain. As a result, deceleration in sequential 2Q21 growth (Jun21 quarter) will be deeper than we had previously assumed, but less than half of 2Q20 due to the decentralised, heterogenous and less onerous restrictions during the second wave.
We had highlighted potential mitigating factors in our note here, but the evolving nature of the second wave signals that the impact is likely to last longer, on four counts:
Firstly,
rural areas which were not impacted seriously last year, are faced with a rising case and fatality count during the second wave. Cases in the rural and semi-urban districts made ~35-40% of the total count of cases, and a third of the total deaths in April 2021, according to this
report
.
Apart from lower cases last year, additional tailwinds by way of higher fiscal support, migration of additional displaced labour from the urban areas and a good monsoon (leading to record output) were present in 2020 but are unlikely to materialise this year. While a normal monsoon will boost farm output, if the infection spreads questions will surface on sufficient labour availability, alongside softer non-farm activity which makes up two-thirds of rural output.
Secondly,
the lift from urban pent-up demand might be weaker and more gradual this time around as households increase allocations towards healthcare/ medical needs. The 2019 National Health Profile report shows that hospitalisation expenditure is predominantly financed through household incomes/ savings, given limited availability of public health infrastructure.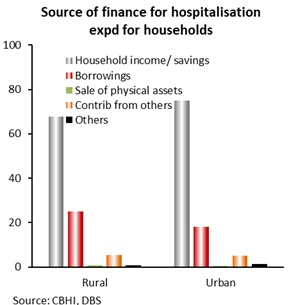 Media reports have also cited that this wave has hit the consuming upper middle/middle class hard, for instance 90% of the cases in Mumbai emerging from buildings/ apartments vs 10% in slums. Labour market scarring will also take longer to mend, with a renewed uncertainty (income shock) and rise in unemployment rates to depress consumption, particularly as rural areas which have a higher marginal propensity to consume might be under a cloud for longer than the first wave.
Add to this, risks of subsequent waves, inadequate vaccination and fears over higher mortality in younger population, as we discussed earlier in the note, will keep guard up and sentiment cautious into the next quarter.
Thirdly,
sub-70% capacity utilisation in RBI surveys rates point to a likelihood of softer capex/ industrial activity. Amongst sectors, auto and OEMs, retail, contact-intensive services including hospitality, airlines, entertainment etc. are likely to experience weaker revenues, whilst IT, telecom, steel/ cement, pharma, FMCG etc. seek to gain a larger market share as the pandemic waves accelerate formalisation. Corporate margins are also likely to narrow vs 2020 as input prices rise sharply on the back of higher commodity prices, narrowing the tailwind which followed the first wave when the commodity cycle was more favourable for costs and bottomlines.
Lastly,
while a bigger fiscal push is anticipated, we don't foresee a strong stimulus spending this year, beyond sustenance and targeted support which is already under way. FY22 deficit targets are unlikely to be breached, with buoyancy in indirect taxes (GST, fuel excise etc.) to be balanced with reprioritizing in fiscal spends, along with a likely boost from higher deflators which will limit the fall in nominal GDP even if real GDP targets are undershot (Budget FY22 14.4%). The central bank already announced loan relief and restructuring support last month and we expect more moves to safeguard the financial market/ sector stability, if the Covid situation worsens further. Further policy rate cuts are not on the cards.
There are few potential tailwinds
on the horizon, which will help support growth in 2H21.
Firstly,
with the vaccination pipeline to be beefed up into the September quarter, we expect the unlocking process to be expedited and sentiments to improve from the final quarter of the year.
Next,
while we have assumed cautious consumer sentiments to rein, once unlocking resumes, there is a possibility that demand might be revived faster as was the case in other affected countries in the region.
Third,
higher net exports will also be timely, hinging on the longevity of global growth and commodity upturn (which is a double-edged sword as it also worsens the terms of trade).
Our inhouse GDP Nowcast model points to a slower growth in the June quarter year-on-year number since late-April. Pipeline risks we highlight above along with a slower vaccination rollout,
leads us to temper our FY22 GDP growth expectations to 9.5% y/y vs previously held 10.5% and 2021 at 8%,
assuming a deeper contraction in sequential growth in 2Q21 (1QFY) and a modest recovery thereafter. FY23 is revised up to 5.8%.
We are mindful of the potential distortion to our calculations from the pending 1Q21 (4QFY21) data,
where real GDP numbers are likely to be distorted by a subsidy repayment, where numbers could swing from a negative reading to positive and likewise distort our FY22 assumptions.
Is India facing an inflation scare?
India's inflation trajectory was elevated compared to its regional peers in FY21,
largely due to domestic idiosyncrasies, which saw CPI inflation above the 4% target through the year and breaching the upper threshold of the 2-6% band in eight of the twelve months of FY21. The central bank aptly assessed that a series of cost-push shocks i.e. supply chain disruptions poor weather, higher crude oil and other commodity prices and sticky fuel taxes were largely behind the price surge.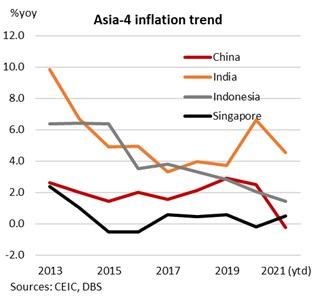 Into FY22, the latest lockdowns have not disrupted supply chains and inter-state movements especially for (food) perishables to the scale in 2020. However, the pressure from rising input costs visible in PMI price indices as well as global commodity indices are likely to feed through to manufacturing inflation.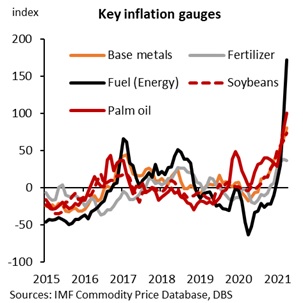 In the immediate two quarters, the softer demand profile due to the second wave will limit the spillover of high input prices onto retail prices, along with the favourable base effects. Concurrently, the softer weightage of commodities in the CPI basket vs WPI basket also limits the direct impact of the rally in commodity prices. Our FY22 inflation forecast at 4.8% y/y implies that inflation will remain above the mid-point target for a third consecutive year but within the band, which is expected to be followed by 4.4% in FY23.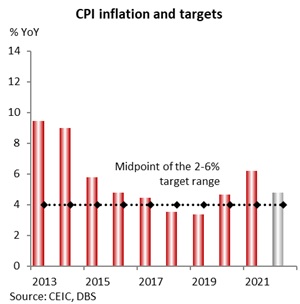 Why are domestic markets largely indifferent to the pandemic?
Domestic financial markets have braved the Covid-19 headwind yet far. In midst of the high infection rate, benchmark equity indices were off lows after an initial sell-off, owing to buoyant global markets, firmer earnings and lastly, recency bias from the strong pick-up in listed firms' earnings in 2H20 vs a sharp correction in Mar-Apr20, when the economy reopened after the first wave. After lagging the MSCI EM index, India's benchmarks have pared losses to return to green on the year.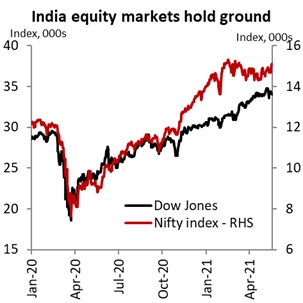 Source: Bloomberg, DBS
The Indian currency had kickstarted the quarter on a softer note but has since trimmed losses to register a small gain Investors are nonetheless likely to be mindful of the path of the pandemic spread, which will dictate the severity and longevity of restrictions and in turn will impact the growth trajectory.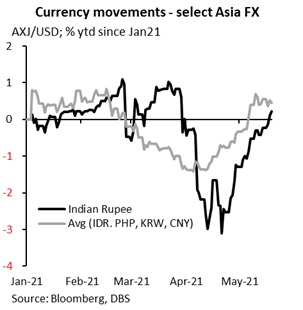 On bonds, INR sovereign 10Y yield (generic) are down ~20bps vs March high, displaying a muted response to the infection surge. Despite a sizeable supply strain, the RBI's assurance of bond purchases (e.g. introduction of G-SAP) and the perception that the government's comfortable cash cushion allowed for part cancellation of bond sales in recent auctions, have capped moves.
The likelihood of a dovish-for-longer RBI is holding down the short-end, notwithstanding the threat of supply-driven price pressures. Lower rated corporate bonds, however, have shown strain given the onset of tougher business conditions. Risk free rates are likely to be stable in the near-term, but a gradual updrift is likely towards ear end, riding on higher US rates and moderation in banks' appetite for the domestic bonds as credit growth recovers.
To read the full report, click here to
Download the PDF
.
Subscribe
here
to receive our economics & macro strategy materials.
To unsubscribe, please click
here
.
GENERAL DISCLOSURE/ DISCLAIMER (For Macroeconomics, Currencies, Interest Rates)
The information herein is published by DBS Bank Ltd and/or DBS Bank (Hong Kong) Limited (each and/or collectively, the "Company"). This report is intended for "Accredited Investors" and "Institutional Investors" (defined under the Financial Advisers Act and Securities and Futures Act of Singapore, and their subsidiary legislation), as well as "Professional Investors" (defined under the Securities and Futures Ordinance of Hong Kong) only. It is based on information obtained from sources believed to be reliable, but the Company does not make any representation or warranty, express or implied, as to its accuracy, completeness, timeliness or correctness for any particular purpose. Opinions expressed are subject to change without notice. This research is prepared for general circulation. Any recommendation contained herein does not have regard to the specific investment objectives, financial situation and the particular needs of any specific addressee. The information herein is published for the information of addressees only and is not to be taken in substitution for the exercise of judgement by addressees, who should obtain separate legal or financial advice. The Company, or any of its related companies or any individuals connected with the group accepts no liability for any direct, special, indirect, consequential, incidental damages or any other loss or damages of any kind arising from any use of the information herein (including any error, omission or misstatement herein, negligent or otherwise) or further communication thereof, even if the Company or any other person has been advised of the possibility thereof. The information herein is not to be construed as an offer or a solicitation of an offer to buy or sell any securities, futures, options or other financial instruments or to provide any investment advice or services. The Company and its associates, their directors, officers and/or employees may have positions or other interests in, and may effect transactions in securities mentioned herein and may also perform or seek to perform broking, investment banking and other banking or financial services for these companies. The information herein is not directed to, or intended for distribution to or use by, any person or entity that is a citizen or resident of or located in any locality, state, country, or other jurisdiction (including but not limited to citizens or residents of the United States of America) where such distribution, publication, availability or use would be contrary to law or regulation. The information is not an offer to sell or the solicitation of an offer to buy any security in any jurisdiction (including but not limited to the United States of America) where such an offer or solicitation would be contrary to law or regulation.

This report is distributed in Singapore by DBS Bank Ltd (Company Regn. No. 196800306E) which is Exempt Financial Advisers as defined in the Financial Advisers Act and regulated by the Monetary Authority of Singapore. DBS Bank Ltd may distribute reports produced by its respective foreign entities, affiliates or other foreign research houses pursuant to an arrangement under Regulation 32C of the Financial Advisers Regulations. Singapore recipients should contact DBS Bank Ltd at 65-6878-8888 for matters arising from, or in connection with the report.

DBS Bank Ltd., 12 Marina Boulevard, Marina Bay Financial Centre Tower 3, Singapore 018982. Tel: 65-6878-8888. Company Registration No. 196800306E.

DBS Bank Ltd., Hong Kong Branch, a company incorporated in Singapore with limited liability. 18th Floor, The Center, 99 Queen's Road Central, Central, Hong Kong SAR.

DBS Bank (Hong Kong) Limited, a company incorporated in Hong Kong with limited liability. 13th Floor One Island East, 18 Westlands Road, Quarry Bay, Hong Kong SAR

Virtual currencies are highly speculative digital "virtual commodities", and are not currencies. It is not a financial product approved by the Taiwan Financial Supervisory Commission, and the safeguards of the existing investor protection regime does not apply. The prices of virtual currencies may fluctuate greatly, and the investment risk is high. Before engaging in such transactions, the investor should carefully assess the risks, and seek its own independent advice.