We publish our latest DEER Strategy recommendations for May 2022.
The DEER Strategy recommends longs in JPY, GBP, and CAD, and shorts in USD, CHF, and EUR.

With a strong USD and undershoot in the JPY, the DEER strategy saw a loss of 2.6% for the last 3M.

This compares with steep losses in stocks, bonds, and credit.

Our diversified strategy helped to limit losses from USD/JPY, with a net gain seen across other FX.

In Asia, MYR, IDR, and CNY rank the cheapest, while PHP, THB, and INR rank as most over-valued.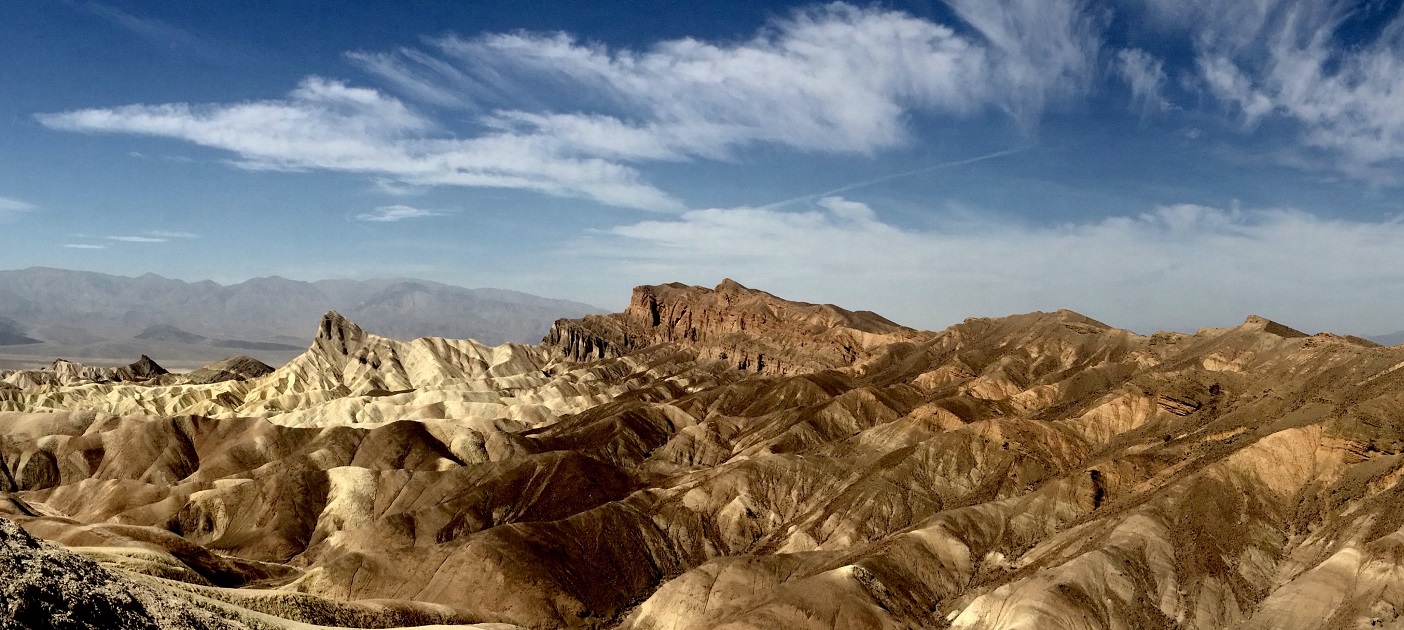 Photo credit: Unsplash
Latest G10 DEER valuations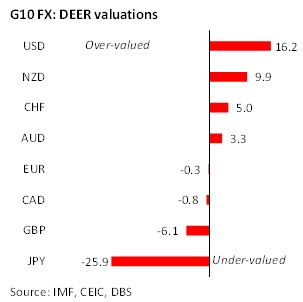 Within the set of 8 major G10 currencies, the JPY, GBP, and CAD are the most undervalued based on latest DEER valuations. The JPY's undervaluation is now at a record low since our analysis started in 2000. GBP has become more undervalued, amid mixed messaging from the BOE on rate hikes. CAD has swapped place with the AUD as the third cheapest currency.

The USD, NZD, and CHF remain the three most over-valued currencies based on the DEER. The USD has climbed to two-decade highs, amid geopolitical worries and increased expectations of Fed policy tightening. NZD has seen its under-valuation narrowing significantly, but not enough to shift its overall ranking. CHF's over-valuation has also moderated somewhat.

DEER Strategy Recommendations





Our DEER strategy continues to recommend being long in JPY, GBP, and CAD. There has been almost no shift in our relative valuations since the February update, with the USD being the dominant driver across FX markets. While JPY has a negative carry, this is more than offset by its extreme under-valuation and corresponding prospects of gains as valuations revert back to normal (see DBS Focus – FX: Trade implications of an undervalued JPY, 4 May 22).

In addition, our DEER strategy recommends being short USD, CHF, and the EUR. The USD's over-valuation has now stretched to two-decade highs, and looks hard to sustain without a large stream of capital inflows. The CHF is still over-valued despite its recent losses, on top of having negative carry. Finally, while the EUR's valuation is close to neutral, a large negative carry rendered it a better short compared to NZD and AUD, which have positive carry.

Recent DEER return breakdown and analysis

We examine the 3M returns of our previous DEER recommendations made on 3 Feb 2022 (see DBS Flash - FX: DEER recommendations (February 2022), 3 Feb 2022). These 3M returns are based on closing prices on 3 May, against 3M forward prices on 3 Feb 2022.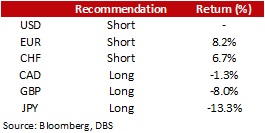 Given the dominance of the USD in currency markets, shorts (vs the USD) all lodged positive returns while longs (vs the USD) all saw losses. Our recommendations to short EUR and CHF recorded a third consecutive quarter of positive returns. Sentiment towards Europe has been hard hit since the outbreak of war between Russia and Ukraine in late February. Western sanctions on Russia have led to commodity supply chain shocks, raising risks to economic expansion and stoking energy prices. The USD, on the other hand, benefited as a geopolitical safe haven, and the US is also much less reliant on imported energy products, unlike Europe. Still, the US trade deficit has already widened to a record $109.8bn in March, and this could pressure the USD lower once US yields peak.

Our long JPY position saw a sharp loss, as the JPY gave one of its worst 3M performance amid worries over policy divergence (see DBS Flash – FX: The Yen's impact on the DEER strategy, 30 Mar 22). That said, the degree of JPY under-valuation is now extreme. A similar extent of undervaluation back in 2015 saw the JPY rebounding eventually, and we believe this should recur as Japanese net exports increase. GBP has depreciated amid concerns of a consumption slowdown stemming from rising energy prices, and a hike in national insurance contributions. Governor Bailey is concerned about recession risks, sounding equivocal on further hikes even as 3 MPC members voted for a 50bps hike yesterday. As it stands, the UK labour market remains strong, and more policy tightening still looks necessary. Finally, our CAD long saw only a small loss despite sharp USD strength. Policy is supportive with BoC hiking rates by 50bps in April, and Governor Macklem has stated that another 50bps rate hike is likely to contain inflation. On an aggregated basis, our DEER strategy posted a loss of 2.6% from 3 Feb to 3 May, with a large drag stemming from USD/JPY's rally to 130. Excluding USD/JPY, the remaining positions would have given a net positive return.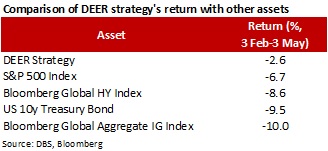 Without benchmark indices for currencies, we compare our DEER strategy's performance against traditional assets, namely US equities, US treasuries, global IG and HY credit. Across the 3M period from 3 Feb to 3 May, our DEER Strategy has outperformed the S&P500 Index, US 10y Treasury, Bloomberg Global Aggregate IG Bond Index, and Bloomberg Global HY Index, with lesser volatility.





The DEER Strategy's daily returns have continued to show little correlation against returns of both the S&P 500 and the Bloomberg Global Aggregate Bond Index. This should allow the DEER Strategy to offer valuable diversification to traditional portfolios that consist of just equities and bonds.

Latest Asian ex-Japan DEER valuations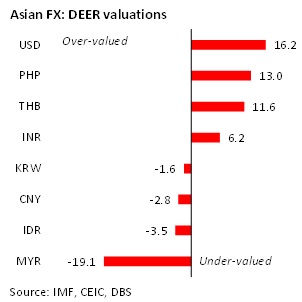 Within the basket of Asian ex-Japan currencies, the MYR, IDR, and CNY rank as the three cheapest. MYR's under-valuation has widened further, although improving growth and buoyant oil prices should become supportive. CNY depreciation, amid growth concerns from persistent lockdowns, has led to a modest under-valuation.

PHP, THB, and INR are still relatively more expensive compared to their peers, though not against the USD. PHP's over-valuation has narrowed in recent months, as rising imports have led to wider trade deficits, contributing to PHP depreciation. THB and INR have also depreciated against the USD, but not sufficiently enough to offset their over-valuations.

To read the full report, click here to Download the PDF.
Subscribe
here
to receive our economics & macro strategy materials.
To unsubscribe, please click
here
.
GENERAL DISCLOSURE/ DISCLAIMER (For Macroeconomics, Currencies, Interest Rates)
The information herein is published by DBS Bank Ltd and/or DBS Bank (Hong Kong) Limited (each and/or collectively, the "Company"). This report is intended for "Accredited Investors" and "Institutional Investors" (defined under the Financial Advisers Act and Securities and Futures Act of Singapore, and their subsidiary legislation), as well as "Professional Investors" (defined under the Securities and Futures Ordinance of Hong Kong) only. It is based on information obtained from sources believed to be reliable, but the Company does not make any representation or warranty, express or implied, as to its accuracy, completeness, timeliness or correctness for any particular purpose. Opinions expressed are subject to change without notice. This research is prepared for general circulation. Any recommendation contained herein does not have regard to the specific investment objectives, financial situation and the particular needs of any specific addressee. The information herein is published for the information of addressees only and is not to be taken in substitution for the exercise of judgement by addressees, who should obtain separate legal or financial advice. The Company, or any of its related companies or any individuals connected with the group accepts no liability for any direct, special, indirect, consequential, incidental damages or any other loss or damages of any kind arising from any use of the information herein (including any error, omission or misstatement herein, negligent or otherwise) or further communication thereof, even if the Company or any other person has been advised of the possibility thereof. The information herein is not to be construed as an offer or a solicitation of an offer to buy or sell any securities, futures, options or other financial instruments or to provide any investment advice or services. The Company and its associates, their directors, officers and/or employees may have positions or other interests in, and may effect transactions in securities mentioned herein and may also perform or seek to perform broking, investment banking and other banking or financial services for these companies. The information herein is not directed to, or intended for distribution to or use by, any person or entity that is a citizen or resident of or located in any locality, state, country, or other jurisdiction (including but not limited to citizens or residents of the United States of America) where such distribution, publication, availability or use would be contrary to law or regulation. The information is not an offer to sell or the solicitation of an offer to buy any security in any jurisdiction (including but not limited to the United States of America) where such an offer or solicitation would be contrary to law or regulation.

This report is distributed in Singapore by DBS Bank Ltd (Company Regn. No. 196800306E) which is Exempt Financial Advisers as defined in the Financial Advisers Act and regulated by the Monetary Authority of Singapore. DBS Bank Ltd may distribute reports produced by its respective foreign entities, affiliates or other foreign research houses pursuant to an arrangement under Regulation 32C of the Financial Advisers Regulations. Singapore recipients should contact DBS Bank Ltd at 65-6878-8888 for matters arising from, or in connection with the report.

DBS Bank Ltd., 12 Marina Boulevard, Marina Bay Financial Centre Tower 3, Singapore 018982. Tel: 65-6878-8888. Company Registration No. 196800306E.

DBS Bank Ltd., Hong Kong Branch, a company incorporated in Singapore with limited liability. 18th Floor, The Center, 99 Queen's Road Central, Central, Hong Kong SAR.

DBS Bank (Hong Kong) Limited, a company incorporated in Hong Kong with limited liability. 13th Floor One Island East, 18 Westlands Road, Quarry Bay, Hong Kong SAR

Virtual currencies are highly speculative digital "virtual commodities", and are not currencies. It is not a financial product approved by the Taiwan Financial Supervisory Commission, and the safeguards of the existing investor protection regime does not apply. The prices of virtual currencies may fluctuate greatly, and the investment risk is high. Before engaging in such transactions, the investor should carefully assess the risks, and seek its own independent advice.