Our real GDP Nowcast model suggests growth markers are slowing in 3Q of this year, with pandemic management the key for further upside.
China is on course to register 7.6% growth during the July-September quarter

Our Nowcast for India sees growth of 6.8% in 3Q, some of it helped a favourable base effect

Favourable base effects will allow Indonesia to register 4.7% growth in 3Q, still well below trend

On Singapore, our Nowcast model is tracking 5.8% growth in 3Q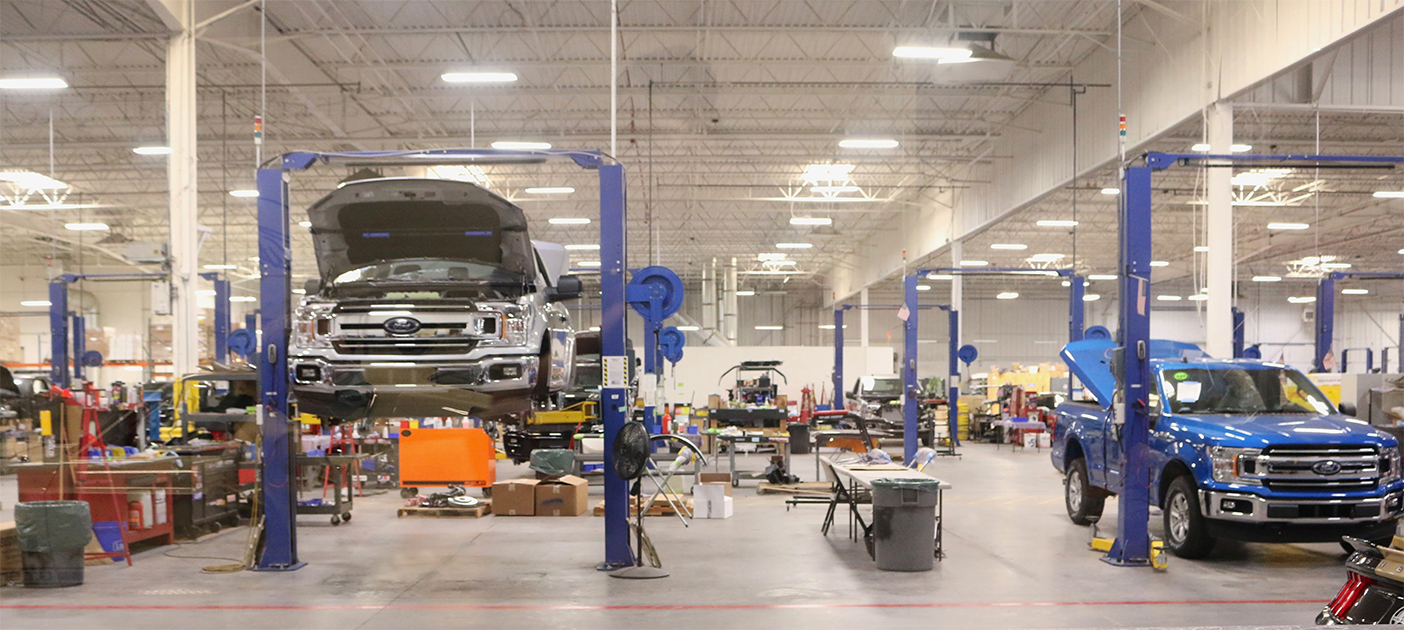 Photo credit: Unsplash laurel-and-michael-evans
China
After mounting a spectacular recovery after one quarter of contraction last year, China has gone from strength to strength, making up for lost output. But has growth peaked already, with the remainder of the year likely to be characterised by policy-induced slowdown? Our Nowcast model appears to think so, with 3Q GDP growth estimated to ease to 7.6%, still somewhat helped by a favourable base effect. For the year as a whole, China remains on track to grow by around 10%, although we see tell-tale signs that the 2H21 growth will be lower than 1H21, not just on a year-on-year basis, but also sequentially.
The authorities have taken note of the strong momentum in the property markets, responding with some tightening measures. They have also removed some degree of implicit support from government-adjacent companies' bonds, creating a ripple in the credit market. Additionally, capital markets have felt a chill from strong regulatory moves, especially in the tech sector.
Exports have been exceptionally strong, underscoring sustained global demand for goods made in China. Meeting such strong external demand has been helpful to industrial production and profits, a trend likely to last this year. Domestic demand however is a mixed story, with retail sales beginning to slow. Buoyant domestic travel and tourism have been an offset to a near-ban on visitor arrivals.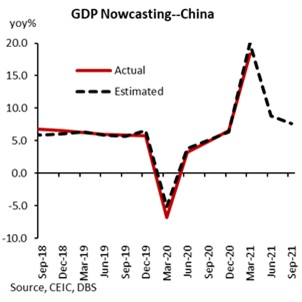 India
A torrid second wave held back India's economic rebound in 2Q, and we see only modest improvement in 3Q, even though the worst of the pandemic appears to be behind us. Mass vaccination will take many months, with only 5% of the population fully inoculated so far. Reopening the economy will have to be rather gradual as fears of a third wave of the pandemic, driven by the delta plus variant, have spread lately.
A favourable base effect (the economy contracted by 24% during April-June 2020) will help produce a large positive growth number in 2Q, but our Nowcast model estimates those effects to fade somewhat in
3Q, with growth easing to 6.8%
. The risk to the outlook is characterised by contrasting factors—on the plus side the export engine could hum owing to strong external demand; on the negative side, domestic consumption and investment could get postponed by mobility restrictions; high fuel prices can also be a potential drag.
Despite ample liquidity, exceptionally low interest rates, and public sector support, private sector credit growth remains well below trend. India entered the pandemic on a weak ground, with the economy slowing substantially through the course of the 2019. The resulting balance sheet stress continues to act as a drag to the economy, although attempts to revive manufacturing have caught the attention of global investors. Strong capital inflow and favourable external accounts have held India in good stead during this challenging year. Near-term economic prospects for India however have yet to brighten considerably.
Indonesia
With no sign of respite from the pandemic, as infections and deaths hit record levels in early-July, Indonesia's public health management struggles have spilled over into the third quarter. Construction has been severely hampered, credit growth remains weak, and near-zero tourism continues to be a major drag to economic activity. Favourable base effects will allow for
4.7% growth in 3Q
, as per our Nowcast, but the underlying economic dynamic is substantially below-trend in Indonesia.
We see the economy likely to register no more than 4% growth this year, that too thanks to some tailwind to the commodity sector. At the same time, we see the risk to growth tilted to the downside, with hopes of opening the tourism/travel sector in a meaningful manner this year fading swiftly.
The longer it takes to vaccinate the masses, the deeper the risk of long-term scarring to economic potential. Indonesia averaged a healthy 5.3% real GDP growth during the past decade, which could be very difficult to replicate in this decade unless an exceptionally strong multi-year post-pandemic recovery is on the cards. We take some comfort from the fact that the authorities have not allowed their reform initiatives to be held back by the economic downturn, which would be essential to make up for the below-trend output of last year and this year. Taking the IMF's GDP forecast for Indonesia going out to 2026, we estimate that even at that point the level of real GDP would be around 7% below trend.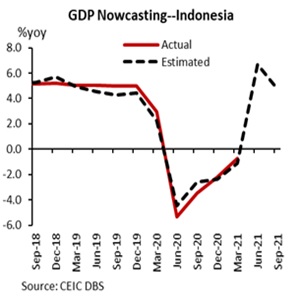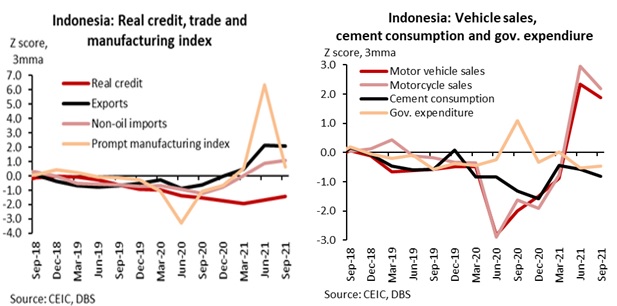 Singapore

As it endeavors to reach the critical threshold two-thirds of the population being vaccinated, allowing for significant easing of mobility restrictions, Singapore's economy remains caught between still-sound fundamentals and a not yet clear outlook. If variant-related transmissions remain under check, the coming months will be marked by a steady stream of easing measures, which ought to help consumer and business sentiments, pushing up retail sales, travel/tourism, events-related spending, loans, and investment. Already, low rates have galvanised the property market, and strong demand in China and the US has helped boost exports.
Our Nowcasting model is tracking 5.8% growth in 3Q
, taking into account normalisation of base effects on trade and production figures. Travel would be up sharply relative to a year ago, but that's not saying much as it would still be drastically below the long-run trend.
We see possible upside risks to the outlook in 4Q, subject to the major caveat of no slippage with pandemic management. Barring that unfortunate scenario, the economy could boom in 4Q around the type of re-opening dynamic playing out the in the US presently. Growth in that eventuality could exceed our annual forecast of 6.3%.
To read the full report, click here to
Download the PDF
.
Subscribe
here
to receive our economics & macro strategy materials.
To unsubscribe, please click
here
.
GENERAL DISCLOSURE/ DISCLAIMER (For Macroeconomics, Currencies, Interest Rates)
The information herein is published by DBS Bank Ltd and/or DBS Bank (Hong Kong) Limited (each and/or collectively, the "Company"). This report is intended for "Accredited Investors" and "Institutional Investors" (defined under the Financial Advisers Act and Securities and Futures Act of Singapore, and their subsidiary legislation), as well as "Professional Investors" (defined under the Securities and Futures Ordinance of Hong Kong) only. It is based on information obtained from sources believed to be reliable, but the Company does not make any representation or warranty, express or implied, as to its accuracy, completeness, timeliness or correctness for any particular purpose. Opinions expressed are subject to change without notice. This research is prepared for general circulation. Any recommendation contained herein does not have regard to the specific investment objectives, financial situation and the particular needs of any specific addressee. The information herein is published for the information of addressees only and is not to be taken in substitution for the exercise of judgement by addressees, who should obtain separate legal or financial advice. The Company, or any of its related companies or any individuals connected with the group accepts no liability for any direct, special, indirect, consequential, incidental damages or any other loss or damages of any kind arising from any use of the information herein (including any error, omission or misstatement herein, negligent or otherwise) or further communication thereof, even if the Company or any other person has been advised of the possibility thereof. The information herein is not to be construed as an offer or a solicitation of an offer to buy or sell any securities, futures, options or other financial instruments or to provide any investment advice or services. The Company and its associates, their directors, officers and/or employees may have positions or other interests in, and may effect transactions in securities mentioned herein and may also perform or seek to perform broking, investment banking and other banking or financial services for these companies. The information herein is not directed to, or intended for distribution to or use by, any person or entity that is a citizen or resident of or located in any locality, state, country, or other jurisdiction (including but not limited to citizens or residents of the United States of America) where such distribution, publication, availability or use would be contrary to law or regulation. The information is not an offer to sell or the solicitation of an offer to buy any security in any jurisdiction (including but not limited to the United States of America) where such an offer or solicitation would be contrary to law or regulation.

This report is distributed in Singapore by DBS Bank Ltd (Company Regn. No. 196800306E) which is Exempt Financial Advisers as defined in the Financial Advisers Act and regulated by the Monetary Authority of Singapore. DBS Bank Ltd may distribute reports produced by its respective foreign entities, affiliates or other foreign research houses pursuant to an arrangement under Regulation 32C of the Financial Advisers Regulations. Singapore recipients should contact DBS Bank Ltd at 65-6878-8888 for matters arising from, or in connection with the report.

DBS Bank Ltd., 12 Marina Boulevard, Marina Bay Financial Centre Tower 3, Singapore 018982. Tel: 65-6878-8888. Company Registration No. 196800306E.

DBS Bank Ltd., Hong Kong Branch, a company incorporated in Singapore with limited liability. 18th Floor, The Center, 99 Queen's Road Central, Central, Hong Kong SAR.

DBS Bank (Hong Kong) Limited, a company incorporated in Hong Kong with limited liability. 13th Floor One Island East, 18 Westlands Road, Quarry Bay, Hong Kong SAR

Virtual currencies are highly speculative digital "virtual commodities", and are not currencies. It is not a financial product approved by the Taiwan Financial Supervisory Commission, and the safeguards of the existing investor protection regime does not apply. The prices of virtual currencies may fluctuate greatly, and the investment risk is high. Before engaging in such transactions, the investor should carefully assess the risks, and seek its own independent advice.