Economic activity is likely to weaken amid ongoing restrictions to curb COVID-19. We lower our 2021 GDP forecast to 0.6% and expect THB to depreciate to 35-36 per USD by 1Q22.
Movement restrictions aimed at curbing the COVID wave are likely to weigh on economic activity

Private consumption and the revival of tourism are likely to suffer

We expect the BOT to cut its policy rate by 25bps to a fresh low, complementing fiscal support

Implication for our forecasts: We lower our 2021 GDP forecast to 0.6% (from 1.5%)

Implication for investors: THB to depreciate to 35-36 per USD by 1Q22
Photo credit: AFP Photo
Thailand is buckling under the current surging COVID-19 wave.
New daily infections have surged to fresh highs of above 20k at the start of August, with total confirmed cases exceeding 700k. The more infectious Delta variant has been largely responsible for the acceleration in infections – around 70% of new cases. There are little signs that this wave would abate meaningfully anytime soon.
In response, the government has imposed strict containment measures, which are likely to weigh on the economy.
We lower our 2021 GDP growth forecast to 0.6% (from 1.5%).
The 2Q %YoY print (to be released on August 16) is likely to be flattered by favourable base effects, but the H2 outlook is already looking precarious.
We are also expecting the BOT to cut rates by 25bps to 0.25% by year-end.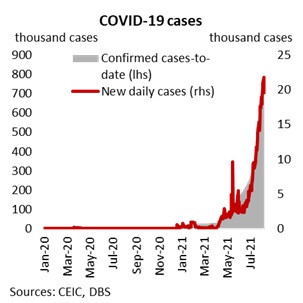 Virus surge to hurt private consumption and tourism revival
Strict containment measures are likely to weigh heavily on private consumption. The government has extended lockdown and curfew measures (see pdf for table on measures) for two more weeks until August 17. The likelihood of further extensions of the tightened measures for a longer period is likely in our view, due to the rapid spread and still slow vaccination progress. Sixteen more provinces have been added to the list of 'dark red or maximum and strict controlled areas'. The inclusions bring total 'dark red' zone provinces to 29, accounting for 78% of GDP and 43% of the population, according to BOT estimates. We expect mobility, consumer confidence, and labour market conditions to weaken further, which do not bode well for private consumption.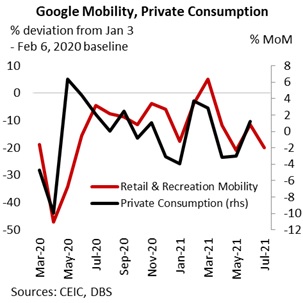 The timely rollout of the vaccination programme remains key to curbing the pandemic. Thailand started its mass vaccination programme from early-June, but it has been hampered by supply shortages. Around 24mn of the 105mn doses procured by the government have been delivered thus far. Around 6% of the population has been fully vaccinated as of early-August. Based on the 7-day moving average daily vaccination rate of around 375k, we estimate that only 48% of the population would be fully vaccinated by year-end. This would be well short of the government's target of 70% unless the pace of vaccination increases in tandem with a rise in incoming supplies.
Thailand's poor virus situation is also likely to prevent a meaningful recovery in foreign tourist arrivals.
The services sector, which accounts for more than 60% of the economy, will likely therefore remain in low gear. The Prime Minister's plan to reopen the country by mid-October without quarantine requirements for vaccinated people is looking increasingly challenging and will likely be pushed back further. Foreign visitors would be less inclined to visit Thailand as they would be subject to quarantine requirements in their home countries. The response for the 'Phuket Sandbox' programme has been lukewarm since its launch on July 1. The island has seen around 14k overseas visitors in July, just 1% of pre-pandemic numbers, according to
Reuters
.
Some support from public spending and exports
The economy is however likely to receive some support from government spending and exports.
We believe that fiscal policy is likely to remain proactive to provide cushion to the economy. Fiscal support has been ongoing, with the cabinet rolling out compensation for workers and businesses to the 16 provinces that have been added to the 'red zone'. The authorities have used up THB1trn of off-budget borrowing but have a further THB500bn of off-budget borrowing to finance support measures. Of the THB500bn, the debt management office could utilize THB100-150bn within the current fiscal year (ending in Sep). Overall public debt as a share of GDP stood at around 56% as of June 2021, below the 60% limit. There is little constraint to raise the limit if needed and is unlikely to be viewed negatively by the rating agencies. Thailand has had a strong track record of sound public finance management going into the pandemic.
Thailand has become more integrated with regional supply chains and is benefitting from the upturn in external goods demand. Overall goods exports have expanded at a strong pace 19% YoY for the first six months of this year. Strength has been seen across agriculture and manufacturing (autos and electronics within the segment). Notwithstanding outbreaks in some factories, we expect exports to remain a beacon of economic strength.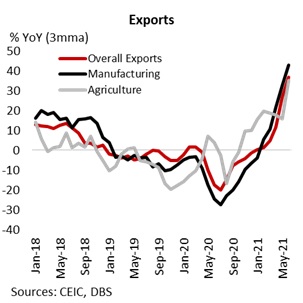 Scenario for second year of contraction
The high uncertainty from the pandemic increases the risk that Thailand's economy could shrink for the second straight year.
Another year of contraction would be the first since the Asian Financial Crisis. Thailand's real GDP is already coming off from a low base from last year's -6.1% decline. A continued surge in the virus resulting in supply disruptions similar to last year, coupled with a delayed reopening of the economy until early 2022, could push GDP lower.
We are maintaining our 2022 GDP forecasts at 3.5%
but are concerned about the potential impact of a prolonged pandemic.
A prolonged pandemic is likely to raise the prospects of substantial longer-term scarring.
The IMF in its
April 2021 World Economic Outlook
said that previous pandemics and epidemics in the modern era have been accompanied by output losses larger than typical recessions. Even though the losses are smaller than financial crises, COVID-19 has been more widespread than other pandemics. Channels of scarring would come about from the impairment of human capital accumulation from high unemployment, disruptions to education, and weak investment resulting from bankruptcies.
BOT set to loosen policy
We expect BOT to reduce its policy rate by 25bps to a fresh all-time low of 0.25% over the coming months.
The BOT's dovish hold in its 4 August meeting sets the stage for an upcoming cut. The Monetary Policy Committee voted 4-2 (two voted for a 25bps cut) to maintain the policy rate at 0.5%, marking the first dissent decision since March 2020. Since 2012, whenever there is a dissent for a cut, the probability of an actual cut over the next three meetings is high. At the same time, BOT also lowered its 2021 and 2022 GDP forecasts to 0.7% and 3.7%, respectively (from 1.8% and 3.9%). In its statement, BOT mentioned the need to expedite fiscal and financial measures, amid significant downside risks. With limited monetary policy space, a rate cut would likely be seen as a complement to other measures, with fiscal policy taking the leading role.
THB Interest Rates: Go further out the curve
THB IRS/NDIRS markets have been quick to partially price for a 0.25% policy rate.
In the coming weeks, a BOT cut could certainly become market consensus and cut pricing could become full. However, we do not think that it would worthwhile to pre-position by receiving front-end swap rates. 6M THBFIX and 1Y or 2Y IRS/NDIRS are already trading at very depressed levels of 0.25-0.32%, and with the proximity to the zero bound, may have little room to fall further. On the liquidity front, we do not expect interbank THB liquidity to become much flusher or that onshore USD liquidity could significantly tighten, and provide the impetus for 6M THBFIX to fall. In our view, market participants who want to chase THB rates lower will have to move further out the curve and consider receiving 5Y or 10Y IRS/NDIRS. In that case, one has to be quite bearish on Thailand's medium to long-term economic outlook and assume that the pace of BOT's next hike cycle will significantly lag US and Asia.
Flush interbank THB liquidity and continuing coordination with BOT in managing issuances are expected to continue.
Therefore, upward pressures on bond yields, from increased government financing needs, are likely to be suppressed. Other bond-positive factors, such as PDMO's greater reliance on Treasury bills and promissory notes to manage duration supply, and BOT's recent bond purchases should also help to anchor bond yields.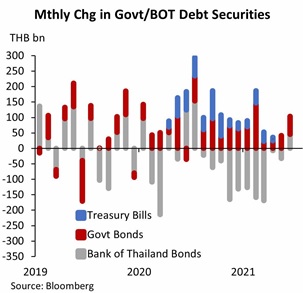 THB Exchange Rate: A weaker range
THB is the weakest currency in Asia this year.
As of 9 August, THB has lost more than 10% ytd of its value against the USD. We expect more THB depreciation to 35-36 per USD by 1Q22.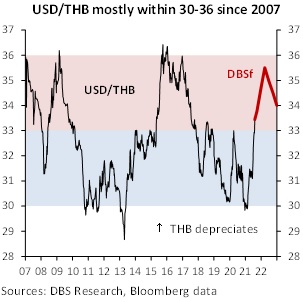 Technically, the break above the 33 level is significant for USD/THB.
This was the mid-point of a 30-36 range that the currency pair traded mostly inside since 2007. There were two episodes when USD/THB broke decisively above 33 and rose to 36. The first was during the global financial crisis; it spanned 9 months from June 2008 to February 2009. The second lasted only 4 months in May-September 2015.
Domestically, the THB is at risk to another downgrade in Thailand's outlook.
The sell-off in the THB started around the 31 level in June, when the BOT slashed its 2021 GDP growth forecast to 1.8% from 3.0%. With the tourist-dependent economy weighed by record infections, quasi-lockdowns and travel restrictions, the BOT lowered its growth forecast again to 0.7% at its meeting on 4 August. Another downgrade for the tourist-dependent economy cannot be ruled out if the pandemic is not brought under control by early 4Q21.
Externally, the THB is not immune to the Fed's hawkish tilt.
We believe that the Fed might taper asset purchases in late 2021 or early 2022. The Fed might unveil a clearer timetable at its Jackson Hole meeting on 27-28 August. If so, this could keep the USD strong. Against this background, the THB faces depreciation pressure from two fronts. First, our economist expects Thailand to deliver a 25bps rate cut in the coming months. Second, Thailand's current account surpluses have given way to deficits since November.
To read the full report, click here to
Download the PDF
.
Subscribe
here
to receive our economics & macro strategy materials.
To unsubscribe, please click
here
.
GENERAL DISCLOSURE/ DISCLAIMER (For Macroeconomics, Currencies, Interest Rates)
The information herein is published by DBS Bank Ltd and/or DBS Bank (Hong Kong) Limited (each and/or collectively, the "Company"). This report is intended for "Accredited Investors" and "Institutional Investors" (defined under the Financial Advisers Act and Securities and Futures Act of Singapore, and their subsidiary legislation), as well as "Professional Investors" (defined under the Securities and Futures Ordinance of Hong Kong) only. It is based on information obtained from sources believed to be reliable, but the Company does not make any representation or warranty, express or implied, as to its accuracy, completeness, timeliness or correctness for any particular purpose. Opinions expressed are subject to change without notice. This research is prepared for general circulation. Any recommendation contained herein does not have regard to the specific investment objectives, financial situation and the particular needs of any specific addressee. The information herein is published for the information of addressees only and is not to be taken in substitution for the exercise of judgement by addressees, who should obtain separate legal or financial advice. The Company, or any of its related companies or any individuals connected with the group accepts no liability for any direct, special, indirect, consequential, incidental damages or any other loss or damages of any kind arising from any use of the information herein (including any error, omission or misstatement herein, negligent or otherwise) or further communication thereof, even if the Company or any other person has been advised of the possibility thereof. The information herein is not to be construed as an offer or a solicitation of an offer to buy or sell any securities, futures, options or other financial instruments or to provide any investment advice or services. The Company and its associates, their directors, officers and/or employees may have positions or other interests in, and may effect transactions in securities mentioned herein and may also perform or seek to perform broking, investment banking and other banking or financial services for these companies. The information herein is not directed to, or intended for distribution to or use by, any person or entity that is a citizen or resident of or located in any locality, state, country, or other jurisdiction (including but not limited to citizens or residents of the United States of America) where such distribution, publication, availability or use would be contrary to law or regulation. The information is not an offer to sell or the solicitation of an offer to buy any security in any jurisdiction (including but not limited to the United States of America) where such an offer or solicitation would be contrary to law or regulation.

This report is distributed in Singapore by DBS Bank Ltd (Company Regn. No. 196800306E) which is Exempt Financial Advisers as defined in the Financial Advisers Act and regulated by the Monetary Authority of Singapore. DBS Bank Ltd may distribute reports produced by its respective foreign entities, affiliates or other foreign research houses pursuant to an arrangement under Regulation 32C of the Financial Advisers Regulations. Singapore recipients should contact DBS Bank Ltd at 65-6878-8888 for matters arising from, or in connection with the report.

DBS Bank Ltd., 12 Marina Boulevard, Marina Bay Financial Centre Tower 3, Singapore 018982. Tel: 65-6878-8888. Company Registration No. 196800306E.

DBS Bank Ltd., Hong Kong Branch, a company incorporated in Singapore with limited liability. 18th Floor, The Center, 99 Queen's Road Central, Central, Hong Kong SAR.

DBS Bank (Hong Kong) Limited, a company incorporated in Hong Kong with limited liability. 13th Floor One Island East, 18 Westlands Road, Quarry Bay, Hong Kong SAR

Virtual currencies are highly speculative digital "virtual commodities", and are not currencies. It is not a financial product approved by the Taiwan Financial Supervisory Commission, and the safeguards of the existing investor protection regime does not apply. The prices of virtual currencies may fluctuate greatly, and the investment risk is high. Before engaging in such transactions, the investor should carefully assess the risks, and seek its own independent advice.