Authorities have long-held plans to transform the economy from one dominated by upstream commodity-driven to downstream and manufacturing-led.
Beyond the pandemic, Indonesia continues to pursue plans to attract investments

Realised investments are turning more equitable as the share of areas outside of Java increases

Electric vehicles are a pivotal sector for the country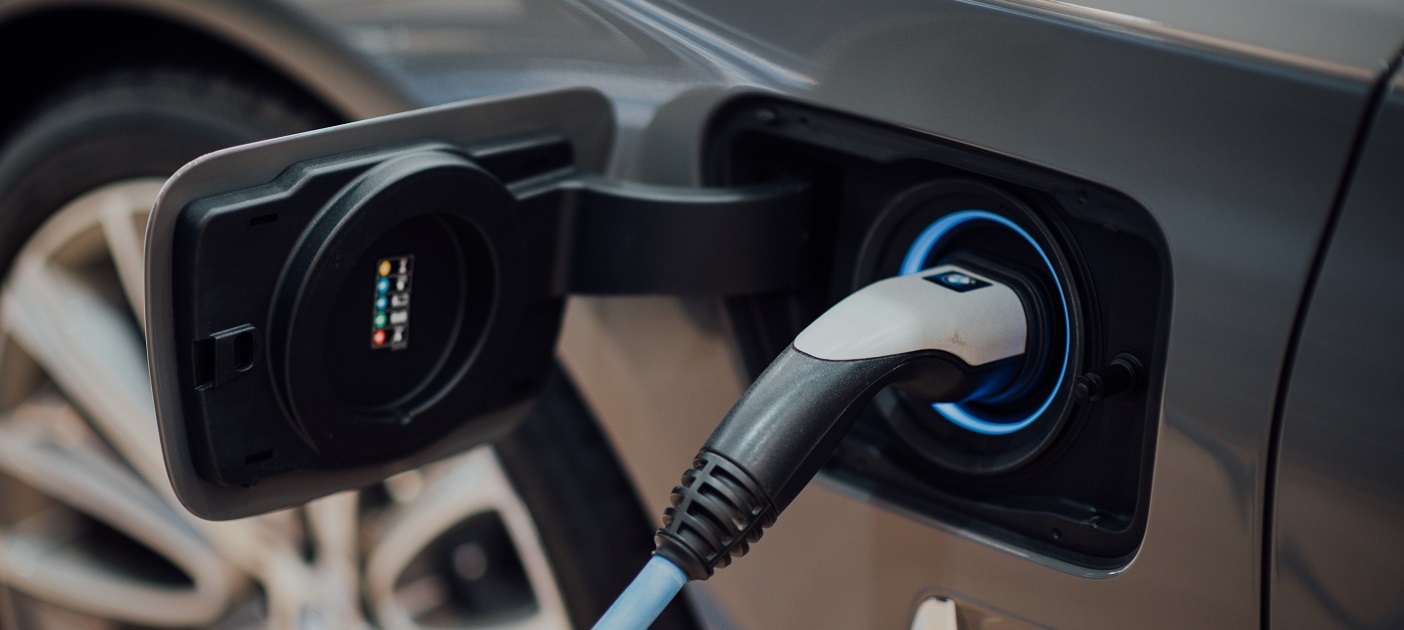 Photo credit: Unsplash
Near-term focus dominated by the pandemic

The economic outlook for the rest of 2021 is highly dependent on the evolution of the pandemic as well as the effectiveness (and scale) of support offered by respective governments. For Indonesia, the pandemic and efforts to accelerate the vaccination rollout are likely to dominate the narrative in the near term (read
Indonesia/ Thailand: Bumpy road to recovery, Indonesia: In pandemic firefighting mode and Indonesia: A sharp rebound in 2Q21 GDP
). When the latest wave ebbs, authorities will be cautious and guarded in reopening until vaccination achieves critical mass, which is necessary to build resilience against further outbreaks as well as return to a durable recovery path.
Beyond the pandemic – investments

Authorities have long-held plans to transform the economy from one dominated by upstream commodity-driven to downstream processing and manufacturing/industrial sector-led. Besides making conditions conducive for domestic manufacturers, attracting foreign investments is a priority owing to:
• Domestic gains, i.e., to attain a more balanced growth model, with a bigger footprint for the industrial/manufacturing sector. Besides strengthening external balances, this will also help to tap the benefits of its demographic dividend (working age population makes two-thirds of the total)
• Geopolitics: Simmering US-China trade and investment skirmishes, coupled with dislocations caused by the pandemic, has led to a reconfiguration in the global supply chain in the past 2-3 years. Foreign investors are increasingly seeking alternative investment destinations in the region as manufacturers' priorities shift from 'just in time' to a 'just in case' strategy
Indonesia's investment growth was relatively resilient last year compared to a few of its regional peers. For instance, compared to the double-digit contraction in investment growth in the Philippines last year, Indonesia contracted by a modest 5% y/y. Into 2021, while the need for higher spending towards stimulus/recovery support might necessitate a reprioritisation in fiscal spending, private sector activity is likely to benefit from broad gains in the global commodity upcycle as well as downstream activity.
The investment climate has improved in the past few years, as reflected in the World Bank's Ease of Doing Business (EoDB) score as well as the Global Competitiveness Index. Indonesia's overall rank remained the same between 2019 and 2020, but scores have improved.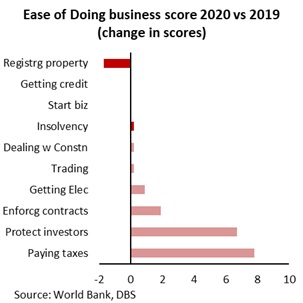 The other barometer, the Global competitiveness report (latest 2019 rankings) pegs Indonesia as close to its regional peers but trailing China.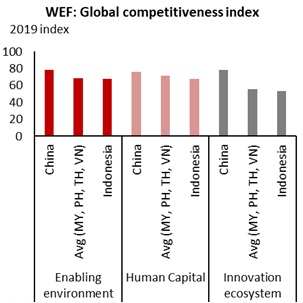 Few areas where there is still a gap include weaker infrastructure readiness, logistical hurdles, stringent labour regulation, complex regulatory architecture, amongst others which are required to fall into place to materially improve the competitiveness quotient.
Taking stock of flows
Total realised investments (domestic and foreign), released by the investment agency BKPM, held up through last year and early 2021, with 1H21 inflows totalling IDR 442.8trn, i.e., 49.2% of the full-year targeted realisation of IDR 900trn. Of these, foreign realised investments added up to $15bn in 1H (calculated using 2021 national budget assumption exchange rate assumption), up 15% from the comparable period year ago.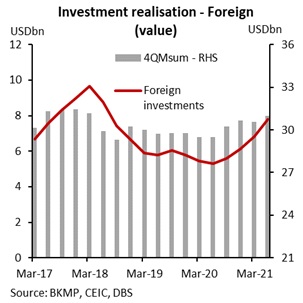 The BOP-based FDI data reflected a moderation owing to the pandemic and broad caution as investors faced disruptions at home, leading annual flows to slow in 2020 by a quarter vs year before. FDI flows had averaged $21.6bn between 2017-2019. Mar21 (latest available) inflows were up 16% from Dec20 but off to a lacklustre start vs Mar20.
Encouragingly, provincial investment data by the BKPM shows that the spread of total realised investment flows is turning more equitable, as 51% of the flows headed to areas outside the Java island in 1H21 and rose 18% y/y. This compares to 49% invested in the Java island, up 2.7% y/y. As the next chart highlights, bulk of the flows outside of Java headed to Sumatra, followed by Sulawesi.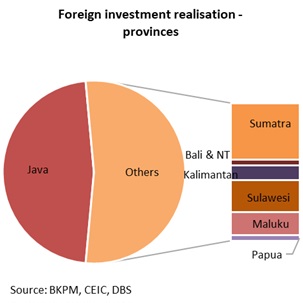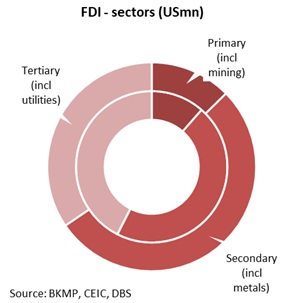 Domestic direct investments were directed to the housing, real estate, and commercial building sector this year. FDI was drawn to the secondary sector led by metals (non-machinery and equipment), which accounted for 20% and 22% of the flows last year and 1H21 respectively. Mining, utilities, and transport-storage-communication are the other key sectors. By destination, Asia is the key source of investments, of which half is from ASEAN led by Singapore (23% of total).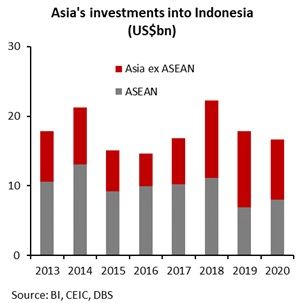 Recent reforms to improve the investment ecosystem

Two recent key changes are steps towards further improving the operating ecosystem and ironing out challenges faced by the investment community:
• The omnibus regulations passed in 4Q20 sought to improve competitiveness and attract employment-generating industries. Key reforms in the pipeline include a) streamlining the business licensing regime; b) liberalisation of the foreign investment regime by removing sectoral caps in most sectors except the strategic industries; c) pushes for labour law reforms; d) reduction of tax rates, amongst others. Specific parts of the enacted law will require related legislations to be issued and effectively push up investments in the medium term.
• The Indonesia Investment Authority (INA) was established last year to attract private investments to co-invest with the government into domestic projects [see
India and Indonesia: Strengthening the institutional backbone
]. Authorised capital will be a mix of cash injection from the Budget as well as state assets, government receivables and shares of state-owned companies (SOE) or limited companies, amounting to IDR75trn (US$ 5bn). The initial focus will be on investments into infrastructure projects, part of which is likely to see the INA emerge as a holding company for selected strategic SOEs or subsidiaries. For example, the INA has signed an MOU with Canada's Caisse de dépôt et placement du Québec (CDPQ), APG Asset Management (APG), and a wholly-owned subsidiary of the Abu Dhabi Investment Authority (ADIA) to explore joint investment opportunities into Indonesia's toll roads, with the platform likely to build a US$3.75bn funding capacity (
press release
).
Foray into the Electric Vehicles sector

The 'Making Indonesia 4.0' initiative announced in 2018 thrust five key sectors – food and beverage, textile, and apparel, automotive, electronics and chemicals – into contributing two-thirds of the economy's manufacturing output as well as exports.
Under automotive, the government views the Electric Vehicle sector as pivotal, with interests spanning across the value chain - downstream commodity processing to enabling battery production and encouraging domestic EV adoption. This will help the economy not only harness its natural strengths (resource-rich) but also make progress on low-carbon energy transition. Understandably, achieving the eventual goal of a manufacturing EV powerhouse and faster adoption will require sufficient legwork through policy support, consumer interests and an efficient infrastructure backbone. While fossil fuel-based transportation is still dominant, EVs are expected to lower energy consumption and support state finances when fully implemented.
Sectoral Analysis
Vehicle electrification strategy for one of the largest motorcycle markets in the world

Indonesia automotive industry is largely a 2-wheeler market and is one of the largest in the world. As of 2020, there were approximately 136m motor vehicles on the roads, of which motorcycles accounted for 84.5% or 115m units, and the rest passenger cars, buses, and trucks.
Vehicle market breakdown (as of 2020)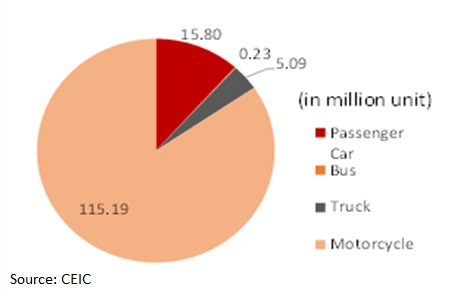 Motorcycle annual sales have been increasing in recent years from its trough in 2015. Japanese automakers Honda, Yamaha and Suzuki accounted for over 80% of annual sales in the Indonesian motorcycle market.
Annual motorcycle sales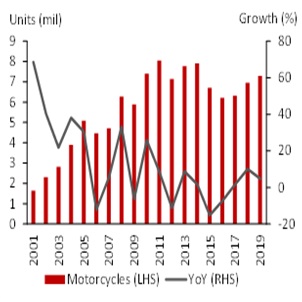 Adoption of vehicle electrification strategy

Given its considerable motorcycle market, the Indonesian government plans to transform the country into a major player in the global EV market through its recent Positive Investment Initiative. The government has set a target of 2.1 million electric motorcycles and 0.4 million electric cars sales by 2025. About 20% of these will be manufactured locally. By 2030, production is expected to reach 2.5m electric motorcycles and 0.6m electric cars. From 2040 onwards, only electric motorcycles can be sold, while all vehicles including cars for sale will be electrified by 2050. These targets will support vertically integrating the EV supply chain, from ore mining to EV manufacturing.
These measures are consistent with the government's commitment to reduce greenhouse gas emissions by 29% by 2030, equivalent to 826m tons of CO2.
Electric motorcycles and passenger cars sales targets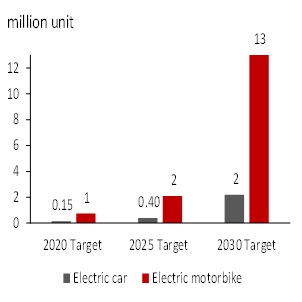 Source: Ministry of Industry (Indonesia), Indonesian Government
Incentives to support EV development

• Key EV incentives: To attract automotive companies to invest in the country EV industry, the Indonesian government is offering them incentives, such as 100% foreign ownership, EV businesses with capital investment of over IDR 500 Billion will get a 100% cut in Corporate Income Tax, while investments worth IDR 100-500 Billion will receive a 50% cut in Corporate Income Tax. Besides, EV-related manufacturing companies will enjoy import tariff reductions for machinery and materials used for EV production.
• EV Battery Focus: Indonesia plans to manufacture its own EV batteries. The country has one of the world's largest reserves for nickel and copper, the key materials for EV lithium-ion battery production.
• Around 30% of the world's nickel production comes from Indonesia. Since 2020, the country banned the export of nickel to secure the development of the downstream industry in Indonesia. Overseas nickel companies can only build smelters and refire ore in Indonesia. Another export ban on unprocessed copper concentrate and bauxite will be implemented by 2023. Indonesia is expected to dominate the EV battery market by holding abundant resources within its country.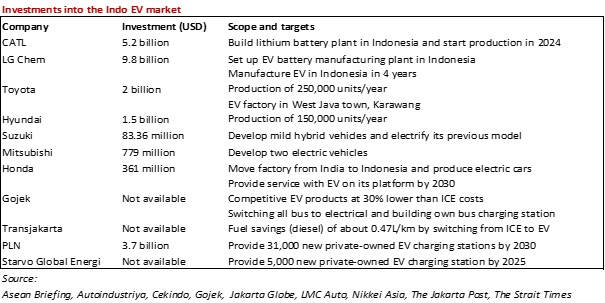 The government will form a new state-owned holding company (dubbed Indonesia Battery Corporation, IBC) to oversee the industry development. IBC will manage the electric-vehicle battery industry's ecosystem and develop partnerships with third parties, the major players in the technology industry and the global market.
So far, several automotive companies have expressed interest to invest in the country's EV battery ecosystem, including China's Contemporary Amperex Technology, better known as CATL, and South Korea's LG Chem, both worth $5.2 billion and $9.8 billion, respectively. EV manufacturer Tesla has already expressed an interest in taking part, while Germany's BASF, a leading chemical producer, was also in line to join the talks.
IBC aims to begin production in 2023, complete the development of upstream sector by 2024, and manufacture battery cells by 2025. Ideally, Indonesia's full EV battery industry will be ready by 2026. There are plans for a $1.2 billion battery plant in Bekasi with a capacity of 10 GWh. Indonesia aims to increase its battery capacity to 140 GWh by 2030, of which it will export 50 GWh. It also hopes to boost investment in its EV battery sector to US$33 billion by 2033.
•
Potential EV investments from domestic and global automotive companies
: The table above summarizes the planned investments of global automakers and transportation companies seeking to ride on the growth potential of the country's huge EV market.
•
Domestic players' participation in CO2 reduction
: Domestic transportation, ride-hailing and logistic companies are interested to invest in vehicle electrification as their strategy will have a direct impact on CO2 reduction as well. For instance, ride-hailing and logistics company Gojek, has recently committed to a zero pledge – zero emission, zero waste, zero barriers. It has partnered with over 1 million drivers and 125,000 merchants, and targets to have only electric vehicles on its platform by 2030.
This will go together with its plan to work with the government and other EV automakers to reduce EV costs to 30% lower than internal combustion engine vehicle.
Public transportation operator Transjakarta plans to have an entirely electric-powered bus fleet, which can support 14,000 electric buses, by 2028. According to the company, it is will add 100 new electric buses in 2021 and have 50% electric bus in its fleet by 2025 and 83% by 2030.
EV implementation challenges and hurdles
• Insufficient infrastructure network. A shortage of EV charging network could drag on electric car and electric motorcycle adoption, as the investment into EV charging infrastructure could be huge to provide sufficient coverage to end-users. In fact, the government may have to take the lead to build the EV charging infrastructure instead of relying on private investors.
• Financial incentives to vehicle owners to switch over to electric vehicles. Benchmarking to other Asian auto markets such as China, the Indonesian government must consider a long-term financial support package to stimulate EV adoption, for both automakers and consumers.
To read the full report, click here to
Download the PDF
.
Subscribe
here
to receive our economics & macro strategy materials.
To unsubscribe, please click
here
.
GENERAL DISCLOSURE/ DISCLAIMER (For Macroeconomics, Currencies, Interest Rates)
The information herein is published by DBS Bank Ltd and/or DBS Bank (Hong Kong) Limited (each and/or collectively, the "Company"). This report is intended for "Accredited Investors" and "Institutional Investors" (defined under the Financial Advisers Act and Securities and Futures Act of Singapore, and their subsidiary legislation), as well as "Professional Investors" (defined under the Securities and Futures Ordinance of Hong Kong) only. It is based on information obtained from sources believed to be reliable, but the Company does not make any representation or warranty, express or implied, as to its accuracy, completeness, timeliness or correctness for any particular purpose. Opinions expressed are subject to change without notice. This research is prepared for general circulation. Any recommendation contained herein does not have regard to the specific investment objectives, financial situation and the particular needs of any specific addressee. The information herein is published for the information of addressees only and is not to be taken in substitution for the exercise of judgement by addressees, who should obtain separate legal or financial advice. The Company, or any of its related companies or any individuals connected with the group accepts no liability for any direct, special, indirect, consequential, incidental damages or any other loss or damages of any kind arising from any use of the information herein (including any error, omission or misstatement herein, negligent or otherwise) or further communication thereof, even if the Company or any other person has been advised of the possibility thereof. The information herein is not to be construed as an offer or a solicitation of an offer to buy or sell any securities, futures, options or other financial instruments or to provide any investment advice or services. The Company and its associates, their directors, officers and/or employees may have positions or other interests in, and may effect transactions in securities mentioned herein and may also perform or seek to perform broking, investment banking and other banking or financial services for these companies. The information herein is not directed to, or intended for distribution to or use by, any person or entity that is a citizen or resident of or located in any locality, state, country, or other jurisdiction (including but not limited to citizens or residents of the United States of America) where such distribution, publication, availability or use would be contrary to law or regulation. The information is not an offer to sell or the solicitation of an offer to buy any security in any jurisdiction (including but not limited to the United States of America) where such an offer or solicitation would be contrary to law or regulation.

This report is distributed in Singapore by DBS Bank Ltd (Company Regn. No. 196800306E) which is Exempt Financial Advisers as defined in the Financial Advisers Act and regulated by the Monetary Authority of Singapore. DBS Bank Ltd may distribute reports produced by its respective foreign entities, affiliates or other foreign research houses pursuant to an arrangement under Regulation 32C of the Financial Advisers Regulations. Singapore recipients should contact DBS Bank Ltd at 65-6878-8888 for matters arising from, or in connection with the report.

DBS Bank Ltd., 12 Marina Boulevard, Marina Bay Financial Centre Tower 3, Singapore 018982. Tel: 65-6878-8888. Company Registration No. 196800306E.

DBS Bank Ltd., Hong Kong Branch, a company incorporated in Singapore with limited liability. 18th Floor, The Center, 99 Queen's Road Central, Central, Hong Kong SAR.

DBS Bank (Hong Kong) Limited, a company incorporated in Hong Kong with limited liability. 13th Floor One Island East, 18 Westlands Road, Quarry Bay, Hong Kong SAR

Virtual currencies are highly speculative digital "virtual commodities", and are not currencies. It is not a financial product approved by the Taiwan Financial Supervisory Commission, and the safeguards of the existing investor protection regime does not apply. The prices of virtual currencies may fluctuate greatly, and the investment risk is high. Before engaging in such transactions, the investor should carefully assess the risks, and seek its own independent advice.