Some easing in headline inflation reading has given US markets a respite, but it will be premature to declare victory over inflation. The Fed is not relenting any time soon.
Key relief has come from positive supply side developments on food and energy

Surveys show manufacturers are seeing easing of input price pressure

Inflation expectations are well anchored

Jobs, wages, and rents however are still growing robustly

Meanwhile, China slowdown gets more pronounced. We expect 3.5% growth in 2022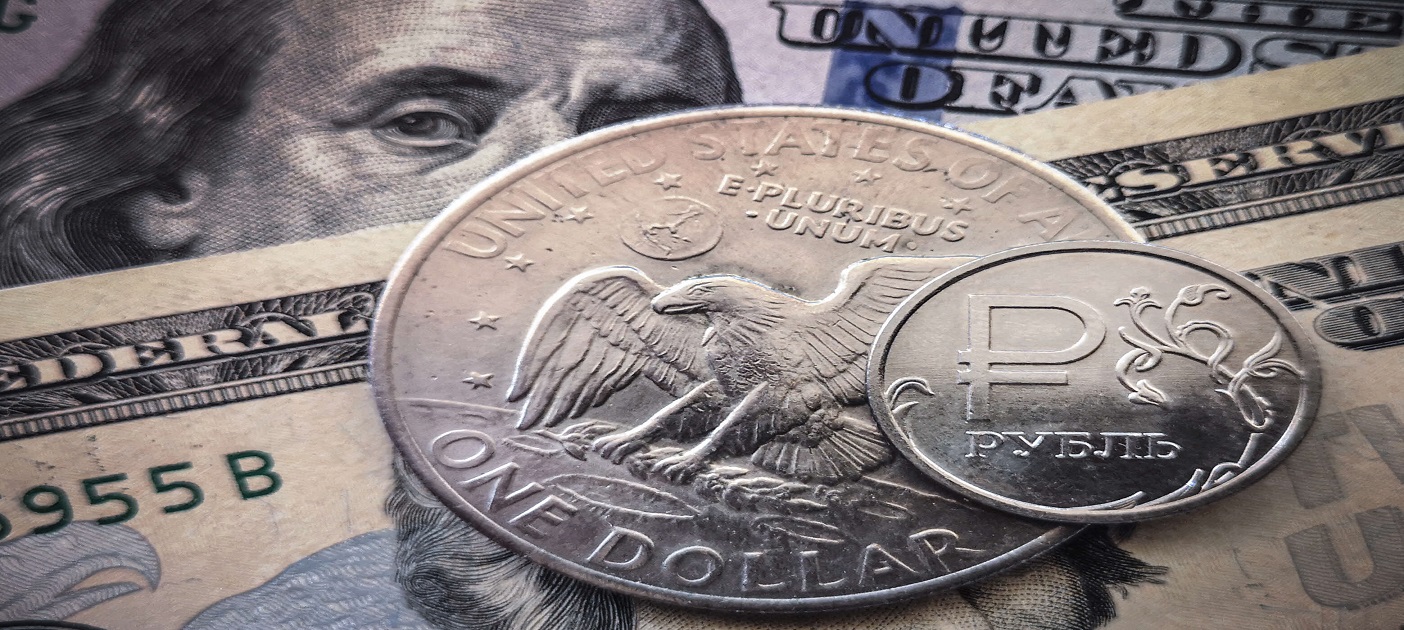 Photo credit: AFP Photo
Commentary: Gauging (dis) inflation trend

Monthly inflation prints seldom draw the attention of the president of the United States. But such is the concern with prices these days that President Biden felt it compelling to cite the fact that on a month-on-month basis, July CPI was flat. This brought down headline inflation to 8.5%yoy in July, from 9% in June. Markets welcomed this development with a major sigh of relief, with rate hike expectations moderating somewhat and equities rallying.

The relief has been in the making for about a month. Some favourable developments on the commodity supply side (modest production increased announcement by OPEC, Turkey-mediated deal to move wheat shipments out of Ukraine) have helped the price spike from March/April to all but fade. Global wheat prices, up 90%yoy just a few months ago, are now flat on a yoy basis, a substantial piece of good news. Crude oil, which hit USD120+ in March and June, is now hovering around USD90, translating into sizeable relief in petrol pump prices. As a result, over the past couple of months, manufactures have started report a fairly sharp decline in prices they face.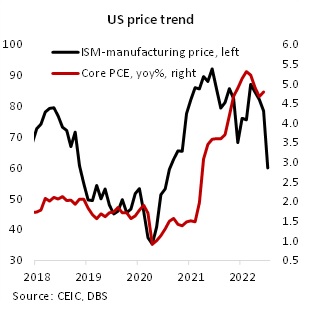 A series of Fed surveys reveal that among regional manufacturers, prices paid for a variety of inputs have been softening in recent months.




Does this mean that manufactures are no longer raising prices? Turns out the answer to that question is yes, but too early tell for sure. The NFIB Small Business Survey, which asks companies if they are raising prices presently or planning to raise prices soon, saw the first dip in response on both counts in the last two months, rather striking as that came after nearly two years of relentless increase.




But beyond commodity prices, is there more avenues for comfort for the Fed? Have rate hikes of this year, as well expectations of another 100bps in rate hike the rest of the year, managed to begin denting jobs and wages? So far, that is still very much up in the air. Some job cuts have been announced here and there, especially in the tech sector that has been dealing with some dissipation of frothy valuations. But wages are growing strongly, and so are rents despite property markets facing headwinds from rising mortgage rates.




Other than leisure/hospitality, which is characterised by a rather severe shortage of labour, wage growth rates in most sectors, even at mid-single digits, have lagged inflation. We expect this is to keep wage demand strong as workers deal with weakening purchasing power. If employers, facing narrowing margins and fearful of weakening demand, react by cutting jobs, then wages will stabilise, but that dynamic has yet to emerge. Perhaps in the coming months we will see vacancy rates fall, followed by a rise in unemployment, from which wage moderation will be likely outcome. But unless the economic news turns acutely adverse, this is likely to play out over many months, testing the Fed's resolve.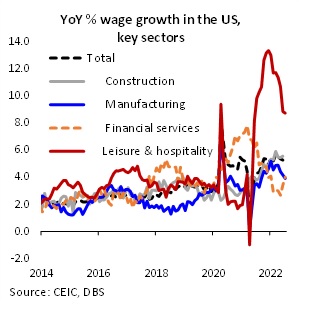 Despite criticisms that the Fed was behind the curve for too long, market- based measures of medium-term inflation expectations remain well-anchored. In the US, 5x5 inflation expectations are below 2.5%, while it is less than 2% in Europe. There are many challenges associated with the prevailing high inflation rates, but it is striking that central bank credibility has yet to be a casualty.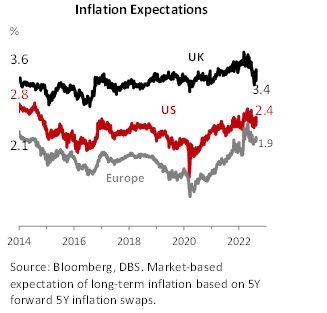 To read the full report, click here to Download the PDF.

Subscribe here to receive our economics & macro strategy materials.
To unsubscribe, please click here.
GENERAL DISCLOSURE/ DISCLAIMER (For Macroeconomics, Currencies, Interest Rates)
The information herein is published by DBS Bank Ltd and/or DBS Bank (Hong Kong) Limited (each and/or collectively, the "Company"). This report is intended for "Accredited Investors" and "Institutional Investors" (defined under the Financial Advisers Act and Securities and Futures Act of Singapore, and their subsidiary legislation), as well as "Professional Investors" (defined under the Securities and Futures Ordinance of Hong Kong) only. It is based on information obtained from sources believed to be reliable, but the Company does not make any representation or warranty, express or implied, as to its accuracy, completeness, timeliness or correctness for any particular purpose. Opinions expressed are subject to change without notice. This research is prepared for general circulation. Any recommendation contained herein does not have regard to the specific investment objectives, financial situation and the particular needs of any specific addressee. The information herein is published for the information of addressees only and is not to be taken in substitution for the exercise of judgement by addressees, who should obtain separate legal or financial advice. The Company, or any of its related companies or any individuals connected with the group accepts no liability for any direct, special, indirect, consequential, incidental damages or any other loss or damages of any kind arising from any use of the information herein (including any error, omission or misstatement herein, negligent or otherwise) or further communication thereof, even if the Company or any other person has been advised of the possibility thereof. The information herein is not to be construed as an offer or a solicitation of an offer to buy or sell any securities, futures, options or other financial instruments or to provide any investment advice or services. The Company and its associates, their directors, officers and/or employees may have positions or other interests in, and may effect transactions in securities mentioned herein and may also perform or seek to perform broking, investment banking and other banking or financial services for these companies. The information herein is not directed to, or intended for distribution to or use by, any person or entity that is a citizen or resident of or located in any locality, state, country, or other jurisdiction (including but not limited to citizens or residents of the United States of America) where such distribution, publication, availability or use would be contrary to law or regulation. The information is not an offer to sell or the solicitation of an offer to buy any security in any jurisdiction (including but not limited to the United States of America) where such an offer or solicitation would be contrary to law or regulation.

This report is distributed in Singapore by DBS Bank Ltd (Company Regn. No. 196800306E) which is Exempt Financial Advisers as defined in the Financial Advisers Act and regulated by the Monetary Authority of Singapore. DBS Bank Ltd may distribute reports produced by its respective foreign entities, affiliates or other foreign research houses pursuant to an arrangement under Regulation 32C of the Financial Advisers Regulations. Singapore recipients should contact DBS Bank Ltd at 65-6878-8888 for matters arising from, or in connection with the report.

DBS Bank Ltd., 12 Marina Boulevard, Marina Bay Financial Centre Tower 3, Singapore 018982. Tel: 65-6878-8888. Company Registration No. 196800306E.

DBS Bank Ltd., Hong Kong Branch, a company incorporated in Singapore with limited liability. 18th Floor, The Center, 99 Queen's Road Central, Central, Hong Kong SAR.

DBS Bank (Hong Kong) Limited, a company incorporated in Hong Kong with limited liability. 13th Floor One Island East, 18 Westlands Road, Quarry Bay, Hong Kong SAR

Virtual currencies are highly speculative digital "virtual commodities", and are not currencies. It is not a financial product approved by the Taiwan Financial Supervisory Commission, and the safeguards of the existing investor protection regime does not apply. The prices of virtual currencies may fluctuate greatly, and the investment risk is high. Before engaging in such transactions, the investor should carefully assess the risks, and seek its own independent advice.