Bank Indonesia extended its pause on rates for a second consecutive month.
Bank Indonesia extended its pause on rates for a second consecutive review

Rupiah underperformance is causing unease

Focus is on unconventional policy steps

Markets gauge longevity and eventual exit from BI support to the debt markets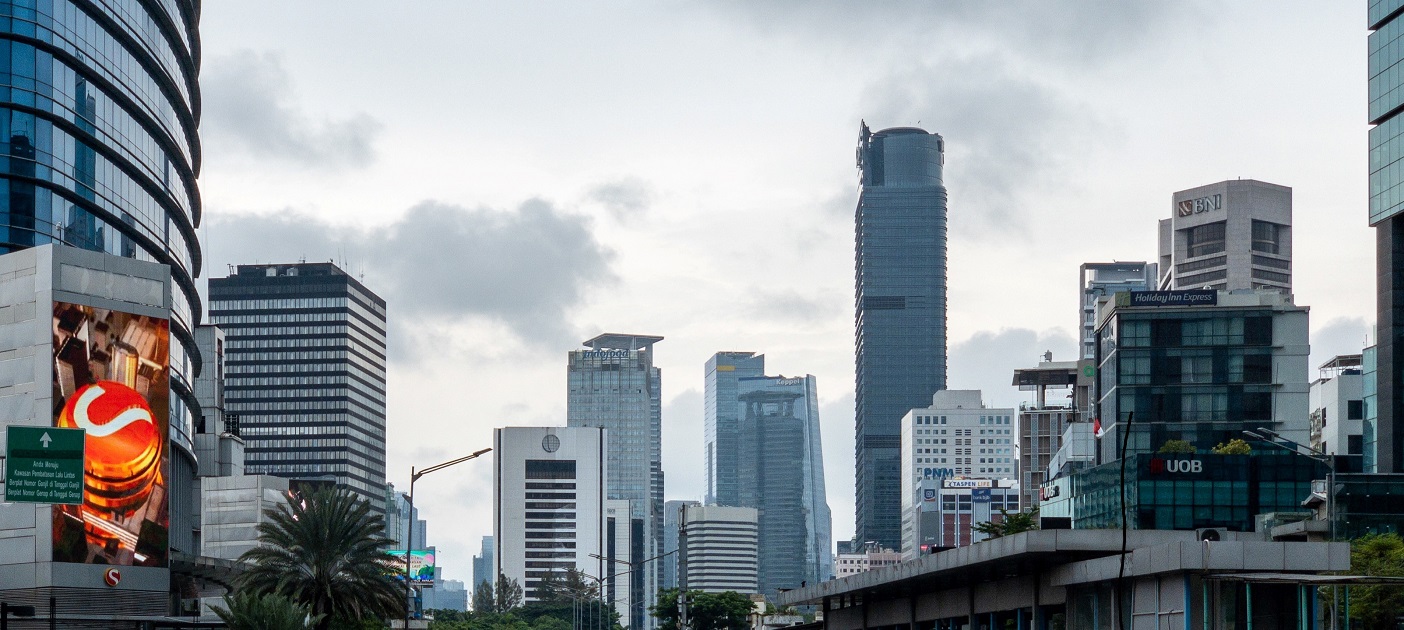 Photo credit: AFP Photo
Bank Indonesia extended its pause on rates for a second consecutive month, along our expectations
, as financial market stability took precedence. Below target inflation and a likely contraction in full-year growth make a case for further easing, but rupiah underperformance (-3.8% quarter-to-date vs the US dollar) is causing unease. Part of this is triggered by worries over an extended period of debt monetization as well as a likely compromise on central bank independence if the government gains representation on the BI policy board. Encouragingly, in recent remarks, the government has assured that the charter changes will be reassessed, and that the central bank's independence will not be compromised.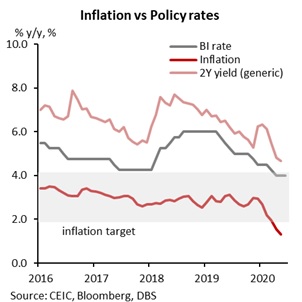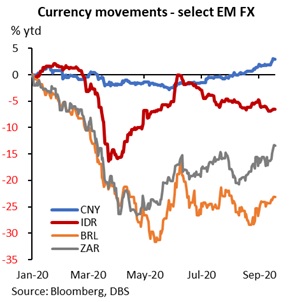 Policy cuts to unconventional support


From mainstream policy, the central bank's focus has shifted to unconventional policy steps
, including participating in this year's fiscal spending plan and stabilizing domestic bond markets through direct as well as secondary debt purchases.
The government has completed ~63% i.e. IDR957.4trn of the annual gross bond issuance by mid-September. Two-thirds of this i.e. IDR588trn is through conventional bonds, IDR270trn through shariah-compliant securities and 10% through private placements directly with the central bank. This takes the central bank's direct purchases to about a quarter of its full-year obligation. The rest of the year is likely to see IDR573.6trn worth of issuance, with a breakdown of IDR249.6trn bond auctions, IDR298.5trn through private placements with the central bank and rest by a retail bond offer. This suggests that the bulk of the central bank's participation is still to run its course, within the last 3 months of the year.
We had noted in
Indonesia: Tough policy choices amid downside risks
that the year-to-date fiscal run-rate has been slower than the past few years, with the COVID-19 related stimulus disbursements reaching the 34% mark by September. If spending continues to run below budgeted levels and even after considering potential shortfall in revenue collections, the full-year fiscal deficit might be 0.5-1.0% smaller than the budgeted -6.3% of GDP, also suggesting that the borrowing program has room to be scaled back if the need for borrowings falls. Nonetheless, weaker spending poses downside risks to growth, just as the capital city reimposes partial movement and capacity restrictions to contain an increase in the COVID-19 cases.
Markets are keen to gauge the longevity of these measures
, with BI playing a balancing act as they see this year's participation as an 'one-off' but plan to remain as a standby buyer next year, if recovery turns out to be elusive. Clarity on the eventual exit from this debt purchase program and implications on liquidity, will also be sought. With investors likely to watch this space closely, the need to maintain favourable rate differentials will be key.
Odds are, thereby, tilted towards a rate pause for the rest of the year, with an emphasis on effective policy transmission.
To read the full report, click here to
Download the PDF
.
Subscribe
here
to receive our economics & macro strategy materials.
To unsubscribe, please click
here
.
Disclaimers and Important Notices
The information herein is published by DBS Bank Ltd and PT Bank DBS Indonesia (collectively, the "DBS Group"). It is based on information obtained from sources believed to be reliable, but the Group does not make any representation or warranty, express or implied, as to its accuracy, completeness, timeliness or correctness for any particular purpose. Opinions expressed are subject to change without notice. Any recommendation contained herein does not have regard to the specific investment objectives, financial situation & the particular needs of any specific addressee. The information herein is published for the information of addressees only & is not to be taken in substitution for the exercise of judgement by addressees, who should obtain separate legal or financial advice. The Group, or any of its related companies or any individuals connected with the group accepts no liability for any direct, special, indirect, consequential, incidental damages or any other loss or damages of any kind arising from any use of the information herein (including any error, omission or misstatement herein, negligent or otherwise) or further communication thereof, even if the Group or any other person has been advised of the possibility thereof. The information herein is not to be construed as an offer or a solicitation of an offer to buy or sell any securities, futures, options or other financial instruments or to provide any investment advice or services. The Group & its associates, their directors, officers and/or employees may have positions or other interests in, & may effect transactions in securities mentioned herein & may also perform or seek to perform broking, investment banking & other banking or finan­cial services for these companies. The information herein is not intended for distribution to, or use by, any person or entity in any jurisdiction or country where such distribution or use would be contrary to law or regulation. Sources for all charts & tables are CEIC & Bloomberg unless otherwise specified.
DBS Bank Ltd., 12 Marina Blvd, Marina Bay Financial Center Tower 3, Singapore 018982. Tel: 65-6878-8888. Company Registration No. 196800306E. DBS Bank Ltd., Hong Kong Branch, a company incorporated in Singapore with limited liability. 18th Floor, The Center, 99 Queen's Road Central, Central, Hong Kong.
PT Bank DBS Indonesia, DBS Bank Tower, 33rd floor, Ciputra World 1, Jalan Prof. Dr. Satrio Kav 3-5, Jakarta, 12940, Indonesia. Tel: 62-21-2988-4000. Company Registration No. 09.03.1.64.96422