Headline growth slowed on base effect.
Real GDP grew by 5.4% YoY in 3Q21, down from 7.6% in the previous quarter

We remain cautiously optimistic that the border with Mainland china will reopen by the end of 1Q22

We maintain our 2021 forecast at 6.0% and 3.0% for 2022

We have downgraded our property price projection for 2021 from 7.5% to 5.0%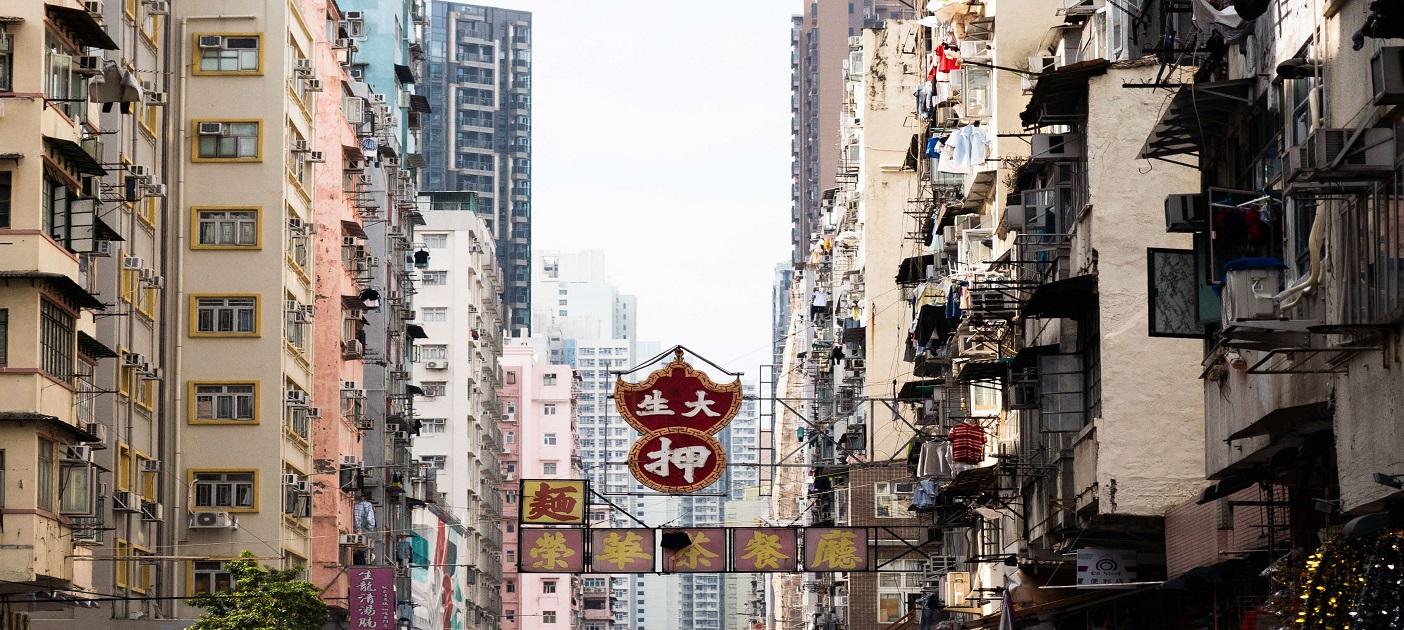 Photo credit: AFP Photo
Headline growth slowed on base effect
HKSAR's real GDP growth slowed to 5.4% YoY in 3Q21 from 7.6% in the previous quarter.
On a seasonally adjusted QoQ basis, it rose by 0.1% mainly reflecting some slowdown in exports of goods amid the electricity shortage in Mainland China.
We expect the 4Q GDP growth to slow further to 3.8% to conclude the year at 6.0%. For 2022, it is projected to advance by 3.0% under the assumption that China will re-open its borders early next year.
Consumption rebounded on cash vouchers
Private consumption held up well at 7.0% YoY, compared to 7.2% YoY in 2Q. Retail sales accelerated to 11.9% in August from 2.8% in July after the cash voucher was issued. Discretionary spending such as clothing and jewelry witnessed more appreciable growth of 40.0% and 27.8% respectively. Hotel occupancy rate also rebounded from 29% in February 2020 to 71% in September this year amid strong demand from staycation and short- term tenure. CPI speeded up from 0.8% in 2Q to 2.3% in 3Q; clothing saw the most apparent acceleration of 8.7% in September. Vaccination progress picked up with
almost 60% of the population fully vaccinated.
Looking ahead, further relaxation in local social distancing rules should boost the recovery. Second round of cash voucher issuance HKD2,000 issued in October will continue to fuel the consumption sentiment in 3Q. A total of HKD5,000 cash voucher per resident stimulus is equivalent to HKD36bn or 11% of the 2020 retail sales value. The seasonally adjusted unemployment rate fell from an 18 year-high of 7.2% in Dec20-Feb21 to 4.5% in 3Q.
Given the favourable labour market environment, we have revised our year-end jobless rate forecast from 4.8% to 4.0%. For 2022, we expect it will drop further to the historic low of 2.8% before the Covid outbreak.
Export growth slowed further
Growth of outward shipment slowed to 20.5% YoY in 3Q from 14.3% in 2Q, largely dragged by the slower growth in September amid Mainland China's electricity shortage.
Exports to Mainland China slowed from 30.0% in August to 11.2% in September. Although China's export-led industrial activities are likely to moderate in the months ahead, those to the Asia and advanced economies should improve further amid a recovering global economy. Those to Singapore, Taiwan Province, and South Korea rose by 86.3%, 53.6%, and 58.8% respectively. Those to the US and major European economies also recorded double-digit growth.
Ultra-low short-end interest rates will support investment
Gross fixed capital formation slowed to 11.0% YoY in 3Q from 23.9% in 2Q due to a weakened investment sentiment amid regulatory crackdown across various sectors in Mainland China. Yet, the recovering economic condition as well as the ultra-low interest rate environment should support the investment sentiment down the road (see "
HKD Rates - HIBORs to remain anchored
"). Liquidity stayed flush, with the Aggregate Balance staying above HKD400bn, compared to the pre-COVID period of HKD54bn. 1-M HIBOR stayed low at around 0.06%-0.07%. The commenced Greater Bay Area Wealth Connect, with the initial quota at RMB150bn for both Northbound and Southbound routes, will add fresh liquidity to the HKSAR banking system.
The latest government initiative of developing the New Territories North will also boost public and private investment in the property sector. The Chief Executive Carrie Lam targeted to provide more than 900,000 apartments in the next decade.
Residential price growth to hold steady
Residential property prices in the secondary market retreated by 2.3% from the historical high last seen in mid-September after pent-up demand was somewhat fulfilled.
The consolidation was also attributed to the government's latest effort of increasing land supply. The number of transactions dropped by 13.8% QoQ. We have downgraded our
property price forecast this year from 7.5% to 5%.
Yet, we think the property price movement will hold steady in the near term as the demand-supply imbalance remains. The number of private residential property in commence and completed is expected to drop by 10% and 25% this year. According to Hong Kong SAR Government, the potential land supply for the next 3-4 years stays at around 94,000 flats. The New Territories North project is also far from execution. Also, the return of Mainland investors after border reopening next year will fuel the uptrend again.
In 2022, it will rise further by 3%.
To read the full report, click here to
Download the PDF
.
Subscribe
here
to receive our economics & macro strategy materials.
To unsubscribe, please click
here
.
GENERAL DISCLOSURE/ DISCLAIMER (For Macroeconomics, Currencies, Interest Rates)
The information herein is published by DBS Bank Ltd and/or DBS Bank (Hong Kong) Limited (each and/or collectively, the "Company"). This report is intended for "Accredited Investors" and "Institutional Investors" (defined under the Financial Advisers Act and Securities and Futures Act of Singapore, and their subsidiary legislation), as well as "Professional Investors" (defined under the Securities and Futures Ordinance of Hong Kong) only. It is based on information obtained from sources believed to be reliable, but the Company does not make any representation or warranty, express or implied, as to its accuracy, completeness, timeliness or correctness for any particular purpose. Opinions expressed are subject to change without notice. This research is prepared for general circulation. Any recommendation contained herein does not have regard to the specific investment objectives, financial situation and the particular needs of any specific addressee. The information herein is published for the information of addressees only and is not to be taken in substitution for the exercise of judgement by addressees, who should obtain separate legal or financial advice. The Company, or any of its related companies or any individuals connected with the group accepts no liability for any direct, special, indirect, consequential, incidental damages or any other loss or damages of any kind arising from any use of the information herein (including any error, omission or misstatement herein, negligent or otherwise) or further communication thereof, even if the Company or any other person has been advised of the possibility thereof. The information herein is not to be construed as an offer or a solicitation of an offer to buy or sell any securities, futures, options or other financial instruments or to provide any investment advice or services. The Company and its associates, their directors, officers and/or employees may have positions or other interests in, and may effect transactions in securities mentioned herein and may also perform or seek to perform broking, investment banking and other banking or financial services for these companies. The information herein is not directed to, or intended for distribution to or use by, any person or entity that is a citizen or resident of or located in any locality, state, country, or other jurisdiction (including but not limited to citizens or residents of the United States of America) where such distribution, publication, availability or use would be contrary to law or regulation. The information is not an offer to sell or the solicitation of an offer to buy any security in any jurisdiction (including but not limited to the United States of America) where such an offer or solicitation would be contrary to law or regulation.

This report is distributed in Singapore by DBS Bank Ltd (Company Regn. No. 196800306E) which is Exempt Financial Advisers as defined in the Financial Advisers Act and regulated by the Monetary Authority of Singapore. DBS Bank Ltd may distribute reports produced by its respective foreign entities, affiliates or other foreign research houses pursuant to an arrangement under Regulation 32C of the Financial Advisers Regulations. Singapore recipients should contact DBS Bank Ltd at 65-6878-8888 for matters arising from, or in connection with the report.

DBS Bank Ltd., 12 Marina Boulevard, Marina Bay Financial Centre Tower 3, Singapore 018982. Tel: 65-6878-8888. Company Registration No. 196800306E.

DBS Bank Ltd., Hong Kong Branch, a company incorporated in Singapore with limited liability. 18th Floor, The Center, 99 Queen's Road Central, Central, Hong Kong SAR.

DBS Bank (Hong Kong) Limited, a company incorporated in Hong Kong with limited liability. 13th Floor One Island East, 18 Westlands Road, Quarry Bay, Hong Kong SAR

Virtual currencies are highly speculative digital "virtual commodities", and are not currencies. It is not a financial product approved by the Taiwan Financial Supervisory Commission, and the safeguards of the existing investor protection regime does not apply. The prices of virtual currencies may fluctuate greatly, and the investment risk is high. Before engaging in such transactions, the investor should carefully assess the risks, and seek its own independent advice.