Mobility is back at pre-pandemic levels, with reopening boost buoyed by the seasonal festive push.
Festive demand and receding pandemic have resulted in a broad-based improvement in activity

September quarter (2QFY22) growth ought to be solid on a sequential basis

Core inflation at 6% remains a drag

Implications for forecasts: We expect more durable liquidity absorption
Photo credit: Unsplash
To read the full report, click here to
Download the PDF
.
Receding pandemic

Mobility is back at pre-pandemic levels, with reopening boost buoyed by the seasonal festive push. Daily Covid caseload is at ~3% (7-day average at 11-12k) of the peak of the second wave, accompanied by a 98% recovery rate and sub-1% positivity rate. Vaccination remains apace with a cumulative 1.1bn doses already administered, with more than half of the total population covered by the first dose (80% of adults) and a quarter fully vaccinated. If the 2-3mn daily pace of second dose continues, more than half of the adult population will be fully vaccinated by end-year.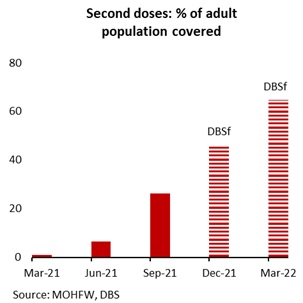 Regulators are considering alternatives to inoculate younger children but preferring to take a cautious approach in this regard. Natural immunity as indicated by the seroprevalence surveys and better administrative capacity suggests risks of a third wave are manageable. Authorities are, nonetheless, likely to be watchful given several instances globally – regional as well as amongst Western peers like Europe – where there has a resurgence in cases especially amongst the unvaccinated population which puts pressure on the medical facilities, despite vaccination rates hitting a critical mass.

High frequency data is broadly positive, supply bottlenecks hurt output

Banking on a receding case count, reopening gains are being complemented by festive demand in 2H21 to provide a broad-based lift to activity. Between late-Sep and early-Nov, discretionary movements i.e., retail and recreation as well as parks (Google mobility) improved strongly, alongside essentials (grocery and pharmacy), whilst around residential areas declined marginally. Mobility to 'workplaces' closed in on the baseline, signaling another step towards normalcy.

These factors have also driven our consolidated DBS Weekly Activity Gauge (WAG) further north to pre-pandemic levels even as sequential pace of improvement eased. To recall, the WAG captures the turn in high frequency indicators (mobility, power demand, employment etc.) and notched further gains in the week of early-November.

We continue to monitor this gauge closely to observe the durability of the festive boost, especially drawing on the experience of the regional peers where after an initial upside on reopening gains, the momentum peters out in the subsequent quarters.




Other high frequency indicators (ex-mobility):

• Looking-up: A domestic traders' body (press) estimated that offline retail sales rose to INR1.25trn during the recent festivity, highest in a decade, up 75% from 2020 and more than doubling from year before. E-commerce sales reportedly rose 23% yoy (report), with the gross merchandise value per shopper rising by 1.04x this year, with the pandemic and wider digital base likely adding to the buoyancy. Credit card spends surged in Oct-Nov21 according to domestic lenders, after 10% rise in Jul-Sep21.

Listed companies' performance continued to improve, dominated by a few sectors. 3Q21 quarterly net profit rose 46.4% y/y, lifted by strong profitability of banks, non-banking financial companies and insurance (BFSI) sector, oil & gas and commodity platers (metal &mining) – see report. Combined earnings of the rest rose by a moderate 5.3% y/y.

Separately, railway freight rising 11% MoM in October, alongside better passenger freight. Road congestion is up at early 2020 levels in the main metropolitan cities, mirroring the improvement in mobility gauges. The unemployment rate has fallen to 7% from the recent peak of 11.8% in May21, alongside a stable labour participation rate at 40%.

Finally, e-way bill generation has registered a steady rise to reach a record 73.5mn in Oct, highest since the Goods and Services Tax regime was introduced in mid-2017. By extension, this also reflects in the strong run-rate in GST collections, which registered the second highest collections in October since its introduction in 2017. Accelerated formalisation, strong compliance/ checks, and rebound in economic activity (boosted by seasonal festivities) have underpinned these proceeds.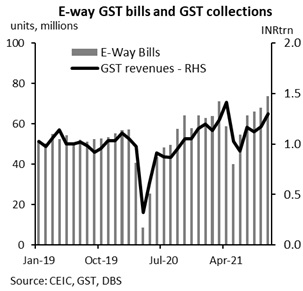 • Stagnating: Consumer sentiments are still playing catch up, underscoring the multi-speed and K-shaped recovery that is underway. The current situation index of the RBI's consumer confidence survey has stopped falling from is weaker than pre-pandemic levels.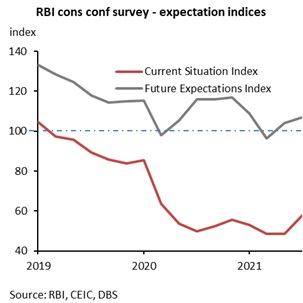 Motor vehicle registrations have fallen 7% in the past two months, alongside slowing car output as chip shortage and supply dislocations hurt production. Top carmakers cited shortage of electronic components for the reason behind the double-digit fall in October. Barring the festive boost, vehicle demand was under a cloud due to high operational costs including elevated fuel prices. Tractor registrations also declined for a third consecutive month to Oct but is expected to recover as rabi sowing starts towards late-2021.

• Monthly data: Base effects are receding, thereby moderating annual yoy comparisons. On indexed basis, as the chart below shows consumption indicators witnessed a shallower fall during the second Covid wave and have since retraced higher, even if not by equal measure. Lower unemployment rates and improving participation bode well for demand, coupled with better rural incomes. That said, consumer durables and non-durables output slowly markedly on yoy terms due to base effects, even as festive demand buoyed the trend/ index values.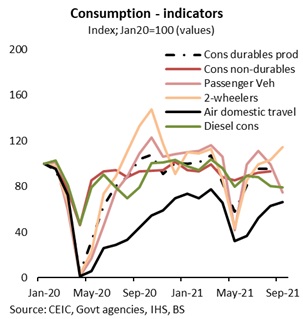 • On indexed basis (see chart), industry indicators also returned to pre-pandemic levels on indexed basis before flatlining into the September-October. The PMI-manufacturing gauge gained deeper into the expansionary signaling optimism on the order book, even as input/output prices continue to rebound. But, industrial production growth missed expectations to slow to 3.1% y/y in Sep21, impacted by a weak 1% rise in electricity generation reflecting the impact of the domestic coal shortage. Mining and manufacturing output rose 8.6% y/y (vs Sep's 23.6%) and 2.7% respectively. Under use-based industries, capital goods output expanded modestly whilst consumer durables and non-durables contracted, also impacted by supply bottlenecks by way of chip shortage which affected auto output, for example.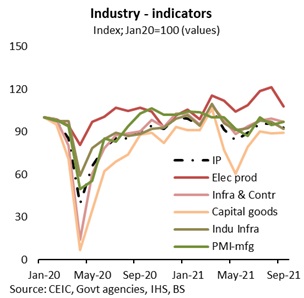 External sector performance stayed strong with goods shipments up 40% yoy in the Sep21 quarter and services up 15% but slowed from quarter before as base effects receded. High commodity prices, however, led goods imports to rise 65%, weighing on the net balance. Credit to industry improved to a modest 2% yoy in 3Q21 vs 0.3% in 2Q, with base effects to lift the growth pace in the next two quarters. Public sector spending is likely to remain a crucial support for the investment cycle. Fiscal spending notched a strong 17% yoy revenue and 52% capital expenditure on base effects but moderated on qoq terms. The aggregate capacity utilisation rates remain sub-trend.

Tying all these high frequency indicators, improving vaccination rates and our GDP Nowcast reading, the September quarter real GDP growth (2QFY22) is likely to register 8% yoy rise (10% q/q nsa), moderating from 20.1% (-16.9% q/q nsa). Inferring from regional peers, in absence of additional catalysts, after an initial upside on reopening gains, the growth momentum peters out in the subsequent quarters.

Inflation is a drag

October CPI inflation at 4.5% y/y (DBSf: 4.6%) registered a modest uptick from September, notwithstanding favourable base effects, validating our view that the lull in inflation seen in late-3Q was unlikely to last. The notable contributor was the food segment, largely due to higher perishables (vegetables up 14% m/m) owing to inclement weather conditions.

This further were higher energy costs which translated into a double-digit rise in the fuel and transport indices. Core inflation i.e., ex food and fuel & light also returned above 6% y/y after three months of pullback.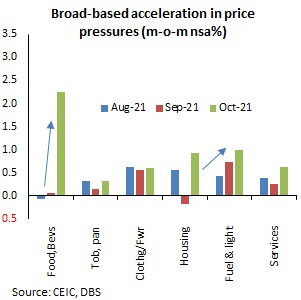 Base effects have kept average CPI in Sept-Oct21 within 4-5% i.e., upper end of the RBI's target range, but the trend into late-2021 and 1Q22 is likely headed further north towards 6% on a passthrough of higher input prices, imported energy costs, narrowing output gap and seasonal bouts of food/perishables. We had revised up our FY22 and FY23 inflation forecasts in Elevated energy price and Asia.

Supply side responses like fuel excise adjustments and import tax cuts will help partially, but persistent inflationary uptrend is likely to see the central bank prefer to deal with liquidity on a more durable basis. We also note RBI Governor Das remarks in a recent press interview, saying "core inflation has remained elevated and that is a policy challenge and we are keeping a very close watch over the evolution of the core inflation and fuel inflation", while expressing more confidence on the growth trajectory, suggesting the likelihood of policy normalisation is closing in. The recent move to conduct 28-day VRRR auctions is likely to be followed up by staggered increase in the reverse repo rate – by 20bps each in December 2021 and February 2022 rate reviews. A change in the policy stance lies ahead, which is likely to followed by the start of policy tightening by mid-2022, when inflation is expected to hover above the mid-point of the target range.

For markets, developments in the US policy direction and US dollar path will be watched closely. Equity related flows had boosted the INR temporarily, but the dominant driver for the price action since July has been the broad dollar. Our FX Strategist continues to expect further upside in the dollar and by extension, USDINR rising towards 76-76.50 in the next quarter. US long-term yields (10Y) bottomed last year and are up more than 60bps this year, with the short-end rates also rising as the Fed signaled start of taper and investors have since brought forward rate hike expectations owing to a string of strong inflation prints. While the response to US taper and rate hike risks varies within the emerging market space, stickiness in domestic inflation is likely to be a bigger driver for shifts in India's policy path next year.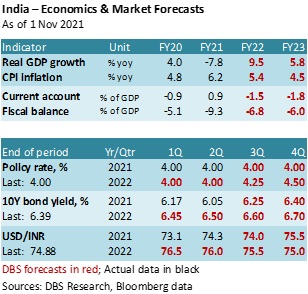 Digital payments rise even as cash intensity remains high

In payments, a surge in cash in circulation is accompanied by a sharp pickup in usage of digital channels. Under money supply data, currency with the public jumped to 14% of GDP in FY21, admittedly part of the rise was magnified by the fall in the national output owing to the pandemic as well as reflecting broad uncertainty during Covid. Factoring in our forecast for the FY22 nominal GDP and latest reading (INR28.3trn), the ratio is still high at 12.3% of GDP, higher than 2013-14 average of 11.3% and a jump from post-demonetisation low of 8.2% in FY17. Concurrently, payments through digital channels have also shown improvement – wholesale and retail. For instance, transactions through the instant real-time payments system, i.e., Unified Payments Interface (UPI) breached a record of INR7.7trn (value) in October (17.8% m/m), with the pace of increase likely accelerated by the festive push. Concurrently, Immediate Payment Service (IMPS) rose 14% m/m, alongside higher debit, and credit card transactions in early Nov21.

On a related note, a RBI survey showed that digital modes were the preferred means of making and receiving payments for 40-45% of the respondents. However, more than half of the survey respondents still prefer hard cash for payments, with >80% for small value transactions, suggesting higher digital payment penetration might co-exist with high cash intensity.


Subscribe
here
to receive our economics & macro strategy materials.
To unsubscribe, please click
here
.
GENERAL DISCLOSURE/ DISCLAIMER (For Macroeconomics, Currencies, Interest Rates)
The information herein is published by DBS Bank Ltd and/or DBS Bank (Hong Kong) Limited (each and/or collectively, the "Company"). This report is intended for "Accredited Investors" and "Institutional Investors" (defined under the Financial Advisers Act and Securities and Futures Act of Singapore, and their subsidiary legislation), as well as "Professional Investors" (defined under the Securities and Futures Ordinance of Hong Kong) only. It is based on information obtained from sources believed to be reliable, but the Company does not make any representation or warranty, express or implied, as to its accuracy, completeness, timeliness or correctness for any particular purpose. Opinions expressed are subject to change without notice. This research is prepared for general circulation. Any recommendation contained herein does not have regard to the specific investment objectives, financial situation and the particular needs of any specific addressee. The information herein is published for the information of addressees only and is not to be taken in substitution for the exercise of judgement by addressees, who should obtain separate legal or financial advice. The Company, or any of its related companies or any individuals connected with the group accepts no liability for any direct, special, indirect, consequential, incidental damages or any other loss or damages of any kind arising from any use of the information herein (including any error, omission or misstatement herein, negligent or otherwise) or further communication thereof, even if the Company or any other person has been advised of the possibility thereof. The information herein is not to be construed as an offer or a solicitation of an offer to buy or sell any securities, futures, options or other financial instruments or to provide any investment advice or services. The Company and its associates, their directors, officers and/or employees may have positions or other interests in, and may effect transactions in securities mentioned herein and may also perform or seek to perform broking, investment banking and other banking or financial services for these companies. The information herein is not directed to, or intended for distribution to or use by, any person or entity that is a citizen or resident of or located in any locality, state, country, or other jurisdiction (including but not limited to citizens or residents of the United States of America) where such distribution, publication, availability or use would be contrary to law or regulation. The information is not an offer to sell or the solicitation of an offer to buy any security in any jurisdiction (including but not limited to the United States of America) where such an offer or solicitation would be contrary to law or regulation.

This report is distributed in Singapore by DBS Bank Ltd (Company Regn. No. 196800306E) which is Exempt Financial Advisers as defined in the Financial Advisers Act and regulated by the Monetary Authority of Singapore. DBS Bank Ltd may distribute reports produced by its respective foreign entities, affiliates or other foreign research houses pursuant to an arrangement under Regulation 32C of the Financial Advisers Regulations. Singapore recipients should contact DBS Bank Ltd at 65-6878-8888 for matters arising from, or in connection with the report.

DBS Bank Ltd., 12 Marina Boulevard, Marina Bay Financial Centre Tower 3, Singapore 018982. Tel: 65-6878-8888. Company Registration No. 196800306E.

DBS Bank Ltd., Hong Kong Branch, a company incorporated in Singapore with limited liability. 18th Floor, The Center, 99 Queen's Road Central, Central, Hong Kong SAR.

DBS Bank (Hong Kong) Limited, a company incorporated in Hong Kong with limited liability. 13th Floor One Island East, 18 Westlands Road, Quarry Bay, Hong Kong SAR

Virtual currencies are highly speculative digital "virtual commodities", and are not currencies. It is not a financial product approved by the Taiwan Financial Supervisory Commission, and the safeguards of the existing investor protection regime does not apply. The prices of virtual currencies may fluctuate greatly, and the investment risk is high. Before engaging in such transactions, the investor should carefully assess the risks, and seek its own independent advice.