Don't see EUR above parity or GBP out of the woods yet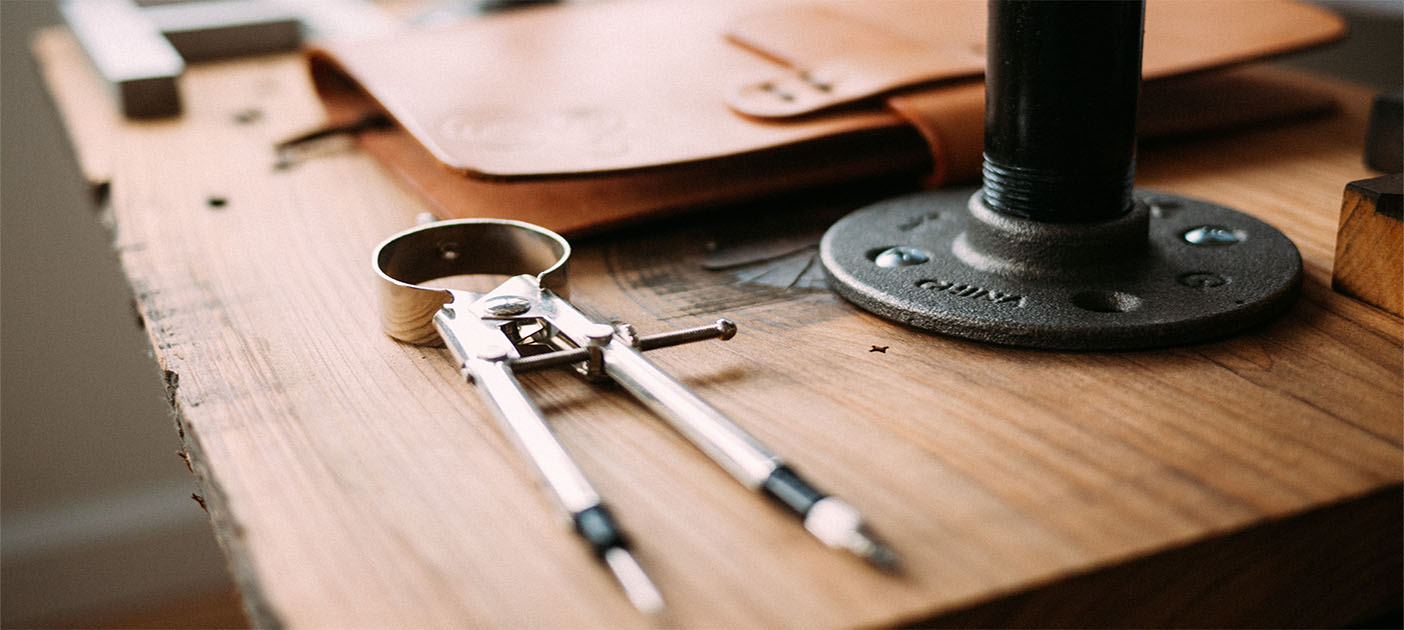 Photo credit: Unsplash Photo
EUR depreciated 1% to 0.9884. Brent crude oil prices rose a third day by 1.6% to USD93.37 per barrel, its highest level since 14 September. At its meeting in Vienna, OPEC Plus decided to cut oil production by 2 million barrels daily, or 2% of the global oil supply. The announcement was not favourable for the Eurozone. Last month, Eurostat reported double-digit CPI inflation (September: 10% YoY) on the energy crisis and a record-wide trade deficit (July: EUR40.3bn). ECB President Christine Lagarde declined to say if inflation has peaked and acknowledged that rate hikes will be needed at several meetings to curb demand. However, the tightening is coming when Bloomberg consensus expects real GDP growth to flatten to 0% QoQ sa in 3Q22 (vs 0.7-0.8% growth in the previous two quarters) before turning negative in 4Q22 and 1Q23. Against this weak backdrop, we see no reason for EUR to push above parity.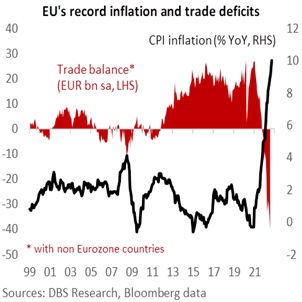 GBP depreciated 1.3% to 1.1326, near Monday's close. The 10Y Gilt yield is back above 4% after Prime Minister Liz Truss insisted on pushing through with her tax cuts plans at the Conservative party conference. Despite the U-turn on abolishing the 45% top income tax rate, Fitch downgraded UK's "AA" long-term foreign currency debt rating outlook to negative from stable. Fitch forecasts tax cuts swelling the budget deficit to 7.8% of GDP in 2022 and 8.8% in 2023. Apart from the Chancellor needing to explain how to fund the tax cuts, attention is also turning to how the UK can attract foreign capital to fund a current account deficit that widened to 8.3% of GDP in 1Q22. As more questions arise over UK's weakened fundamentals, it is probably best to remain defensive on the GBP.

DXY appreciated 1% to 111.21. Dow, S&P 500and Nasdaq fell 0.1%, 0.2% and 0.3% respectively. The US Treasury 10Y yield rose 12 bps to 3.753%, while 2Y rose 5.6 bps to 4.148%. Atlanta Fed President Raphael Bostic believes the US labor market is strong enough for the Fed Funds Rate to peak and pause at 4-4.5% by the end of 2022. However, other Fed officials also see a higher terminal rate of 4.5-4.75%. All agree there will be no rate cut in 2023. The Fed lifted the FFR to 3.25% a fortnight ago. Our chief economist sees a fourth 75 bps hike at the FOMC meeting on 2 November. The ADP Research Institute reported that US companies added 208k jobs in September, more than the 200k expected. It also revised August to 185k from 132k. The employment index in the ISM Services PMI rose a second month above 50 to 53 in September from 50.2 in August. Consensus expects Friday's nonfarm payrolls to slow to 260k from 315k for the comparable months and sees the unemployment rate unchanged at 3.7%.

Quote of the day
"It is easy to sit up and take notice. What is difficult is getting up and taking action."
Honore de Balzac

6 October in history
"Gang of Four" arrested in Beijing in 1976.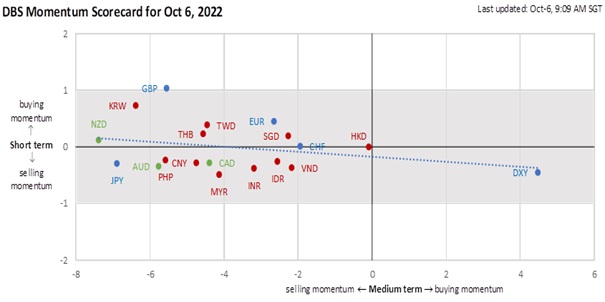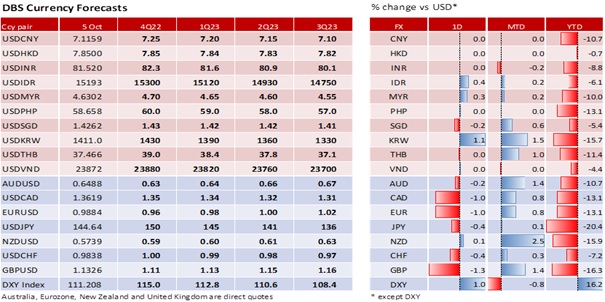 Subscribe here to receive our economics & macro strategy materials.
To unsubscribe, please click here.
Disclaimers and Important Notices
GENERAL DISCLOSURE/ DISCLAIMER (For Macroeconomics, Currencies, Interest Rates)

The information herein is published by DBS Bank Ltd and/or DBS Bank (Hong Kong) Limited (each and/or collectively, the "Company"). This report is intended for "Accredited Investors" and "Institutional Investors" (defined under the Financial Advisers Act and Securities and Futures Act of Singapore, and their subsidiary legislation), as well as "Professional Investors" (defined under the Securities and Futures Ordinance of Hong Kong) only. It is based on information obtained from sources believed to be reliable, but the Company does not make any representation or warranty, express or implied, as to its accuracy, completeness, timeliness or correctness for any particular purpose. Opinions expressed are subject to change without notice. This research is prepared for general circulation. Any recommendation contained herein does not have regard to the specific investment objectives, financial situation and the particular needs of any specific addressee. The information herein is published for the information of addressees only and is not to be taken in substitution for the exercise of judgement by addressees, who should obtain separate legal or financial advice. The Company, or any of its related companies or any individuals connected with the group accepts no liability for any direct, special, indirect, consequential, incidental damages or any other loss or damages of any kind arising from any use of the information herein (including any error, omission or misstatement herein, negligent or otherwise) or further communication thereof, even if the Company or any other person has been advised of the possibility thereof. The information herein is not to be construed as an offer or a solicitation of an offer to buy or sell any securities, futures, options or other financial instruments or to provide any investment advice or services. The Company and its associates, their directors, officers and/or employees may have positions or other interests in, and may effect transactions in securities mentioned herein and may also perform or seek to perform broking, investment banking and other banking or financial services for these companies. The information herein is not directed to, or intended for distribution to or use by, any person or entity that is a citizen or resident of or located in any locality, state, country, or other jurisdiction (including but not limited to citizens or residents of the United States of America) where such distribution, publication, availability or use would be contrary to law or regulation. The information is not an offer to sell or the solicitation of an offer to buy any security in any jurisdiction (including but not limited to the United States of America) where such an offer or solicitation would be contrary to law or regulation.

This report is distributed in Singapore by DBS Bank Ltd (Company Regn. No. 196800306E) which is Exempt Financial Advisers as defined in the Financial Advisers Act and regulated by the Monetary Authority of Singapore. DBS Bank Ltd may distribute reports produced by its respective foreign entities, affiliates or other foreign research houses pursuant to an arrangement under Regulation 32C of the Financial Advisers Regulations. Singapore recipients should contact DBS Bank Ltd at 65-6878-8888 for matters arising from, or in connection with the report.

This report has been prepared by a personnel of DBS Bank Ltd who is not licensed by the Hong Kong Securities and Futures Commission to carry on the regulated activity of advising on securities in Hong Kong pursuant to the Securities and Futures Ordinance (Chapter 571 of the Laws of Hong Kong). This report is being distributed in Hong Kong by DBS Bank Ltd, DBS Bank (Hong Kong) Limited and DBS Vickers (Hong Kong) Limited.

DBS Bank Ltd., 12 Marina Boulevard, Marina Bay Financial Centre Tower 3, Singapore 018982. Tel: 65-6878-8888. Company Registration No. 196800306E.

DBS Bank Ltd., Hong Kong Branch, a company incorporated in Singapore with limited liability. 18th Floor, The Center, 99 Queen's Road Central, Central, Hong Kong SAR.

DBS Bank (Hong Kong) Limited, a company incorporated in Hong Kong with limited liability. 11th Floor, The Center, 99 Queen's Road Central, Central, Hong Kong SAR.

Virtual currencies are highly speculative digital "virtual commodities", and are not currencies. It is not a financial product approved by the Taiwan Financial Supervisory Commission, and the safeguards of the existing investor protection regime does not apply. The prices of virtual currencies may fluctuate greatly, and the investment risk is high. Before engaging in such transactions, the investor should carefully assess the risks, and seek its own independent advice.