In the gig economy? 4 tips for freelancers and gig workers
If you've only got a minute:
Money-ins and outs getting messy: Keep track using a money management tool – if you have DBS digibank it's built in with customisable options
Not all high interest accounts require salary crediting: There's flexibility with the Multiplier Account
Investing doesn't need to start big or be a time-drain: Automate small investments starting from S$100 a month
Stretch your dollar where it matters: Save on recurring expenses on essentials such as electricity bills
According to the Ministry of Manpower, 9.3% of all employed residents in Singapore are involved in the gig economy.
From private-hire drivers to freelancers, if you are in the gig economy and face income fluctuations, what can you do to be smart with your finances - to capitalise on the good times and last through the tougher ones?
With you in mind, we have designed a suite of tools and services to help meet your personal finance needs. Read on to uncover personal finance 'hacks' that are available right at your fingertips today.
1. Add a strength: Smart money management
If you are a gig worker, chances are you will be managing money inflows and outflows from clients and jobs on your own. Here's a suggestion – keep track of your cashflow using a digital advisory tool which offers money management capabilities, among other things.
For existing DBS customers, you can do this right via the NAV Planner within your digibank app. Other than account balances and transactions, a lesser-known feature is the ability to categorise transactions for a customised reflection of your overall income and expenses even if they are not with DBS as well as to view the sources of your investments at one go! Simply head to the "Plan" tab.
And there's more – from within the same digibank app, you'll also receive personalised financial insights and suggestions to empower you to make better financial decisions on the go. NAV Planner also helps navigate your financial journey through life to achieve financial wellness.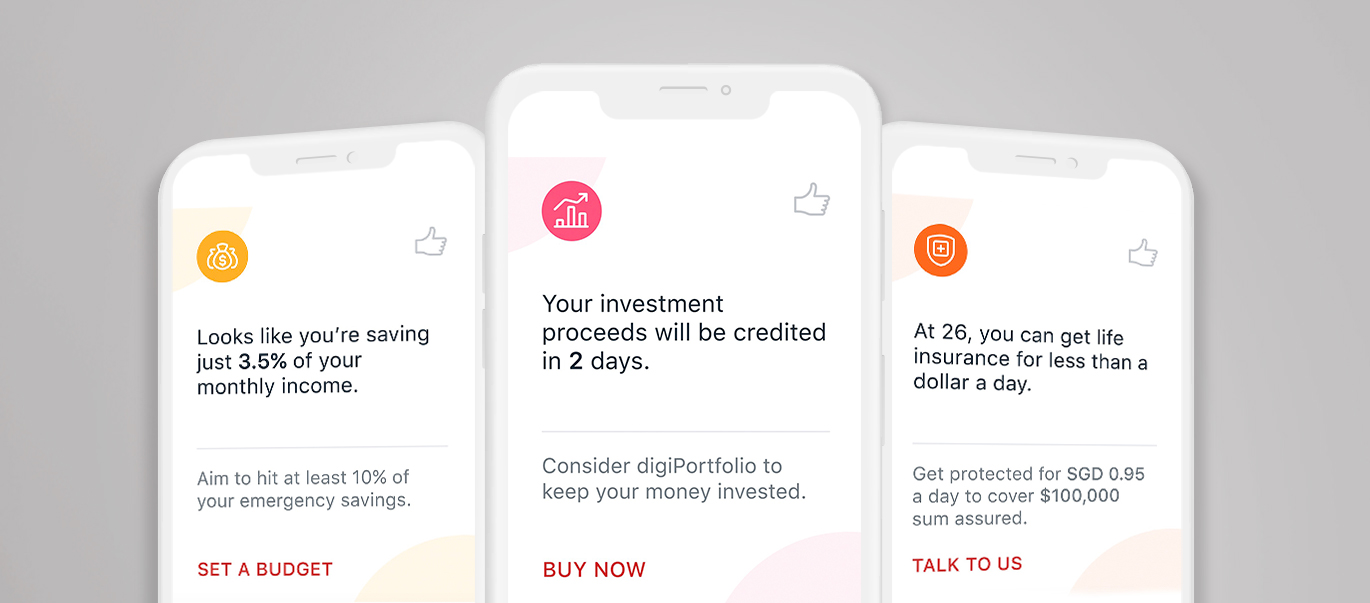 2. Grow your money – beyond saving – for rainy days
A common trait across the gig economy is the lack of stability at times. Thus, having sufficient savings will help in preparation for rainy days when new gigs are hard to come by.
In recognising the challenge of not having a fixed salary, we've enhanced the Multiplier Account so that there is no salary crediting required. That's right, earning extra interest with Multiplier just became easier!
You could connect your finances with SGFinDex each month to get an all-in-one view in NAV Planner. Or, you could rely on dividend income (any amount works) from any dividend-yielding investments such as Singapore Savings Bonds.
And that's only the beginning. Use the benefits of this high interest savings account to your advantage and grow your savings at an accelerated rate as you check off other key components of your financial plan such as insurance, investments and home loan!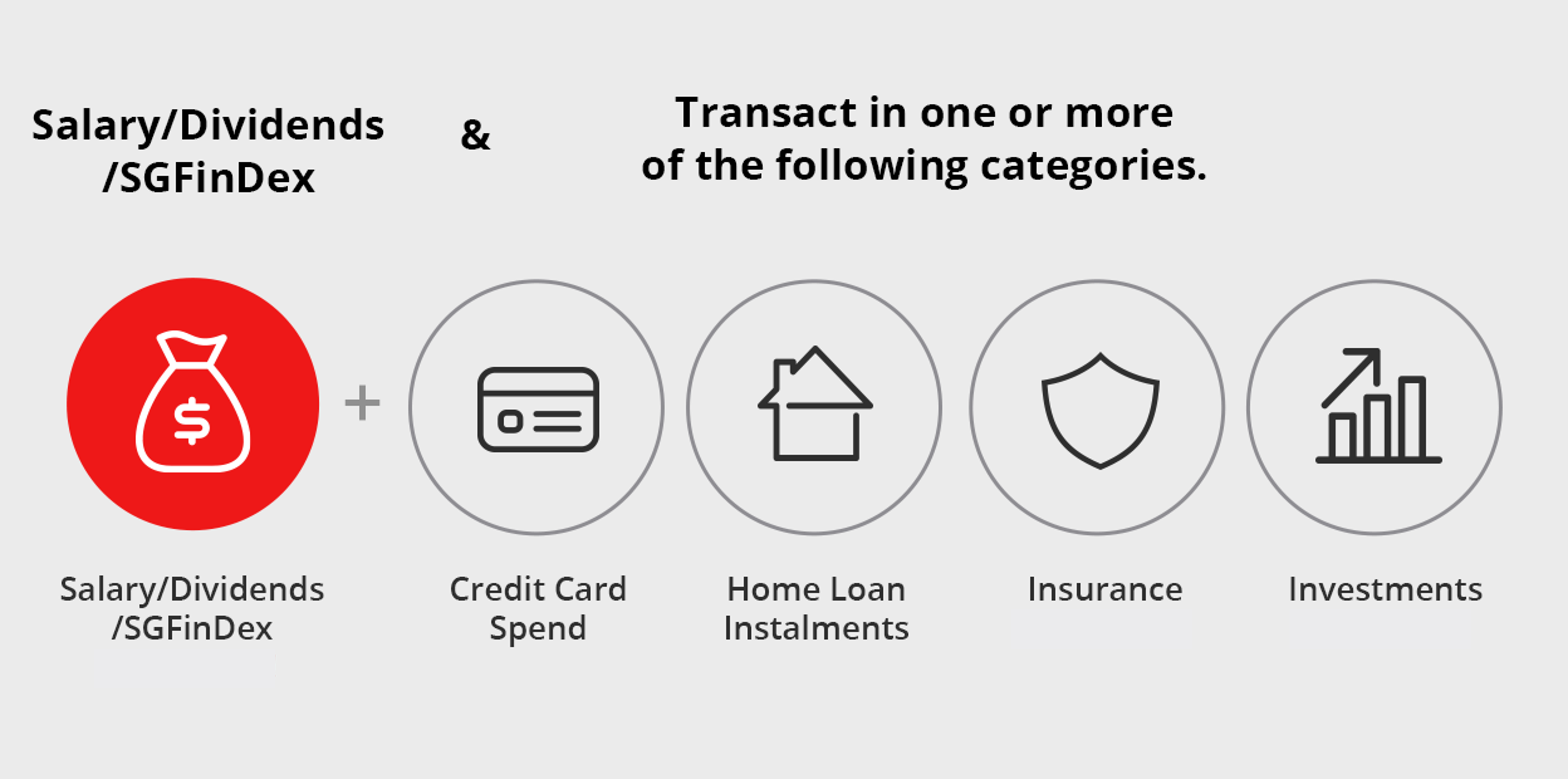 3. New side gig: Hassle-free investing
If robo-advisors are more your thing, why not consider a bank robo-advisor such as digiPortfolio? It fits the investment needs of both beginner and seasoned investors, and you get to choose from ready-made Global or Asia focused ETF Portfolios.
Making these investments whenever you're ready to do so – no matter how small – is an important part of your financial planning journey, so we've made it available right within your DBS digibank app. You can even enjoy higher interest in your Multiplier Account by investing in digiPortfolio or Invest-Saver!
4. Optimise your daily, essential spends
Getting more with less is a skill that anyone will find useful. After all, if you reduce your expenses, you can leave more money aside for other purposes such as saving or investing.
We've put together a few ways you can get more bang for your buck, especially from expenditure on essentials.
If you've a touch of nervousness every time your utilities bill arrives, it may be time to take stock of how efficiently you're using electricity. Especially when so much more time is being spent at home now! Enjoy more savings on your electricity bill when you switch to an alternative electricity retailer in Singapore on DBS Home & Living Marketplace.
If you need a ride, simply book a taxi with the ComfortDelGro app and pay using DBS PayLah!. Check out the multitude of DBS PayLah! promotions – whether it is to book rides, pay for bills or enjoy cashback and other rewards, this is the app that can help you do it all.
Let's not forget the place you're staying in! If you are thinking of getting a home or own one, any savings on such a long-term commitment add up. Paying less interest on your home loan also means you have more for your day-to-day spending.
No excuses
Hustling as a gig worker requires you to be proactive, so there's no excuses for you to start applying some of that energy in your personal financial planning. After all, our suite of services and tools are available right at your fingertips. Put these personal finance 'hacks' to work right away, right within your digibank app.
Get this essential app today
Ready to start?
Speak to the Wealth Planning Manager today for a financial health check and how you can better plan your finances.
Alternatively, check out NAV Planner to analyse your real-time financial health. The best part is, it's fuss-free – we automatically work out your money flows and provide money tips.
Tell us if this article helps you plan and achieve your financial goals

Disclaimers and Important Notice
This article is meant for information only and should not be relied upon as financial advice. Before making any decision to buy, sell or hold any investment or insurance product, you should seek advice from a financial adviser regarding its suitability.

All investments come with risks and you can lose money on your investment. Invest only if you understand and can monitor your investment. Diversify your investments and avoid investing a large portion of your money in a single product issuer.

Deposit Insurance Scheme
Singapore dollar deposits of non-bank depositors and monies and deposits denominated in Singapore dollars under the Supplementary Retirement Scheme are insured by the Singapore Deposit Insurance Corporation, for up to S$75,000 in aggregate per depositor per Scheme member by law. Monies and deposits denominated in Singapore dollars under the CPF Investment Scheme and CPF Retirement Sum Scheme are aggregated and separately insured up to S$75,000 for each depositor per Scheme member. Foreign currency deposits, dual currency investments, structured deposits and other investment products are not insured.