4 tips for freelancers and gig workers

If you've only got a minute:
Monitor your money ins and outs with the Plan & Invest tab on DBS digibank to gain better control over your finances.
Enjoy higher interests and greater flexibility with the DBS Multiplier even without a fixed salary.
Kickstart your investment journey with as little as $100 a month.
Stretch your dollar where it matters by searching for best deals to reduce expenses on essentials.

Gig workers are individuals who are compensated for completing temporary job assignments, as opposed to being employed by a company or organisation. If you're part of the gig economy, such as a private-hire driver or a freelancer, and face income fluctuations, how can you effectively manage your finances to make the most of prosperous times and last through challenging periods?
Here are 4 tips to help you manage your finances better.
1. Manage your money smartly
As a gig worker, it is likely that you will be managing money inflows and outflows from clients and jobs on your own, which can get messy and tedious, especially if you're counting on manual inputs.
If you find yourself struggling with managing your money, you may want to consider using a digital personal finance tool or app. With digital tools, monitoring your finances can be stress-free and seamless.
For example, The Plan & Invest tab on digibank, can give you a complete overview of your finances effortlessly. Supercharged by the Singapore Financial Data Exchange (SGFindex) and secured with Singpass, you can connect your financial information from banks, CPF, HDB, IRAS to get a consolidated view of your financial data easily. This means bringing together everything, from your income, cash, CPF savings, property and investments to your expenses and loans, providing you clarity on your financial wellness based on your savings, protection and investments.
Besides account balances and transactions, the app also provides insights on your expenses, and calculates your spending based on different categories such as food and transportation, to name a few. This allows you to set saving and spending targets, while giving you clarity on what you can do to improve your cashflows.
Last but not least, the app also offers personalised financial insights and suggestions to empower you to make better financial decisions on the go. This could mean alerting you of higher-than-usual monthly expenses, how to grow your idle funds and alerting you of upcoming bill payments.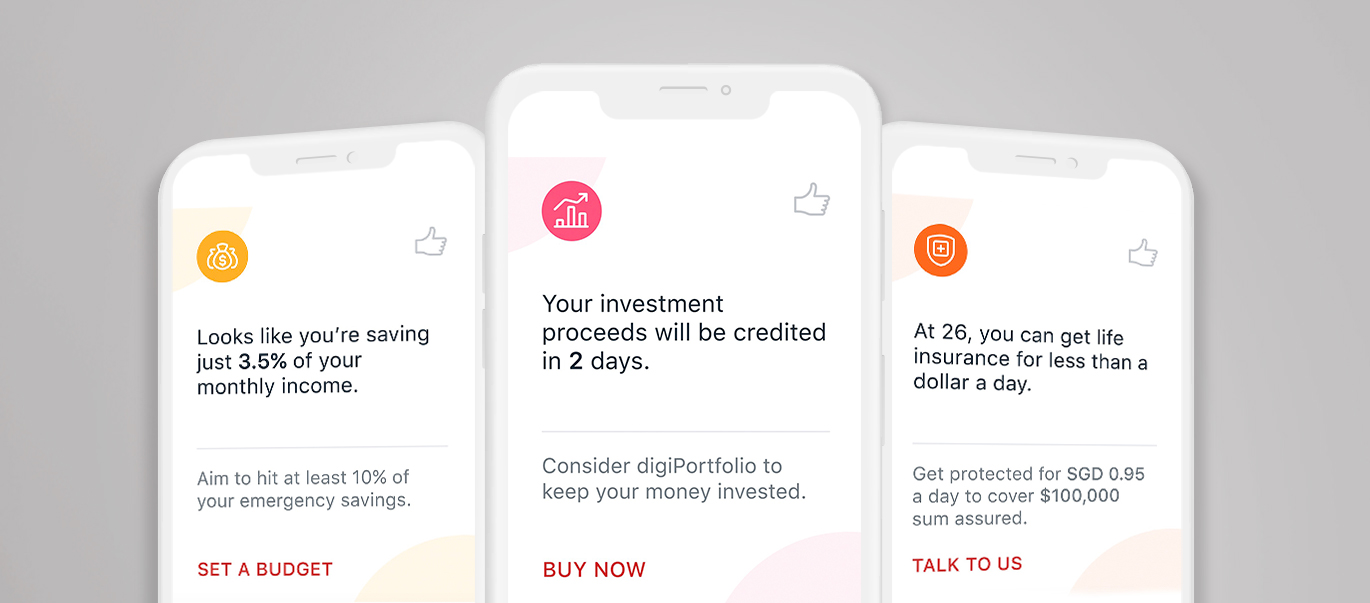 2. Grow your money – beyond saving – for rainy days
A common trait across the gig economy is the lack of income stability. As a gig worker, you are likely to be paid on an ad hoc basis, and this exposes you to the uncertainty of having a consistent income stream should there be a lack of job assignments. Furthermore, your revenue can be significantly impacted should you fall ill or decide to take a holiday. Thus, it is crucial to have sufficient savings/emergency cash (at least 12 months of your monthly expenses) set aside as contingency.
Next step is to make your savings work harder. Consider setting up a high-yield savings account, such as the DBS Multiplier, to enjoy higher interest rates compared to the other ordinary savings accounts.
In recognising the challenge of not having a fixed salary, enhancements have been made such that you can rely on dividend income (any amount works) from any dividend-yielding investments (such as Singapore Savings Bonds), instead of your salary to earn higher interest.
Use the benefits of this high interest savings account to your advantage and grow your savings at an accelerated rate as you check off other key components of your financial plan such as insurance, investments and home loan.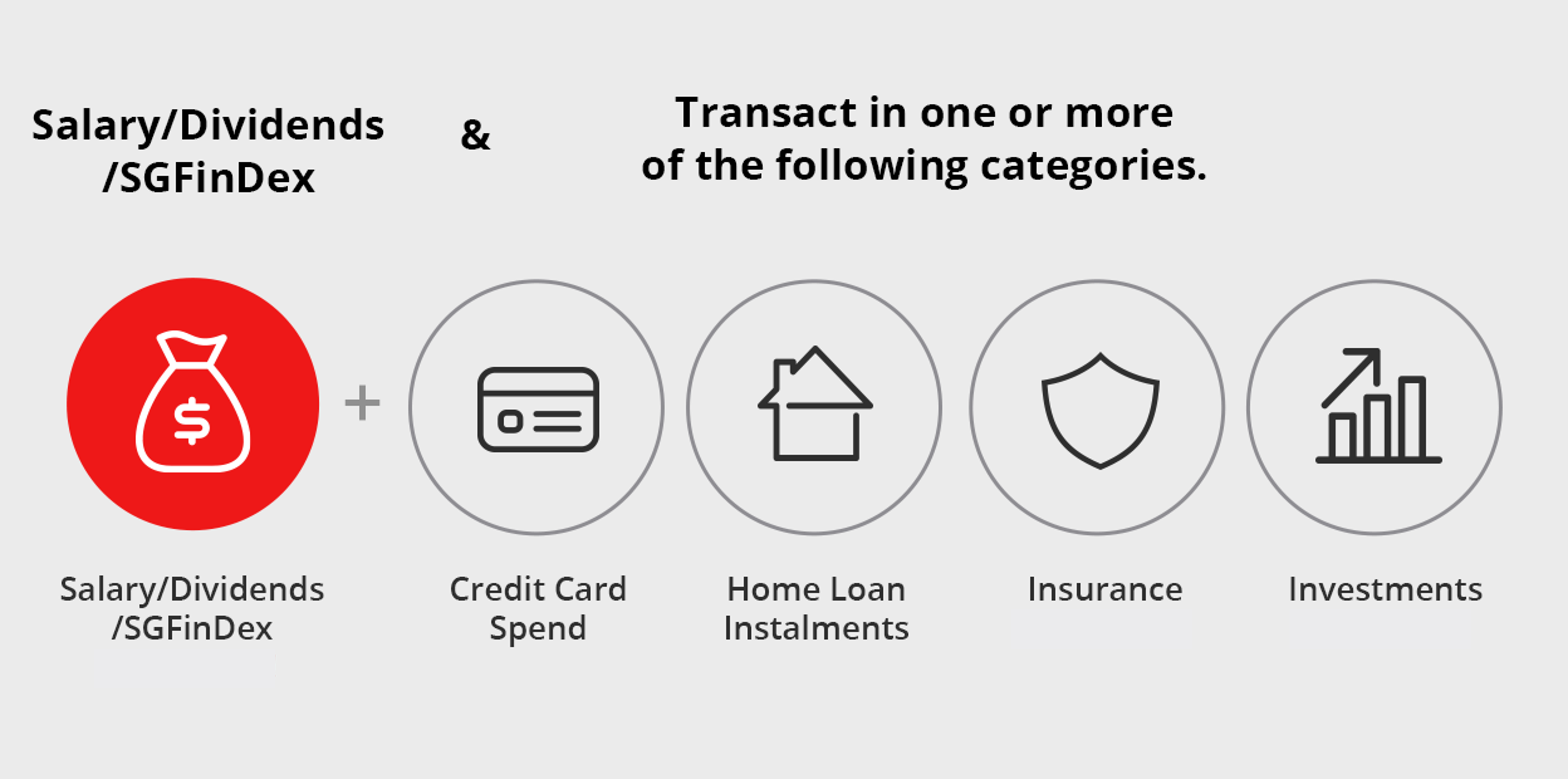 3. New side gig: Hassle-free investing
The next thing to look at is growing your wealth, so your money doesn't sit idly in the bank and dwindle with inflation.
The Plan & Invest tab on digibank can find you the right investments to grow your wealth. Simply provide answers to a few questions and the app will take care of the rest by recommending investments that align with your risk tolerance.
For example, with DBS Invest-Saver, you can start investing with a fixed sum evert month (as little as $100 a month).
Alternatively, consider robo-investing on digiPortfolio and enjoy personalised insights, tips, advice and a range of options to grow your money that match your needs. It fits the investment needs of both beginner and seasoned investors, and you get to choose from ready-made Global or Asia focused ETF portfolios.
To sweeten the deal, earn higher interest in your Multiplier Account when you invest in digiPortfolio or Invest-Saver!
4. Optimise your daily, essential spends
Getting more with less is a skill that is so useful. After all, if you reduce your expenses, you can set aside more money for other purposes such as saving or investing.
Here's how you can get more bang for your buck, especially from expenditure on essentials.
Review your electricity plan
With the current post-pandemic working arrangement, you may notice an increased time spent at home (especially if you spend most of your time working from home). This can result in an increase in your utilities bill. Consider reviewing your current electricity plan. Hop on over to DBS Home & Living Marketplace, the one-stop shop for your home and utility needs. Enjoy greater savings and flexibility with plans that fit your lifestyle and budget when you switch to an alternative electricity retailer.
Discover DBS PahLah! perks
Paylah! Is the ultimate everyday app for booking rides, booking tickets, ordering meals and more. Furthermore, you can earn and manage your card rewards points seamlessly, collect stamp cards that give you cashback and enjoy exclusive offers.
For example, if you need a ride, simply book a taxi with the ComfortDelGro (CDG) app and pay using DBS PayLah!.
Check out the multitude of DBS PayLah! promotions here.
Reduce interest paid on your home loan
Whether you are contemplating the purchase of a home, or already own one, any savings made on this long-term commitment can accumulate significantly. Reducing the amount of interest paid on your home loan translates to having more financial resources for your everyday spending.
If you are a new homeowner, enjoy cash bonuses when you take a new home loan with us. Find more here.
If you already own a property, and wish to refinance your existing home loan, you may wish to check out the wide range of attractive fixed and floating home loan interest rate packages here.
All in all
It is essential to channel the same motivation, energy and drive (you have as a gig worker), into your personal financial planning as well. With the suite of services and tools readily available, take charge of your financial future today!
Ready to start?
Speak to the Wealth Planning Manager today for a financial health check and how you can better plan your finances.
Alternatively, check out Plan & Invest tab in digibank to analyse your real-time financial health. The best part is, it's fuss-free – we automatically work out your money flows and provide money tips.
Tell us if this article helps you plan and achieve your financial goals

Disclaimers and Important Notice
This article is meant for information only and should not be relied upon as financial advice. Before making any decision to buy, sell or hold any investment or insurance product, you should seek advice from a financial adviser regarding its suitability.

All investments come with risks and you can lose money on your investment. Invest only if you understand and can monitor your investment. Diversify your investments and avoid investing a large portion of your money in a single product issuer.

Deposit Insurance Scheme
Singapore dollar deposits of non-bank depositors and monies and deposits denominated in Singapore dollars under the Supplementary Retirement Scheme are insured by the Singapore Deposit Insurance Corporation, for up to S$75,000 in aggregate per depositor per Scheme member by law. Monies and deposits denominated in Singapore dollars under the CPF Investment Scheme and CPF Retirement Sum Scheme are aggregated and separately insured up to S$75,000 for each depositor per Scheme member. Foreign currency deposits, dual currency investments, structured deposits and other investment products are not insured.