A house becomes your home, with the help of a loan

NAV TL;DR

If you don't have time to read through the whole article, you can check out our short version below:

Before you take a home loan, here are 4 things to note:



How much you can borrow depends on the loan-to-value, mortgage servicing ratio, and total debt servicing ratio, among other factors.

Generally, the older the property, the lower its potential resale value.

Consider the pros and cons of using cash, Central Provident Fund, or a mix of both to pay for the downpayment and monthly instalments.

Other costs include valuation fee, conveyancing fee, stamp duty, mortgage and fire insurance.

For most people, buying a house is one of the biggest financial decisions in life. This is especially so if it is your first home purchase. It is a place you can call your own, renovate to your own liking, live independently or grow into it with your family.
Funding that dream house often involves a loan.
A home loan is a type of secured loan, which means the house serves as the collateral in the event you default on repayments. "Mortgage" is often used synonymously with a house loan. A mortgage is the agreement that gives the bank or lender a legal claim over your property.

Loan-to-value (LTV) ratio
In Singapore, home loans are subject to LTV ratios that determine how much you can borrow from a bank or the Housing and Development Board to finance your property purchase. This is an important term to note, because it affects how much downpayment you will need. This could be paid in cash, using funds from your Central Provident Fund (CPF) Ordinary Account (OA), or a combination of both.
The LTV is influenced by factors such as your loan tenure, whether you are buying your first or subsequent properties, and the property lease.
Whether you are buying your first or subsequent properties
Based on selling price of a 4-room Build-to-Order HDB flat: S$350,000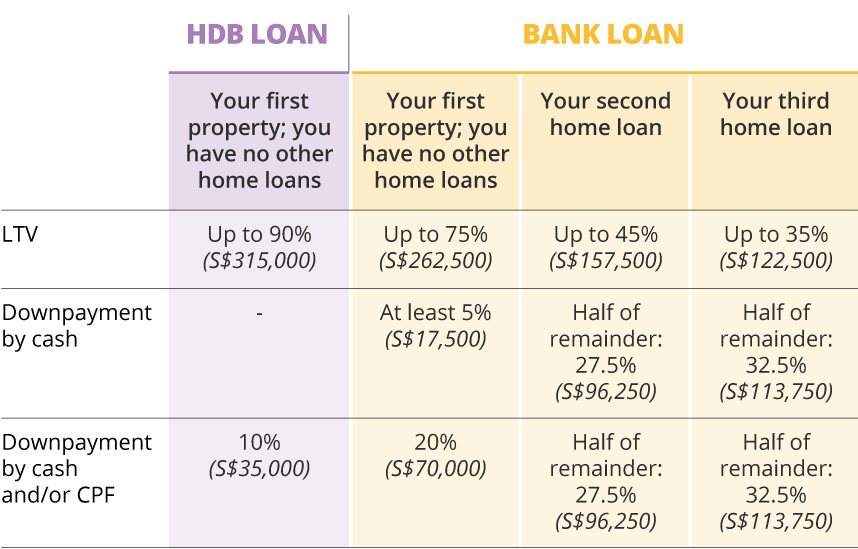 Notes:
a. Calculations are based on the assumption that you can secure the full LTV in all the scenarios. Note that in practice, the bank may opt not to give you the full LTV.
b. Calculations are based on the assumption that there is no cash over valuation (the difference between the value of the house and its actual selling price).
c. Selling price excludes grants and other subsidies.
Other factors affecting how much you can borrow are your mortgage service ratio (MSR) and total debt servicing ratio (TDSR).
Loans for HDB flats and executive condominiums are also subject to an MSR of 30%. This means banks can only lend you an amount up to 30% of your gross monthly income to service.
Meanwhile, the TDSR aggregates all your existing debt, such as credit cards, car loans, personal loans, and mortgages. The TDSR is capped at 60% of your monthly income, which means your total debt repayments cannot exceed 60% of your monthly income. Hence, it is important to consider your home loan along with all other existing or future debt.

In Singapore, properties with a lease of 999 years are considered freehold. There is a limited supply of such properties. The rest typically come with a 99-year lease.
It is therefore important to note the years left on the lease, as this may affect the ease of selling the property later on and its resale value. Generally, the older the property, the lower its potential resale value.
In addition, due to loan restrictions on older houses, the next buyer may need to cough up higher amounts in cash and/or CPF. For example, properties with less than 20 years of lease cannot be paid for using CPF monies. This was tightened from 30 years since May 2019.
New rules also stipulate that the total amount of CPF funds that can be used to pay for a house depends on whether the remaining lease can cover the youngest buyer until age 95. If the property's lease does not cover the youngest buyer until 95, the CPF and HDB loan amounts will be pro-rated accordingly.




Sources: Ministry of National Development, Ministry of Manpower


Consider whether you want to use cash, CPF, or a mix to pay for the downpayment and loan instalments. Using cash may mean having less liquidity for other expenses, including day-to-day needs.
Using CPF-OA funds means you will forfeit the 2.5% p.a. interest rate paid in OA, for that amount you are using. In addition, the accrued interest has to be repaid to your CPF account when you sell your property, before getting the next one.

Apart from downpayment and loan commitments, bear in mind other costs (one-off and regular) involved in buying and owning a property. These include the valuation fee, conveyancing fee, stamp duty, and mortgage and fire insurance.
While these tend to be smaller amounts than the downpayment and loan repayments, added together, they can nevertheless pinch your wallet.
Hence, consider these in totality before you buy that dream house and take the home loan.

Hello, we're NAV.
Inspired by the word "navigate", NAV is an initiative by DBS & POSB created to help you navigate your finances, your way. Whatever your financial goals are in life, no matter what situation you are in, we're here to help you on your financial journey.


Ready to start?
Speak to the Wealth Planning Manager today for a financial health check and how you can better plan your finances.
Alternatively, check out NAV Planner to analyse your real-time financial health. The best part is, it's fuss-free – we automatically work out your money flows and provide money tips.