Meet our finest and most talented professionals, bringing together years of expertise and experience in building wealth. Focused on helping you keep the freedom you've earned.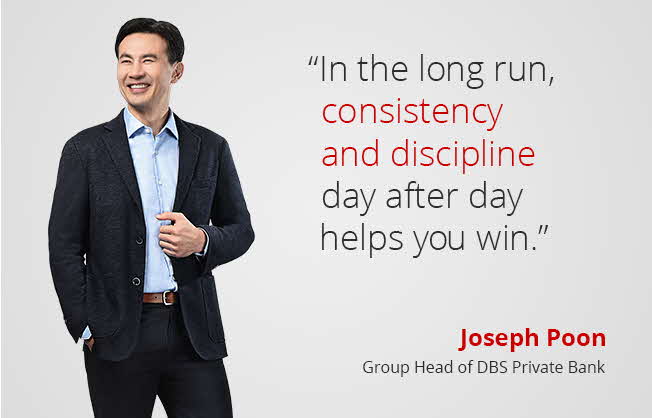 Managing Director and Group Head of DBS Private Bank, Joseph Poon starts his day at 4am, training for marathons. He sees the parallel between running a race and running the Private Bank business in the consistency and discipline needed for both.
Joseph is also Head of DBS Treasures Private Client in Singapore and Hong Kong, a responsibility he took up to after his role as Region Head of Southeast Asia.
He brings to DBS over 20 years of banking experience, most recently from his role in UBS. As Southeast Asia Head of the Ultra High Net Worth segment and Head of Global Family Office, Southeast Asia, he drove the strategic growth for UBS' highest valued clients by delivering bespoke solutions across the bank's Investment Banking, Asset Management and Wealth Management segments.
At Julius Baer, he was the Head of Co-Investments & Private Equity and a member of the Asia Management Committee. Before that, Joseph was the Asia Head of Macquarie's Private Wealth business, which he had established. Prior to that, he led JPMorgan Private Bank, Southeast Asia.
Joseph holds a B.C.A. and a B.A. from Victoria University of Wellington, New Zealand. He is a CFA charter holder and a board member of the CFA Association Singapore for 16 years.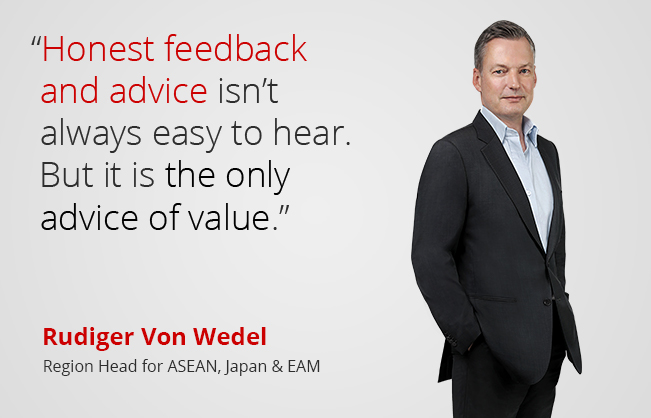 Explorer of remote places and fan of racing cars, Rudiger is no stranger to risk. Having a deep understanding of risks and preparing for them is a central tenet in his approach. And with it the commitment to communicate to clients what he feels they need to hear, instead of what they may want to hear.
Rudiger joined DBS Private Bank in 2018, and is the Region Head for ASEAN, Japan and External Asset Managers. A 30-year veteran in banking, he has lived and worked in 10 countries – which gives him a uniquely global perspective and insights. Rudiger has significant experience in the European banking scene working in Holland, Germany, France and Austria, as well as in the MENA region.
Before joining DBS he headed the Global Wealth division of the National Bank of Abu Dhabi and over seven years, established it as one of the leading Private Banking and Asset Management providers in the MENA region.
Prior to that, Rudiger spent 19 years at ABN AMRO, with senior roles in Private Banking, Group Strategic and Corporate Finance. His last position with ABN AMRO was as the Group CEO of Private Banking.
Rudiger holds a Bachelor of Economics from the London School of Economics, and a Master of Business Administration from INSEAD.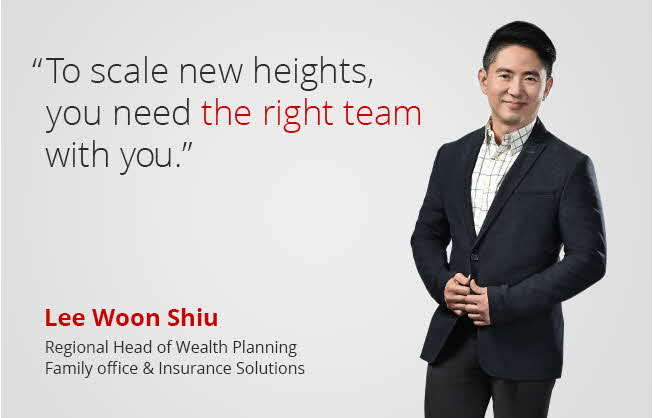 An avid mountain trekker who has summited Kinabalu, Tahan and Rinjani, Woon Shiu believes in the power of teamwork. He approaches wealth planning in a similar way, counting on the collective focus and solidarity of the team to scale new heights.
He has over 20 years of expertise in family office structuring, trust, high net worth life insurance strategies and estate planning services in Asia Pacific, with particular emphasis on China, Taiwan, Hong Kong & South East Asia.
Having advised numerous ultra-high net worth families in Asia Pacific in the strategic structuring of their estate and succession concerns, Woon Shiu also regularly engages multi-generations of such families on establishing and implementing family governance and philanthropy strategies.
Woon Shiu is concurrently Adjunct Professor at the Wealth Management Institute at the Nanyang Technological University of Singapore, and has been invited to speak at Tsinghua University Beijing and Xiamen University China.
His views on issues relating to family business succession, family governance and family offices are featured regularly in media such as the Financial Times, Barrons Asia, South China Morning Post, China Daily, the Singapore Business Times and the Hong Kong Economic Times.
Woon Shiu graduated with a Bachelor of Laws (Honours) 2nd Upper Division from the National University of Singapore where he was a Law Society of Singapore Book Prize Winner. He is an Advocate & Solicitor of Singapore, a Solicitor of England & Wales and an accredited Trust & Estate Practitioner.
 
As the Chief Investment Officer, Hou Wey Fook invests the way he golfs – every shot carefully calculated for risk and reward. It's a discipline he attributes to his training as an engineer, which means listening to the math even if it goes against human nature.
Wey Fook joined DBS in September 2017, and is responsible for investment strategies in DBS, which include global strategic and tactical asset allocations for our clients.
With over 30 years of fund management experience, Wey Fook was most recently at Bank of Singapore where he held various senior management roles, including Chief Investment Officer, and Head of Discretionary Portfolio Management (DPM) and Funds.
Starting his career at Government of Singapore Investment Corp (GIC), Wey Fook joined OCBC Asset Management, and subsequently ING Asia Private Bank (later renamed Bank of Singapore). He holds a B.E. from the National University of Singapore, and is also a CFA charter holder.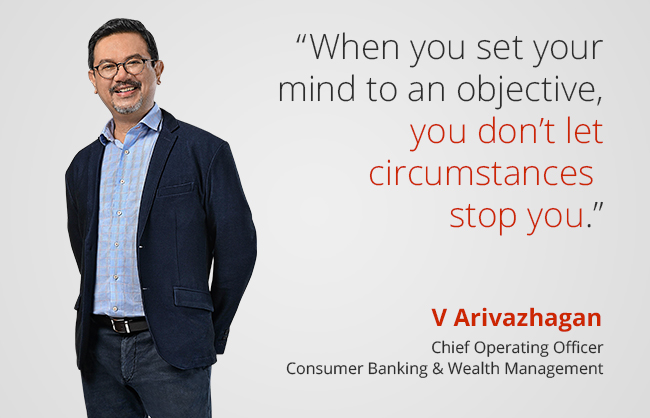 Clarity of thought and perfection in execution defines Ari's style.
In the complex operations of a multi-market and highly-regulated world, this clarity and discipline in Wealth Management practices ensures our operations work smoothly and seamlessly for our clients. As Chief Operating Officer, he most recently led the acquisition and integration of Société Générale private banking business in Singapore and Hong Kong, and ANZ's wealth and retail banking across 5 countries.
Beginning his career with DBS Bank in 1998 advising on Treasury and Markets solutions, Ari quickly progressed to a leadership role in DBS Private Bank in Hong Kong, before returning to Singapore as Head of Regional Investment and Treasury Products.
Ari holds a BA in Business Administration from National University of Singapore and an MBA from London Business School.