Access to the best people. It's a given.

Behind every great person is a great team. Meet our finest and most talented professionals, bringing together years of expertise and experience in building wealth.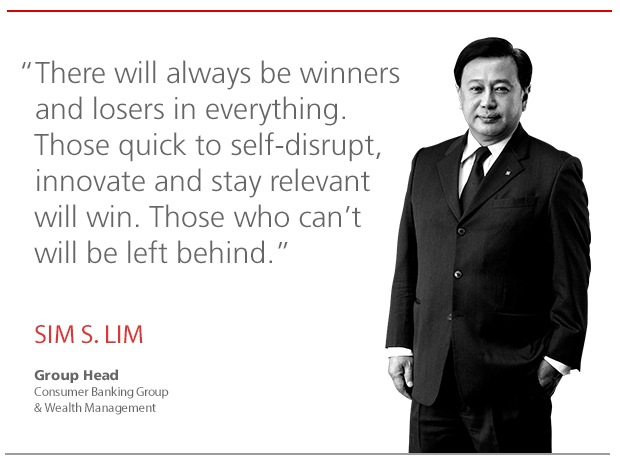 Sim is responsible for leading DBS' group consumer banking and wealth management business, following his appointment to the role on 1 January 2019. Prior to this, he spent eight years as DBS' first country head with dedicated oversight for Singapore, during which he focused on delivering greater synergy and value across the bank's Singapore franchise.

In his over 35 years of banking experience, Sim spent his career in Asia, North America and the Middle East. Prior to joining DBS, Sim was the President and CEO of Nikko Citigroup Limited, a position he held from June 2008 to December 2009. During this time, Sim was also a board member of Nikko Citi Holdings, Inc. He was responsible for all corporate & investment banking, institutional brokerage and fixed income & equity trading for Citigroup in Japan.

During his international banking career, Sim held a wide variety of roles spanning Kuala Lumpur, Tokyo, New York, Saudi Arabia, Hong Kong & Singapore. In 2007/2008, he was Citigroup Country Officer, Hong Kong and also served as Chairman of Citibank Hong Kong Limited. During his tenure, he managed the Citigroup Hong Kong country franchise, including developing the strategy for Hong Kong's markets and banking franchise, and providing support to the consumer and wealth management businesses. Between October 2003 and March 2007, Sim was Regional Head of Emerging Markets Sales and Trading for the Asia-Pacific, based in Singapore. He was responsible for all sales and trading in foreign exchange, local currency derivatives & money markets, fixed income trading & origination in the 13 markets across Asia Pacific. During this period, he was also the non-executive Chairman of Citibank Berhad Malaysia.

Sim is also presently Chairman of DBS Vickers Securities Holdings Pte Ltd. He was appointed Chairman of Singapore Land Authority in August 2014 and also sits on the Board of Nikko Asset Management Co., Ltd. in Japan, and on the Board of ST Engineering. He has also been appointed as Singapore's High Commissioner (Non-Resident) to the Federal Republic of Nigeria in March 2018.

Sim was a Japanese government Monbusho scholar and graduated with his Bachelor's in BA from Yokohama National University, Japan in 1983.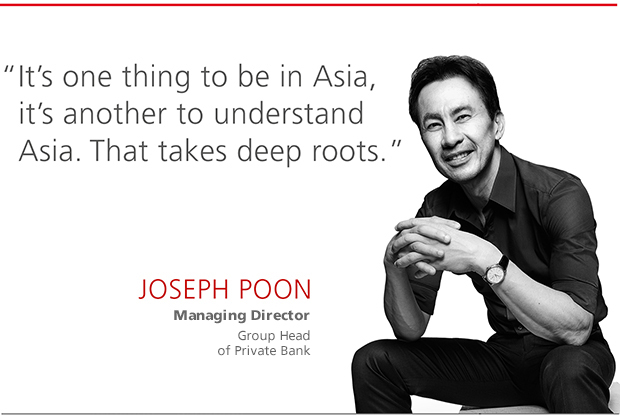 Joseph Poon is Managing Director and Group Head of DBS Private Bank. He is also Head of Treasures Private Clients for Singapore and Hong Kong locations. In addition, he is also the Head of the Singapore Investment Centre, and a Member of DBS Singapore Management Committee. He also serves on the various committees within the bank, including the Singapore Human Capital Committee and the Business Control Committee. Prior to that, he was the Region Head of Southeast Asia. Joseph has over 20 years of banking experience and joined DBS from UBS where he was Southeast Asia Head of the Ultra High Net Worth segment. He was also the Head of Global Family Office, Southeast Asia. Joseph was leading the businesses that drove the strategic growth for UBS' highest valued clients by delivering bespoke solutions across the bank's Investment Banking, Asset Management and Wealth Management segments.
Joseph was the Head of Co-Investments & Private Equity, and a Member of Julius Baer's Asia Management Committee. Prior to Julius Baer, he was the Asia Head of Macquarie's Private Wealth business, which he had established. Before establishing Macquarie Private Wealth Asia, he was the Head of JPMorgan Private Bank, Southeast Asia. Joseph graduated with a Bachelor of Commerce and Administration, and a Bachelor of Arts, from Victoria University of Wellington, New Zealand. He is a CFA charter holder and had served as a board member of the Chartered Financial Analyst Association Singapore for 16 years.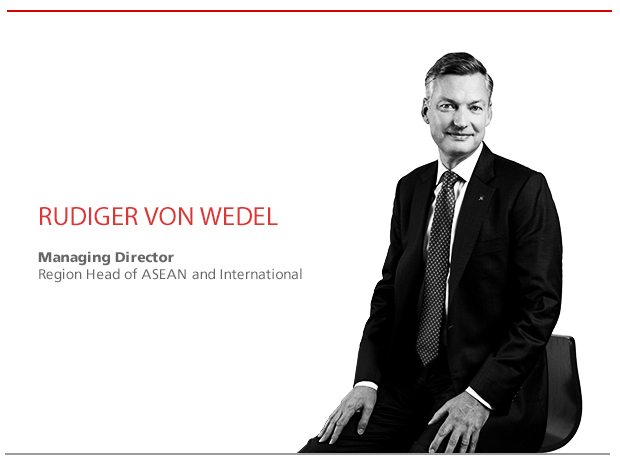 Rudiger joined DBS Private Bank as Managing Director and Region Head of International in November 2018, bringing over 25 years of experience in the banking industry with him. Since 1 January 2020, Rudiger is the Region Head for ASEAN and International. In his last role, Rudiger was the Head of Wealth Management and Private Banking cum Regional CEO (Europe and Americas) at First Abu Dhabi Bank. Before that, he had a 7-year tenure as the CEO of the Global Wealth Division at NBAD. During that time, he built NBAD's wealth focused activities - comprising of Private Banking, Asset Management, Brokerage, and Custody – bringing NBAD to a leading position among Arab providers of wealth and asset management in the MENA region. Prior to that, Rudiger was with ABN AMRO for 19 years, where he assumed a wide range of senior roles in Private Banking, Group Strategic and Corporate Finance. He has significant experience in the European banking scene, having worked in Holland, Germany, France and Vienna. His last position with ABN AMRO was as the Group CEO of the Private Banking division. He was also a member of ABN AMRO's Group Business Committee. Rudiger holds a Bachelor of Economics from the London School of Economics, and a Master of Business Administration from INSEAD.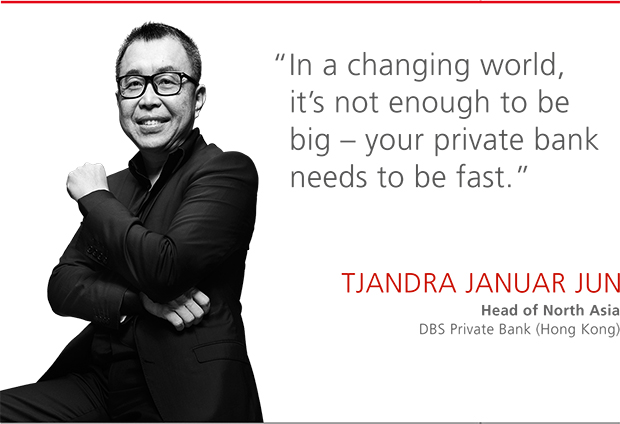 Mr Tjandra Januar Jun joined DBS Bank (Hong Kong) Limited as North Asia Head of Private Banking in August 2013. He is now managing and developing DBS' private banking business in Hong Kong, Macau, Mainland China and Taiwan.
Prior to joining DBS, Januar was a Managing Director for Barclays Wealth in Hong Kong, where he was Head of Greater China. He also spent 16 years with Goldman Sachs, most recently as Executive Director of the Investment Management Division. Januar started his banking career in fixed income sales in Taiwan.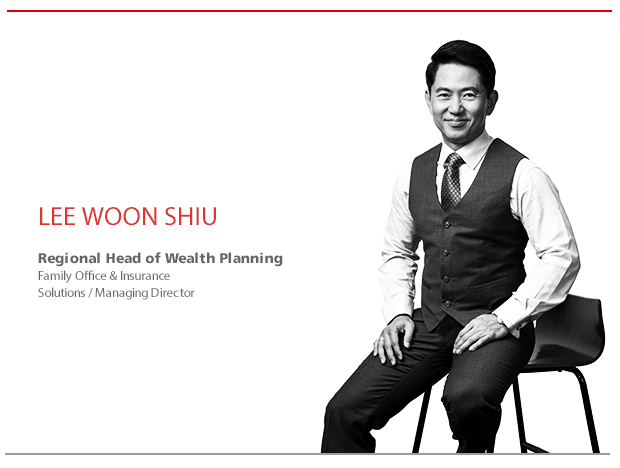 Woon Shiu has over 20 years of expertise in marketing, client development and professional training aspects of family office structuring, trust, high net worth life insurance strategies and estate planning services in Asia Pacific, with particular emphasis on China, Taiwan, Hong Kong & South East Asia. He has extensive experience in advising numerous ultra-high networth families in Asia Pacific in the strategic structuring of their estate and succession concerns, and also regularly engages multi-generations of such families on the establishment and implementation their family governance and philanthropy strategies. Woon Shiu is concurrently Adjunct Professor at the Wealth Management Institute @ Nanyang Technological University of Singapore where he regularly lectures on wealth structuring & estate succession for private bankers, lawyers and trust practitioners. He has also been invited to speak as a guest lecturer in overseas universities such as Tsinghua University Beijing and Xiamen University China. His views on issues relating to family business succession, family governance and family offices are featured regularly in media such as the Financial Times, Barrons Asia, South China Morning Post, China Daily, the Singapore Business Times and the Hong Kong Economic Times. In his leisure time, Woon Shiu contributes as a volunteer art docent where he has been serving at the Singapore Art Museum for over 22 years and the National Gallery since its inauguration.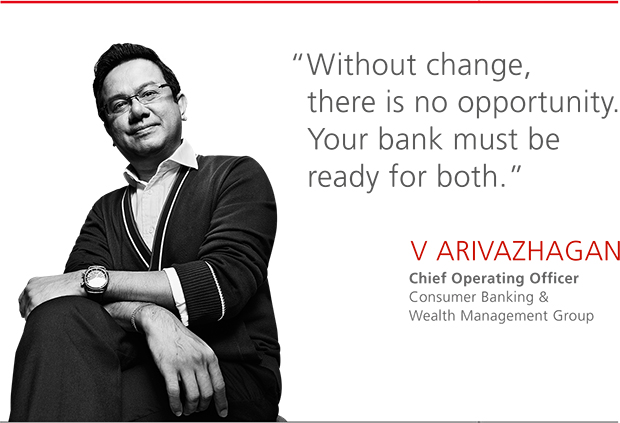 V Arivazhagan became the COO of the Consumer Banking & Wealth Management Group in August 2014. He is responsible for implementing key business and operational strategies, and developing a leading, integrated client experience across the bank's retail and wealth segments. Previously Head of Regional Investment and Treasury Products for the Consumer Banking Group, V Arivazhagan originated and marketed product solutions to fit the needs and risk profiles of DBS clients.
Prior to joining the Consumer Banking Group in 2009, Ari was the Investment Product Head for DBS Bank Ltd's Private Bank in Hong Kong. Ari began his career with DBS Bank Ltd in 1988, providing advice on Treasury and Markets solutions to corporations and financial institutions.