Why S$100,000 could turn into S$74,008
Left uninvested and at the current rate of 2% inflation in Singapore, your money will lose 25.99% of its value in 20 years – from S$100,000 to S$74,008.
For the same price of your cup of coffee today, 20 years down the road, you'll get a quarter lesser. If you want to see how inflation has affected the prices of various categories of expenses in the past, you can use this handy calculator.
How you can Beat Inflation
A good way to combat inflation is to build a stable investment portfolio that maximises returns while keeping risks under control.
Remember that it is important to diversify so you reduce the volatility of your portfolio.
Diversification maximises your returns by investing in different assets that react in a dissimilar manner to the same event.
Here are some investments to build your portfolio and beat inflation.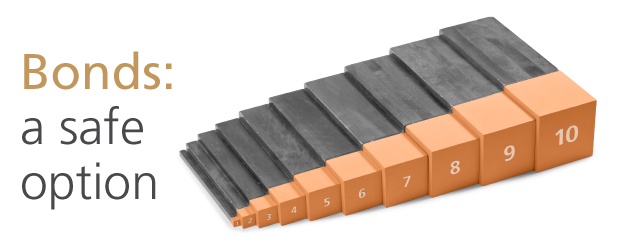 Government bonds such as Singapore Savings Bonds can be a good option. At the beginning of each month, the Monetary Authority of Singapore will announce the interest rates for the entire 10-year term of that Savings Bond issue.
For example, if you were to buy in April 2018 and hold it till maturity, you can earn a return of 1.42% to 2.31% (which is above the current inflation rate of 2%). This interest rate is based on buying the Singapore Savings Bonds in April 2018 and holding it for 10 years. Purchase this month's bond.
| | | | | | | | | | | |
| --- | --- | --- | --- | --- | --- | --- | --- | --- | --- | --- |
| Year from issue date | 1 | 2 | 3 | 4 | 5 | 6 | 7 | 8 | 9 | 10 |
| Interest, % | 1.42 | 1.77 | 2.02 | 2.25 | 2.41 | 2.51 | 2.59 | 2.67 | 2.79 | 2.97 |
| Average return per year, %* | 1.42 | 1.59 | 1.73 | 1.86 | 1.96 | 2.05 | 2.12 | 2.19 | 2.25 | 2.31 |
*At the end of each year, on a compounded basis
Corporate bonds are another option. But if they offer a high rate of return, you need to verify if the issuing company is sound. If a firm is willing to pay high interest rates, it could be a sign of lower credit quality.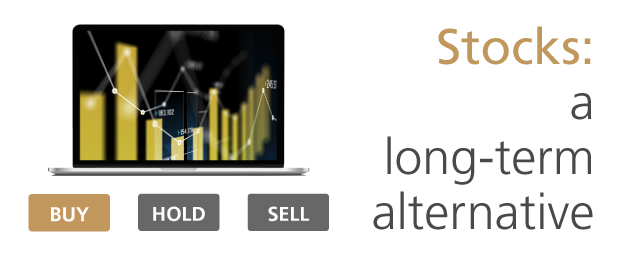 Company stocks can be a good long-term investment alternative. The averaged out returns of the MSCI World Index (measures the performance of large and medium-sized companies in developed markets)over the past 10 years is 6.03%. This is higher than that of Singapore's current rate of inflation.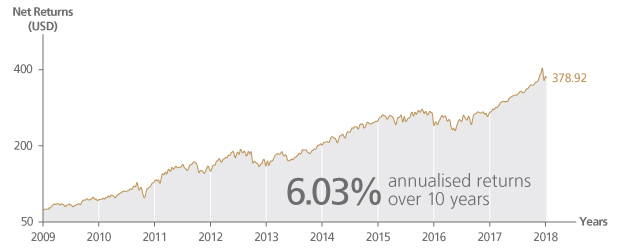 If you want to make money by investing in stocks, don't make a purchase merely because of a friend's recommendation, you must do your own research and devote time to understanding the intricacies of the market. But if you don't have the time, you can opt for an equity ETF or an equity mutual fund.
Funds, which are also known as unit trusts, can help you make gains from the stock market when the market moves up, while minimising your risks. There are many different types of funds and it is possible to select one that matches your risk profile.
Fund managers with a deep professional understanding of the markets will conduct detailed research – time and resources that an individual investor may not have – before deploying your funds in your chosen asset class. Your fund manager ensures the fund is performing well against the market's performance, which is a way to beat inflation.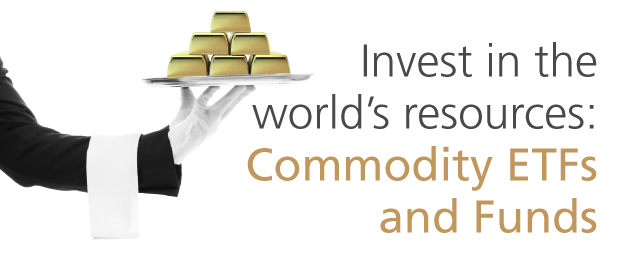 The rapid rise in stock markets around the world has made it even more necessary to diversify your investments. How do you gain exposure to other resources?
Buying commodities is a way to hedge your investments in equities and bonds, and enabling you to participate in the world's economy. Instead of buying the actual material, you can purchase a commodity exchange-traded fund (ETF) or unit trust, which invest in gold bullion, silver, or oil, natural gases and other commodities on your behalf. An increase in the price of the commodity will lead to a rise in the ETF's share price. Of course, commodity prices are difficult to predict and commodity ETFs carry their own share of risks.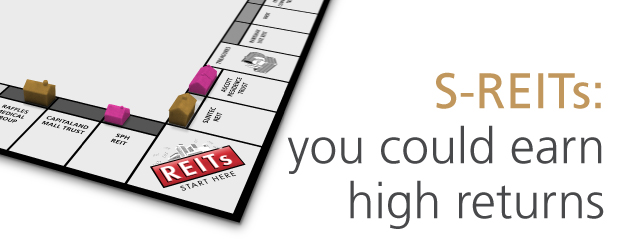 REIT is an acronym for "real estate investment trust". S-REITs are REITs that are traded on the Singapore exchange. They pool investors' capital and buy commercial, residential or industrial properties.
REITs collect rent on the properties that they own and pay a dividend to their unitholders from these funds. If property prices rise, your units will appreciate. This a good strategy to help you catch-up with inflation. Learn more about its appeal.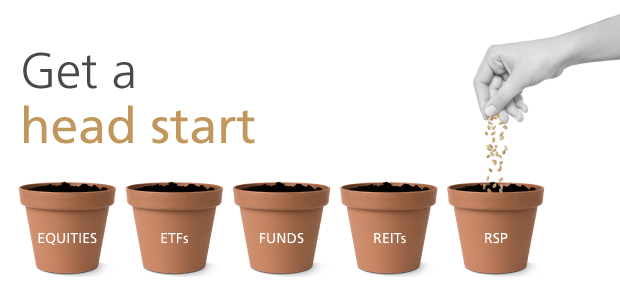 Set up a Regular Savings Plan
If you're still a fan of setting aside a fixed amount of money each month, a Regular Savings Plan could be right up your alley. This lets you invest in unit trusts from as little as only $100 a month. The regular investment means you buy more units in months when prices are low, and fewer when they are high – eventually bringing down the average unit price to let you enjoy Dollar Cost Averaging.
Get an Online Equity Trading or Online Funds Investment Account
You can also access the equity markets and funds by opening an Online Equity Trading Account and Online Funds Investment Account. These accounts will also allow you to purchase Stocks, Funds, ETFs and S-REITs.
Disclaimers and Important Notices
This article is for information only and should not be relied upon as financial advice. Any views, opinions or recommendation expressed in this article does not take into account the specific investment objectives, financial situation or particular needs of any particular person. Before making any decision to buy, sell or hold any investment or insurance product, you should seek advice from a financial adviser regarding its suitability. This article is not intended for distribution to, or use by, any person or entity in any jurisdiction or country where such distribution or use would be contrary to law or regulation.