10 years to earn his University fees
Rising tuition fees, living expenses and inflation will all dramatically increase the cost of sending your child for higher education. Especially if you're considering a university in the US, UK or Australia.
Exactly how much are we talking about? Let's take a look.

While prudent choices and budgeting help to manage living expenses, tuition expenses are largely beyond your control.
Making up a third of expenses, they can rise faster than inflation:
In the US, private college fees grow by 4.9% annually; over 2X faster than inflation1
In the UK, legislation passed in 2017 allows universities to increase fees year on year regardless of teaching quality2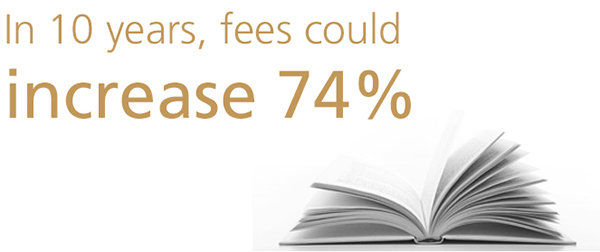 Assuming an average increase of 3% in inflation annually, the cost of a tertiary education abroad will almost double. And as the cost of living in each country rises at different rates, that number can be even higher depending on where your child studies.

Highly likely. With costs breaking the S$400,000 mark, and the potential future of future regulatory and economic uncertainties, it's wise to work in a buffer. An amount of 20% is advised.
But don't worry. While S$500,000 is a big number, 10 years is a long time. It really depends on when you start. And when it comes to investing, time really is money.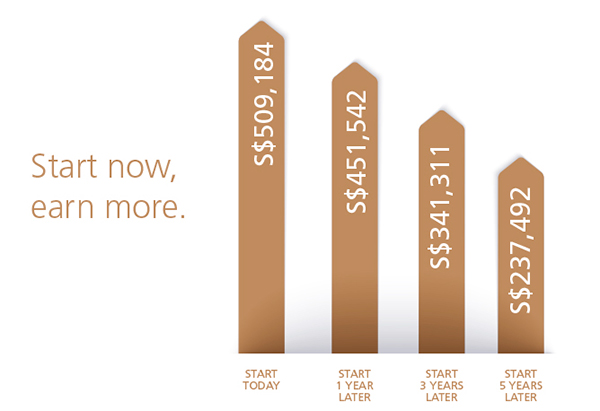 Each year you delay could cost you dearly. In fact, investing 5 years later may yield less than half of your target. Let's assume you invest S$3,000 a month, at an annual return of 3%. Over 10 years, compounded interest gets you closer to your target amount.

To get closer to your target of $500,000, you could complement your savings by setting aside some funds to build a balanced investment portfolio. You could combine asset classes and financial plans like government savings bonds, endowment plans, unit trusts, equities and others. Select them according to the risk level you're comfortable with. But remember to include enough variety to spread your risks.
Stocks
These could bring you higher returns. Take the stocks on the Straits Times Index – they've gained over 19% in 20174. Just take note of higher risks, as stock markets can be volatile.
Unit Trusts
This investment pools your money with that of various investors, letting you own a portion of diversified assets. The funds are professionally managed, and often monitored on a daily basis. With funds ranging from higher risk to lower risk, you should be able to find one to suit the level of risk you are willing to take.
Endowment Plans
For more predictability, endowment plans offer the risk-averse more stable returns. You'll contribute a regular amount for a fixed period, which usually gives you additional insurance benefits. At maturity, you'll also get guaranteed returns. This payout may be higher if you also receive non-guaranteed returns.
Government Savings Bonds
Gain returns of 2-3% a year or over 20-30% for a 10-year term5. Your returns may be low, but the lower risk gives you peace of mind.
Bank Fixed Deposits
Another safe investment, it lets you save a fixed amount (in either Singapore Dollars or your choice of foreign currencies) at a fixed interest rate for a fixed duration. While you only need a small amount of money to begin, interest rates hover between 0 – 1%, yet still not beat the rate of inflation.
Disclaimers and Important Notices
This article is meant for information only and should not be relied upon as financial advice. Before making any decision to buy, sell or hold any investment or insurance product, you should seek advice from a financial adviser regarding its suitability.