Spice up your portfolio with personalised alerts
As all food lovers are aware, the best gastronomic tips come from those in the know. Being alerted of available seats at the hottest new restaurants means you can act quickly to secure yourself a favourable position ahead of the crowd.
Investing and managing your portfolio should be as easy as making a restaurant reservation. Being occupied with career, life and family, it's difficult to watch the market all the time to track price movements or find more investment opportunities. That's why receiving helpful alerts on market movements makes investing easier.
That's why with our new personalised investment alerts, you will have timely market insights proactively delivered to you, making investing easier for you.
Know when your stock prices move significantly so you can take action without spending every minute watching the market
Discover new stocks to expand your investment options
Be automatically notified when FX rates move in your favour
With investment alerts on your holdings, monitoring your portfolio and acting fast to take the right step for your investments is even more effortless.

We all appreciate timely information on new restaurant promotions and special menus so we can enjoy them while they're available. In the same way, our digibank app will alert you when your stocks make significant price movements, such as when they hit a 52-week high or low.
With timely alerts served to you, you'll get the information you need to seize the right opportunity for your investment portfolio with just a few taps on your phone. Whether it's buying on a dip, selling at a high or holding your position, you won't miss the chance just because you were unaware of a price movement on your holdings.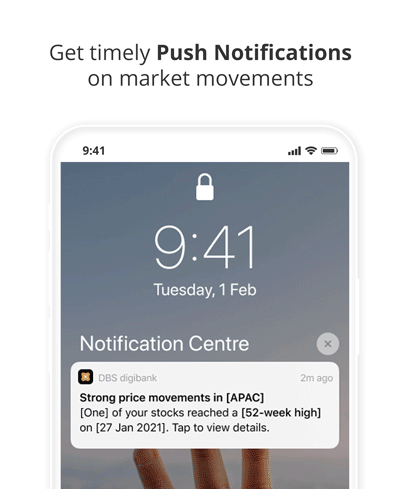 Our portfolio of favourite food grows when we receive good suggestions from trusted sources. Our personalised investment alerts can do the same for your investment portfolio.
Building on stocks you've been interested in, you'll receive customised suggestions of similar stocks to consider based on features such as industry sector, geography and financial ratios. Research the suggested companies, invest if they are right for you, and diversify your portfolio easily by making your investment through digibank.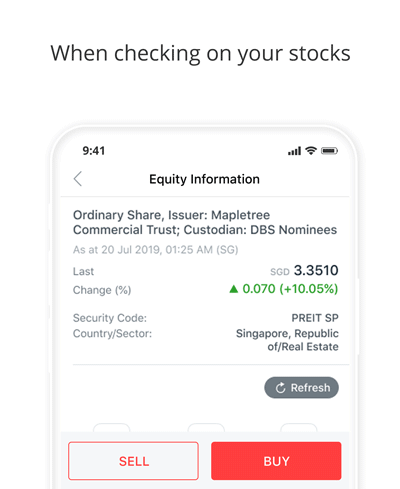 Discover international flavours of markets around the world as our alerts diligently monitor market movements and highlight equity investments across seven markets: Singapore, Hong Kong, Japan, Australia, United Kingdom, United States and Canada.

The investment alerts empower you with timely market insights so you can choose your next investment move that suits your palate and investment strategy.
When a stock price moves up, some investors may choose to sell while others may choose to buy more shares, believing the company has greater growth potential. As everyone has a different strategy, the action taken following a personalised alert should be based on your investment strategy, time horizon, risk profile and goal as the alerts are not an investment recommendation. Some people will choose Otoro sushi while others prefer a Tomahawk steak.
Like having an attentive maître d at your service, you won't have to lift a finger to subscribe to the personalised investment alerts or manually set multiple parameters. It will be automatically available to you through your online trading platform and will monitor the markets so you won't have to anxiously keep a lookout. Enjoy your favourite food and spend time on what you love while we help you track major market movements.
Stay on top of the market, invest easily and seize opportunities with our personalised equity alerts on DBS digibank.
Disclaimers and Important Notice

This article is for information only and should not be relied upon as financial advice. Any views, opinions or recommendation expressed in this article does not take into account the specific investment objectives, financial situation or particular needs of any particular person. Before making any decision to buy, sell or hold any investment or insurance product, you should seek advice from a financial adviser regarding its suitability. This article is not intended for distribution to, or use by, any person or entity in any jurisdiction or country where such distribution or use would be contrary to law or regulation.