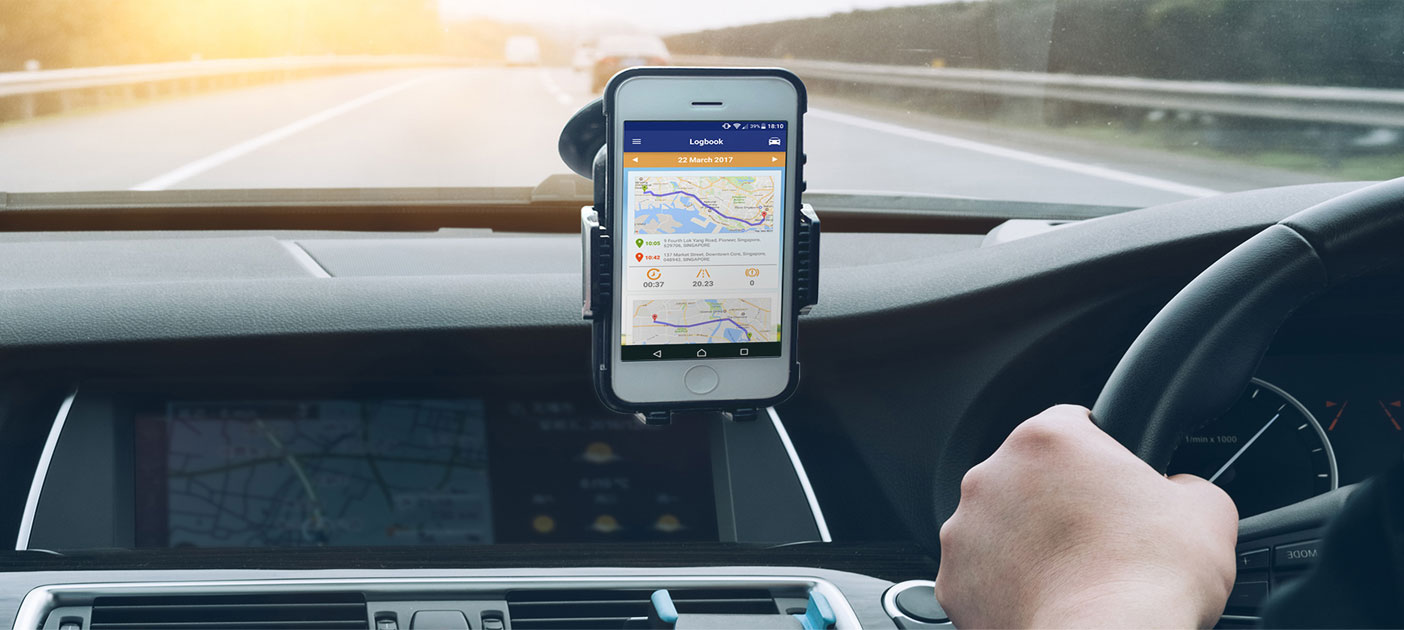 At a Glance

Up to S$150 cash
When you install the free telematics device

Up to 100% excess for safe drivers

Lower premiums
With a good drive score on renewal
DriveShield Plus is Singapore's first car insurance policy to base your premium on your driving habits - the safer you drive, the lower your premium. With a small on-board telematics device installed in your car, you'll be all set to turn your safe driving into savings.
DriveShield Plus comes with a complementary MSIG Connected Car mobile app. It allows you to assess your driving in real time so that you can improve your driving for a good score. Drivers with a good score can enjoy waiver of standard excess and even lower premiums at the next insurance renewal!
 
Get a Quote
By clicking the "Quote now" button, you will be leaving our website to access Stark Group Pte Ltd.'s website. Please ensure that you understand insurance product features and terms before purchasing.
 
Features & Benefits
Get comprehensive coverage for your car against accidental loss or damage

Get a free telematics device and complimentary installation, worth more than S$250

Receive up to S$150 cash upon free installation of the telematics device

Install the device within 30 days from the policy commencement date and receive a cash reward from MSIG:
a. S$100 cash for Value Plan
b. S$150 cash for Premier Plan

Track and improve your driving

Enjoy up to 100% excess waiver for safe drivers, at the time of claim

With a good drive score, enjoy more savings upon your insurance renewal with MSIG the following year

Real Time Location Tracking in Singapore and West Malaysia (optional benefit)

Locate your car in real time with the MSIG Connected Car mobile app
Receive up to S$1,000 per policy year for personal effects from the insured car
 
How it Works
In 4 easy steps, you will be all set to turn your safe driving into savings.
 
MSIG Connected Car mobile app
Get real time feedback and driving tips to improve your driving

Measure & monitor your real mileage and distance travelled (up to 30 days on mobile app)

No more guesswork and fuss, just tap on the app to find out which parts of the month you drive the most

Access the one-push emergency button for 24/7 Automobile and Medical Assistance Services

Never forget where you park again. Simply locate your car via the app anywhere in Singapore and even in West Malaysia
 
Understanding the Excess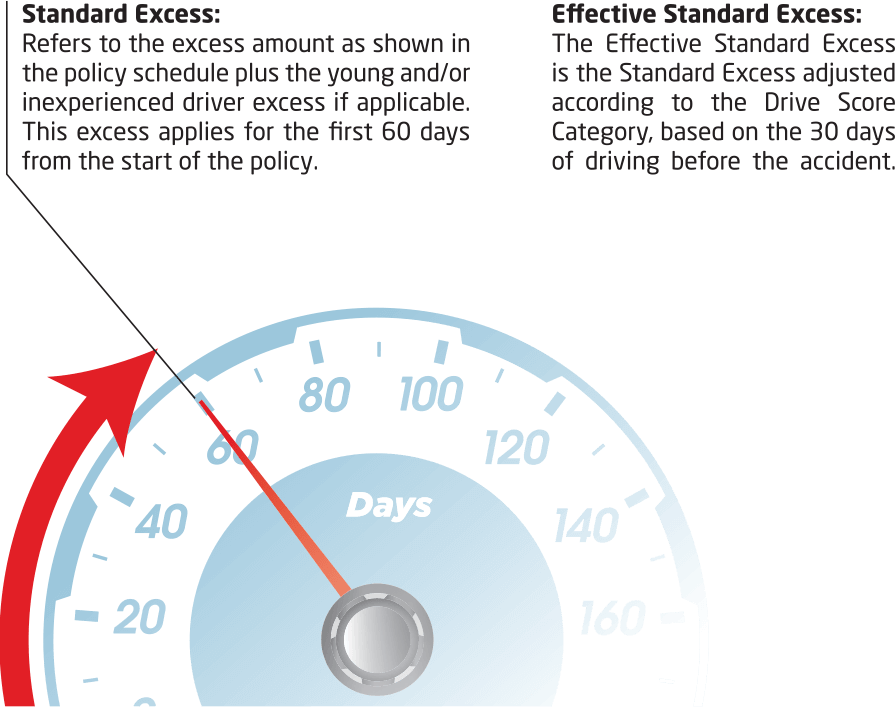 Drive Score Category & Effective Standard Excess
There are 4 Drive Score Categories and the Effective Standard Excess is derived from the respective Drive Score Category. Policyholders in the Green and Yellow drive score categories will enjoy a waiver of Excess as below: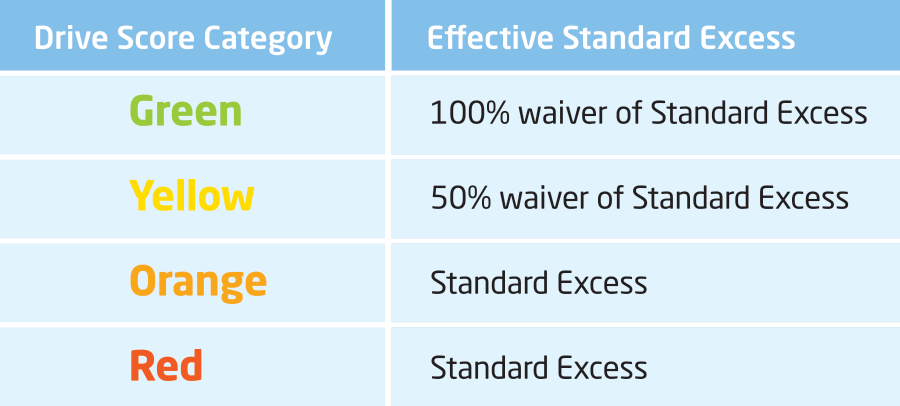 Drive Safe, Pay Less
Scenario 1
Samantha's 24 year-old son just got his driver's license. He drives her car and gets into an accident. In addition to Samantha's Standard Excess of $500, the Young and/or Inexperienced driver excess of $3,000 applies as the car was driven by her son. (A young and/or Inexperienced driver refers to a driver aged below 27 years old and/or has held a valid driving license of less than 2 years.)
If Samantha's last 30 days Drive Score was in the green category.
Her total Standard Excess is $3,500. In this scenario, not only will she enjoy the 100% waiver of her Standard Excess, the Young and/or Inexperienced driver excess of $3,000 for her son, will also be waived in full.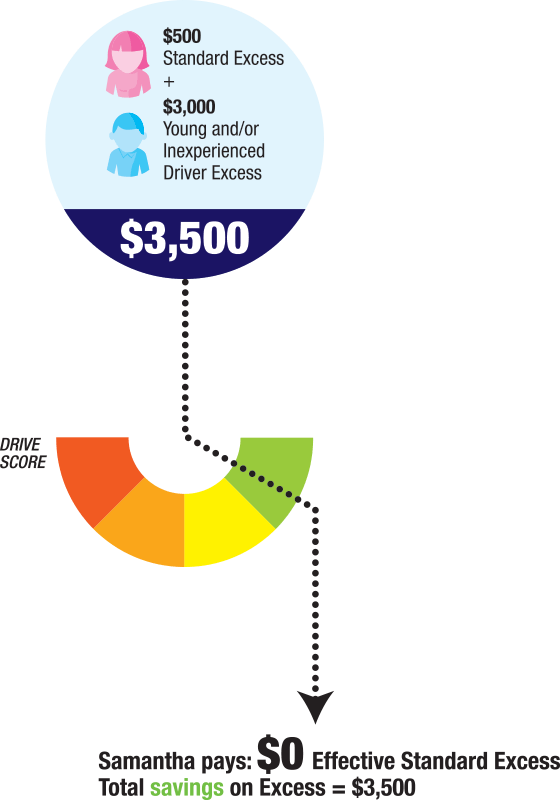 If Samantha's last 30 days Drive Score was in the red category.
Her total Standard Excess is $3,500. As her drive score is in the red category, there is no waiver of Excess.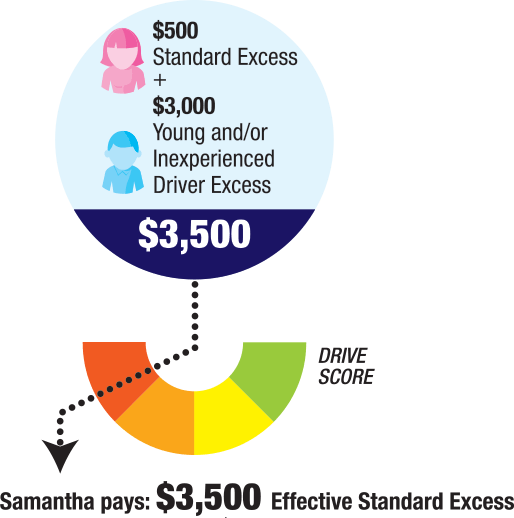 Scenario 2
Steven is 26 years old and has been driving for less than two years. His Standard Excess is $3,000.
If Steven's last 30 days Drive Score was in the green category.
His Effective Standard Excess is $0, as he will enjoy 100% waiver of Excess.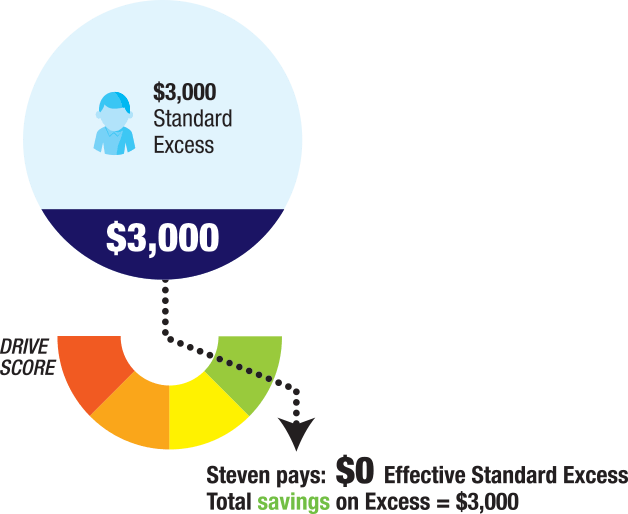 Frequently Asked Questions
---
---
---
---
 
Contact Us
Call MSIG Insurance Customer Centre at 6827 7608 (Monday to Friday, 8.45am to 5.30pm)
Please refer to the policy wordings for the full details of the benefits, terms, conditions and exclusions of the insurance policies.
Terms and Conditions Governing Purchase of Insurance Products from MSIG Insurance via the DBS website.
Disclaimers
DriveShield Plus is underwritten by MSIG Insurance (Singapore) Pte. Ltd. ("MSIG Insurance") and distributed by DBS Bank Ltd ("DBS"). It is not an obligation of, deposit in or guaranteed by DBS. This is not a contract of insurance. Full details of the terms, conditions and exceptions of these insurance plans are provided in the Policy and will be sent to you upon acceptance of your application by MSIG Insurance.
This Policy is protected under the Policy Owners' Protection Scheme which is administered by the Singapore Deposit Insurance Corporation (SDIC). For more information on the scheme, please visit the General Insurance Association or SDIC websites.
Related
Thank you. Your feedback will help us serve you better.
Was this information useful?
That's great to hear. Anything you'd like to add?
We're sorry to hear that. How can we do better?
Enter only letters, numbers or @!$&-/()',.