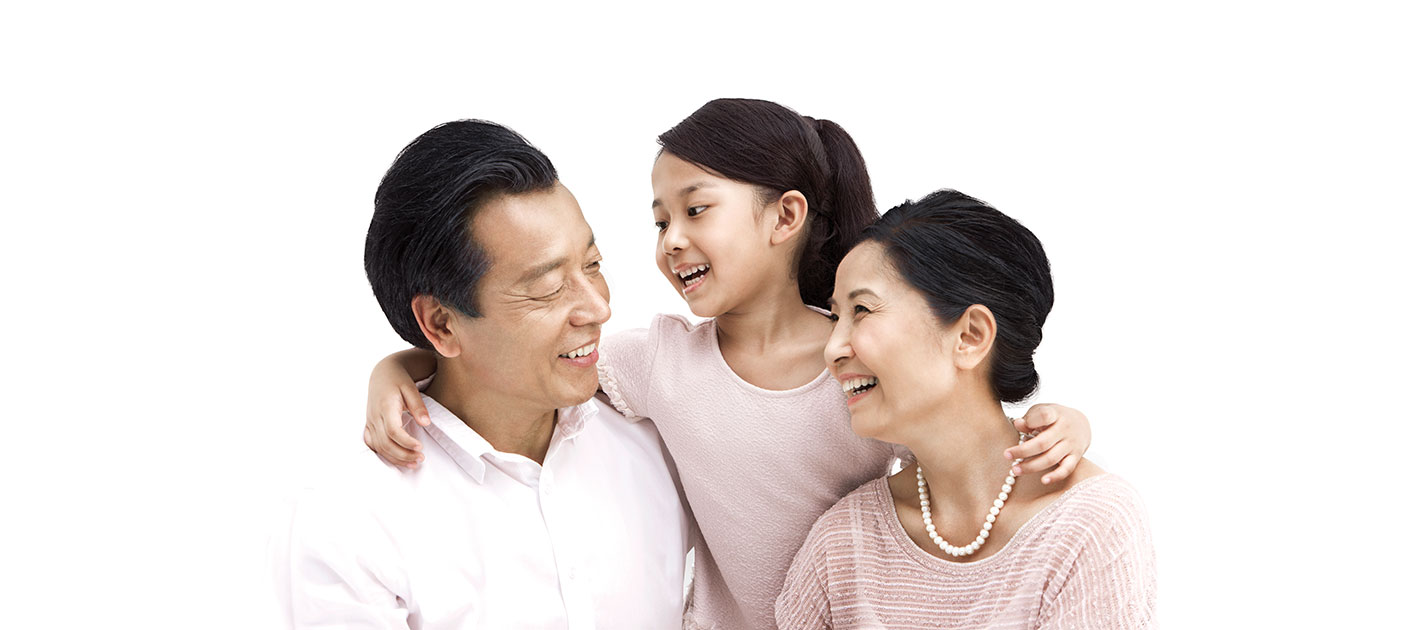 At a Glance

Flexible premium option
Choose from a range of premium payment options

Maximum cost of insurance rates
Capped at 110% of current rates

Minimum guaranteed crediting rate
Peace of mind with a minimum crediting rate
Contact me
 
Features & Benefits
Start planning with Heirloom (VII) – this flexible premium universal life insurance plan is designed to preserve your estate while providing a financial solution to enhance your legacy.
This plan offers you protection and growth of your hard-earned wealth while giving you flexibility.
 
How it works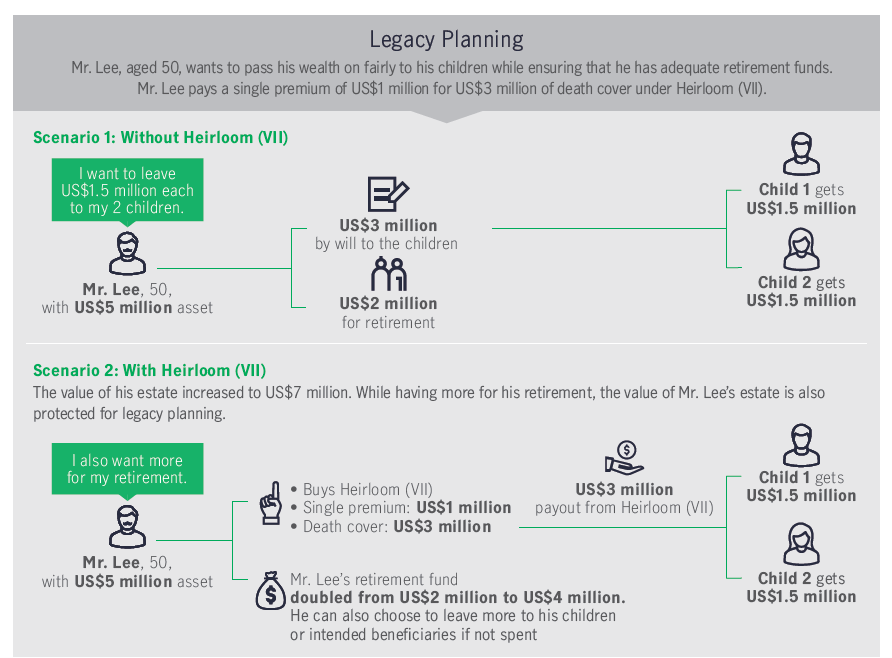 Footnotes
1 Guaranteed loyalty bonus crediting starts from 11th policy year and ends immediately before the policy anniversary after the Life Insured's 100th birthday.
2 Applicable to standard or preferred smoker, without any additional ratings. This quit-smoking incentive allows the Life Insured to benefit from standard non-smoker policy charges for the first three policy years. By the end of policy year 3, upon provision of satisfactory medical evidence that Life Insured have quit smoking for at least 12 months in a row, Manulife will reclassify the policy and use the standard non-smoker rates from then on.
3 Policy Owner may request to change the Life Insured after 2 years from the Policy Issue Date. Acceptance of the new Life Insured is at Manulife's sole and absolute discretion and will depend upon the insurability of this new Life Insured, as well as other Terms and Conditions as Manulife shall determine from time to time. Policy Charges will be based on the new Life Insured's age, gender, residency code, underwriting class and any additional ratings. For more details, please refer to the Product Contract.
4 Premiums of any amount can be paid at any time before age 100, within the maximum limits set by Manulife. Policy owner can choose to skip a payment or stop paying entirely if there is enough cash value in the policy. Additional premiums may be required if policy values are affected due to lower interest credited, loan, withdrawals or higher policy charges. The actual amount and frequency of premium payments will affect the policy value and potentially the death benefit as well as how long the policy is kept in force.
5 Partial withdrawals without incurring surrender charges or reducing the Face Amount are allowed on the condition that the withdrawal is made from Policy Year 11 onwards, and the total withdrawal amount in a particular policy year does not exceed 5% of the Policy Value as at the policy anniversary immediately before the policy year in which the withdrawals are made. Any withdrawals from the policy will reduce the policy values.
6 Death benefit is the face amount of the policy or the policy value at the date of death, whichever is higher, less any outstanding policy debt. If Life Insured is diagnosed with a Terminal Illness (TI) before Age 99, Manulife will pay the TI benefit as an acceleration of the death benefit, subject to the TI Limit.
This advertisement has not been reviewed by the Monetary Authority of Singapore.
Information is correct as at 22 November 2020.
DBS Treasures Insurance Important Notes
Thank you. Your feedback will help us serve you better.
Was this information useful?
That's great to hear. Anything you'd like to add?
We're sorry to hear that. How can we do better?
Enter only letters, numbers or @!$-(),.