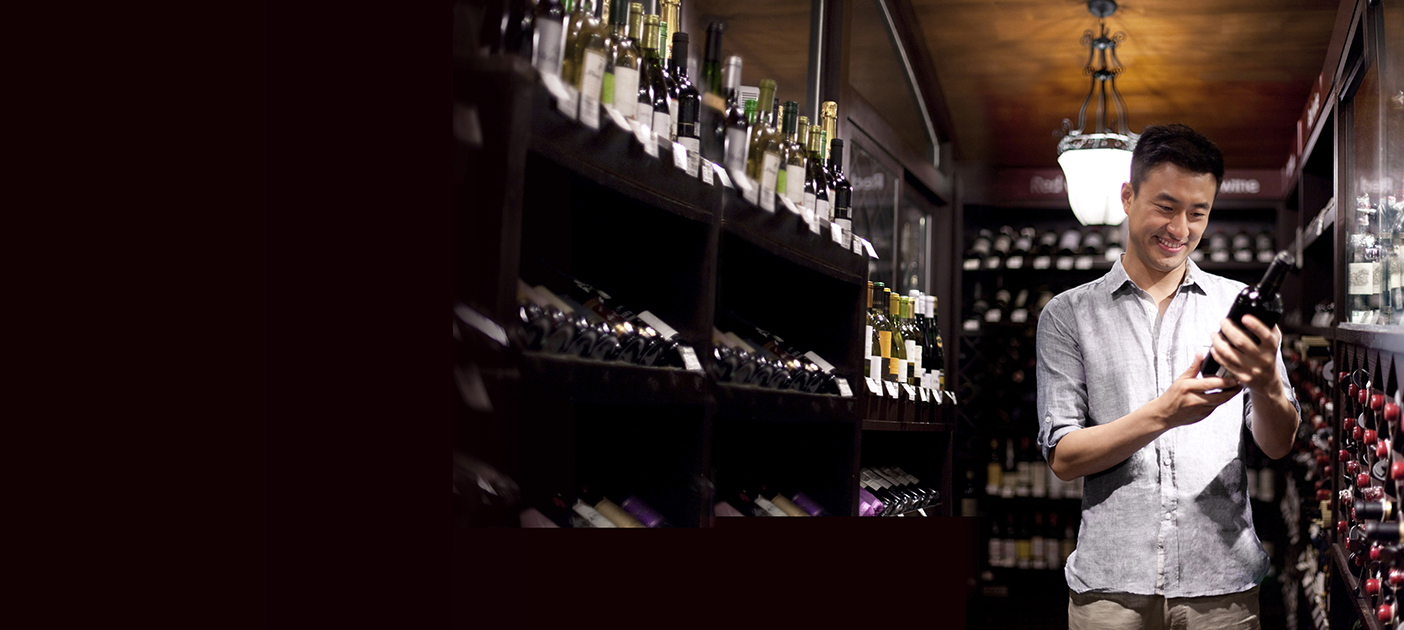 At a Glance

Flexibility to decide your target income goal5 to meet your desired retirement lifestyle

Gives you access to a range of professionally-managed funds to tailor your portfolio

Give your retirement a wealth of possibilities. Diversify your portfolio and decide on your desired Target Income Goal5 to live out your intended retirement lifestyle with Manulife SmartRetire, a regular premium investment-linked insurance plan. Through regular investments that averages the costs of funds amid market fluctuations, the plan takes away the need for you to constantly watch the market.
 
Features & Benefits
Flexibility
Choice of Premium Payment Term – For 5, 10, 15 or 20 years
Choice of Retirement Age – At 55, 60, 65 or 70 years old
Choice of Retirement Period – For 10, 15, 20, 25 or 30 years
Choice of desired Target Income Goal5
Choice of professionally-managed funds
Choice to receive a desired Target Monthly Income5 or stay invested up to age 99
Choice of withdrawal options:

Withdrawal6 by fixed dollar amount from the fund(s) over a period of time set by you
Partial7 withdrawal by selling some of the fund(s) units when the need arises
Peace of mind
Premium waiver1 upon occurrence of Total and Permanent Disability (TPD) or Critical Illness (CI)
Provides coverage for Death1
Guaranteed issuance with no medical check-up required
Getting your investment to work harder
100% of premiums paid will be used to purchase fund(s) units to maximise your investment
Enjoy a head-start with a Welcome Bonus1 of additional fund(s) units
Be rewarded with a Loyalty Bonus8 of additional fund(s) units every 3 years
Unlimited free fund switches
Optional riders
Enhanced Death Benefit Rider1 – provides a Death Benefit that is at least equivalent to the Target Income Goal5
Loss of Independence (LOI)3 Benefit Rider – receive an additional monthly payout that is 50% of Target Monthly Income5 if the Life Insured meets the LOI6 definition at any time during the Target Retirement Period.
 
How it Works
How Manulife SmartRetire can help you in wealth accumulation and retirement
Mr Lee, age 35, non-smoker, plans to retire at age 65 and would like to receive a Target Monthly Income5 of S$5,000 for 20 years till he is 85 years old. He purchases a Manulife SmartRetire policy and chooses to pay his premiums annually for 10 years.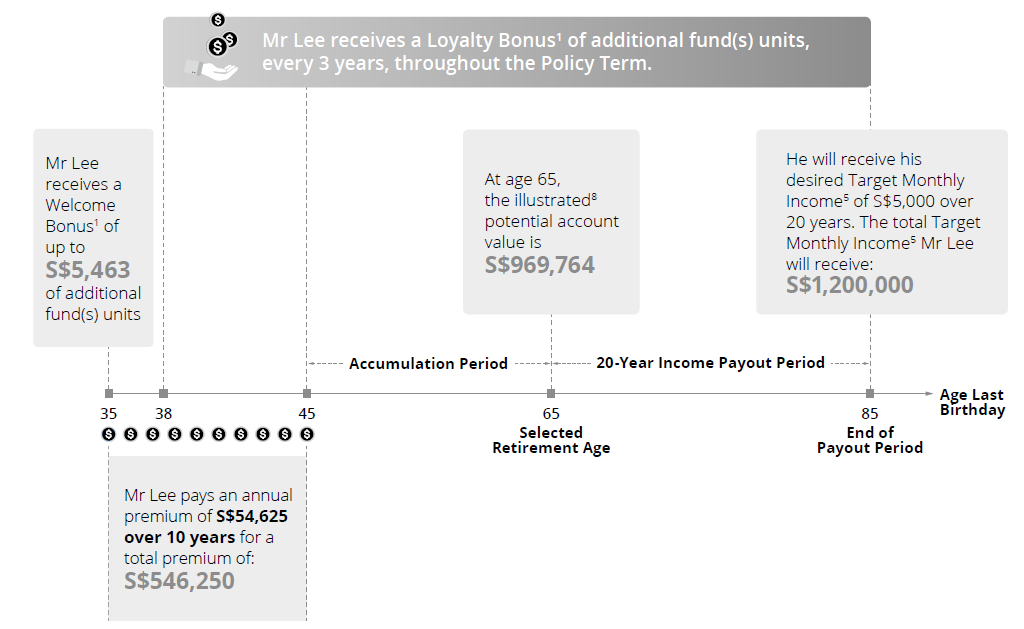 Note: The above is only for illustrative purposes. The illustrated8 figures are not indicative of the likely or future performance of the Manulife SmartRetire fund(s) selected.


Wealth Accumulation
To help Mr Lee achieve his investment goals faster, in the first year, he will receive up to S$5,463 of additional fund(s) units as his Welcome Bonus1. Every 3 years, he will also receive a Loyalty Bonus1 of additional fund(s) units.
At the end of 10 years, at age 45, his premium payment term ends. His projected7 account value at age 65 is S$969,764.
Income Stream for Retirement
At his selected Target Retirement Age of 65, Mr Lee starts to receive a Target Monthly Income5 of S$5,000 regularly from his policy to fund his retirement passion. Alternatively, if he is not in need of the Target Monthly Income5, he may stay invested in the fund(s).
Protection
Over this period, he is also covered in the event of Death.
Footnotes
1 Please refer to the Product Summary and Policy Contract for more details.
2 The Guaranteed Monthly Income (less any policy debt) will start one month after the policy anniversary immediately after the Life Insured reaches the chosen retirement age and to the end of his chosen Income Payout Period. For a single-life policy, the Life Insured will also be the policy owner.
3 Diagnosis of the Loss of Independence (LOI) must be confirmed and certified by a medical examiner. Manulife will pay the LOI income as long as you meet the LOI definition. You cannot leave the LOI income due under this benefit with Manulife. This benefit ends immediately on the date you recover and are no longer in the state of LOI. If you recovered but lose your independence once more, you are entitled to this benefit again as long as you continue to meet the LOI definition.
4 Not applicable to single premium plan.
5 At the point of application, the policy requires that you select your Target Income Goal, which is the sum of Target Monthly Income you aim to receive over the target retirement period starting from your Target Retirement Age. Changes made to Target Income Goal after policy inception will not affect any basic or supplementary benefits of the policy. The policy does not offer any guarantee that your selected Target Income Goal will be achieved. Target Monthly Income is dependent on the actual fund(s) performances meeting the illustrated rate of return.
6 You can choose to withdraw a fixed dollar amount from the fund(s) on a monthly, quarterly, semi-annual or annual basis. You may exercise this option after the Premium Payment Term. If this option is activated before the Target Retirement Age, the regular income drawdown will cease at the Target Retirement Age.
7 You are not allowed to partially withdraw units from the Policy in the first 2 policy years. The minimum amount that can be withdrawn each time is S$500, subject to a minimum balance of S$1,000 in the Account. After the 2nd policy year, a surrender charge will be imposed on the partially withdrawn amount, if the partial withdrawal request takes place during the Premium Payment Term. Please refer to the Product Summary for the surrender charge table for more details.
8 The policy illustration is based on a fund management charge of 1.25% per annum on illustrated investment rate of return of 4% per annum. The rate of return is used purely for illustrative purposes but it is a Life Insurance Association of Singapore (LIA) prescribed rate of return for policy illustration – the actual rate may be higher or lower. The actual benefits payable will depend on the actual performance of the Manulife SmartRetire fund(s) selected. The performance of the Manulife SmartRetire fund(s) is not guaranteed and the account value may be less than the principal invested. No guarantee is given, expressed or implied, on any amount invested.

Information correct as at 23 June 2018.

DBS Treasures Insurance Disclaimers
Related
Thank you. Your feedback will help us serve you better.
Was this information useful?
That's great to hear. Anything you'd like to add?
We're sorry to hear that. How can we do better?
Enter only letters, numbers or @!$&-/()',.