Season's Greetings from the Head of DBS Treasures
Wishing you Happy Holidays and a Happy New Year.
It's the year end and I would like to take this time to express our appreciation for your support of DBS Treasures.

In sharp contrast to the smooth ride of 2017, 2018 has been a year of volatility. Despite the challenges ahead, I would like to encourage you to take some time to review this year's recap for the window of opportunity and leverage on the market conditions.

As your wealth management partner, our priority is to help you catch all opportunities. We hope to be able to help you grow your wealth with constant innovation and providing you with the latest insights on DBS iWealth®.

To enjoy the full benefits of being a wealth management client, I would like to strongly encourage you to open a DBS Wealth Management Account (WMA). Learn how you can benefit from having a WMA.

In 2019, we will be releasing a new investment opportunity using robo-technology to give you a superior user experience and bringing you readymade portfolios managed by our CIO team.

I look forward to welcoming 2019 with you. Wishing you and your family a very happy and prosperous new year ahead.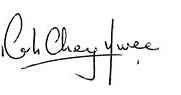 Koh Cheng Hwee
Head, DBS Treasures Singapore
Consumer Banking Group
Related links