Webinar Report: Digitalisation of Global Supply Chains are Being Accelerated
-
More than three-quarters of companies have accelerated plans to digitise trade and supply chain finance processes, according to a poll of participants in the latest SCF Community webinar, sponsored by DBS Bank.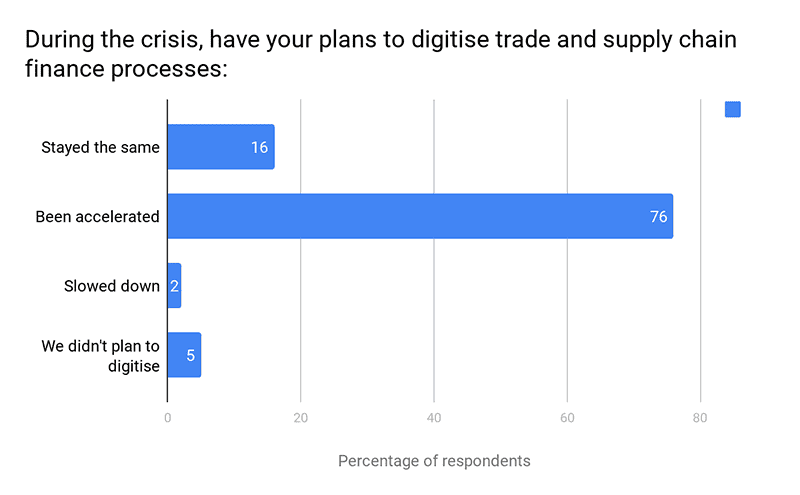 76% of respondents said their plans had been brought forward, with 16% saying they hadn't changed. That audience view was echoed by the opening speaker, Viktor Elliot of the University of Gothenberg. "Covid-19 has shown us that digital can work, and accelerated the digitisation of the world," he said.
Elliot's remarks came after some 'scene-setting' from moderator Mike Hewitt of Adaugeo Media, who highlighted the big ambitions of proponents of 'supply chain 4.0' back in 2016 and contrasted them with the reality of slow progress since then.
In a 2017 report from ARC Advisory, companies put forward several reasons for a reluctance to digitise, with security, lack of a business case and lack of budget as the top answers.
So, could the coronavirus be the stimulus that prompts companies to reassess the benefits of digitising processes - or the pitfalls of not doing so?
At Trafigura, the global commodities firm where Nicolas Marsac is CFO for Asia Pacific, digitisation started early and has continued at the same fast pace. "For us, it's a competitive advantage", he said, pointing to the use of real-time data on ships loading cargoes to improve forecasting and risk management in what is a very competitive, low-margin business.
One effect of the virus and its associated lockdowns has been the slowing down or halting of movement of physical documents. Marsac mentioned that, where physical documents were still required, they had sometimes been delivered far too late because of transport and courier issues, and had slowed payments as a result.
Sriram Muthukrishnan, Group Head of Trade Product Management at DBS Bank, has also seen an acceleration of the move to digital processes. Supply chain disruption caused by Covid-19 has delayed cash realisation so that cash conversion cycles have been elongated. For many SMEs, this has caused struggles with adequate cash flow and access to capital.
Muthukrishnan had three action points for corporates considering how fast to 'go digital'.
Eliminate manual workflows and go digital
Large anchors need to provide early support to suppliers
Prepare now to take advantage of the re-opening of the global economy post-Covid 19.
For all the participants, it was clear that digitisation was both essential and likely to increase in pace during and after the Covid-19 lockdowns.
This webinar was organised by the Adaugeo Media on behalf of the SCF Community on 28 May 2020, in partnership with DBS.
The next SCF Community webinar in this series sponsored by DBS Bank will tackle the subject of speeding up the onboarding of suppliers to support them during the crisis.
Have a conversation with DBS today.
Start your digital transformation journey today by finding out more about the latest, available digital solutions that can help to solve your treasury challenges. See our most recent articles on Digital Pulse, or sign up/login to Treasury Prism today to discover a world of opportunities.
 
The information herein is published by DBS Bank Ltd. ("DBS Bank") and is for information only.
The information is not directed to, or intended for distribution to or use by, any person or entity who is a citizen or resident of or located in any locality, state, country or other jurisdiction where such distribution, publication, availability or use would be contrary to law or regulation
DBS Bank Ltd. All rights reserved. All services are subject to applicable laws and regulations and service terms. Not all products and services are available in all geographic areas. Eligibility for particular products and services is subject to final determination by DBS Bank Ltd and/or its affiliates/subsidiaries.