SGTraDex
A common data infrastructure connecting the supply chain ecosystems
Overview of landscape
Covid-19 has accelerated shifts in trade flows and supply chains globally as countries and companies re-evaluate their supply chains to enhance connectivity, efficiency and resilience.
To remain relevant amid these fundamental shifts and in the growing digital economy, it is critical to establish a common data infrastructure that enable businesses to transition into the digital domain, and build a stronger and more robust supply chain ecosystem for international trade flows, advancing Singapore's position as a global supply chain and trading hub.
About SGTraDex
The Alliance for Action (AfA) on Supply Chain Digitalisation brought together public and private sectors to pilot a common data infrastructure connecting both local and global supply chain ecosystems. Named SGTraDex, this common data infrastructure will facilitate trusted and secure data sharing between industry players, to drive efficiency, productivity and resilience across physical, information and financial flows.
Development of the common data infrastructure is guided by the principles of:
Open, trusted and secure data sharing;
Scalability and interoperability with local and global data platforms; and
Timely accessibility to all players across the value chain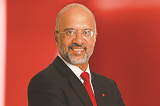 "Digitalisation will continue to drive the evolution of trade in unprecedented ways. The current pandemic has forced us to focus on digitalising our supply chains and I believe that in the near future, global trade will look markedly different. It is therefore imperative for Singapore as a global trade hub to be future-ready. Several initiatives to digitalise onshore trade services have been pursued over the years within Singapore, but the absence of an end-to-end horizontal view has come in the way of both effectiveness and efficiency. Likewise, global efforts to digitalise supply chains have existed for several years, but faced challenges in terms of driving usage at scale and gaining consensus on platforms. This is where we hope SGTraDex will be a gamechanger by solving for in-country workflows and processes, catalysing a different approach for cross border collaboration at scale. Together, the SGTraDex and SG FinDex infrastructures will help showcase Singapore as a truly data driven country, providing the infrastructural highways for the new economy."
– Piyush Gupta, CEO of DBS Group
DBS role
DBS played a crucial role in the conceptualisation of SGTraDex as the Technology Lead on the Alliance for Action (AfA) on Supply Chain Digitalisation where the common data infrastructure prototype was developed and tested through three defined use cases, and trialled through a series of business simulations with participants across the trade ecosystem. DBS played a leading role in two out of three of these use cases. 
DBS was the sole financial institution that laid the cornerstone for the use case aimed at digitising and optimising bunker delivery as well as working capital leveraging digital data. In collaboration with the Maritime Port Authority of Singapore (MPA), the Infocomm Media Development Authority (IMDA) and other key stakeholders, the bank participated in industry workshops to identify the various stakeholders' pain points and defining required data exchanges to provide greater certainty on the genuineness of trade, reduce manual data entry and enhance risk management. 
DBS was also a key player in a second use case focused on enabling the digital-physical twinning of supply chains, leveraging digital data at source to detect trade fraud and reduce risk of duplicate trade financing. This is where our leading role in Singapore's Trade Finance Registry (TFR) proof-of-concept contributed valuable insights in the development journey of SGTraDex, enabling us to create a solution that enables trade flows be screened more efficiently and thoroughly to enhance the security of trade financing transactions. 
To find out more about what SGTraDex is and its importance to the future of trade, watch an interview between our Group Head of Institutional Banking, Tan Su Shan, and CEO for Asia Pacific of Trafigura Group, Tan Chin Hwee.