eGuarantee
Experience faster processing with pre-approved templates
eGuarantee
Experience faster processing with pre-approved templates
At a glance
eGuarantee@Gov is an industry-wide electronic Banker's Guarantee (eGuarantee) programme, which will help businesses reduce paperwork and skip branch visits for faster Banker's Guarantee(BG) issuance.
The eGuarantee programme now supports a total of 34 beneficiaries, including new additions on the list below.
List of Beneficiaries

Central Provident Fund Board

Accountant-General's Dept

Home Team Science and Technology

Accounting and Corporate Regulatory Authority

Housing & Development Board

Attorney-General's Chambers

Inland Revenue Authority of Singapore

Civil Service College

JTC Corporation

Defence Science and Technology Agency

Land Transport Authority

Health Promotion Board

Ministry of Finance

Ministry of Culture, Community & Youth

Ministry of Home Affairs

Ministry of Defence

Ministry of Manpower

Ministry of Law

Monetary Authority of Singapore

Ministry of National Development

National Environment Agency

Ministry Of Social and Family Development

National Parks Board

National Youth Council

Public Utilities Board

Ngee Ann Polytechnic

Parliament of Singapore

Public Service Division

Singapore Customs

Singapore Food Agency

Singapore Land Authority

Strategy Group, Prime Minister's Office

Urban Redevelopment Authority

Vital
How it works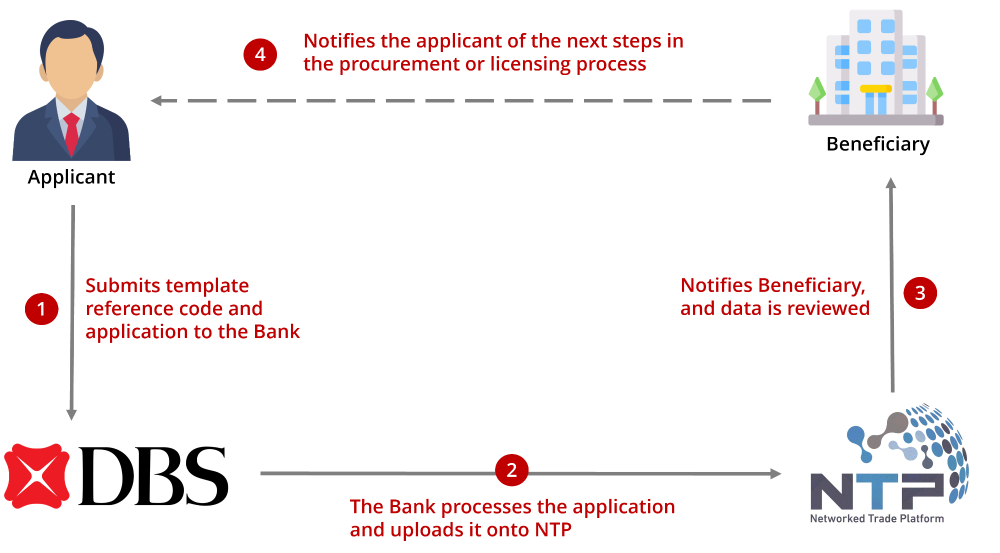 Take advantage of this programme today!
With access to DBS IDEAL?*
Apply via DBS IDEAL
 
*You must have a DBS IDEAL Login and access to submit trade transactions
 
 
Without access to DBS IDEAL? For customers without BG facility
 
Apply via Online BG
 
Without access to DBS IDEAL? For customers with BG facility
 
Apply here