eGuarantee
Experience faster processing with pre-approved templates
eGuarantee
Experience faster processing with pre-approved templates
At a glance
[email protected] is an industry-wide electronic Banker's Guarantee (eGuarantee) programme, which will help businesses reduce paperwork and skip branch visits for faster Banker's Guarantee(BG) issuance.
The eGuarantee programme now supports a total of 34 beneficiaries, including new additions on the list below.
List of Beneficiaries

Central Provident Fund Board

Accountant-General's Dept

Home Team Science and Technology

Accounting and Corporate Regulatory Authority

Housing & Development Board

Attorney-General's Chambers

Inland Revenue Authority of Singapore

Civil Service College

JTC Corporation

Defence Science and Technology Agency

Land Transport Authority

Health Promotion Board

Ministry of Finance

Ministry of Culture, Community & Youth

Ministry of Home Affairs

Ministry of Defence

Ministry of Manpower

Ministry of Law

Monetary Authority of Singapore

Ministry of National Development

National Environment Agency

Ministry Of Social and Family Development

National Parks Board

National Youth Council

Public Utilities Board

Ngee Ann Polytechnic

Parliament of Singapore

Public Service Division

Singapore Customs

Singapore Food Agency

Singapore Land Authority

Strategy Group, Prime Minister's Office

Urban Redevelopment Authority

Vital
How it works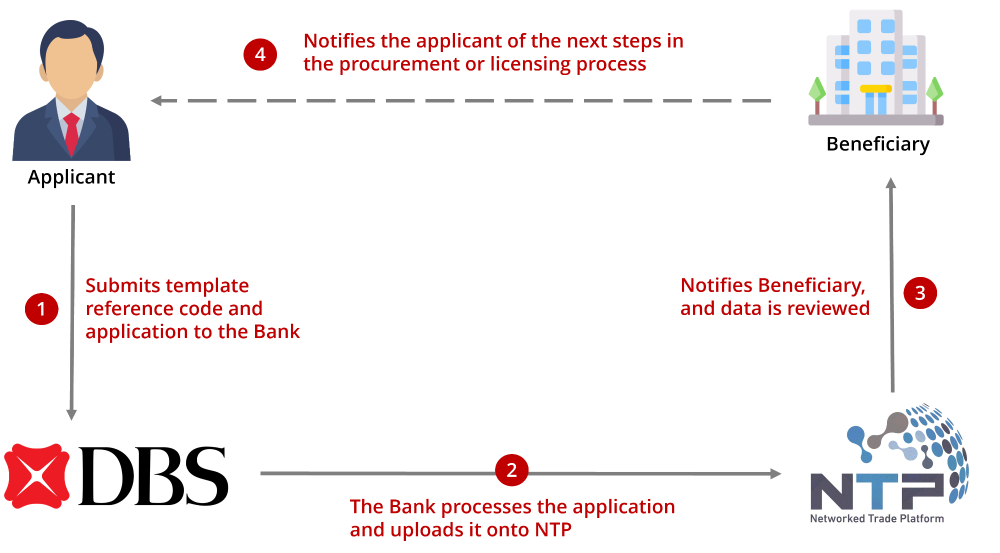 How to apply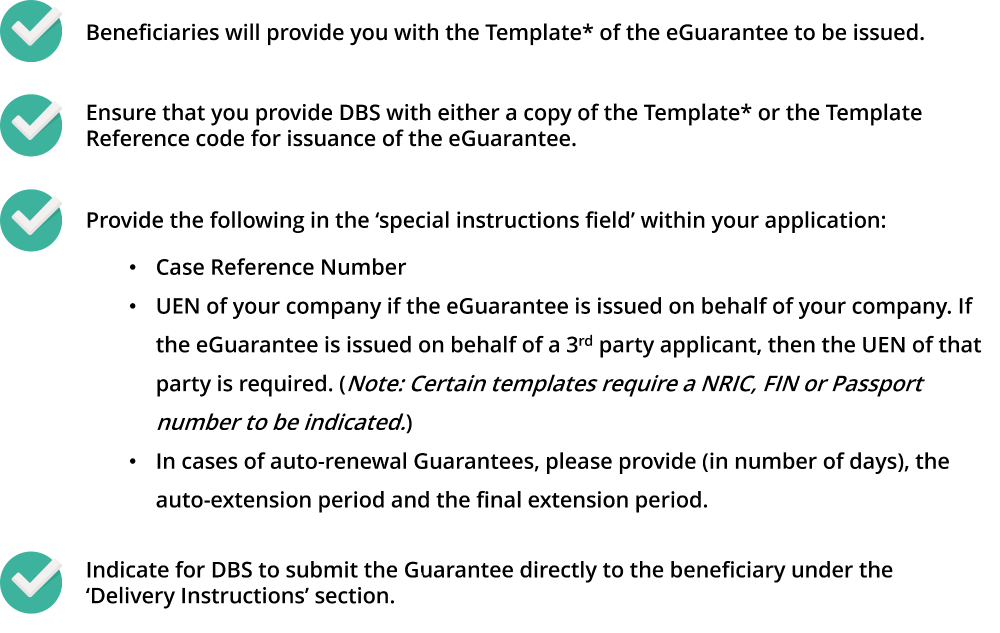 *Formats are available on eguarantee.gov.sg
| | |
| --- | --- |
| | What's more, you can redeem a S$50 voucher! for your first eGuarantee issuance! |
!Please refer to the terms & conditions below 
Take advantage of this programme today!
With access to DBS IDEAL?*
Apply via DBS IDEAL
 
*You must have a DBS IDEAL Login and access to submit trade transactions
 
 
Without access to DBS IDEAL? For customers without BG facility
 
Apply via Online BG
 
Without access to DBS IDEAL? For customers with BG facility
 
Apply here
 
Terms and Conditions
This eGuarantee Programme promotion ("Promotion") is valid for new banker's guarantee applications that are submitted to the Bank from 19th Oct 2022 to 30th June 2023 (both dates inclusive) ("Promotion Period")
For the purpose of this Promotion:
a. "eGuarantee" refers to a banker's guarantee to be issued to selected beneficiaries in Singapore who accept bank guarantee issuance transmitted as datasets through the Networked Trade Platform (NTP).
b. "Voucher" refers to the electronic voucher(s) that the Bank may offer to the Customers for their first eGuarantee issuance.)
The first 100 Customers that have issued an eGuarantee through the Bank will be eligible for a Voucher each. The Bank will determine the list of Customers that will receive the Vouchers. Each Customer will be eligible for one Voucher regardless of the number of eGuarantees issued during the Promotion Period.)
We reserve the right to change the terms of this Promotion, (extending or shortening the Promotion Period or withdrawing this Promotion) at any time without prior notice, reason or liability to any party.)
Our decision on all matters relating to this Promotion (including, without limitation, determining the transactions and the customers who are eligible for the Vouchers) shall be final and conclusive and shall be binding on the Customer. No correspondence or claims will be entertained.)
We shall not be liable for any costs, expenses, liabilities, losses or damages whatsoever and howsoever incurred or to be incurred by the Customer arising from or in connection with this Promotion.)
The Customer can participate in this Promotion and the eGuarantee Programme by providing the necessary instructions in the Bank's application / submission form. The Customer must also agree and accept the Terms and Conditions set out in the banker's guarantee application/submission form.
By submitting a banker's guarantee application, each Customer confirms that it is lawfully providing the data for the Bank to use and disclose for the purpose of:
(i) providing products or services to that Customer, whether in connection with this Promotion or its application;
(ii) meeting the operational, administrative and risk management requirements of DBS Group Holdings Ltd. and its related corporations ("DBS Group"); and
(iii) complying with any requirement, as DBS Group reasonably deemed necessary, under any law of any court, government authority or regulator.
These terms and conditions are governed by, and shall be construed in accordance with, the laws of Singapore